Dean Wilson has seen his fair share of injuries throughout his career. Four ACL surgeries, numerous shoulder injuries, etc., but every time he's made it his goal to come back stronger than he was beforehand. In his latest YouTube video, Deano shares the story of overcoming his most recent injury—what he called the worst pain ever—and one he said almost made him hang up his boots.
Because the track would be raced both directions at the 2019 Monster Energy Cup, the build of every jump would also need to be a landing when the flow of the track switched the opposite way and vice versa for the landings to become jumps. It was interesting to see the two-way track idea come to fruition by the time riders hit the track for media day and eventually race day. There was one section, though, that required prefect execution because of the unusual knuckle on a tabletop landing (since it was peaked as a takeoff the other direction). In the middle of a hot lap during qualifying, Wilson caught just enough of the knuckle on the tabletop landing while going for the big quad-double section.
Wilson clipped the landing off the tabletop with both his front and rear wheel, which caused him to buck forward and hit the takeoff for the double with all of his weight over the forks. He launched off the double and let go of his bike before getting thrown to the dirt in Sam Boyd Stadium hard on his left side.
"I unfortunately came up short just a little bit and it bucked me," he explained in his video. "Then the rear end was up and I hit the double just on my front and it just pogo-sticked me off the bike and I ejected off of the bike and when I landed I just hit to pretty much dead stop on the berm."
He was quickly attended to by the Alpinestars medical staff, and recalls remembering how he immediately felt something was wrong. Really wrong.
"Right away, I knew like, I thought I had broken my femur or dislocated my hip—I knew it was one of those two," he said. "It was just the worst pain of my life."
Eventually, Wilson was lifted onto a stretcher before being taken to the hospital. In extreme pain, and being placed on his busted (left) hip on the stretcher, he just wanted the pain to stop.
"We get into the ambulance and we're driving to the hospital and like any bump we hit, I was laying on that side so I was just in so much pain—I was screaming—I made them stop the ambulance and we tried to readjust myself," Wilson said. "It was just like the worst pain you could ever have. Ever!"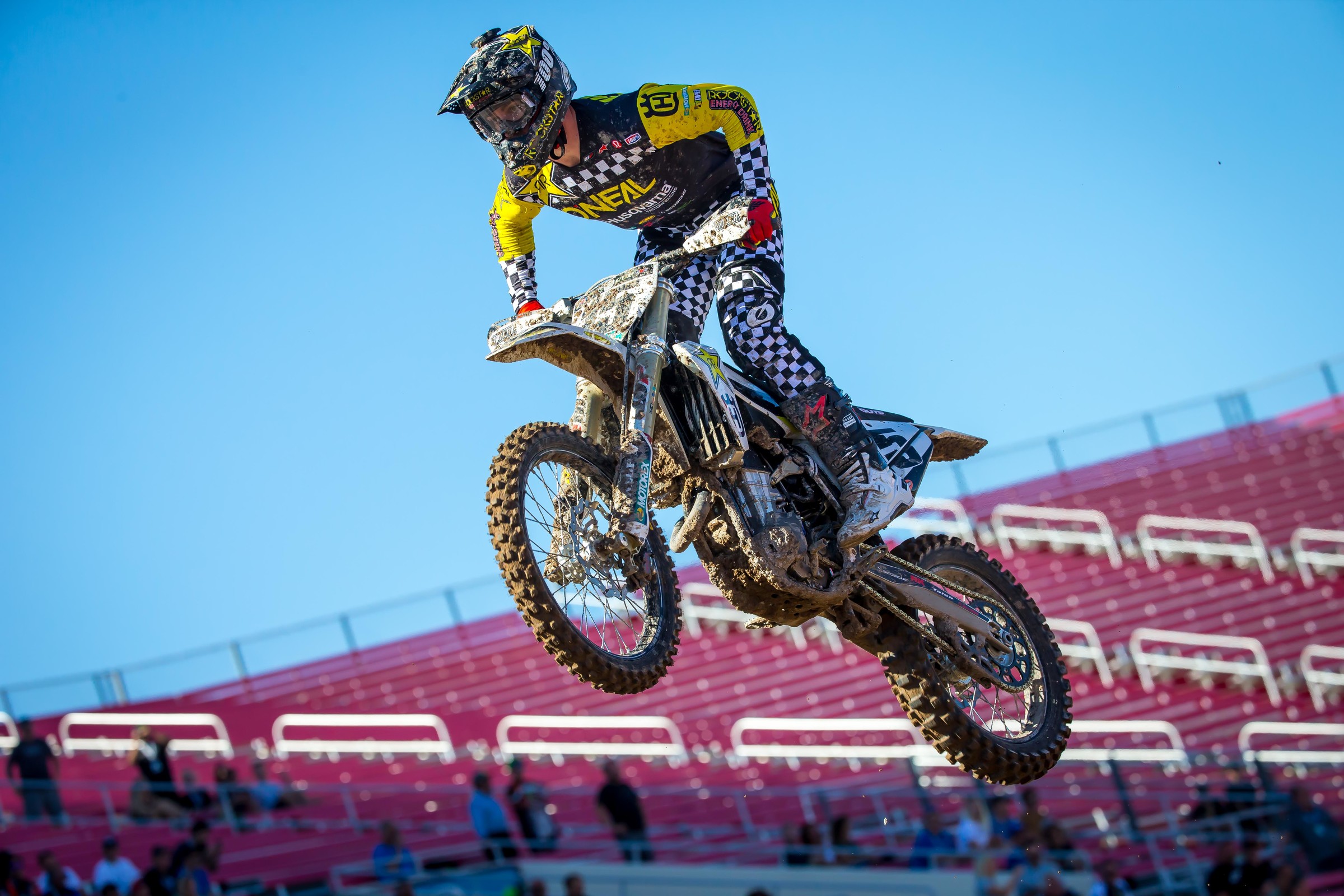 X-rays showed the extent of the injury—his left hip broken in three different places and dislocated—and left doctors with the problem of putting his hip back into place with the breaks in it.
"My hip was in some state," he recalled.
Dealing with the pain for over two and a half hours after the crash, eventually a large dose of Ketamine (used for anesthesia) sent Wilson into what he called the "K-hole" and one of the wildest dream sequences/experiences he'd ever had. But before he knew it, the doctors managed to get his hip back into place. And he wasn't sure if he was still dreaming or not because of the Ketamine.
"My hip was popped back I and my pain went from about 120 to 10," he said. "It was so much better."
The doctors discussed the idea of surgery on the hip but it would have pushed back the recovery process, which Wilson didn't want. He was cleared to leave the hospital in his wheelchair but was unable to perform any physical activity for five weeks.
"Actually, three days after my injury, I was like, 'I'm done with racing,' because this was like the final straw. After the three days, I was down and I felt better and I was like, I wanna keep going. I swear this sport always will take you down to your knees until you just want to quit," Wilson said, pounding one fist into his other open hand. "I was on my knees but I got back up."
He set his mind to be on the starting gate of Anaheim 1, only about two and a half months after the date of his crash in Las Vegas. During the five-week period, Wilson started by doing upper body workouts from the seat of his wheelchair. He would go outside, wheel himself around the block, and go to the gym for weightlifting. Then to help with recovery, he spent sessions laying in hyperbaric chambers and in infrared saunas—and even took on a strict diet. He repeated the process of upper body workout followed by recovery every day for a month until he able to start physical therapy. At first, he could only walk back and forth in the pool water. So he did exactly that. Back and forth in the pool, while adding in some squats to the walk as well.
"I had a long road to go," he said.
At the end of November, Wilson crutched into the doctor's office for a check-in, only 37 days before A1. He was nervous the decision to skip out on surgery initially would bring bad news, but X-rays showed good progress with his healing. His doctor graduated him to next level of rehab: returning his strength and flexibility. The crutches weren't going to hold him back anymore, as he left the office and chucked the crutches aside as he limped to his car. He took to the next phase of physical therapy and started to quickly see progress. Still, there were days he wouldn't see any gains, but he continued to fight, keeping A1 in his mind.
"December was my goal to try and ride again, and we get to December and I did my photoshoot and I was like 'There's no way,'" Wilson recalled. "I rode and I just felt very uncomfortable and my hip felt weak, and this was December 8, and the beginning of the season was the beginning of January."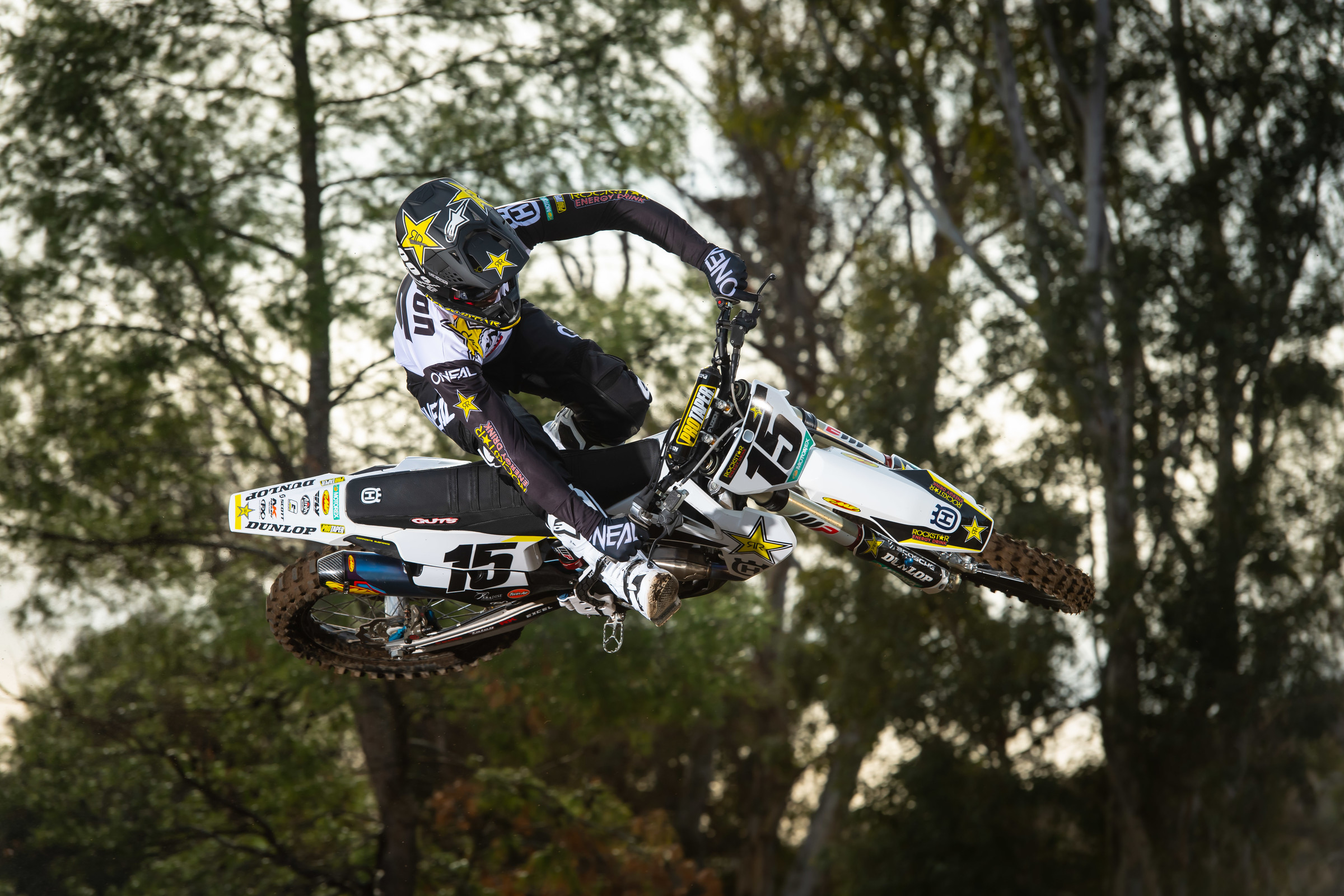 On December 20, Wilson loaded up his Husqvarna FC 450 into his truck and went out one foggy day to give it another go. Testing his limits more, he recalled being timid to put his left leg out when riding on a turn track.
"It was a better day today…I wouldn't say I'm really excited because I don't feel like I'm completely 100 percent…It was good to ride though," he said afterwards. "Time is ticking. The road to A1 is getting very, very close so it's kinda crazy that I'm only just riding now. At the same time I'm pretty proud to be riding right now because I've worked really, really, really hard in therapy and all my training and everything, my diet."
On Christmas Day he went to the supercross test track and put down a few laps but said the hip really hurt with each impact.
"The whoops especially," he said, "I went around the whoops the first week. The impacts hurt the joints so much. It was still healing—it had only been two and a half months and when I think this is really like a five-month injury. So I kinda was playing it smart but I wanted to be at the first round.
"I got to the first round and that was a huge accomplishment in itself to be there. But I was obviously way behind on fitness…and I was only at about 65-70 percent health."
"I've got little knots in my stomach, just nervous," Wilson said in a vlog he recorded driving to the stadium for the 2020 Anaheim 1 Supercross. "First race of the year. And I think why I'm so nervous is just cause I'm under-prepared."
Wilson finished 13th at the opener, 13th at the second round in St. Louis, Missouri, and tenth at the third round back at Angel Stadium. After going 16-10-11 for 13th overall at the fourth round Glendale Supercross, Wilson told our Aaron Hansel afterwards he still wasn't 100 percent and was seeing this mostly in the first few laps of the main events.
"I feel like I'm a bit timid the first few laps," he said. "I don't feel comfortable around the guys yet. I'm just not 100 percent, and that's one thing we need to work on, the intensity the first few laps. It'll come."
Progress has come. After a crash and a tenth-place finish in Atlanta, Wilson said, "I feel like I rode really well and my fitness felt really good."
Through the first ten rounds of supercross before the season was postponed, Wilson recorded six top-ten finishes with a season-best sixth-place finish coming in the Tampa Supercross main event.
"This whole injury has been another life lesson, I guess you could say," he closed his video. "I've been injured so many times and it sucks to be that guy but it's also made me the person I am. I feel like it's built my character. …I wouldn't change anything.
"Moral of the story is just never quit. Keep plugging away. There's always a pot of gold at the end of the rainbow."
Check out Wilson's full video explaining the injury, his recovery process, and more below:
---
*Hero image courtesy of Rich Shepherd.