Red Bull KTM's Marvin Musquin was in a big battle for the win—and second in points—at the Ironman National. He won the first moto after passing both Eli Tomac and Ken Roczen, but then crashed off the start in moto two after a tangle with training partner and friend Zach Osborne. The crash led to a knee injury, and while Musquin has not needed surgery, he hasn't been on the bike since the race, in late August.
We caught up to Musquin at KTM's factory team intro on Friday.
Racer X: What has this off-season actually been like for you? You were in France a bit, right?
Marvin Musquin: Pretty much the same as before, as September is off. Right after Indiana we were off for a month. Unfortunately that was not the vacation that I was looking for because I was treating the knee as a little tweak. Anyway, it is the way it is. Made the most out of it. We went back to France and got married once again with Mathilde.
This was like a wedding ceremony?
It was a ceremony wedding, exactly. Me and Mathilde have been married since 2012, but this was a big wedding. So we're super excited and super happy. Everything went great. So we had a great time with friends and family.
You weren't limping down the aisle?
No, I was doing okay. I was doing great. It was funny because my surgeon that is really close to me and Mathilde now, he's a good friend. He was there and my physio was there. It was funny because Ian [Harrison, team manager] or Aldon [Baker, trainer] and "Doc G" [Dr. H. Rey Gubernick, chiropractor] was able to talk to my surgeon at the wedding. It was pretty funny.
They all went?
Yeah, everybody was there.
So you didn't need surgery?
No. It was a bad strain on the knee. Definitely looking forward to getting back on the bike. Time off is good, but at one point I love what I do. That's what off-seasons or breaks are for. It's to make you realize you need a break, your body, your mind needs a break. All you do in the season, in the routine, it's all you know and what you love.
So when are you going to ride again? Do you know yet?
No, I'm not sure yet. I'll take a couple more weeks. I need some time to make sure my knee is strong. Knees are very tough to deal with. So I don't want to go out there and not be 100 percent. I want to be strong on my legs.
So this is like a decision to not rush it? You maybe could get back on the bike, but you're trying to…
Yeah, I want to heal and have no pain. It's [pain] is still there. I definitely need time. It's quite a decent off-season, a long off-season, but it goes by pretty quickly. Anyway, when you see the situation I was in last year, it couldn't have been worse. So looking forward to a better off-season and a better start of the season.
This is funny. So right now you're not riding, but at the same time you think this will end up being a better situation than you were dealing with last year. That's how gnarly last year was.
Yeah, for sure. Dealing with the knee only a couple days before A1, it was not ideal.
I remember you and Frankie [Latham, mechanic] told me the story. On Christmas day, you were hanging out, still not knowing if you were even going to race two weeks later in Anaheim.
Yeah, I actually started riding on the 26th of December, so the next day after Christmas we gave it a go and to see how I felt. Besides that, trying to do everything I could with the rehab and therapy and also cardio because when you're not on the bike, it's hard.
Can you do stuff, or does the knee also mean no cycling?
It depends on what you have, but fortunately I was able to cycle a little bit.
You did have a little break, but we always heard this Aldon program is so gnarly. This is year five, something like that?
Fifth season, and now I'm going in the sixth season.
Okay so here's where I'm going with this. Everybody says, "Dude, it's so gnarly. Guys can't handle it long term."
[Laughs] Oh, it is, dude. I'm just so badass that I can do it! [Laughs] No, it's just very, I don't want to say strict, but we follow the program and we have a strong program. It's about quality, I feel like, besides quantity. I've been doing good. It's been good to me. We'll keep following Aldon's program.
So at no point are you like, "I can't do this anymore?"
No!
That's good proof. You, and I'd say Jason Anderson, are probably about as long into this as anybody has been at this point.
Yeah, same, me and Jason. We started at the same time.
I think some people would have thought four or five years is all you can handle, but you feel just as good now going into year six?
Yeah, but I think it's also the situation that you're in. Like Ryan Dungey, he was at the very top for so many years. I think, for him, [retiring early] it was more about maybe the pressure or the stress of being that number one. That must be very, very hard every single year. I've never been really in that position, even though I've been leading the championship maybe at one point in some years and battling for the championship, but never at the very top step. Also it's besides racing, how you live it too, I feel like.
The obligations of being champion?
Obligations, yeah, but also the way you approach the racing, I think. Your mentality and the culture I think, too.
I'm glad you brought that up because people always look at Villopoto, and look at Dunge. They only lasted four years or five years in Aldon's program and then they retired. I always say, "Yeah, but they were also winning the title every year which is an immense amount of pressure that most riders don't have to deal with." It's not just how many bicycle miles they did during the week. Not like you want to have bad races, but if Villopoto or Dungey even got second one week, people would say, "What is wrong with you?" That's a lot of pressure.
Exactly. Also it must have been really hard for Ryan Dungey when you have a guy like me, and you have also Jason and younger guys than him coming up and beating him at the practice track, but he was always very strong at the race. It's a mix of all that stuff that mentally it's very tough. I'm pretty sure I've never been really in that position. It's tough to get beat when you're the number one.
So you're in a little bit of a different situation. You can't just look at the years or even your age. So, I don't even want to go there right now, bro, but, how old are you now?
Twenty-nine.
Right. Are you going to turn 30 during the season?
Yeah. Thirtieth of December.
You'll be 30 before Anaheim?
Yeah, on the 30th.
Does it make any difference as far as you can tell?
[Laughs] We'll see. Maybe when the number comes out I will be like, "Holy shit!" [Laughs] But right now, for some reason because we kind of talk about age I feel like I've been there already, like 30 years old kind of. Even if I'm 29.
Because you were already thought of as being older?
Yeah. I feel like I'm already there. But at the end, I don't know. We'll see. Maybe when it comes up I'll be like, "Oh, there we go. I am really 30." I'll just go with it and see how I feel physically and mentally. It's all about the body, not the number.
Physical science says that sometimes 30 is even better than 25 for cardio type stuff, so it's almost more of the pressure, you're saying? The mental side. Things like getting burned out, and obviously injuries start to pile up. I don't think age 30 means you can't do this stuff, as long as all the other factors don't get you.
For sure. Even though supercross and motocross is a very tough sport. But at this point, at this age you have a really strong base cardio and physically, then it's more about like body-wise, muscles or bones or ligaments and stuff that it's come maybe to hurt you at one point. Also I've had a little problem with knees, but I've always been able to overcome that and make it work and get stronger again.
And you signed a multi-year deal. They said through 2021?
Two years, yes.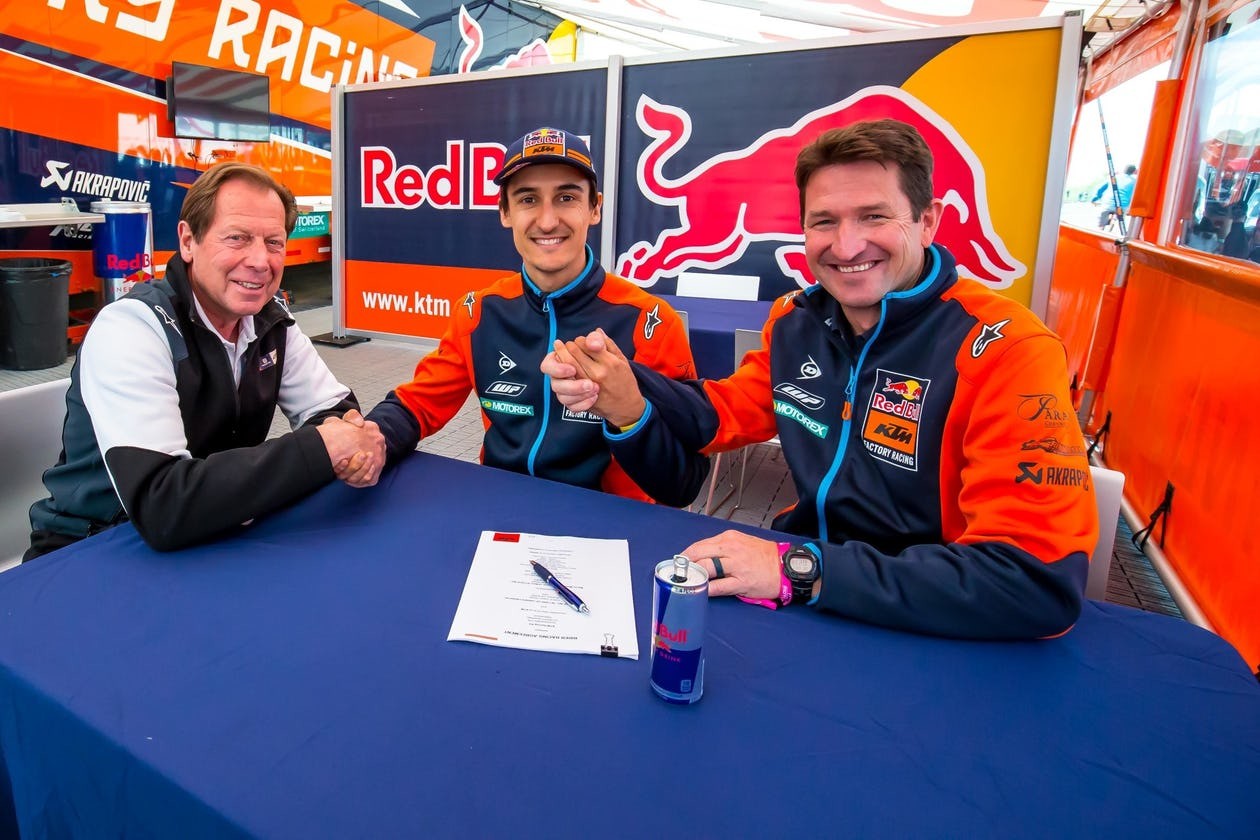 So you're not planning on testing it out this year. You're in for the long haul.
Yeah, for sure. At least two years. That's how I've been going. Signing a two-year deal is awesome. You know that you're going for two years and that's what I wanted to do once again. Then we'll see.
Part of the reason that maybe you're older is you had a long path to get here. You raced in Europe for a long time. You won titles in Europe. That takes time. Was America always your goal?
Yeah, that was it. Obviously when I was struggling my very first year and a half in Europe with a private team, it's not that you don't think about America, but you're in a tough situation. You're just trying to accomplish anything that you can. As a kid for sure I always wanted to be here and race supercross. That's it. So the opportunity came right after I won my second championship and KTM wanted to step it up in America and have us right there at the time. So it was perfect timing. I could have not dreamed about a different situation.
So you did, on TV and stuff, watch the supercross races when you were a kid?
Yeah, for sure.
I always wonder how this works. The races are on TV there? I don't even know how that works. Somehow you did?
I was watching anything I could. I want to say DVDs, but I don't think we had…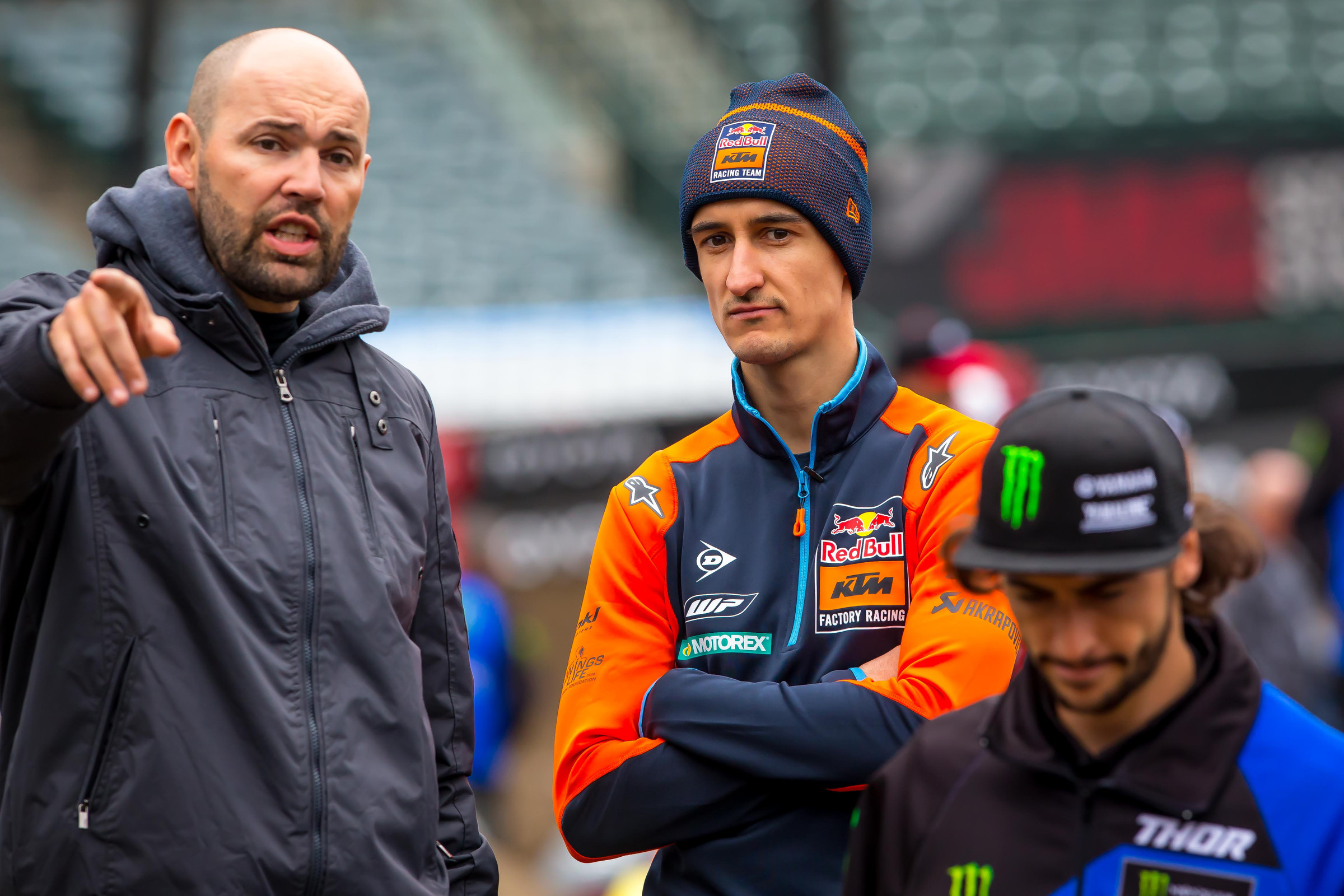 VHS?
Yeah, VHS. I don't remember exactly, but for sure I was watching. Magazines and anything I could. Obviously I was going to Bercy supercross and trying to talk to David Vuillemin or Jeremy McGrath, Ezra Lusk, Kevin Windham at the time. So all I wanted to do is exactly what DV or Sebastien Tortelli or [Mickael] Pichon did.
What was that like? You were a young racer going up to them. Were these guys cool, or were they like, I don't know, it's some fan? Did you have some connection with them back then at all, or were you just another guy getting autographs?
I have a little story with DV. I was in the pits in Bercy and my mom always had pictures of me riding. We had our own track, and that was a huge deal back in the day. I had a supercross track. I was ten years old riding a 65. So we wanted to show DV [Vuillemin] those pictures. I have a supercross track. I showed DV a picture and DV goes, "Dude, your jumps are little." I'm like, "Holy shit! That was his first comment about my pictures?" Also I was riding my brother's 125. I was so little. DV's dad looked at the picture and he says, "Man, you guys are crazy." [Laughs] But DV was really cool. The great story was, I asked him for his jersey and he says, "Okay, I'll give you my jersey but you give me yours." We did. I put it on, and he put on my jersey. I was ten years old. I don't know how he put it on, but he did! So that was amazing.
So he was cool?
He was. He was super cool. My mom was probably really annoying to him because she really wanted me to be happy and to talk to DV. He probably remembers more about my mom being annoying and being there in the pits than me, but it was cool.
Are you still working with him to a degree? How does that go? You were working with him a little bit last year.
Not sure yet.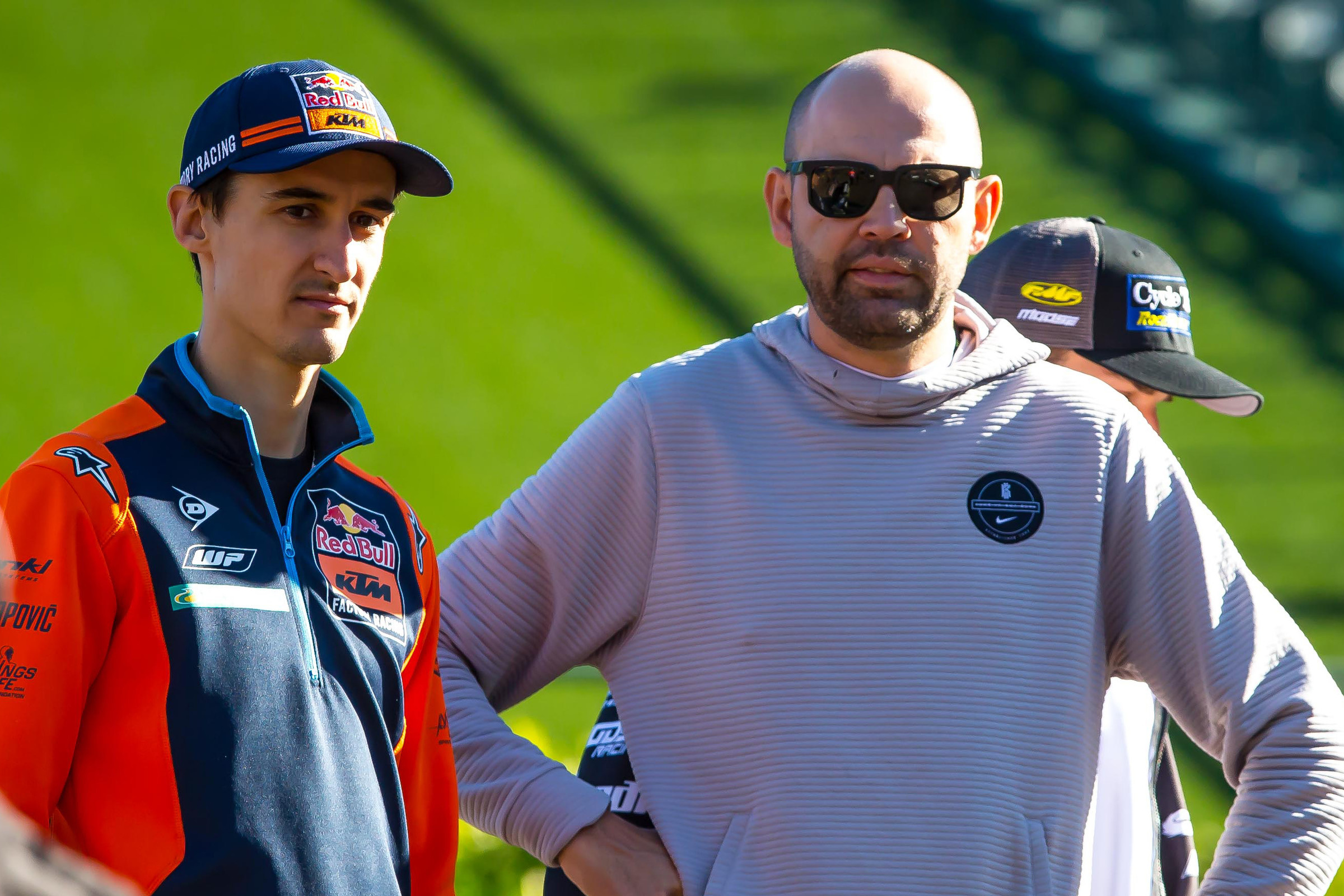 Well, you're not even riding.
No. That's it. So we're not there yet.
But are there times when you think, "I cannot believe this. I'm working with David Vuillemin! I'm friends with David Vuillemin!" That has to be crazy, knowing where you were at ten years old.
Yeah, for sure. Also DV, since he retired, he was trying to help riders and stuff. I feel like he got better in that job. I've seen him doing a great job with Dylan Ferrandis. I really liked his approach to the sport with the technique and the lines and stuff, so that's why I wanted to have him sometimes at the practice track. So we'll see if we can do that next year again.
So you don't even know when you're back on a bike, but you do know this. You should be better January this year than last year?
Yeah. I don't know. We're not there yet, but I'll let you know pretty soon, in two months.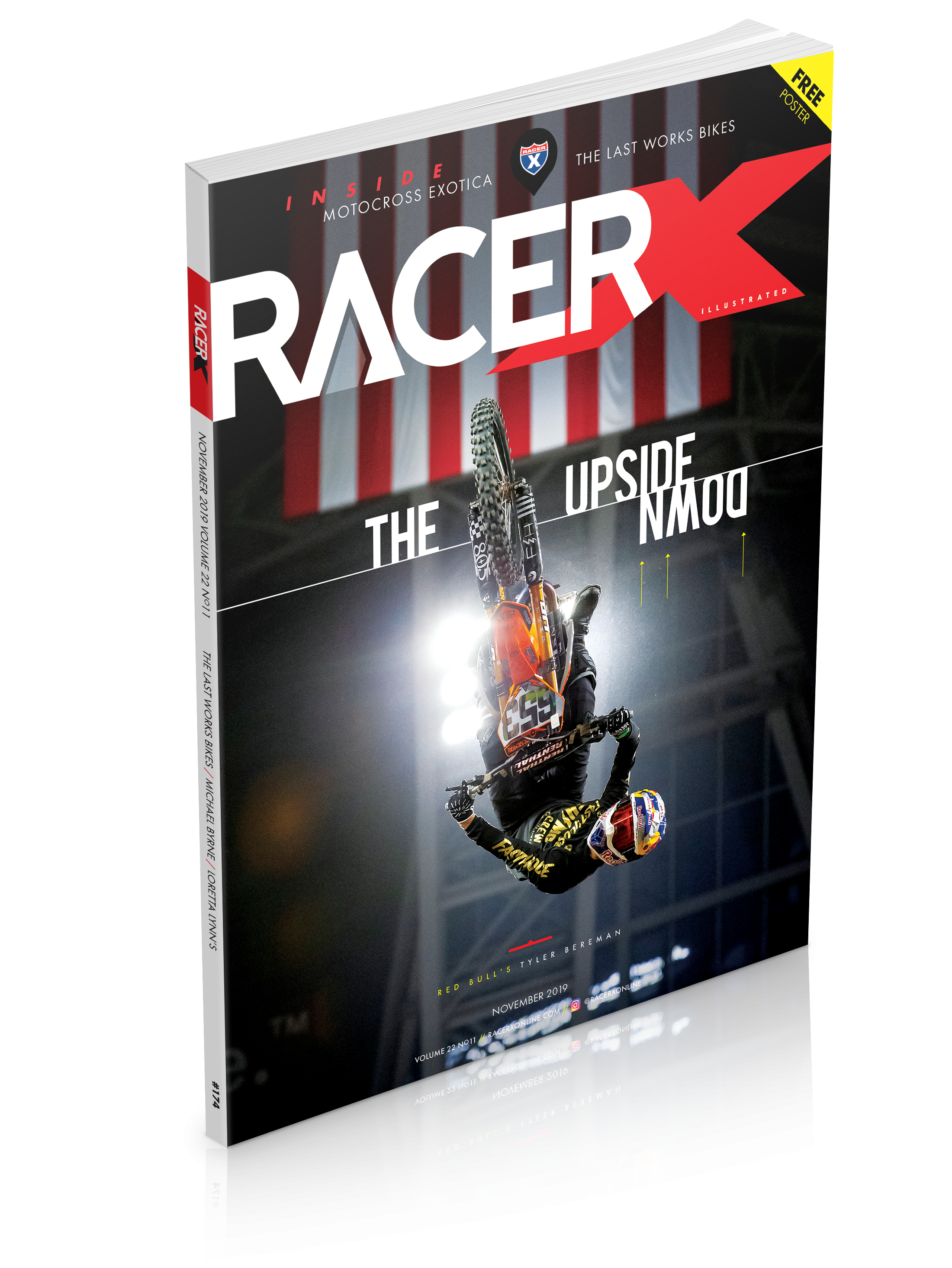 Racer X Illustrated Motocross Magazine
The November 2019 Issue
Inside the November issue of Racer X magazine: See who stood out and what our takeaways are from Loretta Lynn's and all of its future moto talent. GEICO Honda had a packed house at the last three nationals, but who's sticking around? Former factory rider Michael Byrne has made a successful jump to team management, and we find out how and why. When the AMA's 1986 Production Rule went into effect, it ended a glorious run of exotic, hand-built—and wildly expensive—bikes in AMA racing. We dig into the story of those final years. All these features and much more inside the November issue.
Read the Issue Now
Preview the Issue Now