He did it everyone. Finally. Martin Davalos, riding for the Monster Energy/Pro Circuit Kawasaki team, pointed out of the 250SX class with his ninth-place finish in Las Vegas. One of the most talented riders out on the track is setting his sights for the 450 class in 2020 but he's finding it a bit tough like many other riders. We talked to Marty about the new addition to his family, his 2020 plans, 2019, and more.
Racer X Online: Congrats on being a dad, man. What's that been like?
Martin Davalos: It's been amazing honestly, but very stressful. I've never thought I was going to really feel what I was feeling that night. Obviously really emotional once I was able to hold my kid for the first time. I'm still a little bit of a stress because we're getting the hang of things. We're trying to get to know how many times he needs to eat and all that. Barely sleeping. He makes a noise and we kind of freak out a little bit in the middle of the night. So it's been a little bit of an adjustment, but it's been amazing. I love watching him. I love everything about it. It's pretty cool.
Yeah, it seems scary to me. You don't know what to do. You have this human being.
It is. It's insane, honestly. We've gone to the pediatrician already a few times. He gains a lot of weight. Lost a lot of weight. They're trying to tell us it's just a lot of things going on. I think it's going to take a few weeks. I am super glad that we had the kid in the off-season because I honestly can't imagine doing this in the middle of the season! It would be impossible.
Let's talk some moto. Anything lined up for you for next year? Obviously we know you pointed out of the 250 class, so it's a 450 supercross ride you're looking for. What's been going on with that?
Well, we're looking like a free agent right now, man. JGR, I've communicated a little bit with them but they're still trying to figure out some sponsors. Tony Alessi for MotoConcepts, I haven't really gotten an answer from them and stuff. So I'm trying to stay positive. I haven't ridden just yet. Mitch [Payton] is going to help me a little bit to do some overseas races on the Kawasaki 450, so I will stay in shape obviously here. I don't plan on doing the Monster Cup and obviously I told you about not doing the [Red Bull] Straight Rhythm. It's just going to be too much for me with this new baby in the house and adjusting and trying to find a little bit of time.
So I just told myself, give yourself the rest of September just to get adjusted and used to this new thing. Then October comes around, I will start training and getting ready for whatever. It's up in the air. I want to stay positive. I don't know what the future holds for me. I haven't signed anything. I don't have a ride for supercross next season. I do have a few races that I'm doing overseas that will get me in shape and prepared just in case something comes up. We're still working on some things. Trying to figure out what we can do.
I don't think it's going to come to this, but is it possible that you retire? You're going to have something, I think. But has that thought crossed your mind?
I've got to be realistic. If nobody hires me, what am I going to do? My only option is to retire and just take care of my kid and grow my family and try and find something else to do. Obviously I don't want to do that, I would like to get to the point where I could tell you I just don't want to do it anymore and racing is just tiring for me. But unfortunately I still love it! I wake up every day craving to ride and train. Obviously being 33 now it's a little tougher adjusting to the training load and what really works for me and not, but I still love the challenge. You probably know more than anybody. I want one year on the 450 just to prove myself.
I've been pushing Tony Alessi, man. That's a perfect spot. Good bike. I really want you on the MCR Honda.
Yeah. That would be awesome. Like I said, I want an opportunity. I hope I can get a decent bike to show what I'm capable of. I did do it outdoors (on a 450 in 2017). Obviously MotoConcepts doesn't do outdoors, but I still love outdoors. Don't get me wrong. It's a lot more work than supercross, but I know I can ride it. It's tough. I don't know if Joey [Savatgy] got a ride just yet. There's so many good racers out there and past champions. "Deano" [Dean Wilson] last year was running into the same issue, and [Justin] Barcia had to kind of do his own thing for Monster Energy Cup and then was able to snatch that Yamaha ride. So we are really put in a tough spot. There are so many good racers. Unfortunately for the 450 class, they have merged into just two rides per factory brand, so there's no rides.
Would you take a fill-in if you could? If you just stay in shape? Unfortunately you know as well as everybody, the injuries that happen. A fill-in ride is something you would do?
Definitely. That's something that will open up an opportunity for me, and if I take advantage of that fill-in ride, maybe I could extend it to do the outdoors and maybe it could be further for the following year. Obviously I've considered a lot of the things. I have a kid now. I have a family. I need to provide for them. I want to make sure that I'm on a decent bike. I want to be able to make it right.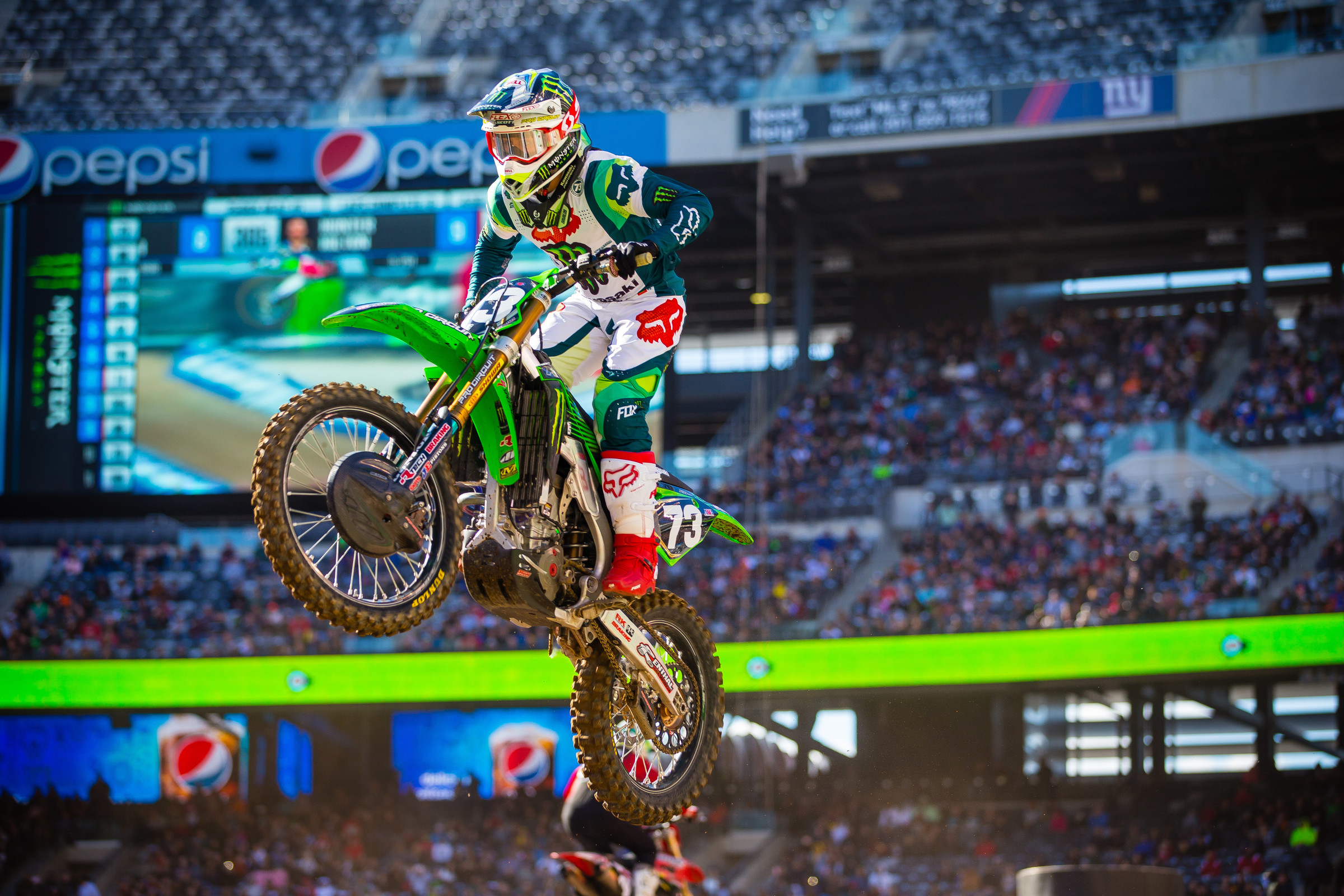 We almost put together a deal that people would be so amazed at, but we almost came together with a PulpMX/Marty Davalos YZ250 Straight Rhythm ride, which would have been amazing. It would have been epic!
I'll be honest with you. I wanted to do it. I talked to my wife. She told me let's see how the delivery goes with the baby and then figure it out. I don't want to show up and… When I do something, I want to do it right. I don't want to tell you I'm going to come and ride this bike and not be good. I was straight up with you and I told you I don't think I'll be good. But if you have a big budget, Steve, you can start a team for me and hire me for next year.
There we go! That would blow people's minds. We saw you get surgery in outdoors and come back and ride the last little bit. Is that still going with your neck? Do you think it was still related to your neck injury from Dallas a couple years ago that you had to go get this forearm surgery or wrist surgery, whatever it was?
Yeah. Unfortunately, I really got messed up in Dallas. A lot of people really are not going to realize how bad my neck is still. It's going to take a while for it to heal. It's non-surgical. I damaged so many things on my neck and so many nerves that they've created carpal tunnel in my left arm. I don't think I was getting enough blood flow. I had so many epidural injections. I got to the point where there's only so many epidurals you can get before it just doesn't get healthy anymore. It becomes unhealthy to keep getting those injections. The epidural would kind of calm it down a little bit and I would just be able to ride. But Mitch hired me. He believed in me. He still believes in me. I'm not the kind of guy that's going to tell you, screw it, I'm not going to ride. Whatever. So I was trying to do my hardest. I knew it was going to be my last 250 year. I didn't want to quit, man. That would have been the easy way, and trust me, a lot of people told me, "What are you doing out there? You're not looking good." I told them, I said, I don't care if I look good or not. This is my last year. I want to have fun. I love racing. I know I'm struggling with my arm, but what's my other option? Just sit on the couch and get frustrated? No. The time came and I just decided to go get this arm checked out and they told me I had a lot of carpal tunnel going into my wrist. I wasn't getting pumped up. It was not arm pump. I've ridden with arm pump. I've actually won races with arm pump, but the pain in my wrist that I had, it was just unreal. I just couldn't hold on. I couldn't even let go of the handlebars.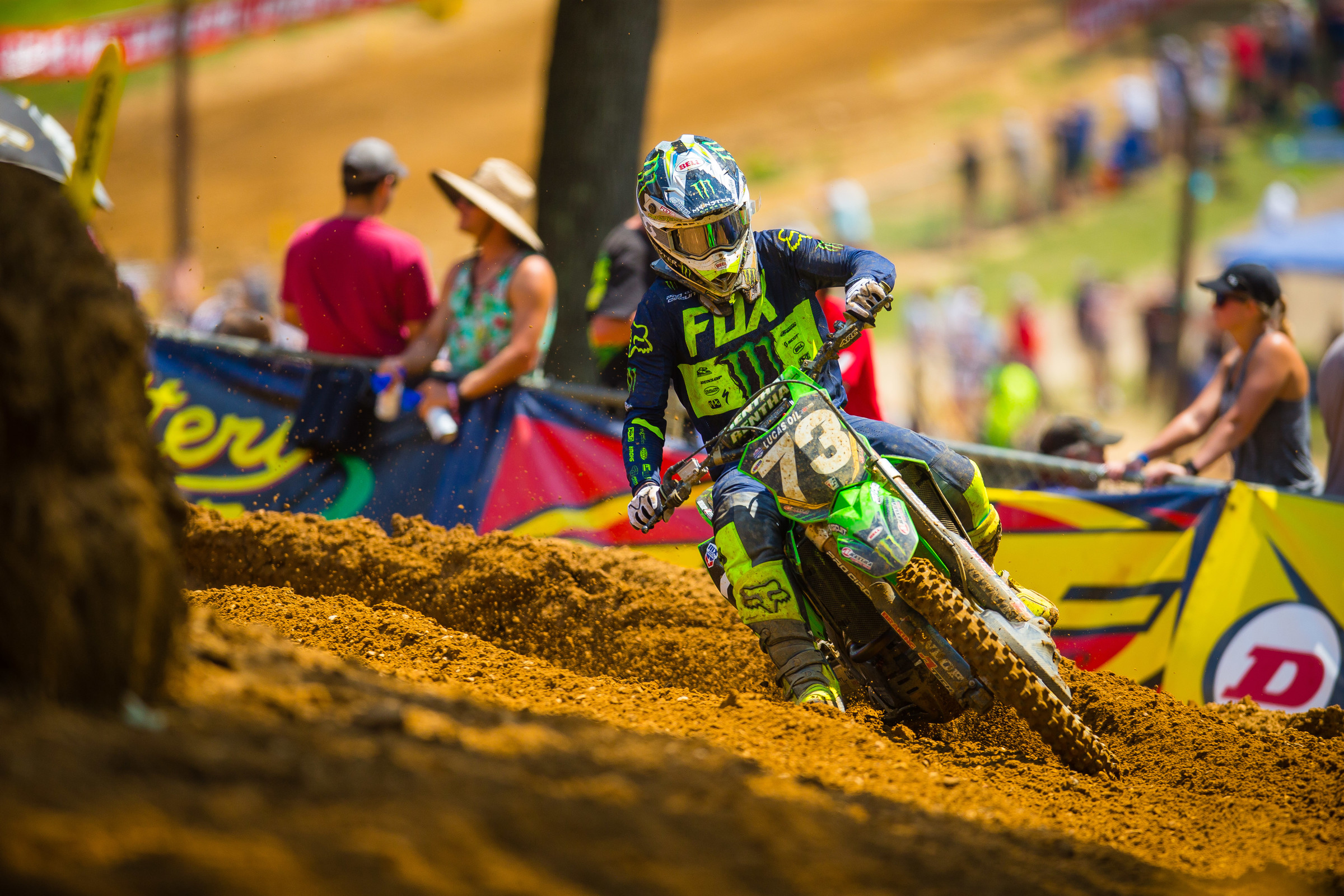 I wrote this and I said this. I gave you credit for coming back at the end of the natioanals. You didn't need to. You could have just got paid and wrapped it up. Outdoors has never been your thing. I think you deserve some credit for coming back. I told Mitch that. You came back. You were fast at times. Did it get better?
Yeah, definitely huge improvement on it. I had to take a lot of time off after surgery, so I wasn't in the greatest shape. I did what I could. Like you said, I could have just taken the easy route and just not show up, but I wouldn't do that to Mitch. I wanted to be there for him. He's been there for me through thick and thin. I just pretty much made it happen.
You could have taken a dive in 250 supercross and stayed down. We all know the shit I've given you over staying down in the 250 class. You had a chance to do it. From what I understand, Mitch would have been okay with it. He wasn't forcing you to go out there. You knew the points situation. Many other guys have done it before you, but you rode it out. You unqualified yourself for 250. You made yourself ineligible. Did you think about not doing it and staying down and maybe you'd have a ride?
To be honest with you, I did think about it especially when Mitch told me that he would hire me again. After the heat race in Vegas he told me, we can make it happen for next year if you want to stay down. But I'm pretty honest with myself. When I know that I just don't want to do it anymore in the class, I just know. I've had my opportunities. I've come close and I've gotten hurt. I've been on great bikes. I need my heart to be in it. Just riding a 250 again, I've done it for so many years that I couldn't find a motivation to just do it again. It was too much. I'm so motivated to get on a 450. There's nothing else that I want to do. That's how I want to feel when I get on the 250. It's been way too long. I know what I'm going to feel. I know what it's going to be like. I need something different in my life.
You're older. You're smarter than a lot of those 250 kids. You're maybe not as aggressive anymore as those kids. I think a 450 with your talent—we all know you've got the talent and you can ride a motorcycle. That's what I've always said is I thought you should be in 450 sooner. That's another story, but I think your riding style and your intelligence will help you in 450 class. It'll be better for you instead of racing kids who just shut their brains off because they're way younger than you.
I think so too. I think you're right about that. I think the 450 you really have to ride the bike. You cannot just hang it out. There's only a few people that can get away with that on the 450, but it's a different beast. I look forward to it. I hope I get the opportunity. Like I told you, I'm trying to stay positive. I can't get my hopes up, but I can't get them down. I've just got to continue to do it. I'm going to focus on this, on staying in shape, staying sharp, do these European races. Maybe something comes up and I get hired and I can show that I can ride this bike and then maybe I can expand my contract. I don't know.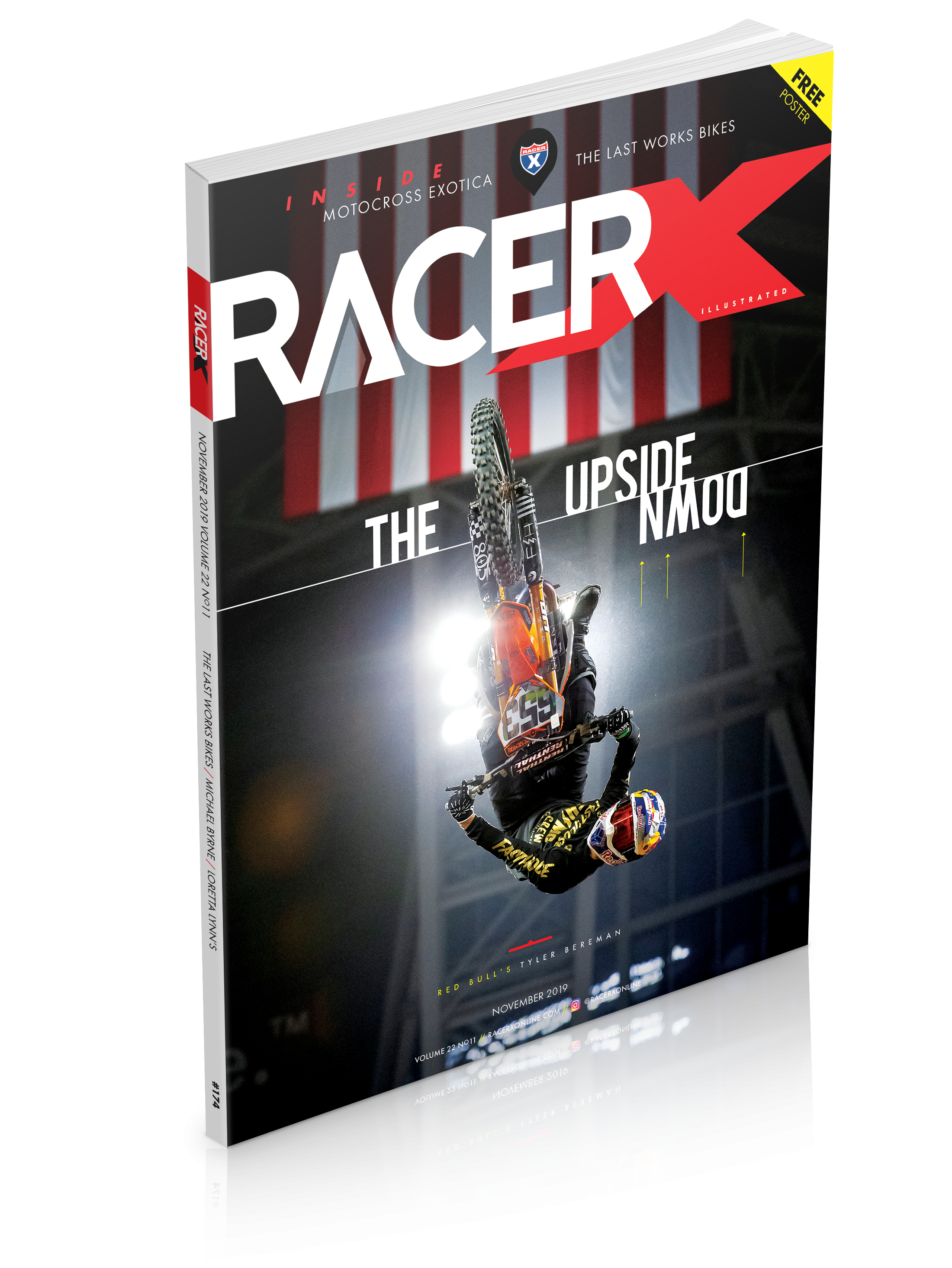 Racer X Illustrated Motocross Magazine
The November 2019 Issue
Inside the November issue of Racer X magazine: See who stood out and what our takeaways are from Loretta Lynn's and all of its future moto talent. GEICO Honda had a packed house at the last three nationals, but who's sticking around? Former factory rider Michael Byrne has made a successful jump to team management, and we find out how and why. When the AMA's 1986 Production Rule went into effect, it ended a glorious run of exotic, hand-built—and wildly expensive—bikes in AMA racing. We dig into the story of those final years. All these features and much more inside the November issue.
Read the Issue Now
Preview the Issue Now