We're five rounds into Lucas Oil Pro Motocross, and the more things change, the more they stay the same. Maybe you've heard that phrase before? Well, here are some more familiar phrases and how they've come to shape this season, just like they always do.
"It's a long season."
Ryan Dungey just needs to get this printed on the back of his pants. Early, the Dunge was solid but way behind Eli Tomac, and he admitted his bike wasn't perfect yet. That led to some behind-the-scenes talk about the Dungey/bike/team combo butting heads to make things right. At Hangtown, Dungey said, "We'll get things dialed—I feel like a broken record just saying this over and over!" Well, erase all that, because Tomac has crashed out, and his incredible season is a distant memory. Meanwhile, Dungey and company got the new KTM working better. Dungey is back in control—but now he has to live by his own credo, because one mistake will let Ken Roczen get right back in it. Remember…
"Anything can happen."
Prognosticating before the season, everyone knew Tomac would be good but no one thought he would be that good. He wasn't just in the mix; he was in his own mix. The level of domination was surprising, which proves you never really know anything until they drop the gates. Before long, we weren't even comparing Eli to this year's pack anymore; we were comparing him to immortal seasons in history. Then he made one mistake at Thunder Valley, and his season ended. For both the good and the bad, Eli's season was unexpected.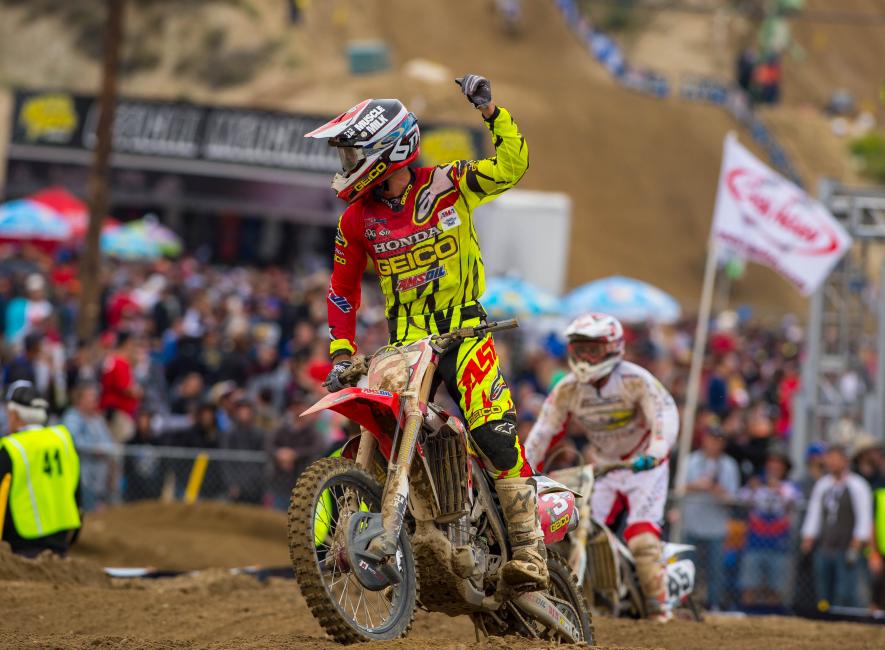 "We're making changes."
Christophe Pourcel told us it would take five races to start getting comfortable on his Rockstar Energy Racing Husqvarna. He told us the goal was top-tens through the first few rounds, and then top-fives. He was 100 percent accurate on his time line, because by round five he had his bike dialed and rode like a totally different guy, challenging the leaders and finishing fourth overall. "I was just trying to get comfortable with our new setting because we changed the triple clamp, the sub frame, the shock, different forks also—all kinds of setup [changes]."
Riders and teams are just guessing going into the opener, because it's impossible to find a test track as rough as a national track at the end of the second moto. Using racing as testing, Pourcel, and many others, have made big strides.
"Trying to get healthy."
Some dudes race the opening round of the Nationals because they're ready; some race it because the calendar says they have to. At Hangtown, Wil Hahn told us he would like to have a few more weeks to build strength in his arm, which he broke (for a second time) at Anaheim 1, but it was time to go racing. Using the races for training, testing and practice, Wilbur has started to come around. "For sure, best one in a long time, because I haven't done this in a long time," Wilbur told us at High Point. "Much, much better. I had a better week at home. Solid race day, two top-tens."
"Gotta give it up to my team."
Jeremy Martin was watching his bike sputter and misfire before Glen Helen's first moto. The rest of the field was ready to go, and Martin's team was still swapping fuel tanks and messing with electronics. But he somehow ignored the giant points hole building before him and stayed relaxed. The gate dropped, they finally got his bike going, and he rolled over the fallen gates and calmly charged all the way up to fifth. "I wasn't worried," he said. "Those guys know that bike inside and out and I knew they'd get it running." Under championship pressure, a lot of riders are quick to put the blame—and pressure—anywhere else they can. The bond between J-Mart and his team has never been stronger.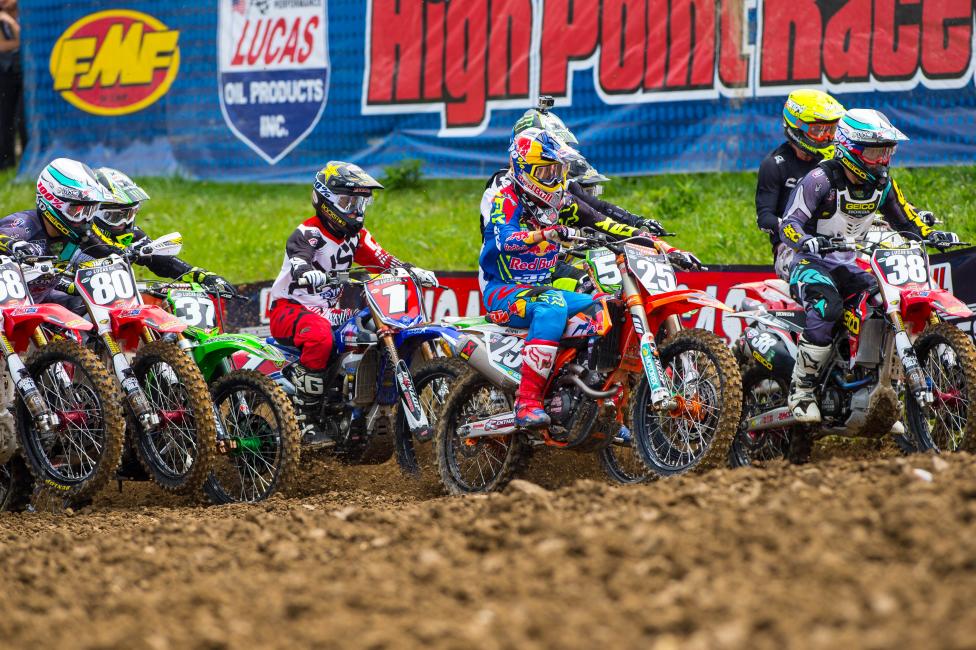 "You win titles on your bad days."
Ricky Carmichael created this quote, and his rider Ken Roczen is trying to use it. Kenny looked D-O-N-E in practice and in the first moto at Hangtown. He gutted out 2 points in the first moto while riding with a bad back. In moto two he claimed fifth. The 18 points he scored that day could loom very large at the end of the season. "Sometimes, if you want it and you want a championship you have to somehow fight through it," Kenny told us. "Second moto, I just tried to put it out of my mind and just go."
"Just want to be a podium guy."
With Tomac, Roczen, Dungey, Martin, and Marvin Musquin in the two classes, it's going to be hard for other riders to get wins. But podiums are cool, too, and plenty see those as a breakthrough. "I'm the type of guy that's going to always want to win and never be satisfied until I do, but at the same time these guys are champions and it's tough to even do what I did today—a podium—let alone win a national," said Adam Cianciarulo after making the box at Thunder Valley. He's not alone. Every other podium finisher this year—Jessy Nelson, Zach Osborne, Justin Hill, Chris Alldredge on 250s, and Blake Baggett, Jason Anderson, Justin Barcia on 450s—certainly will smile while popping some champagne. You have to start somewhere. Speaking of that…
"Gotta get good starts."
Somehow Musquin and J-Mart have won every 250 moto this season and have barely seen each other in the races. One gets a good start, and the other crashes or gets a bad start. Someday we'll see them face off, we think, but we actually saw a similar scenario unfold in the 2009 250 fight between Ryan Dungey and Christophe Pourcel, and they didn't really start together until Millville, which was past the halfway point. In a sport that doesn't run full-course yellow flags, pit stops, or other gimmicks, the only way to race your rival is to start with him.