High Point Raceway
Mt. Morris

,

PA
High Point
Lucas Oil AMA Pro Motocross Championship
By Chase Stallo, Jason Weigandt, and Steve Matthes
Ryan Dungey, Red Bull KTM, 1-2 for Second Overall in 450 Class
Ryan Dungey: In the second moto, we both got pretty good starts. He [Ken Roczen] made his way to the front. I was shortly behind him. Got myself into second, and then from there we put on a good, hard charge. He knew I was behind him and vice versa, and I was trying to catch him. The track was really shaped up and pretty good. It was actually really tough and rutted and rough. I tried to really find some good lines while in second, closing up on him, and we were right there. I ate a lot of roost trying different stuff. Lose a little bit here, gain a little bit there. I was kind of pushing on one side of the track just a little bit and gaining on the other. We came to about four laps to go and a lapper got in-between us. No excuses. It seemed like I lost a little bit of time on him, and I gave him that hope he needed to kind of seal the deal. But it was good overall. I was really happy with both motos. I felt really strong. The bike felt better. I feel like there's still more room for improvement, which is exciting. It's only getting better. We're going to keep building. Got a couple weeks now, so it's nice.
Did you keep continuing development that you worked on the week before in terms of new shock settings, better balance, better feeling from the motorcycle? Was it the same as last week, or are you continuing to go down that same path?
We're continuing to get better. We had a short week, but Jim, the suspension guy at WP, came to Florida with us Thursday and got a little bit better. We made a small change, but it was a big help. We're taking the information and going from there. I think it's important. The bike's still young. There's still a lot of learning and a lot we're doing that seems to just keep getting better. Bottom line, it's up to me now to put in the time. The bike's capable of everything, but for myself I've been given everything I need to go out there and get the job done at this point.
That last few laps you looked like you really made a push to go for the win there. Did you have to up the intensity a little bit or kind of stay on the same level?
Ken got a huge… He was up ahead a couple seconds, so honestly I just settled in. I was trying to push. With the heat and humidity, definitely, we're all out there and it makes it tough for us for sure, but by no means was it, I guess, suffering to the point where I was done. I just settled in. I was still going to make a push. Not going to give up for sure by any means, but a couple laps to go I just tried to settle in and run it in for second. As far as points, it was a wash. As far as the overall, we lost that to second. So that was unfortunate.
Beginning of that first moto, what was different?
I just got off to a good start. I got kind of pushed out, then I got off the gas for one split second to get inside and here come four or five riders up the inside. So I had my work cut out for me. I saw Ken in the pack. He passed me and I tried to pass him back. We were all trying to get through the pack. I was able to get up to the lead and pass [Justin] Barcia, and from there just kind of run it in for the win, which is nice. Those are those areas that I've been working on, and I haven't been so good. So it's good to see some results in that department and making passes quicker than I normally would. Just tried to cut through to get to the front so I had a clear track.
Take me through that first pass where you just cut to the inside. What were you thinking there?
The start's pretty off-camber, so you're coming up it, and inside of me was [Christophe] Pourcel. So he stayed on the gas and just carried it out to the bank. I was kind of right on the right side of him, and I tried to get off the gas and tuck in a little. It's funny because I started eating his roost. It starts hitting my bike, and I feel like it slowed down like five miles per hour, and then here comes [Jason] Anderson and [Wil] Hahn and all these guys up the inside. It's a tough start. You really have to set yourself up. You don't want to go too wide to get pushed out, but you don't want to go too far inside. It's probably one of the trickiest starts here on the circuit.
What did you think of the change in the track layout?
I liked it. Honestly, it really brought out the rider I feel. It was really nice to come down the really rough stuff into the steep hill into a rut. A lot of off-cambers, a lot of technical, tough corners and a lot of drop offs. Me, personally, I like these changes better than the old track for sure. So it was good to see an improvement. When they do that [changes to a track] it's not always the greatest. Sometimes it goes backwards, but I think they found themselves a nice layout and one good for racing, too, in my opinion.
When was the first time you saw the double downhill the first moto? Was that something you noticed in practice? It seemed like that was the spot you passed Roczen and Pourcel.
On the parade lap of the first moto I saw they had built it up. I'm like, well, that's interesting. They threw the thing out there now. I'm trying to judge it in my head whether I'm going to hit it or not. I said if I have the lead [I wouldn't do it] because it looks kind of soft and nobody's done it yet. But in the heat of the moment I'm like, all right, here we go. Nothing risky. You could see it was doable because they just built up the face and they actually made it a little nicer for the second moto too. It was tough because you're coming out of an off-camber, and you have to fade out to the outside. It was pretty good, pretty fun.
What happened in the second moto? It looked like lappers got you.
You can't blame them because they don't know we're behind them, but we see them and here you are coming up behind them and it's just what it is. There's no excuses in that department, because he could have just got messed up by a lapper just as easy as I did. Sometimes that's the way the cards fall. The leader either gets messed up or the second-place guy gets messed up. It's part of the game. I have no excuses there. –Chase Stallo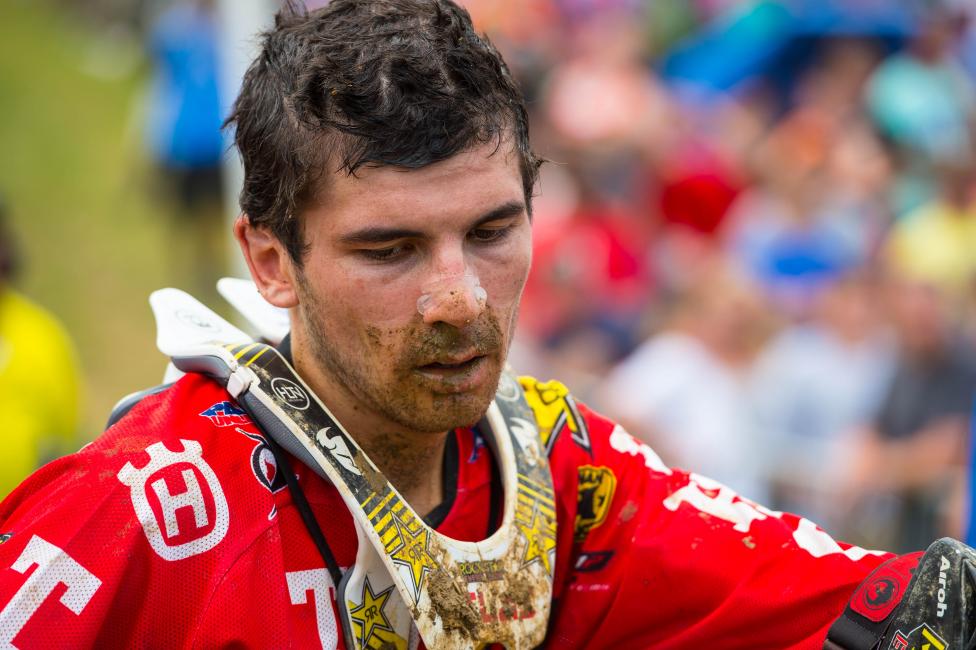 Jason Anderson, Rockstar Energy Racing Husqvarna, 4-3 for Third Overall in 450 Class
Racer X: That second moto looked really strong for you. It was a really good position. Give us the overall day for you and how it went.
Jason Anderson: My first moto was decent. I caught up to Pourcel, and it was kind of towards the end of the moto, so I didn't really have enough time to make a move and he was riding really good. But my first moto wasn't bad. A fourth in the first moto puts you in position to get a podium. That second moto, the track was pretty rough. I got past those guys, [and by then] Kenny and Dungey were kind of gone. So I kind of rode the whole moto by myself, so it was kind of uneventful. But 4-3 for me is some solid moto scores and just had a good day, and just going to try and keep improving.
We talked about this last week: You said Muddy Creek and High Point haven't been the best for you over the years. Have you exorcized those demons now in terms of these two tracks?
Yeah, I feel like in the future if I want to be one of the guys to completely make a championship run you can't really have bad tracks. I feel like I'm just trying to get better. I work on my weaknesses. I feel like doing good at Muddy Creek and doing good here is a good step in the right direction. Just really happy how everything went today.
And the starts were a little rough. You had to earn this.
As far as my starts, they weren't the greatest for sure, but I was kind of right there in the hunt, around eight or nine. I was able to make some good moves. I don't know, nothing's really changed. You just kind of learn from your mistakes and try and do it differently the next weekend. I feel like I've been riding good and I've trained hard. I'm pretty confident in my fitness and everything. I definitely feel like I bumped up a little. It's been good.
You said you've "bumped up a little." Anything you can point to?
There's not really anything that you could be specific. I just feel like I feel good at the races. I feel like I have it in me toward the end of the motos to step it up a level if I need to get that next guy that's right there. I feel like I'm just riding good and having a good weekend. Hopefully, I can keep the ball rolling and stay up here on the box. That's my goal. I feel like stepping up a level has helped me do that for sure.
I know I always have it in me to be good, but putting it together hasn't really been my deal in the past. I've been feeling pretty solid lately. I know I can do stuff like get podiums like I'm doing right now. It's just cool to see that start happening. I feel good out there and hopefully I can just keep doing it.
Last year, you struggled with consistency. But this year, even when you're not on, you're getting fifth or fourth. Anything specific you can point to that's helped you make that change?
For sure. I think I've been riding these tracks a little bit better on the East Coast, probably because I've been in Florida. The past four years I've done it in California, and I'm a West Coast guy. So when you come to a track with ruts it's not my deal. I grew up on flat, blue groove stuff so being in Florida I think has helped me. Obviously the humidity, when it gets hot out, it's not too big of a deal. Obviously everyone still gets hot at some point. You just got to push through it. As far as the tracks, I feel like we've got a good facility back in Florida. At the races, I'm not feeling out of my element whenever there's gnarly ruts there.
You train with one of the most consistent riders in Dungey. Has he given you any of his secrets to be more consistent?
We ride together, but as far as giving tips or whatever, at the end of the day it's not rocket science. You've just got to go fast, and you've got to do it consistently. Obviously, you see him riding, and you see him do stuff that you try to catch on and try and do, but I feel like me and him are kind of complete opposites. I'm kind of a little bit ragged, and he's just solid. So I feel like if I could take some of what he's doing and do that, it would be good to learn from him.
What about your plans now for the next two weeks? What do you have going on? Are you going to have any time to recover, or are you just going to pin it?
Going to hang out on the couch and… We've had two weekends off since January 3 doing supercross, and this has been gnarly. I just want to hang out on the couch. I don't really want to do much else. –Stallo
Wil Hahn, Monster Energy Kawasaki, 10-9 for Ninth Overall in 450 Class
Racer X: Best one so far?
Wil Hahn: For sure, best one in a long time, because I haven't done this in a long time. For sure, much, much better. I had a better week at home. Solid race day, two top-tens. I'll take it and let's head to Budds Creek.
The team told me you've stopped with the big bike changes and decided to just ride this week?
Yeah, I just put in time this week, rode, did my thing, made the most out of it.
Do you feel you're still leaving tons on the table? Can you get much better?
I wouldn't say tons, but we're definitely behind a little bit. But we're making strides and we're going in the right direction. The team is pumped on seeing improvement. –Jason Weigandt
Justin Brayton, BTOSports.com KTM, 9-14 for Eleventh Overall in 450 Class
Racer X: Good first moto. You got to be pumped on that. Second moto was kind of so-so for you, but overall a decent day.
Justin Brayton: It was a pretty good day. Overall, my riding was good. My practice times were good. First moto was okay. I made a few passes the last half of the race. Second moto was going okay, and then the last ten minutes I crashed twice and I guess four guys got by me. That's kind of a bummer, but it wasn't for lack of trying. Both times I was trying to pass guys. Overall, good day. I thought the track was good. I've enjoyed all the tracks.
It looked tough to me though with the ruts.
It was definitely tough, but once you find a groove it's actually really, really fun. It wasn't as bad as Lakewood as far as ruts, but still pretty bad. –Steve Matthes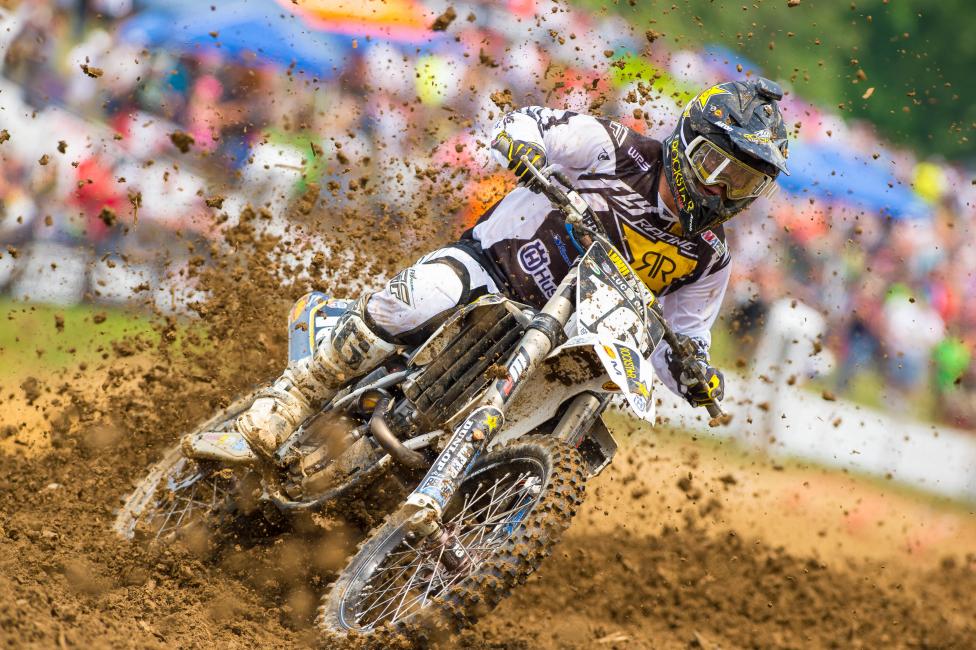 Zach Osborne, Rockstar Energy Racing Husqvarna, 5-2 for Second Overall in 250 Class
Zach Osborne: I had a good feeling straight from the start in the second moto. I knew that we'd be better in the second moto. Just tried to be in there as long as I could, and probably at like twenty-five minutes I made one big mistake and kind of ended it.
Did you ride here much as an amateur?
Not a home track, but maybe I came here a couple times a year. It's like five-ish hours from home. It's definitely no Muddy Creek for me, but, yeah, I came here quite a few times when I was a kid.
What did you think of the track changes?
I think the changes made it a lot more steep. The off-cambers and stuff were more steep. Some of the downhills were more steep. I thought it was really good. I like this track. I think the dirt's good. I think the rain last night helped us out a little bit.
Did you come together with RJ Hampshire in the first moto?
We didn't get together; he was just in front of me and I was struggling to pass him for a little while. Finally, I made a mistake at the old RC jump and jumped off the track, and then Alex [Martin] got me. Then I ended up getting Hampshire, and then Jeremy [Martin] got me with one lap to go. I felt like I should have been probably third in the first moto, but oh well.
Through this series, nine guys have made the podium in the 250 Class. Have you noticed the depth?
I've just a little bit inconsistent. Our season started off like with twentieth in the first moto, and then a DNF in the second moto at Glen Helen. I feel like maybe we can cut that down a little bit. I feel like I should be in the top five every time we hit the track. Just little mistakes took us out in the beginning. This is where I belong.
Looking ahead to the next week and a half, what's your plan?
I'm going fishing, taking five days to rest and rejuvenate my body a little bit, and start back on Wednesday. –Stallo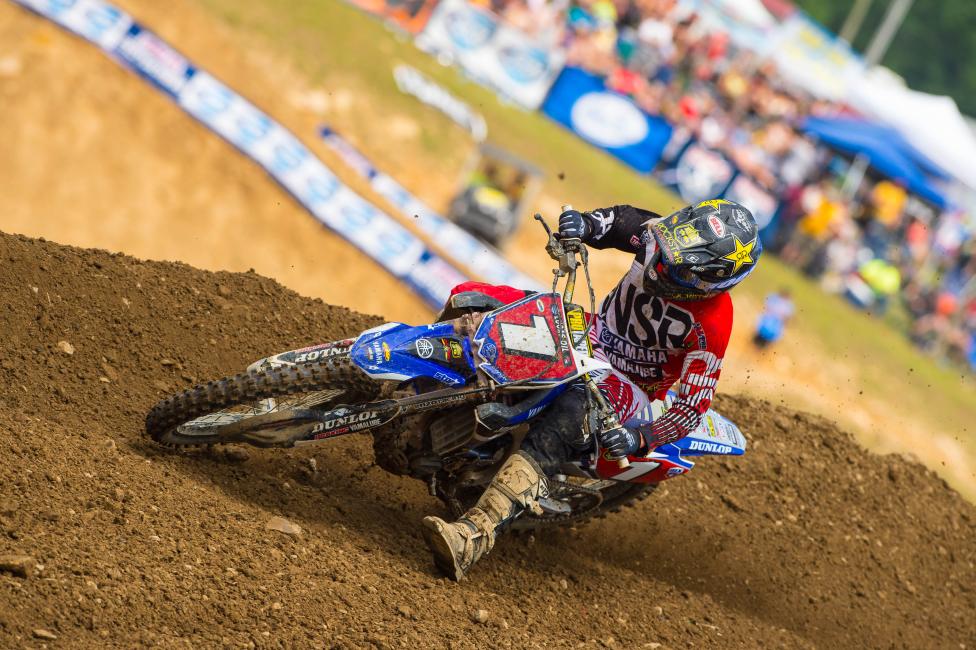 Jeremy Martin, Yamalube/Star Racing Yamaha, 4-4 for Third Overall in 250 Class
Racer X: Give us the brief overall of the day, because there were some laps there when you were going through lap traffic that were ridiculously fast, especially the second half of that race. How was it?
Jeremy Martin: It was a little bit of a rough weekend. These guys are good. Marvin [Musquin], he knows what the speed's like, and that's what it is. I would just say that the starts dictate so much. You don't get out there, and then you're just getting hammered the first couple laps. It can make it tough. You've just got to work on just being up there every weekend and getting good starts.
This isn't the first time all season you've had to come through the pack. What's your mindset when you know you have 10-15 riders to pick off?
I think as any racer your number-one mindset is to get up and get as far forward as you can possibly get. You're trying so hard. You're trying to get up there and get around those people so you can be up with the front-runners. Running through your mind, it's just like, this isn't going to be an easy race and you can't settle—that's for sure.
Does your mechanic give you updates? Like, P10 or P5?
You get like P10, P5—stuff like that. I just like the lap time; that's what I try to race. Even when you're on those guys coming through the pack, it's hard to read the board sometimes because you're just getting slammed with roost. Sometimes you don't even see the board, but when you get by someone, and toward the end of the moto when you're trying to close the gap, that's when you see the board and that's when it really comes to your advantage.
What did you think of the track changes?
The track was good. I was pumped on the changes. It's always cool just to ride something new, and it's cool for the fans. Instead of seeing the same thing over and over again, they got to see us jump a big quad today. I saw a lot of people over there, a lot of air horns going off in the beginning of the day. It's just cool for those guys, and it's nice to change it up.
You actually knocked Alex [Martin] off the podium in that second moto.
Alex knocked me off the podium the first moto, so it was only suiting that I knocked him off in the second moto, so we're even now.
Did he say anything afterward?
He just said that on the start he kind of screwed me a little bit. We were banging bars pretty hard going up. But, no, it was good. I love him. We both work hard together. He's a good training partner. So we'll just go to work next week.
You have a week and a half off before we go to the next one. What's the plan for you? Do you relax a little bit? Do you just hit it hard? Do you have some testing planned?
We all push hard. I don't really think you get a week off. We're all going to work again. For me, I'm looking forward to it. I would say that there's going to be a lot of work put in these next couple weeks. –Stallo
Adam Cianciarulo, Monster Energy/Pro Circuit Kawasaki, 2-12 for Sixth Overall in 250 Class
Racer X: First moto, you had a little something there. It was good.
Adam Cianciarulo: The first moto was good. I like the track, I like the dirt. I like when it's rutty like that.
Had you raced here before ever?
No, I've never been here. It was a little slick with the rain in the beginning. But I felt good first moto. I wasted a lot of energy trying to get around Hampshire. He almost crashed a lot in front of me, and I didn't know what was going to happen. It took me a while to get around him and once I did that I kept Marvin pretty close, I think under ten seconds. I think it was five at the line. I'm sure he cruised the last lap. But so far that was probably my best moto of the year. Felt pretty smooth. Second moto, I actually got a better jump out of the gate. I was in the first corner, and I went to… I don't know if I laid it over too far or hit it with my boot or something, but I hit neutral and then I got creamed from behind. I didn't go down, but I got creamed from behind. First lap I was in that far back left before the finish line, and some dude comes from the outside, I'm in the inside rut, comes from the outside, squares it up, and I don't know if he miss-timed the square-up or what, but I got T-boned from the outside, which I was pretty impressed actually. So I was trapped under my bike, got going, and…
You don't even know who the dude is?
No, [it was a] KTM guy. He went down too. Anyway, it is what it is. I never really got going second moto. It wasn't a good ride, but at least we can build off the first moto. We got a weekend off. Do a little recovering by the beach in Florida.
Is that how you recover, in the sun?
No, I'm kidding. In the sun, on the road bike. But it wasn't a good ride in the second moto, but it's a long series. Can't get too bummed about it. Just got to focus on what I need to be better and then hopefully get up there again. Second was decent, but I want to win something. –Weigandt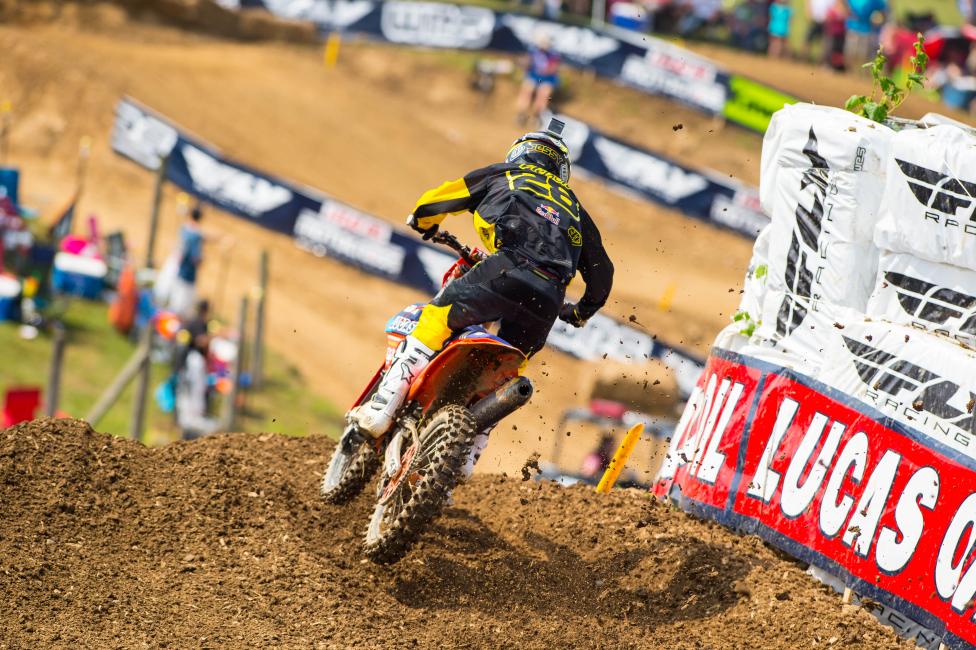 Jessy Nelson, Lucas Oil/Troy Lee Designs KTM, 10-8 for Eighth Overall in 250 Class
Racer X: Coming into this race, all of us idiots in the media, we had a big podcast show. We talked about you. We were like, look, the guy can start like crazy. It's an uphill start. He's going to get up front. He's going to be a good podium guy. But your starts weren't there today.
Jessy Nelson: No, they weren't.
They've been there all year.
Yeah, they've been pretty good other than Hangtown. Hangtown, I struggled, but I crashed a lot at Hangtown. I crashed like three times both motos. This track, I've always struggled with it, and for me to come out with what I did, 10-8, it's not good by any means, but still I'm pretty happy with it. I've struggled so bad at this place. This has been the worst track for me every year. Every year it's been the worst track for me I come back, so I'm not too bummed on it.
Think about two years ago where you struggle to a 10-8. You'll take it all day.
Oh, yeah. It's not a bad deal—10-8, 8th overall I think, I'm not sure. If that's my bad day, then we're doing okay. –Matthes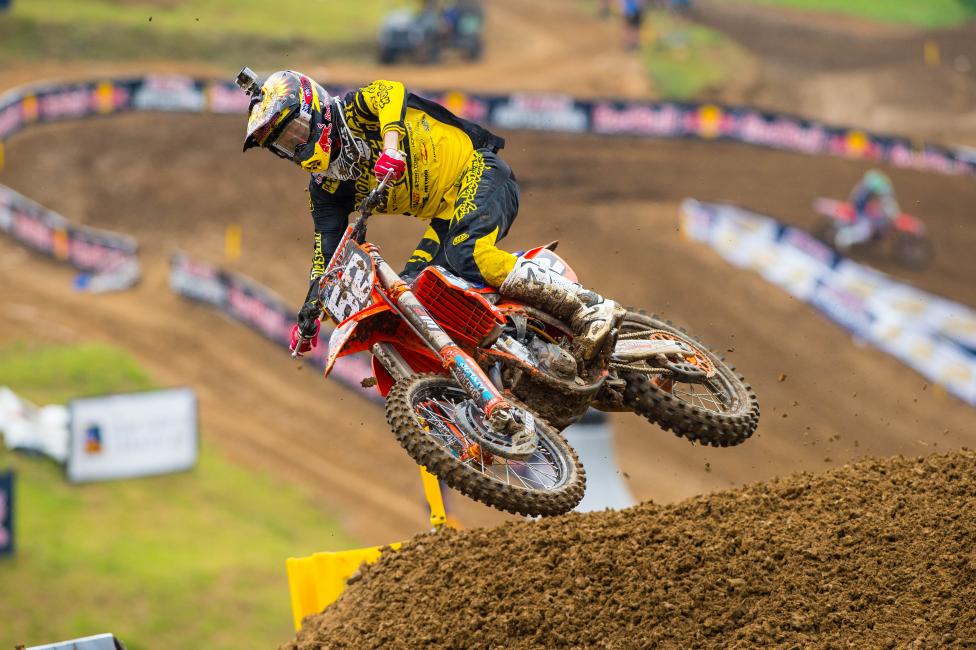 Mitch Oldenburg, Lucas Oil/Troy Lee Designs KTM, 13-14 for Fourteenth Overall in 250 Class
Racer X: How was your day?
Mitch Oldenburg: It was all right. I think we're improving every weekend, so I can't be too bummed on it. Still struggle in my second motos. I just need a little bit more fitness. First motos are coming around, starts are coming around, qualifying's coming around. Everything's moving in the right direction. It's not moving as fast as any of us want it to, but it's improvements every weekend, so I can't be too bummed.
I haven't had a chance to talk to you since you've been on the new team. Flashes of greatness here and there for you. Just a matter of trying to be consistent, huh?
Yeah, absolutely, and just learning the speed. I've always been kind of a step back from everybody, especially out of these semis. I feel really good on the bike. I'm getting more comfortable every time I ride it. Just learning the speed and learning how to go that fast for thirty plus two is going to be the thing for me. I think I'm getting close. First motos feel good. I feel like I can do it until the end. And then second motos I got 20-25 minutes in me, and the last half is just brutal for me. –Matthes