Rancho Cordova, CA
Hangtown
Lucas Oil AMA Pro Motocross Championship
By Jason Weigandt and Aaron Hansel
Ryan Dungey, Red Bull KTM 2-2 for Second Overall in 450 Class
Racer X: You got a 2-2 finish today. Why don't you tell us about the day and how it was for you?
Ryan Dungey: Overall it was pretty good. In practice we made a couple changes, tried to figure a few things out. The track was pretty deep, a lot more moisture in it, and they let it get a lot rougher. I think it's always good testing. We did a lot of testing coming into the season, or as much as we can for the outdoors, but with what we had I think felt pretty decent. First moto was not bad. I felt like we were right there. Everything was on point and pretty close. As the track started getting rougher I realized the couple changes we made in the second moto didn't really cut it for us. I had a lot more in me. It wasn't really even fitness that it came down to in the second moto. We regroup and we get better. Two and two on the day is not bad at all. I'll take it if that's our worst day. Overall we're going to obviously try to get a little better before next weekend at Glen Helen. That's also a rough and gnarly track, so we'll try to get a little bit better there. I trust in my team and everything. Everything's dialed in and be up there battling for the win.
I think we assumed since supercross was so good they have this new bike and they have it sorted out. Apparently it's a big change. You have to start over again on a new bike with a new type of racing.
Yeah, absolutely. We do have a new bike. We started riding on a base setting after Houston after we got the supercross championship. But the tracks are rough. They really let this track go. I don't think they touched it. And I think that's really going to benefit the riders and drive up the talent and the level. We're going to get better as the season goes on with these rough tracks. I don't remember last time they left it like that. That was pretty bad [rough], but I'm taking nothing from them. I think it's good, but we got a little bit of work to do. But we'll be there.
Does [Eli] Tomac's performance have you concerned?
His performance was great. By all means, he rode great. But they've also been riding that bike for a number of years, and they have it figured it out. I don't want to say it in a cocky way or anything, but I think he's at his best, and I see a lot of room for improvement on our side. It doesn't surprise me. He's riding good and we have a lot more than we showed today. He's going to be tough. He was tough last year too. We'll get things dialed—I feel like a broken record just saying this over and over [laughs]! We want to win. We'll do our work and we'll be back. –Jason Weigandt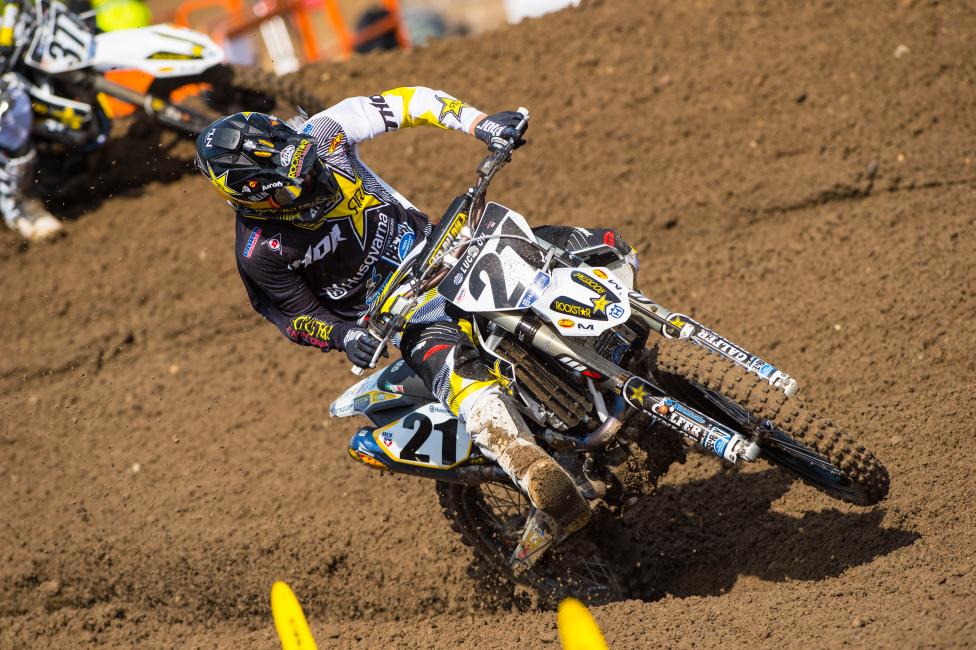 Jason Anderson, Rockstar Energy Racing Husqvarna, 3-7 for Third Overall in 450 Class
Jason Anderson: My day went pretty good. This is my best finish at Hangtown. I always loved the Hangtown track; I just never put two motos together. For me, I had a good first moto. Tomac and Dungey were in another zip code. They were gone. So they kind of just made us look silly. But getting a podium in a moto for me was super-cool first moto. That second moto I put my head down in the beginning, got tired, and I was kind of hanging on a little bit. But to pull off a podium for my first 450 race outdoors is pretty cool. I usually am not like an outdoor guy, I guess you could say, but I've been feeling really good on my bike this year. Just looking forward to the rest of the season.
Looks like you and your buddy Blake Baggett found each other a couple times out there in both motos. Take us through that?
Baggett's my homie for sure. As a racer you always have… It's a competition. Ego is what drives us. I guess there's a little bit of that that goes on. That's what keeps us hungry to win. What we have going on is a rivalry or whatever you want to call it. I don't want him to beat me and he doesn't want me to beat him. That's what we deal with as a racer, and there's going to be plenty more guys like that that you want to battle with and you want to beat. There's always certain guys that you don't want to beat you, and that's just the way it is. But overall me and Baggett did battle today, and he got the best of me in the second moto. I'm sure we'll be battling all season. I'm just looking forward to progressing and seeing how the season goes. –Weigandt
Weston Peick, Autotrader.com/Toyota/JGR Yamaha, 8-3 for Fourth Overall in 450 Class
Racer X: So some guy called me out on Twitter for not calling out your suspension for looking bad in the first moto. But then in the second moto you said you did change it, and it looked like it got better.
Weston Peick: First moto we were a little bit out of line on our setup. Hangtown's a tough track to figure out. You either hit it on the dot or you don't. So we were a little off first moto. I was struggling a bit. I obviously went front third to eighth place. I'm glad Jonny [Oler, suspension man] made an awesome decision to make a big change for the second moto, which was obviously the way to go. We came from tenth to third, so I was super stoked with the change. Just glad we made a good change.
It's amazing because people would think it would be fitness. You went backwards in one moto. Clearly fitness had nothing to do with it. You change the bike, and you finished strong.
When it comes down to your setup and it's not good and it's not working right, you've got to salvage what you can. You can't burn yourself out because you know you still have that second moto, and you know you have to make a big change to go out there. So it's not that we're not in shape or we're not fast; it's just being smart and looking forward to getting ready for those second motos. That's all it is. Obviously I went out there and proved that I wasn't getting tired, clearly. But people jump ahead of things instead of just understanding what actually goes into our sport and what actually we do and how much it takes out of us. It's just one of those things. –Weigandt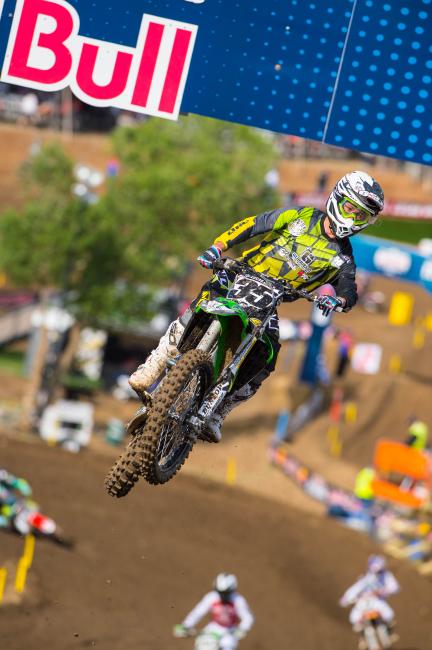 Kyle Cunningham, AG Motorsports/Gurrnaid Energy, 15-40 for Nineteenth Overall in 450 Class
Kyle Cunningham: We made the jump to the 450 and didn't get the race bike built until last Thursday, and we're still learning. I felt like today was a testing day all through practice and all the way up through the first moto. We actually had a day set up to test with Mitch [Payton] and Bones [Jim Bacon] over at Pro Circuit, who stepped up to help me out a little bit, but I woke up with food poisoning and was throwing up all day. Tried to give it five laps and ended up going home. It's a learning curve—it's been a while since I've been on the 450. Didn't feel great the last six laps in the first moto, but we put in a fifteenth. I thought if we could go in and get just a little better result in the second moto I'd be happy with just getting out of Hangtown healthy, especially with how brutal the track was. Unfortunately in the second moto someone hit me from the rear on the start and that was it. Went into an endo and got my knee a little bit. Hurting or not, I would have gotten back up and finished if I could have, but the bike was mangled. But we have to take the good with the bad, and a big thanks to AG Motorsports and Mitch and Bones at Pro Circuit. Also Mitch [Milson] at Granbury Kawasaki in Texas. He stepped up to help me also. Hopefully we can go into Glen Helen with this knee feeling better and get a couple days of riding in.
So you'll be back? I don't have to put you on the injury report?
I hope you don't. They looked at it and it's just swollen a lot from the handlebar grabbing the top of my knee. We'll ice it, try to get some riding and testing in, and come out stronger at Glen Helen. We have twenty-two motos left to better our result every weekend. –Aaron Hansel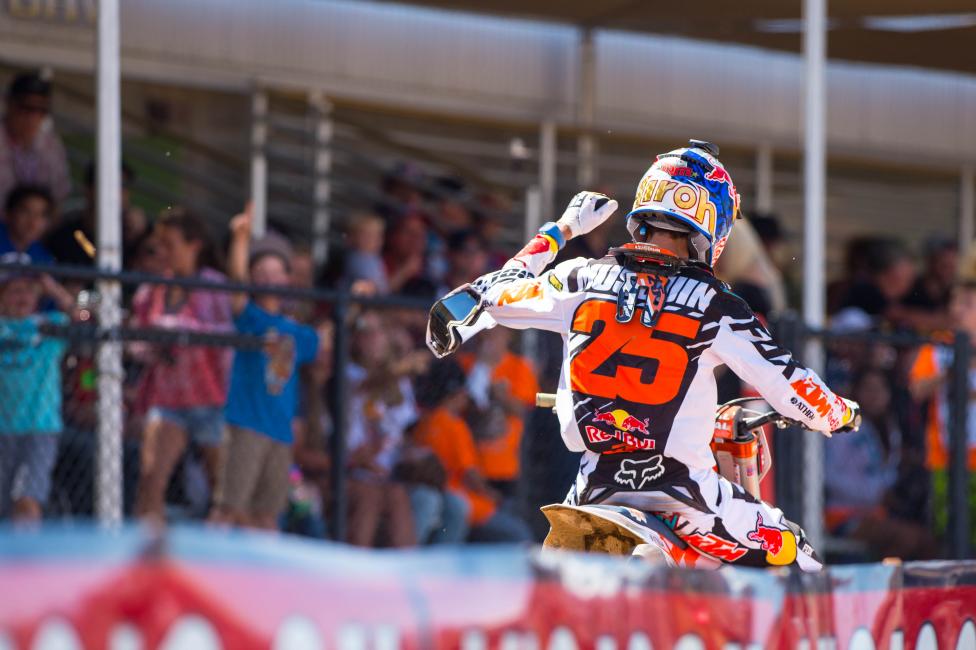 Marvin Musquin, Red Bull KTM, 1-2 for Second Overall in 250 Class
Marvin Musquin: First of all I expected a lot coming into the first race. But I don't know where we were speed-wise or whatever. Those guys, they go really good. Everybody's working so hard, so those guys are really fast. It's a new championship, so it's hard to know what you can do. Obviously I expected a lot and then I felt pretty good. I kind of surprised myself with winning the first moto because my first few laps weren't so good. But I'm happy about myself staying calm and trying to be smart and smooth, trying new lines and working with the bike and the track. I was kind of happy. And then winning the first moto was great. Then the second moto I didn't get the start I wanted and it was tough. Came back to second place, and that's the best I could have done today in the second moto. Jeremy [Martin] was into the lead and going really fast. That was the best for me today.
I was just curious a little more about that second moto and what happened at the start. Was it off the line, or was it in the first turn, or was it in the first lap?
I feel like I kind of made a mistake not doing a practice start right after the gate. I didn't do the practice start, so I didn't go full gas right after the gate. I feel like I mixed a lot of the sand [into my line], and I thought it made it really soft. I got a good jump and I felt like when I revved it right after I left the starting line it was a little bit softer. That was a little bit of a mistake from my side. But I got a great engine and we can do great starts. That's what I did in the first moto, and that's what I want to do all year. It's going to be really important to be out front like I did in supercross. So, second moto when you don't get a good start and you're fighting with those guys and like around on the top ten, you're like, man, that's going to be tough. You can't really see all the lines because everybody's battling, trying to pass each other. It was tough, but you've got to be safe and be smart. I made some good passes and came back to second. That was the best [I could do].
What changed in the first moto? Looked like the leaders were getting away and then all of a sudden you reeled them back in?
Well, we made a big change on the bike with the shock, and also I felt like I was a little bit slower than those guys, and they were fired up and going really fast. They passed me. I felt like I had to adapt to the new setup on the bike. I stayed calm, and I started feeling better. I saw Adam [Cianciarulo] go down and then I passed Cooper Webb and went into the lead. That [moto] felt really good and it gives you confidence. I saw Jeremy behind, so I tried to be smart and finish it up. I've got to be happy today because I've never started the outdoors very good. I've always struggled being in shape and coming back from injuries. Last year was really tough, and I was really off the pace. It was also the first race with the new KTM bike. We learned some stuff and we're going to get better. –Weigandt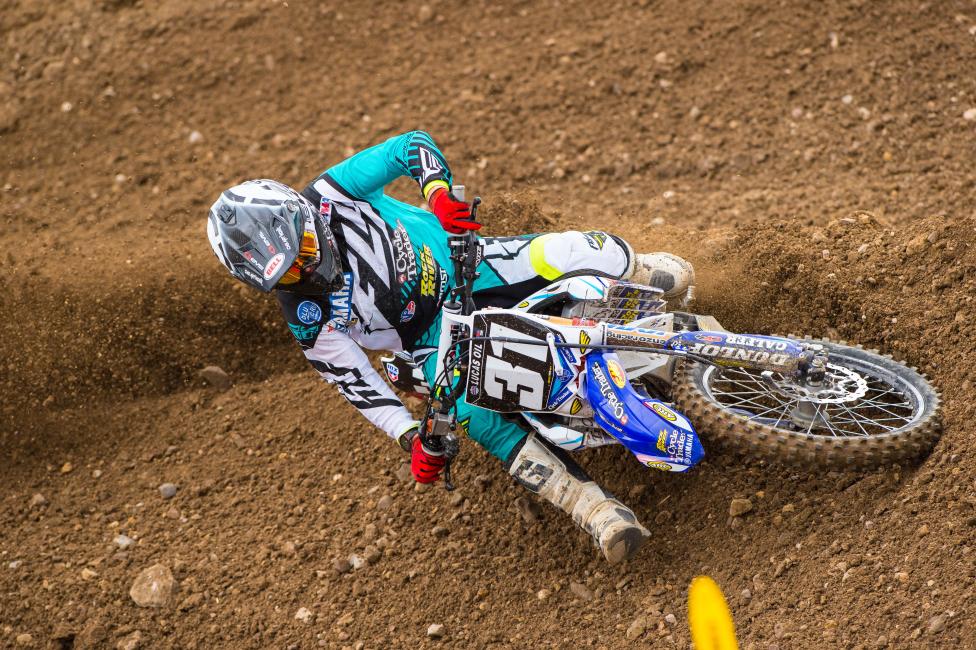 Alex Martin, CycleTrader.com/Rock River Yamaha, 6-4 for Fourth Overall in 250 Class
Alex Martin: We started off the day pretty good. I think we were sixth fastest in practice, which is pretty good. Practice isn't really my strongpoint; I kind of struggle there a little bit, so that was good. Had a good gate pick in the first moto and nailed the start, but got pushed wide and ended up seventh or eighth. I picked off, I think [Justin] Bogle, and [Adam] Cianciarulo crashed. Ended up sixth, which is a really good start to the season—everyone's fresh and the speed was there.
In the second moto I knew a lot of guys were still going to be tired because the track was brutal today. They watered it heavily before the first practice, so I knew it was going to get rough by the end of the day, but I was surprised at how rough it actually got. It was brutal out there. Anyway, got a better start but made a little bobble and Chris Alldredge got around me on the first lap. I paid for that later because I was trying to chase him down for third at the end. Zach Osborne was creeping up on me too, so I knew I needed to get my ass in gear. We crept up on Alldredge, and we had a pretty good three-way battle for the third spot. I saw on my pit board that if I passed Alldredge I'd have third overall, so I was really pushing hard for that, but I just couldn't find a line to get around him. A good weekend and nothing to be bummed on, but we're definitely capable of more. Looking forward to the rest of the summer.
Was it hard to work on passing Alldredge with Osborne on your tail?
I really just focused on going forward. I was trying not to look back, that's one of my weak points. I was just focusing on racing forward and catching Alldredge without paying any attention to Osborne. I'm really happy with how I felt in that moto. – Hansel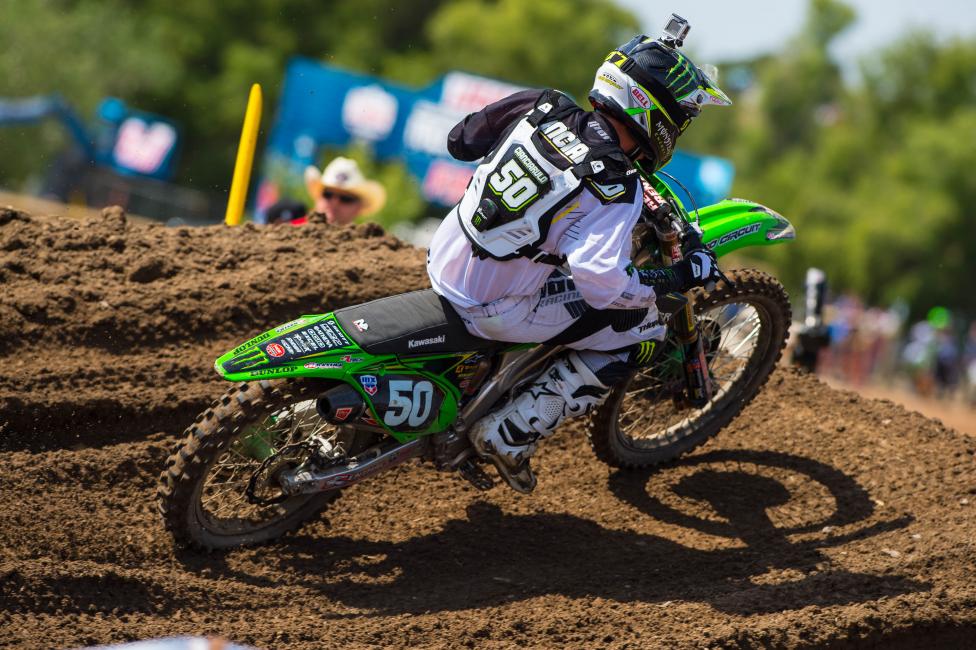 Adam Cianciarulo, Monster Energy Pro Circuit Kawasaki, 9-11 for Eighth Overall in 250 Class
Adam Cianciarulo: In practice I didn't think I was going to be the fastest. The whole goal today was to ride within myself and not get caught up in everyone else. That's what I tend to do—I want to go as fast as everybody else. I didn't know where I'd be, but after being fastest in both practices it's hard to keep your head and have realistic expectations. But the first moto was good. I got by some guys, took some guys with me, and was just riding with a clear head, maybe even conservatively. Just made a couple mistakes, like that crash. I didn't really feel like it happened because I was riding over my head. I just misread the dirt a little bit and blew through the rut on the face of that triple. But overall there are so many positives we can take from the day. Without the mistakes the position would have been better, but I can't complain. My speed is way better than I thought it was, and that's the hardest thing to get. My fitness isn't at its max yet; I don't have any boot camp under me. I don't really have a base. I basically have six weeks of riding.
Did you have a goggle problem after you went down?
I wear that metal system that helps you breathe better through your nose—they're actually magnets—and I hit it with my handlebar when I crashed. It popped off and was inside my goggles, so when I went to put my goggles on, I had to take them off and get it out. [Ed note: Adam was using a prototype magnet.] It was a weird situation. It was an unfortunate crash. I was flowing and my lines were really good. Then I crashed and didn't have any front brake for the rest of the moto, and my whole flow got messed up. But I'm stoked with the way I rode. It's a bummer to make those mistakes, but I'll work on better starts next week and eliminate those mistakes and we'll be solid.
I think you were the only 250 guy to hit that Fly 150 jump.
To be honest with you, I only did it because I feel like I probably gained at least ten fans just from doing it. I swear that was my mindset. I went to the outside because I thought it was faster because they smoothed the corner out, and I was like, "You know what? Even if I don't win this race, people will really enjoy it if I hit this jump." So I did it and the crowd went nuts, and the whole next half lap I had that stoked feeling. The crowd was into it. I had two guys behind me trying to kill me, but I didn't care.
Were you planning it, or did you just decide to do it at the last second?
As soon as I came over the triple before it, I knew. I'd scoped out the outside before. I knew I wouldn't make the downside—it's too big and it was too soft before it—but at that point I wasn't completely confident that I was going to win. I was okay with getting like fifth to be honest. I thought I might as well do something that's going to make the SC Top Ten, or something like that, to get motocross in the mainstream. I was doing it for the sport, and I was doing it for the fans. [At this point Cianciarulo had transitioned from responding to an interview question to cracking jokes.]
Compare it to LaRocco's Leap.
Well, LaRocco's Leap is a lot easier because you can downside it. I landed right on top of this one, and about three more inches on my front tire and I would have gone over the bars because I would have landed right in a G-out. But you know what? That's life and I'm only 18, so I'm allowed to make those mistakes. –­Hansel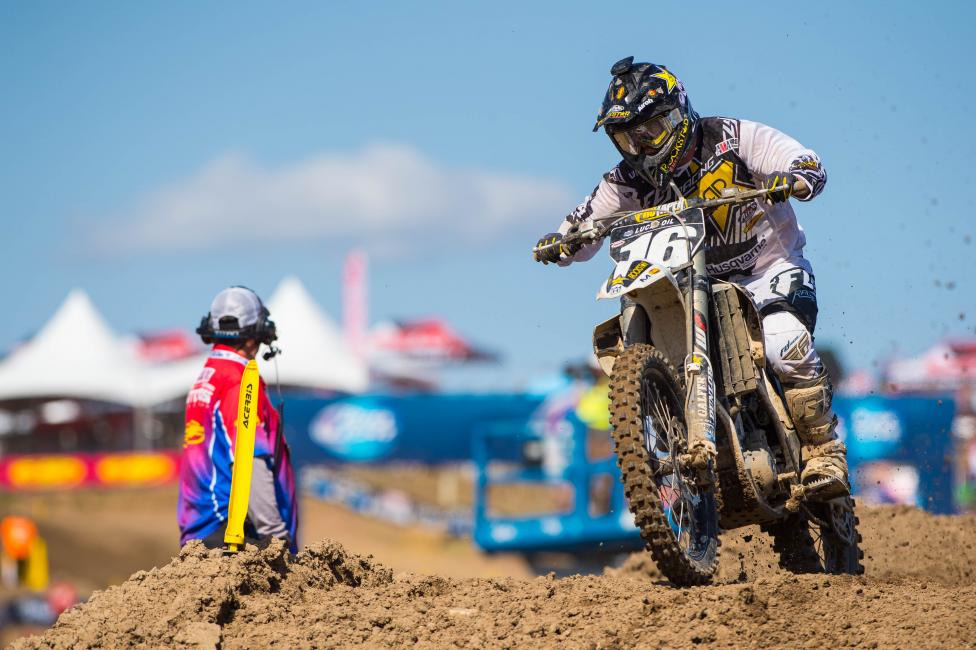 Zach Osborne, Rockstar Husqvarna Factory Racing, 20-5 for Twelfth Overall in 250 Class
Zach Osborne: The first moto, I just really struggled. Got a terrible start, crashed, had arm pump—it was just a plethora of bad. Second moto we made some bike changes, and I got off to a better start, maybe tenth or so, and put my head down. Made a bunch of really good passes, and it felt like there just wasn't a lot of people going forward. It was more people going backward. I feel good about making some good passes and getting toward the front. I caught Alldredge and Alex Martin with just a couple corners to go and just ran out of time. I feel good about my fitness, and I'm making gains. I feel like I should be a top­-five or podium guy every weekend. I was really disappointed with my first moto. My second moto was how I need to be.
You looked like you were going hard all the way to the end in the second moto.
Yeah, I was. I've been at Eli Tomac's house now for about a month, and obviously you saw what he did today. Riding with him isn't hurting me at all. He's super fast, and he and John [Tomac] have been really supportive of me, and also my family. Hopefully we'll start next week where we left off in that second moto.
The track was rough.
Dude, this track is awesome. I mean, this track is motocross to me. It's rough, it's gnarly, and it's crazy that we start here. This is a track that we'd ride midseason. It's hard to start at a track this gnarly. It's pretty cool, and I enjoy this track. I've had quite a few good results here actually.
Some guys have said it was even rougher than past years'.
I can agree with that. I think most of that was from the rain that we got on Thursday. I think for sure it was really rough today. One of the gnarliest tracks on the circuit, aside from maybe Glen Helen and Unadilla. I think there are some sections out there that are in the top five of gnarliest sections in the world. It's rough. I'm glad—I like this stuff. I spent a lot of time in Europe where this is the norm. I'm pumped on it. –Hansel