Mt. Morris, PA
High Point
Lucas Oil AMA Pro Motocross Championship
Rockstar Energy Racing Husqvarna's Christophe Pourcel told us when the season began that it would take five races to get comfortable and become a top-five guy in the 450 Class. That's exactly how things have played out. After quiet top-tens at the first four races, Pourcel found his speed at the UPMC High Point National, logging the Bud Light Fastest Qualifier Award and taking 3-5 moto finishes to fourth overall. We talked to him in the pits after the race.
Racer X: You said it would take five races. You nailed it—five races on the dot. Why five? You looked like a totally different guy today.
Christophe Pourcel: I told you four, five—something like this—because I did it last year. It's pretty much the same thing. I believe in that bike. I think we can make it work.
So you kind of knew how long it would take?
Well, no, you never know. The goal, like I told you, is trying to do two top-tens every weekend, just doing my motos because those guys, they're all fast. Two weeks ago I finished eighth overall, and all the guys in front of me and even behind me, they're all champions of this, and they're all good guys and [have] factory rides. I'm racing against good guys. So, five races, it took me a long time to figure out a decent setting on the bike. I think we still have a lot of improvement to do on the bike, but I think we went in a good direction for this weekend. I finally got a decent lap time this morning, even if a lapper was in front of me.
Even on the lap that you got the fastest time of all?
Yeah. I lost a lot of time, but I wasn't even looking for the fastest lap time. I was just trying to get comfortable with our new setting because we changed the triple clamp, the sub frame, the shock, different forks also—all kinds of setup [changes]. Jason [Anderson, teammate] has a different setting, and we kind of help each other. It's good. The bike would turn a lot better, and I feel more comfortable.
Is it a coincidence on a day you feel more comfortable that all of a sudden you get better starts and you were way more aggressive right from the get-go? We often see guys, mentally, they have more confidence in their bike, and suddenly they get better starts, too.
It's like last year, it took me three or four races to finally get my starts, and then once I get my starts, then it's good. This year we got new tires. We went Dunlop. Starting device is different, so I've got to figure out which size is good. The power was just very different. So every time I would go too low on the start device, and then I would spin on the gate and I would just get bad starts. So finally I got a perfect height on the starting device, and I kind of know what my Dunlop tires do. It kind of took me a little longer than what I would think. I would think after three rounds I would have been getting good starts but it took me five.
So now that you have it figured out, I know you said there's more improvement to go, but should this be repeatable every week? It's not like you just had an on weekend? You're where you want to be right now?
Yeah, that's the goal. Top ten for four or five races and now top five overall is the goal. But if we can do better of course we'll try. But today it was good. Tried to fight back, which I'll do whenever I feel comfortable. I feel like I have the speed to be in front. First moto, I was catching Kenny [Roczen] again and got a lapper, but it's racing, it's okay. Every time I ride smooth I go fast. Second moto I was riding tight. I was still in the top five, so that was my main goal. I was a little bit tired because running the speed and racing with those guys—it's been a long time.
What are you learning, now that you saw Kenny and Ryan Dungey and all that, compared to the 250 Class? Is it a lot different racing those guys from what you've done last year?
Yeah, those two guys, even Jason [Anderson]—he rides good now compared to supercross. He was making a lot of mistakes in supercross. But those guys ride very smart, a little bit like me, and a lot smarter than the 250 guys. The 250 guys, they will pin it for twenty minutes, and then everybody's finished. These guys, you know that they have the fitness, they have a decent bike, and they improve their speed every lap. You've got to try to do the same. You can't do like I did last year. I would push for fifteen minutes, twenty minutes, and then I couldn't handle the bike anymore, and I was just tired and just ended up slowing down a little bit.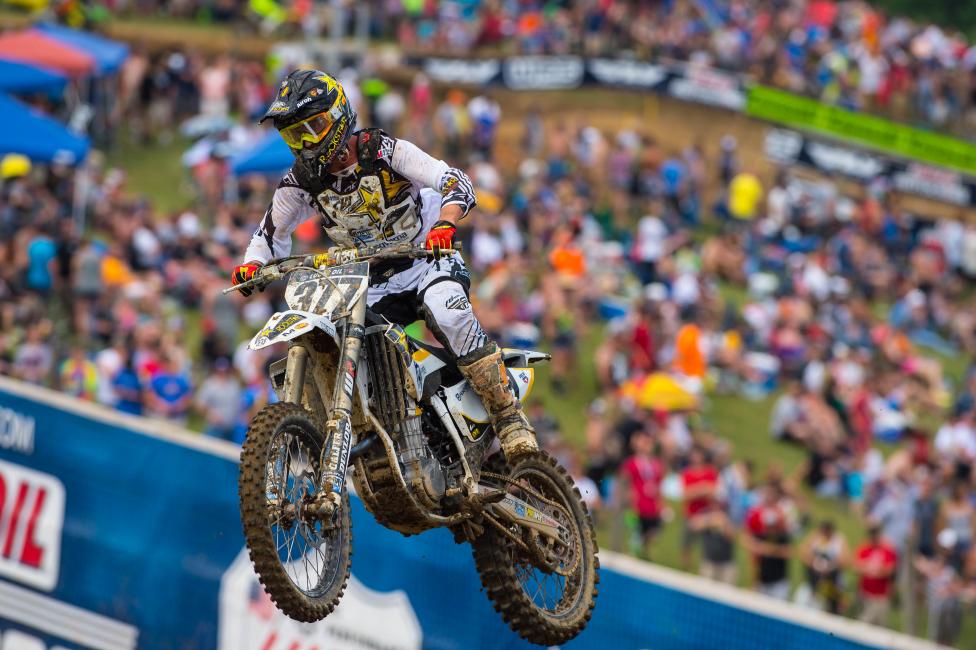 So, with this bike, do you think it's going to make that much of a difference compared to how it was going for you last year?
Yeah. Big, big, big difference from last year. The support that we have from Husky, Rockstar, that's the best support I've ever had. Anything you ask, even when you have a bad weekend, for suspension and stuff, they understand and they make it better. They don't want to change so much that you go in the wrong direction, but here's Jason riding good, so you can go in his direction also. Me and Jason, he knows that sometimes I'm faster than him during the moto or practice or something, so we always help each other on lines and stuff. I think that's a really good thing for the team.
You've kind of admitted you're maybe different in the way you want to set a bike up, and you're probably more knowledgeable than most riders. A lot of riders don't even necessarily know what they want. Has that almost been tough on some teams? You know what you want, but a lot of teams will say, "No, we know how the bike should be set up." Has this been good here for you?
I'm not sure exactly what I want when it's a new bike. I know I can feel a lot of things because when I grew up in Europe we test and test and test so European guys, they can feel more. Our tracks in Europe, they are pretty good to test. In California and stuff it's not easy to have a comparable track to what we race, so that's why we learn so much, and I've been testing the suspension since I was 15, and that's why I can feel all that. We're still not there, but the bike is decent to be in the top five right now, so that's good. But we can make a lot of improvement, I think. These guys, they listen and I listen to them. It goes both ways. Now that I'm older, I know with experience, you learn what to say to the older people. They have a lot of good things to offer. They've done so much.
So you're happy. This is good.
Two top-fives is exactly what I wanted, so it's good. Now we've just got to keep doing top five, and then we can see and be on the box.