Thunder Valley Motocross Park
Lakewood

,

CO
Thunder Valley
Lucas Oil AMA Pro Motocross Championship
By Jason Weigandt, Aaron Hansel, and Steve Matthes
Adam Cianciarulo, Monster Energy/Pro Circuit Kawasaki, 5-4 for Third Overall in 250 Class
Racer X: Obviously moto one was a decent race for you, but it was really moto two that propelled you onto this podium and third overall.
Adam Cianciarulo: I haven't been shy about where my fitness is right now. I've been on the bike for two months, so it's tough to get a base coming into outdoors, especially when you're not used to the race intensity. But I'm basically at a point right now to where I need to ride the bike technically correct. You lose too much energy if you don't, and getting good starts helps, and that has not been my strong point so far this season. First moto I almost went down on the start again and just made a few moves in the beginning. It's so important to get by some guys when everybody's bunched up. I actually got passed by Christian Craig with two laps to go. It hurt my pride a little bit, [the guy is] just coming out of retirement and kicking my ass really. But it's cool to see him. He's a good dude. Second moto I saw the results sheet and obviously Jeremy [Martin] had won, but there was a few guys [far back] like Marvin [Musquin] was fourteenth. So going in I said to myself, if I get top five there's a good chance I'll be on the podium. I caught up to Jessy [Nelson] and was able to get around him. I was super stoked on how I rode, super conservative. My technique is a lot better. Then Jordon Smith passed me with two to go and I had nothing left. I made it to about thirty minutes until I ran out of energy, and then my mechanic put on the pit board that I needed to pass him to get the podium. I just told myself that I was only going to hit the deck or get on the podium. I could have rested for a lap, but after he said that I followed his lines and just went for it before the finish line on the last lap. I was stoked with the day. It's a good step in the right direction.
Did battling with Jordon kind of inspire you a little bit? I could just see in the second moto, but I guess it was for the podium.
Yeah, I didn't know I was going to be battling him for the podium. When you get a bad start like that you're just focused on working your way up. I don't ever look at the pit board when I'm coming through the pack, so you don't really know where you're at. He actually passed me and it kind of irks you a little bit. When you get passed by Jeremy Martin, Marvin Musquin…when you get passed by champions, that's something different. You can almost justify that in your head a little bit. And Jordon's a great rider, but I feel like he's come up with me from amateurs. I've raced him; he's a rookie. I feel like that's not acceptable for me. Not dissing him at all. I'm just saying that in my mind, that's what goes through my head. So I was a little deflated when he passed me because I was trying to hold him off for so long, and it wasn't Marvin or Jeremy passing me—it was him. But so once my mechanic put that I needed to get him for the podium, I just told myself I'm just going to go for it.
Is this like a breakthrough confidence-wise, or does it really just come down to fitness? Until you get that fitness where you're at, you're still going to battling like this at the end of the races?
I think every week you can take something from it and get better. That's the obvious answer. I think for me so far I've been disappointed because of the mistakes that have kept me from where I feel I could be, which is being a 5–8 guy for the first two rounds. I've hit the deck a lot. So I definitely think confidence-wise I'm the type of guy that it doesn't matter if I get my butt kicked for a year straight. I still believe that I can win. I still believe that I'm the best even when I'm not. At the same time I identify what I need to do better, and to get to Marvin and Jeremy and to that level it's going to take a lot of work. It doesn't just happen overnight. I am aware of what I need to do, and I believe that I have the ability and the bike to do it. So it's just all about making baby steps and not trying to do too much too soon.
It comes down to the mental side of actual racing, to racing focus. Have you found that you're getting mentally tougher inside the race? You can't perfectly simulate the intensity of a race, the actual motos, thirty-plus-two, but is that mental aspect also building for you through being able to sustain the focus?
I think this weekend was the first time I felt that. Just sitting on the couch for a year watching these guys racing, they don't slow down. When you're on the couch they're getting better. It's tough to come back, so I think coming back you've got to be realistic with your expectations. I'm the type of guy that's going to always want to win and never be satisfied until I do, but at the same time these guys are champions and it's tough to even do what I did today—a podium—let alone win a national. I have a lot of work ahead of me, but as long as I stay focused and I believe that I have the ability. I just need to go back to Florida now with Ryan [Dungey], Jason [Anderson], and Marvin [Musquin] and learn from those guys. Keep getting better every weekend. Most of all I'm just grateful to be up here. It's been a long road back, and having my family and sponsors sticking behind me, it's tough to disappoint them like that. Getting hurt basically three times in a row, it hurts. So I'm glad to put a smile on their face today. –Jason Weigandt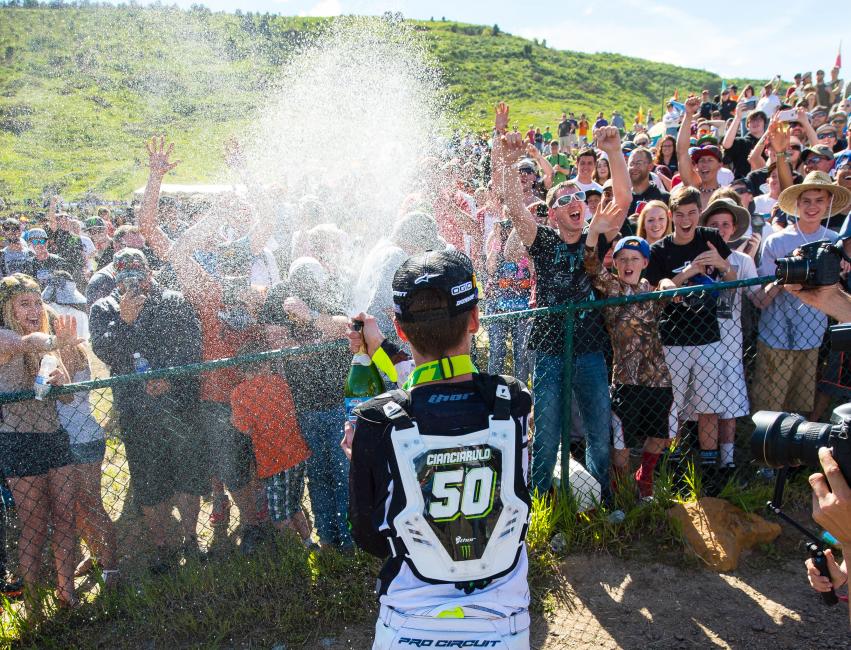 Christian Craig, GEICO Honda, 4-6 for Fifth Overall in 250 Class
Christian Craig: The day started out great. I qualified fastest in practice. Couldn't ask for anything better than that. Was feeling good going into the first moto, got a decent start, mid-pack, then just worked my way up and got up to seventh or eighth. Got behind a group of guys, like [Chris] Alldredge, Cianciarulo, and couple other guys, and ended up making the pass on them with like three laps to go and ended up fourth. I'm pretty stoked on that, especially for my first outdoor race on a 250 ever.
Second moto had a better start and worked my way up to seventh, stayed there for about twenty minutes, hit a wall and got fatigued, and pretty much just put it on cruise control. Ended up passing one more guy for sixth and rode it out to sixth and fifth overall. It was a great day for me.
Were you surprised when you set the fastest time in practice?
Yeah, that definitely surprised me. I wasn't expecting that. I came in here trying to get my feet wet and wanted to be inside the top ten. I exceeded that, so I'm happy. I've never set the fastest lap time ever in my career, so that was a first. It was cool, and hopefully we'll get a little bit more of that.
How was the track?
It got eaten up. Second moto was tough. A lot of bumps, a lot of people falling, and it got really rutted. There were like 4–five-foot ruts! It was all about line choice, and I thought I had some good lines and made some good passes. The track was tough, but it was fun. It ended up being good, they kept the dirt good, and there was some good racing. You had a lot of places to pass and a lot of ruts to pick from. I was happy with it all. –Aaron Hansel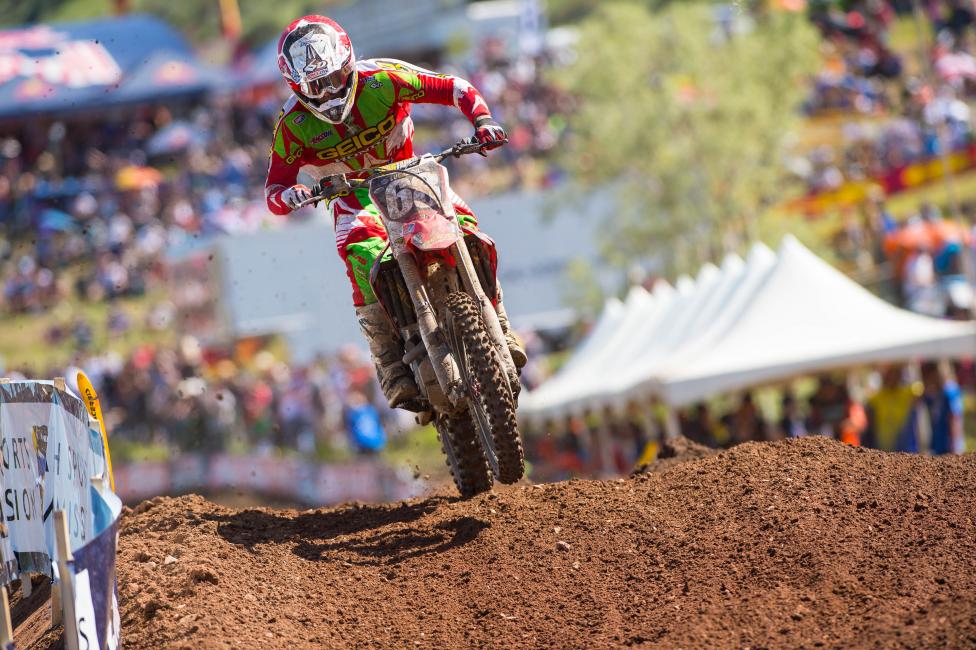 Shane McElrath, Lucas Oil/Troy Lee Designs KTM, 12-9 for Tenth Overall in 250 Class
Racer X: Crash in the first moto. Second moto, tenth or eleventh. Your first time here, so I guess you'll take it?
Shane McElrath: Yeah, first moto I just struggled with finding my rhythm and just kind of fighting the bike. Just wasn't letting the bike do what it needed to. I ended up twelfth, which was okay for what was considering. But second moto we just got hung up in the first turn with a couple other riders.
So my motos were reversed then. First moto was all right; second moto was a tip-over.
Just hung up for a while and then got going and actually came back to ninth, which I was pretty pumped on. It was good for the first time here. I think this place is pretty cool. Looking forward to next year and next weekend. –Steve Matthes
Alex Martin, CycleTrader.com/Rock River Yamaha, 18-21 for Twenty-First Overall in 250 Class
Racer X: You got 3 points. Your day sucked. You probably lost a bunch of spots in the points and it was terrible, but yet honestly, it was a good day for you in the fact that you had all these things happen—you had to pull into the mechanics area twice, you crashed—and you were still fast, still clicking off guys. I know it doesn't mean anything, but good job.
Alex Martin: I'm gutted right now. Coming into the day third in points, having a great season so far. Qualified fifth in the second practice. Running I think maybe fifth or sixth right when I crashed. My first moto the holeshot device just never came unlatched. I came down the first downhill and I just died. Crashed, came in, they had to take my fork guard off so I could keep going.
By the way, you cut a whole lot of the track off too. I'm surprised they didn't say anything.
I know. I was kind of like, at least I can gain a little bit of time. I think I still was last when I went across the line.
And in the second moto you had a rear brake issue?
Yeah, so when I up to fifteenth at one point in the first moto, and I crashed on the last lap. So I ended up eighteenth. I went wrong in the first moto because I started in second instead of first. That was a bad mistake. So in the second moto, great start, running fourth for the first couple laps, and my rear brake just locked up, so I pulled in the mechanics area. My rotor was smoking, and they loosened it up, and then I didn't have a rear brake for the rest of the moto. So I just rolled around. You have no idea how hard it is to ride that track without a rear brake. I think I dragged it almost the entire way around. When I didn't have a rear brake, I realized how much I use it. –Matthes