The big-time, off-season Bercy Supercross is thirty years old now, and you can divide its history basically in half. For the first fifteen years, every major rider made the track overseas during the fall in search of riches. For the last fifteen years, it seems like half of the big stars race and half stay home. Much traces back to the influence of Ricky Carmichael, who broke his collarbone at Bercy in 1999 and said it slowed his progress for the 2000 supercross season. He skipped all the off-season races the following year, and promptly went to another level and dominated the 2001 SX campaign to capture his first title. His old trainer Aldon Baker was never a fan of racing these events in the prime years, and the Baker/Carmichael influence is huge.
Also, as always, money changes everything. In the 1980s even the top stars could pad their bank accounts nicely with a trip to Europe. Once factory salaries reached the multi-million mark in the 2000s, an extra $50,000 or so didn't seem so lucrative.
So now we see a few stars—like Eli Tomac and Justin Barcia—head over, and many stay home. What's the best strategy? We weigh in. Be sure to leave your comments below.
Jason Weigandt: My horrible answer is: it depends. A rider's expectations for the coming season in the U.S. should determine if he heads overseas during the off-season. If you are one of the few athletes on the planet truly capable of contending for a 450 SX or MX title, I'd stay away. This is a long racing season made much longer if you're dealing with championship pressure each week. For example, when Ken Roczen and Ryan Dungey were battling for every motocross series point in August, I'm sure they were pumped to have saved themselves from more travel and racing ten months earlier. They were in the grind every week for nine months, against the edge physically and mentally. Before and after that, they need maximum decompression time.
I've heard trainers say the money you'll make on a weekend in Europe is equivalent to one podium bonus over here. If you know podiums or wins are within reach, I'd just reach for as many of those as I could. Plus, don't forget that saving yourself from extra travel and racing could even extend your career. Cha-ching.
Now, if I were a second-tier guy who might not grab more than a 450 podium or two throughout the year, I'd be all about maximizing my income and exposure, and hit these races up every chance I had. These are awesome, fun races and a great experience. I think the risk of injury is overstated, but the reward of extra races and gate drops is overrated, also. This is a simple business decision. But you need to be honest as to what type of business you think you'll be doing when the gate drops back in the US.
Jason Thomas: I think there are a couple of different ways to view this. The pros and cons of this are easy to define. Is the extra money worth the significant risk? That is where the crux of the decision is for everyone.
Racing overseas can be a very profitable enterprise. I was bringing in an extra $30,000 per month in my prime years. The wear and tear that it took on my body and mind, however, was very noticeable when the real season rolled around. When I arrived at Anaheim for the first race, most of the riders were so excited and anxious to get racing. I was typically dragging and looking for some time off. My skills were actually razor sharp at this point because of so much racing, but my mind was completely fried. That's not a great mental outlook when we are at the first round of a seventeen-round series. Still, though, the money was too good to turn down for me. I wasn't going to win a championship, and racing was my livelihood. I would have raced in downtown Baghdad during a bombing run if the start money was good enough. That's just me, though.
The other side of this coin is the risk factor. Racing is always, always going to be much more dangerous than training days. The reason is simple: At the practice track, you are only subject to your own mistakes. Not only that, you're riding a track that you have done thousands of laps on and know its tricky spots. At a race, you are not only pushing your limits, but you are also completely vulnerable to the mistakes of those around you. I can count on one hand the number of injuries I sustained because I simply made a mistake. Injuries were almost always a result of colliding with someone, crashing into a pre-existing accident, or—wait for it—being landed on.
The question of whether or not to race these lucrative off-season events is one that each rider has to evaluate based on his own situation. There is no blanket answer to this. For me, it was absolutely the right move. For a rider like Ken Roczen, I don't think it is necessarily the correct direction. Money is a different priority and motivation for every rider. If a rider is able to make millions here in the U.S., taking time off to recover and then executing an uninterrupted training plan leading up to Anaheim is the way to go. If you are like the other 99.9 percent of riders, being paid thousands of dollars to fly around the world to race in places that most will never get to see doesn't sound so bad.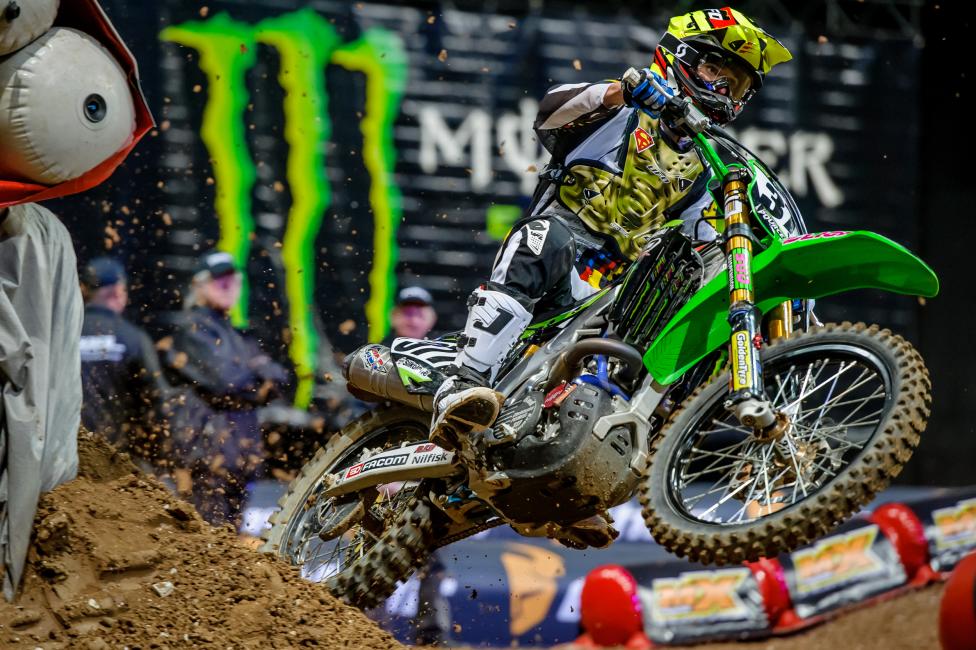 Steve Matthes: There's always a chance of injury for any racer who spends hours and hours pounding laps on a test track. After all, this just in kids—supercross is dangerous! There's probably less of a risk of getting hurt if you do not race in the off-season, because most of the time the riders know the test tracks like the back of their hands. They follow the same six-inch wide blue groove around their favorite track and could almost jump everything in their sleep. Having spent hours watching riders do laps doing exactly that made me sometimes think about whether our "testing" was really working.
And therein lies the problem in my mind. Nothing can replicate racing. Being forced out of your comfort zone with other riders on a track is the way you learn and get better. Pushing your bike helps you learn about what you need to tune in better. Pushing your body tells you what you need to work on in training. I can't tell you how many times a rider I worked for or with was dialed in with his settings, but then they got to the first race—whether it was SX or MX—the bike needed to be "dialed-in" even more. It's because the rider was pushing himself and learning about the machine.
Obviously the downside is what we just saw happen to Adam Cianciarulo where he got hurt in Switzerland. But the amount of riders that have raced pre-season and not gotten hurt is pretty high. I like the chances of a rider making it through pre-season races without getting hurt. I don't live in fear of the small chance of something happening. If it's my rider or me, I say to go race and learn some stuff.