The third night (actually afternoon) of the 30th annual Bercy Supercross here in Paris, France is over and with it, a new King of Bercy is crowned. Big congrats to Monster Energy Kawasaki's Jake Weimer, who won the event for the first time. But even though Weimer came into the final day holding 1-1 scores from Friday and Saturday wins, the overall victory didn't come without some high drama in the late stages of Sunday's main event.
But first some news. After crashing hard last night, Christophe Pourcel was out for today as he was in hospital with a damaged spleen and American Tyler Villopoto cracked a knee cap in a fall in the 250 main event and also missed today's action.
Also, bummer for defending King of Bercy Kyle Chisholm, who caught his foot on the air-bag/tuff block thing and had to pull out for the night. It was thought that Chisholm had broken his ankle but x-rays were negative and an MRI is scheduled in America on Tuesday. Chisholm had gone 4-4 in the previous two nights.
In the Superpole competition, GEICO Honda's Eli Tomac won again for the third straight night over Weimer to show that he's got the speed for one lap. But going into today's, Weimer had gone 1-1 to Tomac's 2-2 in the main events, so The Alien (ET) needed to get a win and hope someone could get between he and Weimer.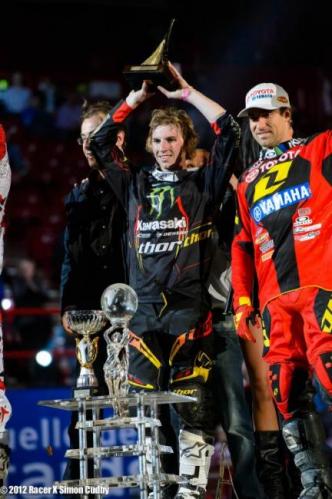 Weimer is King of Bercy, but he added a little drama on Sunday.
Cudby photo
In the elimination races, the final four ended up being Tomac, JGR Yamaha's Justin Brayton, Tomac and Frenchman Cedric Soubeyras and much to the delight of the crowd, Soubeyras pushed Tomac a little wider than he needed to and ended Tomac's chance to win the final race. That would go to Weimer and his Kawasaki. Overall for the weekend, the Elimination races were won by Weimer while Tomac won the Superpole competition.
Going into the last main event of the Olympic scoring format, Weimer was a perfect two with a couple of wins, Tomac had four points via two seconds and Brayton had six with two thirds. It was that kind of weekend for these three riders as they showed they were a pitch above the rest of the field.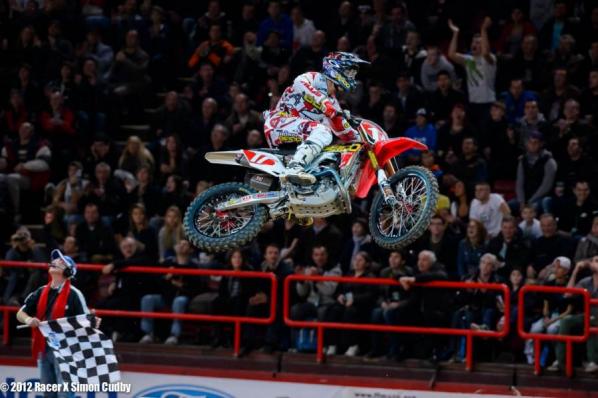 For the second year in a row, Tomac brough speed to Paris but came up just short of the King of Bercy crown.
Cudby photo
Tomac knew he needed to win, and left no doubts about handling his part by grabbing the holeshot and taking off with he lead. At one point Eli had over eight seconds on the field, and was the only rider to triple-triple the one rhythm lane before exiting through the tunnel. But Weimer had pulled away from Brayton and had the KOB (King of Bercy) title in the bag until. All he needed to do was hang onto second and he would edge Tomac by a single point. But then he skidded out all alone in and allowed Brayton to get past! And this with only two and a half laps left!
A furious charge by Weimer, and a mistake by Brayton and Jake was in position to make something happen. He was back on Brayton's wheel but still needed to make a desperate pass with time running down.
'I was all by myself thinking that it was no problem and that I just had to be steady and not make a mistake when I made a mistake" said Weimer. "I was probably thinking too much about winning the race."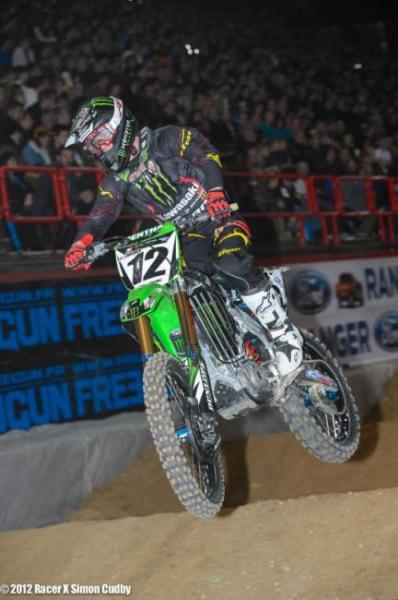 Weimer had to mount one heck of a charge to get back past Brayton on the final laps of the final race.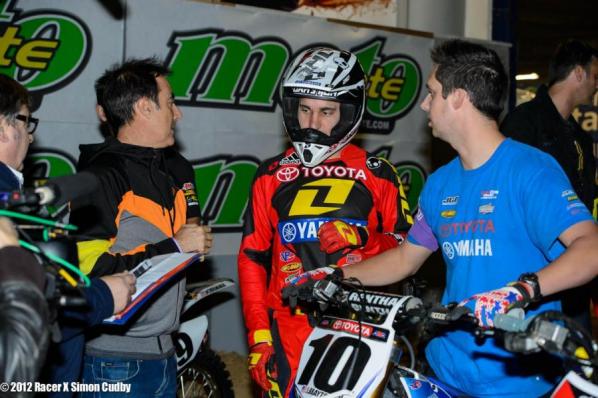 Brayton, the 2009 King of Bercy, didn't quite have the pace to win again this time.
Cudby photo
In an impressive under-pressure charge, he jammed his way to the inside after the finish line left-hander and yet still tripled onto the tabletop to grab second away from Brayton with just over one lap left. It was all he needed and the Weimer, not Tomac, was the KOB.
On the whole, a great weekend here in Bercy. The building saw its best attendance in years and the racing, while seeing the same guys up front, produced some real thrills. It's a must-see event on the calendar and if you've never been here, book now for 2013.

Main event: 1.Tomac; 2.Weimer; 3.Brayton  ; 4.Soubeyras  ; 5.Izoird  ; 6.Hahn  ; 7.Coulon  ; 8.Martin  ; 9.Lefrançois C  ; 10.Clermont
King of Bercy 2012: 1.Weimer  ; 2.Tomac  ; 3.Brayton  ; 4.Soubeyras  ; 5.Hahn  ; 6.Coulon  ; 7.Chisholm  ; 8.Izoird  ; 9.Lefrançois C  ; 10.Martin