Lakewood, CO
Thunder Valley
Lucas Oil AMA Pro Motocross Championship
BTO Sports is your number one source for all of your motocross parts, gear, accessories and apparel. BTOSports.com is a motocross company that is truly dedicated to the sport and to their customers. Proud sponsor of your Racer X Podcasts and the BTO Sports/BBMX Suzuki race team.
From Texas to Colorado, the 2012 Lucas Oil Pro Motocross Championship is getting rolling here. Round three took place this weekend at one of the newer tracks on the circuit, Thunder Valley Motocross Park, which is just outside Denver. There are a few things about Denver and Colorado that I've begun to realize and the first one is that building an airport that is 30 minutes outside of the city is not cool. I fly all year to all sorts of airports and Denver is without a doubt, the biggest pain. I know, I've heard all you conspiracy guys on Twitter tell me about why it is out there but I'm not sure if I buy that. Much like ghosts and Bigfoot, I need to see it to believe it. Although my stay at that hotel in Houston this year was very, very strange in regards to ghosts.
Second of all, Colorado is full of hippies. If there's ever a Woodstock III, it should definitely be held in Colorado. Everywhere I looked, there were just different looking dudes and chicks that if you closed one eye, could be from the 70s. And lastly, I've always seen so many different cars in Colorado. Lots of old Jeeps, vans with the tear-drop rear window, homemade cars, old El Caminos, you name a car from your Hot Wheels collection when you were a kid and chances are, someone's driving it in Colorado.
The track in Lakewood is pretty cool for spectators and teams, and the amenities are great for all those involved. It's laid out in front of you on a hillside and when you consider the good parking, close hotels and everything else, it's definitely one of the better stops on the series. The track itself has had the same problems from the very first race until now; it's narrow and has one fast line. That's just the way the track is and the way it's laid out. There are different obstacles put in from time to time and the soil is generally pretty nice, but there's a lot of following going on out there. I remember when they had a night race there and the track was groomed excessively to help the riders under the lights. There was barely anything going on as the guys were just wide open everywhere following each other. Despite that, it's a good racetrack, a great facility and with the elevation and the heat (although not this year) it's a worthy addition to the series.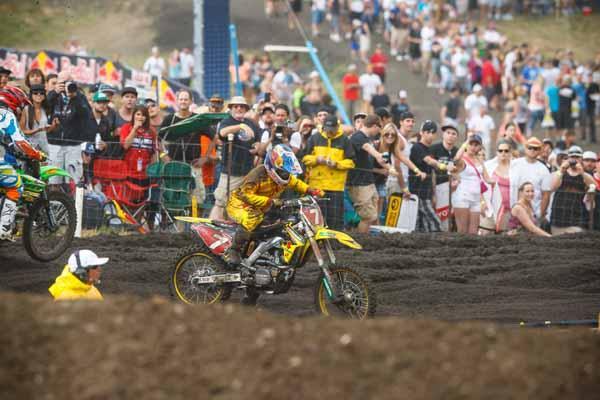 A hard crash in the first moto would cost James Stewart the points lead.
Simon Cudby photo
The big news was Yoshimura Suzuki's James Stewart going down hard in the first moto while leading. A sore hand/wrist spelled the end of his day, which was a real shame. Until he crashed, he was riding masterfully out there, cutting through the pack and into the lead with razor-sharp precision after a so-so start. In vintage Stewart fashion, he sliced and diced his way through some very fast riders in the opening laps. Then, on lap four, he came over a tabletop and there was a photographer on the track that Stewart says distracted him. Shortly after passing the photographer, Stewart got kicked and then slowly lost the front end.
The Brazilian photographer was definitely in the wrong crossing the track when he did (and by the way, a tip of the hat to him from all the other photographers that shoot Nationals, because how much you want to bet there will be a new policy in place to stop the guys from crossing the track? Don't be surprised to see this dude tarred and strung up with some Fuji Film) but I don't think the finger can be totally pointed at him as to why James crashed. A distraction? Sure. But the out-and-out reason? I don't think so. Anyways, Stewart went down hard and immediately knew he was done by the way his hand/wrist hurt and that was it. His remarkable comeback season to the nationals took a serious blow or maybe, depending on the status of his injury, a KO.
Guys like James Stewart (and Ryan Dungey) who have won multiple championships and so many race wins don't get those results by being pussies (can I say pussies in this column? I don't know, I just did) and the fact that JS didn't line up for the second moto isn't good. If there was any way he could've gone out there, he would have. The hand/wrist must not be good and who knows, maybe we'll know something by the time this column goes up, but I've got to think it's not good because otherwise Stewart would've been out there to trying to salvage whatever points he could.
His fourteen-point lead that I so eloquently broke down in Friday's Racerhead, (where I also mentioned how hard it would be for Ryan Dungey to make that up) went poof. I should've known better. So with that, Red Bull KTM's Ryan Dungey went to an uncontested 1-1 on the day and now he has a whopping thirty-six-point lead in the series. A fifty-point swing just like that!
We knew that if one of these guys (Stewart or Dungey) got hurt, the series was going to get very predictable, very fast, and we got a glimpse of that at Lakewood. In a ride that was very 2010-ish, Dungey disappeared from the pack and rode a great race. I noticed that there were a few places were he would manual his bike over the pre-jumps and jumps to where his rear wheel wouldn't leave the ground much, if at all. Very smooth moves indeed.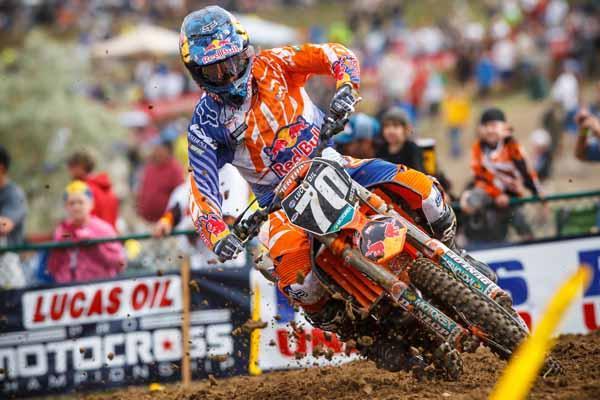 Ken Roczen has been close, but has yet to get a moto win thus far in his rookie outdoor season.
Simon Cudby photo
I think I can speak for everyone when I say, Dear James Stewart, please get healthy fast or it's going to be a long summer for us viewers and the other riders in the class as we get into Dungenator time this summer. But I'm also guessing that Dungey and KTM will take these one-minute victories all day long. Ryan Dungey is just the Terminator of motocross -- he can't be stopped, he can't be reasoned with and he can't really be beaten.
EDIT- On Tuesday afternoon Stewart sent out a Tweet with some good news for now, but we probably won't know for absolute certain if he is fit to race until later in the week.
The 250 class, meanwhile, is pumping out plenty of thrills. The four mustakeers of Justin Barcia, Ken Roczen, Blake Baggett and Eli Tomac put on quite a show for us at the first three races and this weekend we got our third different winner in as many races, as Barcia went 1-2 for the overall. With half a lap remaining it was going to be Baggett with the overall with a 3-1, Barcia second with a 1-3 and poor Roczen was going to get third overall with a 2-2. Talk about getting effed!
But then a lapper got in the way with only a few turns left and Barcia attacked one last time. Roczen cut across some ruts and collided with Barcia, this left Roczen on the ground and just like that Barcia turned a second into a first! Exciting stuff for sure. The Pro Circuit team, who had never lost a moto at Lakewood, never mind an overall, saw the streak come to an end in a blink of an eye (ok, a lot of blinks). One of the mechanics at PC was telling me that the whole building gets pizza every time they win a race and with Roczen falling over, there went their pizza. The wrench suggested that Roczen now owes everyone at PC some pizza!
The 250 guys are going to take this thing down to the wire and right now Baggett holds a bit of an edge over the other three in my opinion. And when I say a bit, I mean just a bit.  It's great to see that these guys are so close because it's going to be a great summer. How's about the fact that fourth place Eli Tomac already has a thirty-four-point lead on fifth place? I'm telling you, it's the four musketeers!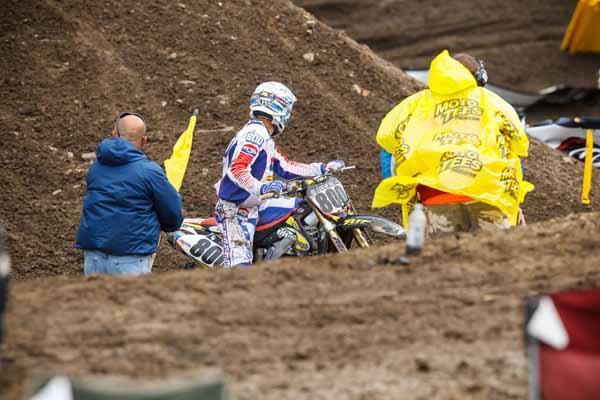 Alessi put on a huge charge after going down early in moto two.
Simon Cudby photo
Mike Alessi showed something great at Lakewood but he wasn't really rewarded for his efforts. An okay first moto was offset by a crash on the first lap of the second. From there Alessi got up almost dead last (Josh Grant went down with him and Kyle Regal was already down) and charged all the way to ninth. It was a remarkable ride on a track that as I said, is not very easy to pass on. If the moto was 40 min plus 2 laps (and I suppose with gas stops) Alessi would still have been moving forward at the end. He showed that his fitness and speed are great.
Ivan Tedesco hasn't backed up his fourth place finish from the opening round yet, but it's coming. He crashed in the first turn in both motos at Freestone, and at Lakewood he was up front in both motos but went backwards due to a knee that he hurt at Texas. His speed is good and he's getting a little frustrated at not being able to match the top four guys. Just know that at Lakewood, his speed was better than a 14-8.
Here are a couple of interesting things I saw in the KTM pits. One is that their pit carts that hold the toolboxes, spare wheels and everything has disc brakes on it and is controlled by a lever on the push-bar. Super trick! I remember in the FMF Honda days we would have a runaway cart here and there because once those heavy things get rolling, there's no stopping them! Another thing I saw was a fan mounted onto Dungey's KTM450 to cool the bike off. It had a big "H" logo on it, which means it's a Husaberg part (which KTM owns). Clearly the orange guys are having some overheating issues with the bike and will sacrifice the weight of this fan for not boiling over.
The JDR KTM team was pitted at Colorado without a tent because on Friday their tent got caught up by the wind and was sent over top of the truck. Then on Saturday when it was raining, the team was forced inside for cover. Tough and expensive deal for the guys but hopefully Malcolm Stewart's results helped smooth it over a bit.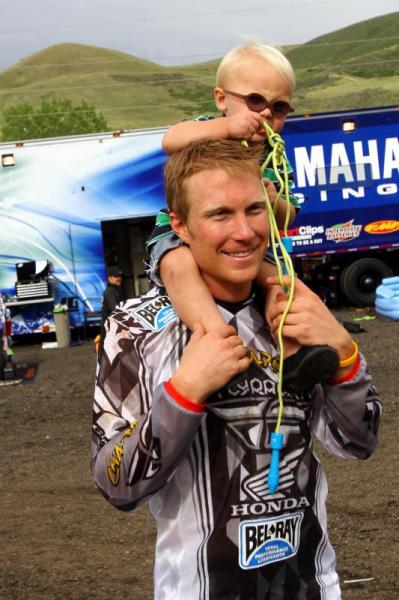 Home town hero, Andrew Short, captured his first overall podium of 2012 at Thunder Valley.
BrownDogWilson photo
Let's take a lookie-loo at the results shall we?
Justin Barcia 1-2 Hon – It's hard to believe with Justin's speed, Lakewood is only his second career National win, but it's true.
Blake Baggett 3-1 Kaw
Ken Roczen 2-4 KTM
Eli Tomac 4-3 Hon – Tomac is fast but in his home state, he was fourth best on this day, which is good but with his size (have you checked him out lately, he's really grown!) and at altitude, he couldn't get starts to save his life and that was all she wrote.
Marvin Musquin 5-5 KTM - Musquin rode well but he's a tick off the top four guys. Might be a lot of 5-5 finishes for him this year. I hear that Pro Circuit is looking at him for next year.
Malcolm Stewart 8-6 KTM - It makes no sense that Mookie, who's probably too big for a 250F, would have such a good race at Lakewood but I've been trying to figure him out all year and have been failing to do so.
Blake Wharton 6-9 Suz
Wil Hahn 10-7 Hon - Hahn's a battler and he'll give it his all out there.
Kyle Cunningham 9-10 Yam - Cunningham is not having the year he did last year but from what I understand, he's battling an ankle injury.
Jake Canada 7-14 Hon - Oh Canada! Look at the guys ahead of him and right behind him. Clearly, Jake's doing more with less than anyone else out there.
Ivan Tedesco 14-8 Kaw
Gareth Swanepoel 13-13 Yam
Jason Anderson 12-15 Suz
Travis Baker 16-12 Hon
Hunter Hewitt 15-16 Suz
Jessy Nelson 22-11 Hon - Not as good as last week for Nelson but what are you gonna do? He's a rookie and will have some bad days here and there.
Alex Martin 11-39 Hon - Martin tweaked his knee in the second moto and pulled off, he's fine though.
Zack Freeberg 17-19 KTM - I don't know much about Freeberg but he's doing pretty well for the Langston team.
Kyle Peters 20-17 Yam - Peters got a great start in the first moto and then went backwards pretty quickly. Not sure if he hurt something or not but it wasn't good.
Phil Nicoletti 27-18 Hon - Oh, Filthy Phil! In what is becoming something of a comical situation (although certainly not for Nicoletti), the anvil dropped on Phil in the first moto when he was up front, fell over and then bent his rear brake around his foot peg. It's always something with this guy.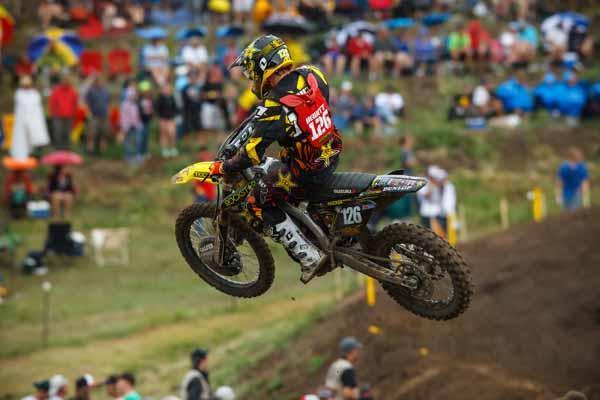 Rockstar Energy Racing's Hunter Hewitt finished 15th overall at Thunder Valley.
Simon Cudby photo
450 Overall
Ryan Dungey 1-1 KTM
Jake Weimer 2-4 Kaw
Andrew Short 7-2 Hon - Shorty did not have a very good first moto even though he fell. He was passed early on in the moto by a bunch of guys, which probably made team manager Larry Brooks see steam come out of his ears. Short's performance in the second moto was more of what we expect to see from him as he rode awesome for a second.
Nico Izzi 5-5 Yam - Looks like this Izzi thing is for real, he's been riding great this year.
Brett Metcalfe 3-10 Suz - Metty rode great in the first moto to track Alessi down and grab a podium, but his second moto was ruined by a crash. He was almost as far back as Alessi and at some point, Mike passed Brett and then they freight-trained through the pack.
Mike Alessi 4-9 Suz
Justin Brayton 9-6 Hon - Brayton's best race of the year so far. He should never, ever, ever be out of the top ten unless an asteroid or something from outer space falls on him.
Michael Byrne 12-7 Suz - Byrne worked his way from the back to earn these finishes. His team manager Forrest Butler was overjoyed as we all saw flashes of the old Michael Byrne and not just an old Michael Byrne. Great ride for a guy that I can confidently say no one has anything bad to say about.
Billy Laninovich 11-8 Hon - Someone explain to me how Bad Billy can look so bad at the first two rounds (and to be fair, he didn't know he was racing outdoors until two weeks before, and he hadn't raced outdoors since 2009 so it wasn't like anyone was expecting him to win) and then ride so awesome at Lakewood. You know what this means? We're all going to expect this from Lano every weekend from now on. Good job Lano!
Kyle Chisholm 10-11 Kaw - Chiz is a buddy of mine but he's got to get his bike figured out soon. A tenth is a good finish but he's better than that in my opinion.
Broc Tickle 35-3 Kaw - His team owner Mitch Payton has been telling me that he's got to get a good start and hinted that Broc's jumps are good, he just needs to hold it on a bit more. Anyways, he's right. Tickle is never really up there on the start but in the second moto he was! And he ended up third in a career best for him. Tickle experienced an electrical DNF in the first moto to go with his second moto DNF at Freestone.
Mathew Lemoine 13-12 Kaw - Two consistent motos from Lemoine is nice to see.
Shane Sewell 14-13 KTM - Yeah! A Sewell brother gets into the mix and rides well on his KTM.
Josh Grant 8-19 Kaw - Too bad he fell in the second moto. Still, he rode well.
Ryan Sipes 6-26 Yam - Sipes continues his one good moto/one bad moto streak. I predict that this streak will end this weekend at High Point. He's fast on that track and besides, he's more of an East Coast kind of guy when it comes to dirt.
Derek Anderson 16-16 Kaw - Hometown guy goes 16-16 for 16th. Sounds about right.
Ben LaMay 18-15 Yam
Vince Friese 15-18 Suz
Les Smith 20-14 KTM - Good second moto for Smith who is battling some issues with his Dungey-replica KTM 450.
Jimmy Albertson 37-17 Suz - Top Jimmy got a flat tire in the first moto. He was Flat Jimmy at that point.
The weather caused a bit of a delay in the program when the wind kicked up, and there was some rain and lightning off in the distance. It was pretty gnarly and threatened to be a real mess. Thankfully it subsided (after the riders were sent back to their trucks) and the only thing hurt was the media peoples' lungs when they were forced to run out of the media tent when winds lifted it up and slammed the thing down.
Thanks for reading, email me at matthes@racerxonline.com and we can chat.