The 2012 Lucas Oil Pro Motocross Championships are three rounds deep but this past weekend in British Columbia, the 2012 Monster Energy CMRC Canadian National series kicked off. The race was a complete mudder with two Americans taking the win in both classes, and from the same team at that. Teddy Maier took his Leading Edge Kawasaki to the overall in the MX2 class while Matt Goerke won the MX1 class with a double moto sweep on the day.
We caught up to Matt while he was back in California going to Milestone to practice and get ready for round two this weekend at Kamloops, BC.
Racer X: Matt, good job up there this weekend. Sounds like it was under some tough conditions, can you talk about your day?
Matt Goerke: It went pretty well, for sure. I was confident going into the day but then when the rain started falling, I was pretty nervous. It was supposed to be pretty good with the weather but then when we showed up it poured. Practice was okay but then it really came down.
Luckily I got the holeshot in the first moto and was feeling pretty well and pulled out a bit of a lead. I stopped for goggles at one point and was still winning. Then as the race went on, everyone was just covered in mud so I figured I could stop again for goggles. But then Colton [Facciotti] passed me! It was near the end of the race but I managed to get by him for the win. I definitely wouldn't have stopped if I had known he was so close. I tried to ride without goggles for a while but that wasn't working out so good.
Second moto I got another holeshot and man, that's just so key in these races. I just kind of rode my own race and Colton was right there the whole time behind me. The rain had stopped at this point and it was muddy but not too bad. He was right there and I kept it consistent to the end and didn't make any mistakes.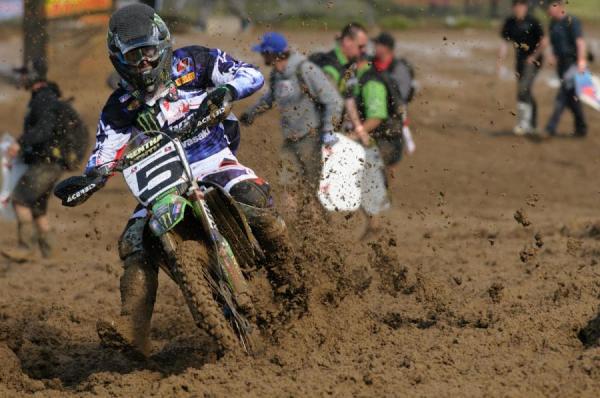 After racing for the BTOSports.com team in supercross, Goerke has moved north to Canada to compete in the 2012 Monster Energy CMRC Canadian National series.
James Lissimore photo
We know you're a good sand rider and in the mud, some of the same techniques are used. Do you feel as good in the mud as you would in the sand?
I don't feel as confident in the mud as in the sand. I've had some good races in the mud, like Daytona this year and this race, but I've also had some real bad races in them as well! The start is so huge and I was able to get it. You can't win the title in a race like this but you can lose it. My bike worked great, thanks to my team for that. My C4MX motor ran great the whole time and I didn't have any problems. I remember when I was in the lead I was trying to make sure I didn't go through puddles and stuff. The bike ran awesome.
This is the start of your second year racing in Canada; are you better off this year because you know the series, riders, tracks, etc.?
Yeah for sure, it helps a lot. I'm more comfortable with everything and I'm 100 percent now with my body. I'm better on the hard packed tracks also since I moved to California because that's all I ride.
It's early and it was muddy but Facciotti and Bobby Kiniry were right there, those two are going to be right there the whole season.
That's what it seems like. I don't know what happened with Dusty Klatt -- he had a bad weekend but he'll be there as well. But those three guys are going to be fast all year.
Your teammate Teddy Maier won the MX2 class with a 7-1 for the overall. Nice weekend for your Leading Edge Kawasaki team.
Yeah, that was awesome and he fell in the first turn in the first moto, I'm sure he didn't think he had a chance at the win after that. Great for him and I'm pumped for him.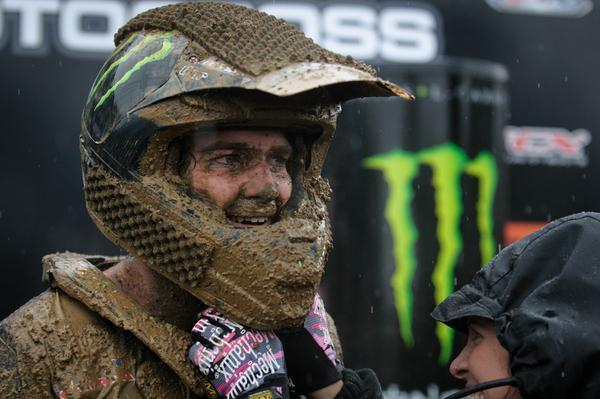 Goerke will try to back up his 1-1 performance at the opening round this weekend at round two in Kamloops, BC.
James Lissimore photo
What about your new teammate Tyler Villopoto, lots of people watching him because of his last name. How's he doing?
Yeah, I think he was a bit nervous because it was his first race. He's a cool guy, I've been hanging out with him a little bit. We've been riding a bit in California and he's quick. He's going to have some good results here really soon. He's going to do a lot better at these races as he gets more comfortable.
This weekend is a home race for the Leading Edge team and last year didn't go well for you because of injury. Are you looking forward to getting some revenge on that track?
I like the track and I'm healthy this year so it's going to be a lot better. It's really rough and it's got a sand section in it as well. The front part is killer rough but that's fine for me. I'm pumped for this weekend and I hope it's dry. I heard it might rain this weekend and I don't want to ride another mud race! Let's hope it stays dry.
Are you happy with the way this Canadian National part of your career has been going for you?
It's definitely been good for me and everything I have done lately has been good for me. Moving to California was good, riding for the BTOSports.com team in supercross went really well. I'm happy with this decision to go up there and race, I think it was a good one. I'm looking to do the last couple of AMA Nationals as well after the season is over up there. And we'll go from there.
The Canadian thing is cool, it's a lot like the AMA Nationals just a little bit smaller. You still have some fast riders up there, you've got to be in shape. The tracks are rough and it's a good experience for me.