Shorty, Hewitt, and Anderson Survive Dallas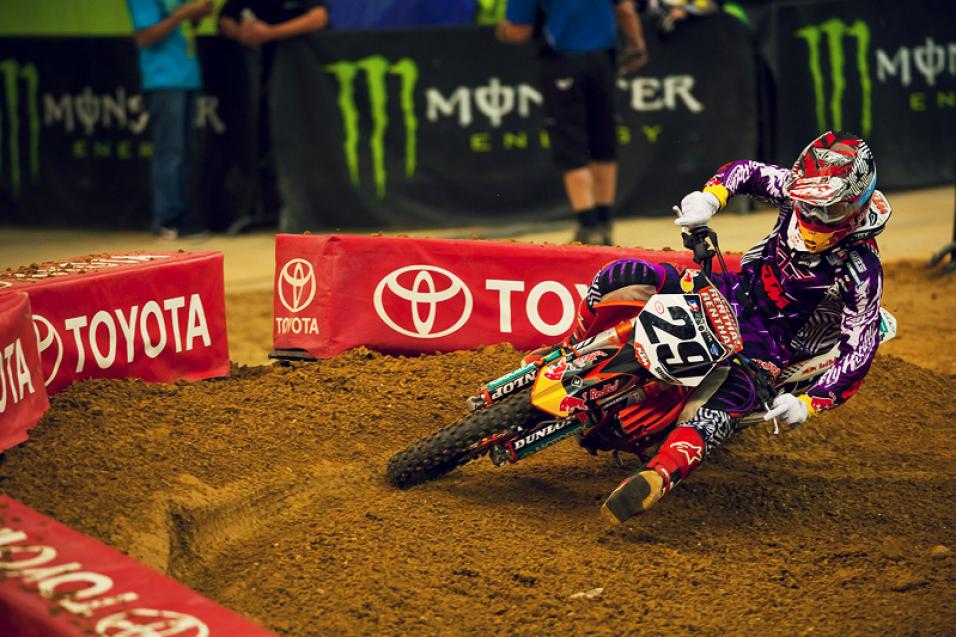 The Dallas edition of the Monster Energy 2011 Supercross series proved tough for several of the world's best supercross riders; the combination of hard packed dirt and as- big- as -Texas sized whoops proved catastrophic for some. Coach Seiji clients Andrew Short, Hunter Hewitt and Jason Anderson all persevered to continue on their journey through the amazing 2011 supercross season.
#156 Rockstar Energy/Suzuki rider Jason Anderson and #65 One Industries/Pro Circuit rider Hunter Hewitt and  both charged hard in the opening laps of their heat race to advance to 3rd and 4th place by the halfway point of the race. Both riders defended these positions through smart riding to move on to the main event with great gate picks. Red Bull/KTM Factory Racing pilot #29 Andrew Short gated both smartly and aggressively, then rode consistently while others faltered to post a 4th place  heat race finish to move easily to the main event.
The supremely challenging Dallas track proved the most formidable adversary in both main events. Slippery dirt, tight layout, huge and inconsistently sized/spaced whoops combined with the sheer competitiveness of the field produced some nasty get-offs and series point shake ups but Coach Seiji clients survived to press onward.
Both Hewitt and Anderson gated fairly well and made aggressive passes in the first lane of the opening lap. Hewitt took an aggressive low line in following turn and unfortunately slid out in the loose conditions to remount and restart in dead last place. Anderson suffered a similar fate half a lap later when he got cleaned out and pushed into the Tuff blocks. He too had to remount and restart. Anderson had to exit the track and re enter the track, in dead last by half a track as Hewitt had passed him while he was on the ground. Both riders rode strongly for the remainder of the race; Hewitt emerged with an 11th place while Anderson carded a hard fought 12th.
Short gated to the far inside in hopes to steer clear of the first turn mayhem but rounded the sweeper at the rear of the field. The veteran amazingly emerged towards the front end of the field after the first two lanes; at the end of the first lap Short had advanced all the way to 8th place. He soon made a pass on Stroupe to inherit 7th place, where he would remain until he was passed by a hard charging Windham. Soon Short would find himself with a gap both in front of him and behind him but made up some positions as the leaders found themselves in a few mishaps. Short would stay upright through the remainder of the treacherous race that claimed many in his class to earn a 6th place finish.
Coach Seiji is thankful that all his riders remain healthy and to hear that the other riders that were carted off avoided serious injury. On to St. Louis!