Answer's James Stewart Captures Second Win in Oakland
Corona, CA-
Coming into the 4
th
round of the AMA Supercross series in Oakland, Answer's
James Stewart
was a man on a mission after last weekends LA Supercross.  When everything was said and done, Stewart captured his second win of the year as well as taking the points lead in the series.
Being the second new venue of the year, the Oakland Supercross race was set to be a great battle. Yet, James struggled throughout the earlier part of the day in which he suffered two practice crashes and decided to skip the last practice session. Coming into the night events there was a lot of question marks surrounding Stewart's condition, but all of those were answered as he won the first heat of the night by ten seconds.
As the riders lined up for the nights main event, a light drizzle started to fall, which was set to make things a little more interesting. When the gate fell, James jumped out to a top 5 start and then quickly made his move into the lead on lap 3. For the next 17 lap's, James continued to lead the race and finished it off by capturing his second win of the year. Along with the race win, James also propelled himself back into the point's lead of the series.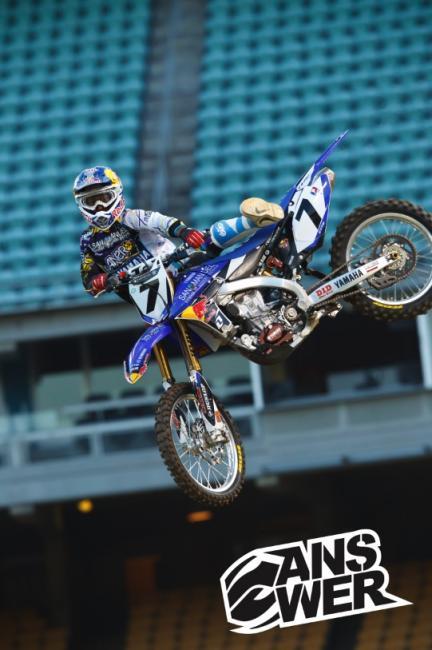 With the next round of the AMA Supercross series this weekend in Anaheim, James looks to extend his points lead and capture his third race win of the year. As always check out our website and gear at Answerracing.com. As well as find us on our social sites: Facebook.com/Answerracing or twitter.com/Answerracing to have a chance at winning some cool swag!
About Answer Racing
Answer Racing was started in 1976 with a vision to provide hardcore MX enthusiasts with products they can trust. Many years have passed since then, but Answer Racing has not lost site of the original goal. Whether you are a diehard racer, or a weekend warrior, Answer Racing has you covered. At Answer Racing, we believe that protection and looking like a pro are one in the same.