Anaheim, CA
Anaheim 1 (A1)
Monster Energy AMA Supercross Championship
Welcome to the first Racerhead of 2011, brought to you on a brand new and improved Racer X Online. As you probably noticed, we did some work on the site in the last few months, and while we spun the wheel a little coming out of the gate on some browsers, our digitals are really hooking up now, and I hope you're enjoying our even deeper commitment to bringing you not only the best motocross magazine in the world, but also the best website. (For those of you still having video problems, we think we have a fix in the works. We'll update you as soon as it rolls out, which should be very soon.) Thanks to Cole Thorsen and Impulse studios for going above and beyond to bring you a state-of-the-art website that will allow us to present our beloved sport in the best light possible.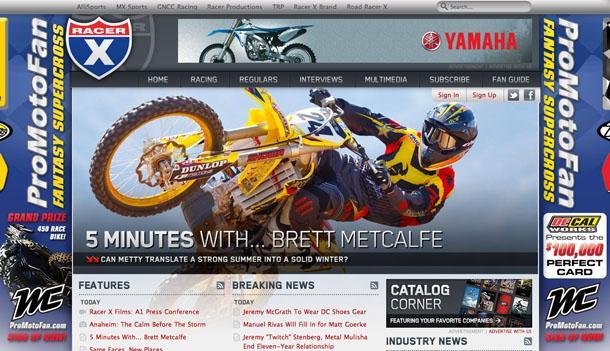 A big thanks to all of the beta testers, and to people who have sent us constructive feedback!
And before we get into the big race that's coming up this weekend, I want to tell you about something else we've had up our sleeve that's ready for rollout on Monday. It's the new Mad Skills Motocross game for your iPhone, iPad, or iPod Touch, and it's been more fun to play than the groundbreaking Excitebike was back when I was a kid and that was all we had as far as motocross arcade games went. Our fearless business leader Bryan Stealey has been working with Tobias and Peter from Turborilla; Fish, Andrew, and Tim on our staff; and beta testers and racers from all over the world. Everyone from Wil Hahn to up-and-coming standout Adam Cianciarulo, from GNCC ace Josh Strang to moto legend Jeff Emig, have been part of the beta-testing team for this game, which features more than 50 tracks and gives you a chance to play against every other person in the world who has the game. Thanks to all of these guys who helped make this game so awesome, and also to Suzuki, Motosport, GoPro, and Kicker for believing in it from the beginning. It's been a source of great fun and pride around the office as we shake it down, and I will venture to guess that it's the best $1.99 you will ever spend on a game (and you will play it 199 times the day you pick it up). That price won't last long, so you might want to go ahead and pick it up on Monday. Here's a cool clip of Adam Cianciarulo racing against fellow tester Jason Hooper:
And here's the official game trailer:
Get it Monday on the iTunes App Store or through www.madskillsmx.com. I have already shown the game to Davi Millsaps (who says he will beat everyone), Ryan Villopoto, Tyla Rattray (who says he will beat Millsaps!), Josh Grant (who immediately started playing on my iPhone), Jake Weimer (injured but highly interested), and Ken Roczen (who now needs an iPhone or iPod Touch so he can play!). Good times.
And then there's the big dirt bike race this weekend at Anaheim. The opening round of the 2011 Monster Energy AMA Supercross Series has the potential to be a race for the ages. There is so much anticipation for this race that it's hard to put into words. Maybe it's the fact that last year saw the absence of so many top riders due to injury; or maybe it's because the off-season has been the longest one we can remember, as we lost the U.S. Open as a mid-October appetizer to hold us over until early January.
But now it's on, and you can watch the Anaheim Supercross on Saturday night live (how cool is that?) when SPEED TV airs start-to-finish coverage of the most anticipated supercross race in years. Coverage starts at 7 p.m. out here in California, which means 10 p.m. back east. And if you want to holeshot your friends who come over to watch the race with you and be able to point out all of the things they should be watching for, here's a new feature we will run before each race, with support from our friends at Acerbis: 10 Things to Watch for at Anaheim.
Racer X Online has been everywhere this week, and we will continue to lead the way on online coverage of the Monster Energy AMA Supercross tour. We have a whole new game plan in progress, and I hope our loyal readers appreciate the work and efforts of guys like Jason Weigandt, Steve Matthes, Andrew Fredrickson, Chase Stallo, Eric Johnson, Matt Francis, and of course Simon "The Great" Cudbylicious.... Sorry, he's sitting across from me here at the Anaheim Starbucks!
And here's a quick tip of the visor to Feld Motor Sports, organizers of the Monster Energy AMA Supercross tour. They have gone all-out once again, and the track, the pits, the infrastructure, the whole presentation is just remarkable over there outside Angel Stadium. In a time of slow economic recovery, they have once again delivered a hugely entertaining package for us race fans. It's easy to beat on promoters (trust me, I've learned that firsthand), but in a time when it's very risky to invest and spend heavily on presentation, they always built an amazing platform for our sport, and with the races airing live tomorrow night on SPEED, it's all a great shot in the arm for an industry that could use some good news right now.
I will let the other guys riff on the 450 class, but here's what I have on the Lites class:
Monster Energy/Pro Circuit Kawasaki will field its biggest, most veteran team in recent memory. Leading the way will be the veteran Josh Hansen, who's turned his career around in the last year since Mitch Payton gave him a chance to prove himself once again—Hansen won his first Lites SX race back in 2004 when it was still called the 125 class. Hansen rode well all last year in the West Region, then won the Australian Super-X tour. He might have won a third X Games gold medal if not for a wardrobe malfunction. Tyla Rattray might be older than Hansen, but he's as new to supercross as Roczen and Tomac are, having been hurt while trying to learn it the last two years. And then there's Broc Tickle, who won in Seattle last year with the DNA/Star Racing Yamaha team and might just be the quiet favorite here.
Beyond that, there's Martin Davalos, who's long overdue for a win, and his Rockstar Energy teammate Ryan Morais, who's even more overdue....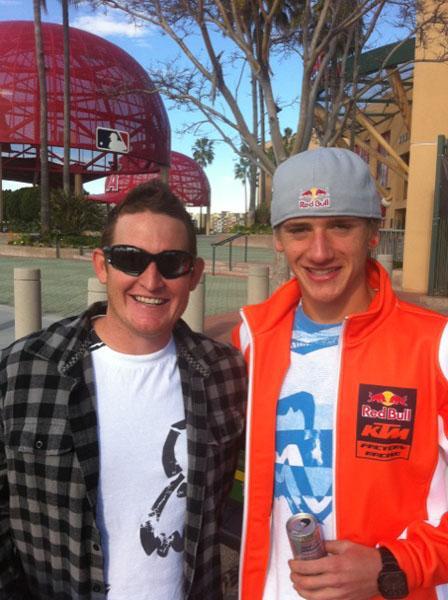 Ken Roczen and Ricky Carmichael in front of will call.
Photo: DC
All of Europe, and pretty much everyone at the Motocross of Nations at Colorado in September, will be watching Anaheim to see how Ken Roczen does in his AMA Supercross debut. The European site MXLarge.com polled a wide variety of race watchers, including Eric Johnson and myself, to gauge where he was expected to finish while learning the ropes here. It's an interesting read that might be worth going back to next week after the first night's results are in.
Also making his AMA Supercross debut will be Eli Tomac of the GEICO Powersports Honda team. Tomac was a revelation last summer when he won the first AMA Motocross race he ever entered, yet he's still slightly older than Roczen, who won a GP when he was 15, believe it or not! The two will be having a race-within-a-race, and likely their first professional match-up of many to come. Check out this piece that "Bad" Billy Ursic did with Eil.
And speaking of Tomac, here's an interesting little tidbit: If he wins the Lites main event this weekend, he will become the only rider in the history of the sport to have won his first AMA Motocross national—which he did last May at Hangtown—and his first AMA Supercross. Just another little bit of cool moto trivia to keep an eye on....
In case you missed the cool Ken Roczen video from Red Bull, check it out right here.
I have written and bench-raced a few times that Ken really reminds me of a young Ernesto Fonseca, in how grounded, polite, and outgoing he is. Back when he was riding minis, Ernesto was coming up with his parents from Costa Rica to race Loretta Lynn's and the Mini Os and all, and he was the only one in his family who spoke English. So as young as 12 he was signing himself up, talking to officials and sponsors, checking into hotels, ordering meals for the family.... I got to have dinner with the Roczens and their sponsor Jeff Cernic at Loretta Lynn's three years ago, back when the kid was 14, and I was blown away by how mature he was, as well as how confident he was—but confident without being cocky. Nothing that's happened since has changed my mind, other than the fact that he's way faster now than I thought he would be at this point!
Racer X Senior Photographer Simon Cudby had this note to add: "Here's a Ken Roczen nickname I thought of: 'K-Roc' after the SoCal radio station KROQ." Good one, Simon!
If you're wondering what's going on with Ben Townley after his injury in the Australian SX Series late last year, Racer X contributor Andy McGechan spotted him at the New Zealand SX race this past weekend. "BT101 is walking around fine with no apparent difficulty," wrote Andy. "He tells me he's training again, just light stuff, swimming, etc, but not riding yet. He says he'll be ready to go when the GPs start." That would be April 10, in Sevlievo, Bulgaria.
Look for one of the most famous riders in the history of our sport to be honored in the Legends of Motocross display throughout the 2011 Monster Energy AMA Supercross tour: Snoopy! Yes, the beloved motocross-racing beagle of Peanuts fame will be featured in the display, along with Charlie Brown. Also, Danny LaPorte is the "live" legend that will be on hand for Anaheim 1, then Marty Smith for Phoenix, Donnie "Holeshot" Hansen for Dodger Stadium, Billy Grossi for Oakland, and Broc Glover for the second Anaheim race. Look for Alex Moroz and company in the pits as soon as they open at Angel Stadium.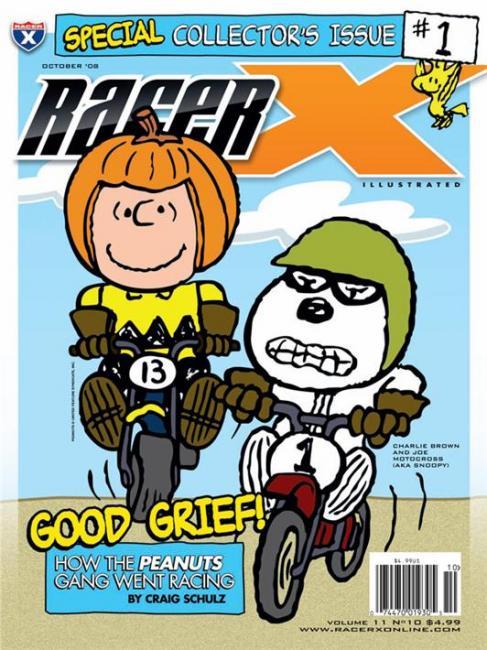 All week long we've been featuring old Anaheim photos on Facebook for our Racer X Old School Moto Photo of the Day, including some shots of the greatest SX battle of all time, Anaheim '86, featuring David Bailey and Rick Johnson. Here's the funny part: When Scott Burnworth, who got blasted by RJ that night and then came back to play spoiler in the main when he was being lapped, saw the thread on Anaheim '86 and wrote, "That race sucked.... LOL!" Good stuff.
Need a refresher on the 2011 numbers? Stop by the Racer X booth at Anaheim and get a free rider number card! Need to subscribe or renew? Subscribe for one year (12 issues) and you can pick from a Jeremy McGrath blanket or cooler plus a free issue for only $20!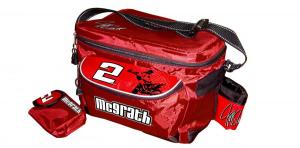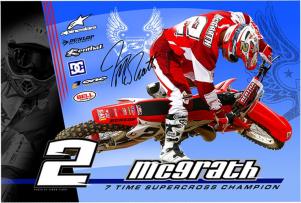 Okay, here's Weege to lead off the good stuff:
It's opening week here, in more ways than one. There's always plenty of excitement leading to A1, but this year seems especially exciting. And on our end, we're launching a whole new website and a whole new direction for content. You've probably noticed not only a new look, but a new style to our writing and coverage—check out our feature stories on Kevin Windham, Ryan Villopoto, Chad Reed, and James Stewart, and a forthcoming Ryan Dungey story I'm working on. Also, major credit to our Senior Shooter Simon Cudby and Video Man Matt Francis for killing it this week. And we're going to keep killing it, every week, all year.
We also have that Matthes guy on board, for whatever that's worth.
Tomorrow we'll debut another new section to the site: Thor Race Center. This will be a page dedicated to race coverage all day, and anything and everything regarding the Anaheim SX will be located here—news, stories, photos, results, even the weather report. It's the most efficient way ever to follow the races, and we're the only site that has it. Look for the Thor Race Center graphic on the main page every Saturday and lock it in all weekend long.
Anaheim 1 may be a race, but it's really a whole week's worth of activity. I got into town Tuesday morning, and since then the events have rolled nonstop. On Wednesday afternoon, Kawasaki hosted their 2011 Team Intro (check out Simon Cudby's photo gallery here). On Wednesday night, Nike 6.0 hosted A Night with Champions featuring Ryan Dungey and James Stewart—just an awesome evening of candid conversation with the duo, with questions from the fans. Yesterday featured the annual Monster Energy preseason press conference and press-day ride at the stadium, and Parts Unlimited and Thor wrapped the night with the press intro of their 2011 riders in Angel Stadium's Knothole Club.
Tonight I'm heading to Malcolm Smith Motorsports for a massive open house featuring the boys from Red Bull KTM, Rockstar Makita Suzuki, Lucas Oil Troy Lee Designs Honda, Nick Wey, Kevin Windham, Josh Grant and Brian Deegan. Show runs 5:30 to 7 p.m., at 7599 Indiana Avenue in Riverside.
With all the talk of who is ready for Anaheim 1 comes a few riders who aren't quite at their peak yet. Team Honda (call them now, officially, American Honda Racing) and Team JGR (call them Muscle Milk/Toyota, please) have essentially switched riders this year, with Davi Millsaps going to JGR and Josh Grant going to Honda. Both are also coming back from injuries. Millsaps nearly lost a kidney in a big crash at Budds Creek last summer, and JG jacked his shoulder at Southwick. I talked to both yesterday and they admit they'll have to build speed and results as the season rolls on. I have interviews with both that I'll post on race day.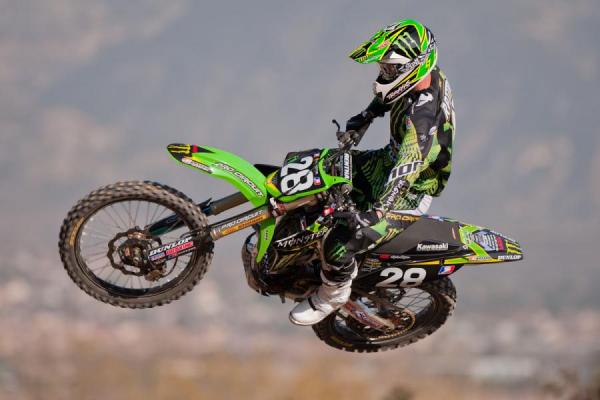 Tyla Rattray will be contesting the West coast Lites series in 2011.
Photo Courtesy of Monster Energy
No one is sure which coasts all the Lites riders will race, although I finally got Tyla Rattray to admit he's racing West, so that's one Monster Energy Pro Circuit Kawasaki rider down. And Dean Wilson is definitely racing East, so that leaves Baggett, Tickle, and Hanny, two out of three, to race west with Styla.
Okay, much more to come on the site this weekend. And make certain to follow @racerxonline on Twitter for all the latest news from the track!
Now it's Ping Time!
Does anyone else feel like a 5-year-old on Christmas Eve right now? I didn't say "act like a 5-year-old," so some of you can put your hands down. I am so stoked for the races tomorrow I am probably not going to be sleeping much tonight. The showdown between Dungey, Stewart, Villopoto, and Reed has the potential to be epic. And the list of guys lined up next to them makes this class one of the deepest talent pools we've seen in twenty years. Anyone remember the Atlanta SX from 1990? O'Mara on a Kawi, Wardy, RJ, Dogger, Bradshaw, Chichen, Stanton, Keidrowski, and Guy Cooper all engaged in one of the most epic throwdowns I've ever seen! Pretty much all of them had turns in the lead and there were more inappropriate hits in that race than an inebriated Mitch Payton at an MGM Grand Casino blackjack table.
I think we are going to see some races like that again this year. If you're too young to remember those days, you are going to love this season. All that said, don't be disappointed if Anaheim 1 isn't the battle royale we all want to see. All the guys want to win, but between nerves and some first-race cobwebs, it might take a round or two until they all start getting aggressive. It is going to happen, though.
And how about the Lites class? There are some cool things going on there as well. if you didn't read my 2011 preview of the 250 class you can check it out right here.
Jake Moss will soon be filling in for Jake Weimer at Kawasaki. That move might have left some folks scratching their heads, since Moss had a forgettable season in 2010. Let's remember, though, that Moss was really impressive in 2009 until a badly broken arm flushed his confidence down the toilet like a stubborn turd. Mossy started coming around again late in the Australian Super X series, and if he can get his head in the right place, he could do well on the big green machine.
After you get all jacked up watching the races on Saturday, be sure to show up at Pala Raceway for the Racer X Ride Day. Anyone with a subscription to the magazine gets in free (bring a copy with your name on the sub tag), and you can sign up there and basically get in free (or pay for the ride and get the magazine free for a year, however you want to look at it). Either way, it's going to be a lot of fun. There will be a vendor row with industry personnel showing the latest and greatest from all the marquee companies and a long list of motocross heroes including Jeremy McGrath, Ron Lechien, Rick Johnson, Johnny O'Hannah, Mitch Comstein and many, many others.
With the money you save getting in the gate, be sure to stop by the First Turn Films booth and pick up a copy (or ten) of Motocross 101, which will be on sale all day. I'll be there with at least a dozen good reasons why you should buy.
And now here's The Steve Matthes:
As you read this, I will be blasting down the 15 freeway on my way down for the opening supercross and my mind just boggles with the possibilities of what I might see this weekend. Just some of the questions that I have floating through my mind are:
1.) Who is going to jump the triples on the very first lap of practice, otherwise known as the "Bad-Ass Club"? [Ed. note: Probably not Josh Grant. DC]

Josh Grant had a bad crash at A1 press day.
Photo: Simon Cudby
2.) Will my credential be there waiting for me or did it get stuck inside one of Feld Media guru Denny Hartwig's Wrestling Weekly magazines and didn't make it?
3.) What time will PF Chang's open up in the concourse so that I can get some tasty Orange Chicken? Or failing that, is JGR keeping up with its time-honored tradition of catering Wahoo's Fish Tacos? I also eat at Kawasaki a lot but Anaheims aren't a good time to hang out at Kawi-too many important people who look at me and wonder who am I and if I ate RV.
These are the kinds of things I wonder about. Oh, you were expecting racing questions? Well, sorry about that. I just think that we have discussed this thing as nauseam, and the only thing left is to drop the gate and let these dudes sort it out for themselves.
I do get a lot of tweets (is there anything that has taken the sport by storm like Twitter? It's been a boon for some riders that people didn't like, i.e- Reed and worst case, it's let every one of us see Darryn Durham's bruised nutsack) asking me about Jason Lawrence and where he's at or who Christophe Pourcel is racing for, but once you sort those questions out, you realize that so many people are such big fans of the sport. I think that the bench racing across the Tweet-waves (??) is also a good thing for the sport.
Ya see, one thing that people in the industry don't always get is that, yes, the message boards have a ton of crap on them as do the Tweet-waves (it's my new word!) but overall, it's increasing interest in the sport and getting fans talking. Sure, there will be some goofs on both, but to me, the teams and riders should be pumped at all this hype. It comes around in the form of sponsorship from companies eager to be talked about and noticed. So embrace the tweets! Embrace the message boards! Just be sure to take a shower afterwards.
Anyway, I do get asked who is going to win, and unlike Ping and Weege, I'm going to go out on that branch and make some predictions. Yes, I'm bold like Bulls-Eye Bar-B-Que sauce. I know how fans don't like the media waffling, so I'm going to put it out there-good or bad. And bad being banned from the Kawasaki truck as those dudes take this stuff seriously.
Okay, Supercoss class: I predict that James Stewart will win this weekend. This is not to say that no other rider won't win the rest of the year or anything like that; I just like what I've been hearing about what Stewie's been doing this off-season. I would have loved to have actually talked to him but that didn't happen, so I went to his manager, sponsors, and even his Frenchmanfriend Eric Sorby to find out that he's been killing it. I think, in talking to manager Larry Brooks, that Sergio Avante, the new suspension/engineer added to the team, is going to make a big difference and these guys are not going to be so off when it comes to setting up the Yamaha YZ450F. The past couple of years, James' bike has not looked good and I think that's behind them.
I think everyone is going to be real surprised at Trey Canard, and in talking to his life coach/incredibly neat person Tim Ferry, I implore Feld to get Canard into the opening ceremonies hot lap, because he's been working on some tricks that will blow everyone's wigs back.... Nothing he does could be worse than what we've been getting the last few years on the hot lap where the riders have acted like they've taken a wad of Ambien right before going out. You're supposed to be excited and do some tricks, guys! This is the first time many of the fans have seen the obstacles being jumped and a little trick would go a long way. Or at least get flat.
Okay, Lites class. I believe that Josh Hansen will come away with the win. He's been racing, he has to be confident from winning the Australian SX championship, and before all those Aussie paternity suits come flying in (we've all seen the videos, right?), he'll be focused and ready to race. I like little Hanny for the win.
And I second Ping's notion that we would all like to see Ryan Morais win one of these things. He's married to Andrew Short's sister, and between him and Shorty, there are 983 second- and third-place trophies in the family and no firsts. I predict that changes this year.
Don't forget about Wil Hahn either. I sure haven't. Oh, and Ken "Kid Rocz" Roczen is going to be a surprise. Stamp it!
I'll be over at the Thor/Parts Unlimited hospitality at 3 p.m. on Saturday doing some sort of talking into a microphone with a guy named Weege. Come check it out. I'll also be tweeting under the @racerxonline and Pulpmx umbrellas, so subscribe to both and get some info. Also, look for the debut of Thor TV tomorrow. We will tweet and Breaking News all of the links when it's ready to go!
Thanks for reading, I'll be here all week and tip your waiter.
Random info we've gathered this week:
Here is a cool shot of the new Nike boots Stewart and Dungey will be wearing at A1. They were showing them off tonight at the Nike event in Irvine. Apparently, the riders hadn't seen the finished boot until tonight. Notice Dungey explain the specs and Stewart in awe of the new boot. Weege did his best Letterman impression.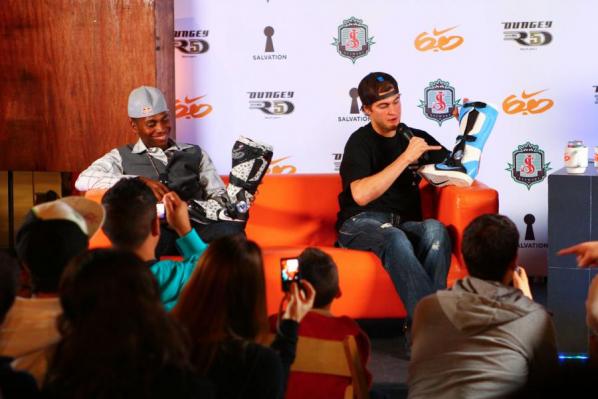 2009 Supercross Champion James Stewart and 2010 Supercross Champion Ryan Dungey show off their new Nike 6.0 boots at the Nike 6.0 Night With Champions event.
Photo: Matt Francis
Triangle Cycles is having am Anaheim Supercross watching party if anyone is in the area of Danville, Virginia. The whole bar is reserved and it will be on two 120" screens. Kickback Jack's is located at 140 Crown Drive, 434-793-1848.
Speaking of supercross viewing parties, we want to see pics of yours. Send us a photo of you and your A1 party setup. Just sent to contests@racerxonline.com and we'll pick our favorites and run them in the magazine.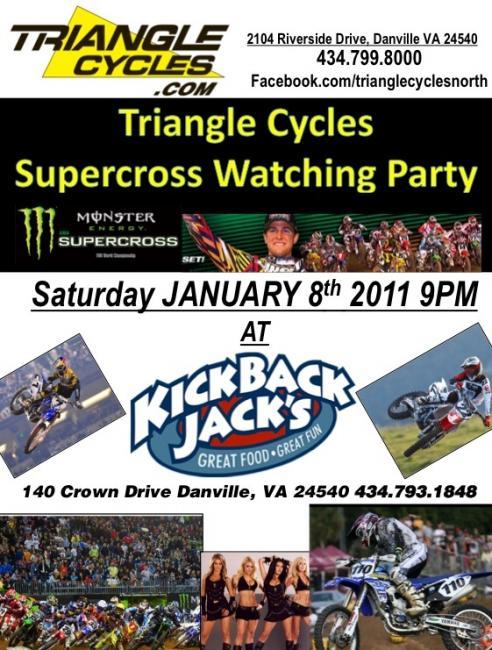 Here's a note we got from our friend and fellow shooter Brian Wilcox:
"Got over here to Iraq was in Baghdad for a little now I am at Camp Adder in Tallil, this place is pretty desolate flat and brown all desert. The picture is of the first palace we bombed when the war started, its called victory over america, what a moron, we just missed him by 15 minutes and there are about 240 members of his Ba'ath Party still buried underneath the rubble."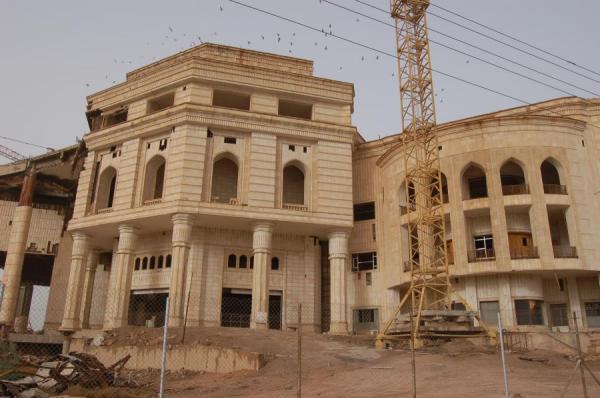 Shots magazine is a member-supported journal of fine art photography, and it's been in print on a quarterly basis for more than twenty years.  Freelance shooter Chip Morton submitted some of his race photos for their Portfolio issue, #110, and his shots made the cut. There's also an interview where he discusses his style, habits, and workflow. Check it out if you get a chance.
And finally, Donovan Mitchell sent this over:
RIP Pop Johnson
Over the years, Pop Johnson was a fixture in the pro pits watching several of his grandchildren race on the professional level. On December 19, 2010, Pop Johnson passed away, but he will not be forgotten. Here's an email we received from the Johnson family:
"He had a great run over the last couple years of his life. The great-grandfather of Justin Buckelew, Keith and Kevin Johnson and a fan of all the New Mexico motocross/supercross racers including Ivan and Gio Tedesco, Isaiah Johnson, Ryan Clark and many others. Pop chased these guys around the country, from California to Florida. He went to Lorretta Lynn's back in the day, to Anaheim, to the Des Moines Arenacross. His trusty van had some miles on it. Pop would hang out with Erv Braun in the announcer's tower at the nationals, and even Erv would say, 'I see Pop coming. It must be time to get started.' The AMA ladies took care of Pop at all the races, helping him get in and set up with front-row parking. I think the chocolate he would bring them helped out a little with that. Pop was old, but knew the ladies were a sucker for chocolate. Pop would even go down on the track and check out the SX tracks on his electric scooter. I think somehow he got more access at the races than some of the racers and even more tricked out swag from all the industry reps. Pop lived a great life, and thanks to everyone along the way he was able to do what he enjoyed: hang out at the races. We at Bobby J's Yamaha in Albuquerque and all of his family would like to thank everyone in the motocross world for being so nice to him and helping along the way. Pop made a lot of great friends and lived for you people to the ripe old age of 93. 
Thanks for everything. 
The Johnsons and Bobby J's Yamaha Inc."
That's it, let's go racing! Thanks for reading, Anaheim. See you at the races.