Anaheim, CA
Anaheim 1 (A1)
Monster Energy AMA Supercross Championship
In 2009, Factory Connection's Rick Zielfelder signed longtime Suzuki support rider
Eli Tomac
to his team, putting the Colorado resident on Hondas for his final year as an amateur, his professional debut, and beyond. "Ziggy" has had some really good success with his young recruits over the years—see
Trey Canard
and
Justin Barcia
—but can he keep the momentum rolling?
Yes. In fact, Tomac did something no other rider has ever done: he won his first professional race, at Hangtown last May. Proving it was no fluke, Tomac kept his GEICO Powersports Honda CRF250R well inside the top ten of the Lucas Oil AMA Pro Motocross Championship all summer long, finishing the season sixth overall in 250 Class points.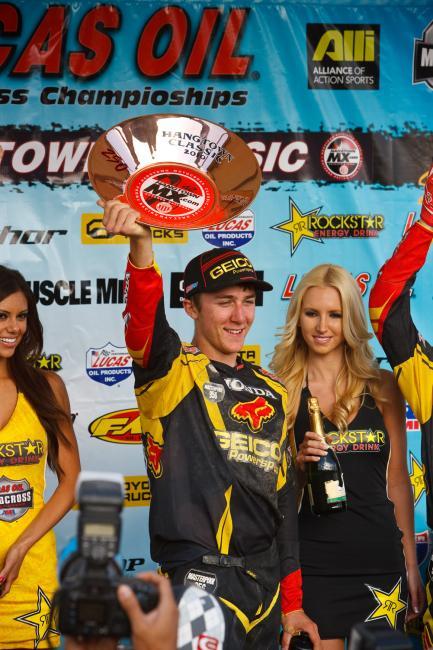 Tomac captured vicotry at Hangtown, can he do the same at A1?
Photo: Simon Cudby
Today Tomac is gearing up to make another debut, in AMA Supercross, and judging from some reputable sources we've spoken to, he looks like he could potentially make even more history by becoming the first rider to win both his first motocross and his first supercross.
"For me, the supercross prep has been easier," says Eli, who will again be aboard a GEICO Powersports Honda, but this time wearing #19 in the AMA Supercross Lites class. "It's easier because you're not doing long, gnarly motos."
In addition, Tomac feels his riding style complements the type of track he'll be seeing on Saturday nights for the next several weeks.
"The way things are going right now, I think I may be more of a supercross guy," he says. "I mean, I get along with both, but I think my style kind of fits supercross more than motocross, because I'm a little more smooth and calculated compared to hanging off the back of the bike all the time."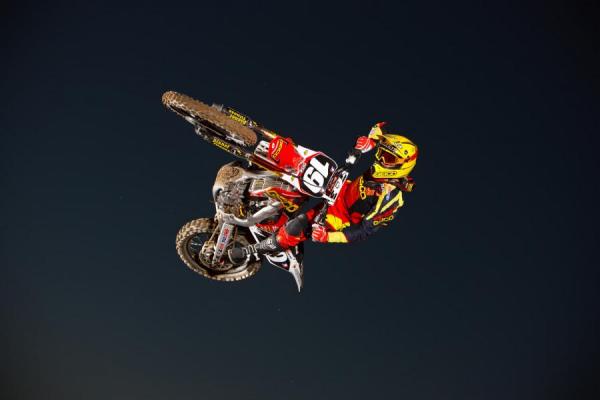 Rumor is Tomac has the speed to contend for a title in 2011.
Photo: Simon Cudby
Tomac made it through all twelve rough and rutted rounds of Lucas Oil AMA Pro Motocross series in one piece, so he'll probably have no trouble getting through eight rounds of West Region Lites Supercross. Nonetheless, he's stepped up his training. Tomac's father, John, has a reputation of being a strict trainer dating back to his days as a professional mountain biker, and he's carried that knowledge over to his son.
"For the training side, my dad actually ramped it up more—it seems like we're doing even more cardio than we were doing for outdoors," he says. "So I think I'm going to be really prepared. I've been practicing a lot, and I think I'm one of the fastest guys on the team."
As for whether Eli thinks it was a good idea to start his professional career in outdoor motocross, he replies, "I totally think it was a good idea. I already raced all of the guys, so the only thing that's really new to me is the stadium, but I think I'll be able to block all that out pretty easily."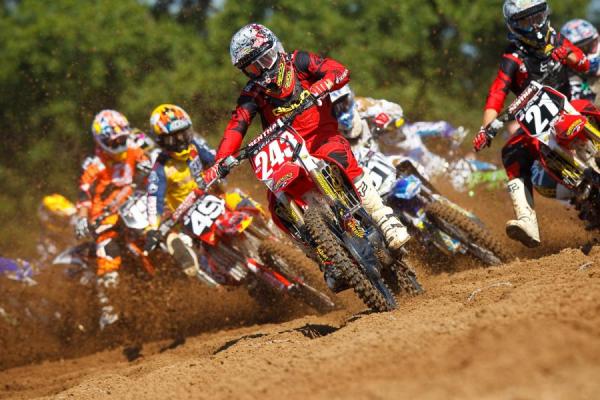 Tomac succeeded as a rookie outdoors, will supercross be the same?
Photos: Simon Cudby
So, can he win?
"Obviously, I'd like to go in there and win, but that's saying a lot," he says. "But I was able to do that at Hangtown. I've done plenty of preparation, so now it's up to me go out there and get a good start and make it happen."
Finally, who does he think will win the AMA Supercross class on Saturday night? "I really have no idea," he laughs. "Well, I think Trey Canard has a really good chance of winning because he has the world's fastest machine and he's riding really well right now, so I'm going to go with Canard."