Privateer Profile: Shane Sewell
You've probably heard of Travis and Shane Sewell at some point over the past couple of seasons. Younger brother Shane broke onto the pro scene when he won a 2008 AMA Arenacross Regional Championship. Shortly thereafter, he made the main event in the first supercross race he ever entered. Since then, the 22-year-old has been a fixture in the privateer pro pits – sometimes as rider, and more recently as mechanic for Travis. With minimal seat time this summer, Shane began racing at RedBud, and later managed to finish fourteenth at Southwick. We caught up with him after his day at the Steel City National.


Racer X
: Shane, unfortunately, you didn't have the best luck today, did you?
Shane Sewell: No, but my riding was there today. My speed was pretty good. My mental attitude was good and I was ready to go. I just ran into some speed bumps today and kept crashing. In the second moto I got tangled up with Ben Townley and whoever else went down in the first turn. Ben's bike clobbered my left side and I scraped myself up pretty good. But I got up and got going. Actually, I had gotten into about twenty-third but then went down pretty hard. I had to end it there—I was just too sore. Everyone was riding pretty fast out there for me to be half-assin' it.
Today was probably a good day to just leave the track in one piece.
Yeah, I have had a rough couple of weeks. A buddy got injured recently and I've had just a few other problems along the way, so it's just good to be able to leave here walking. But I did scrape together one point here from the first moto.
Southwick went pretty good for you, though.
Yeah, riding in the sand is something that I grew up in. Hands-down, I am more comfortable riding in sand than any other type of soil out there. My starts were pretty good at
Southwick
too. If you don't get a start these days, it's very hard to catch anyone.
What were you doing before you joined the series at RedBud?
I was my brother's mechanic at all the nationals leading up to
RedBud
. Actually, I was up until about 2:00 a.m. Saturday working on his bike. This year it was about my brother racing and not me. I just took what I could get. He got a new bike, so I rode his practice bike at the races. I enjoy everything about riding dirt bikes, so just to be racing anything is fun.
So before RedBud, you weren't racing at all in 2010?
No, until
RedBud
I hadn't raced since the St, Louis Supercross in 2009. My speed and riding hadn't left me, so it makes me feel like if I had really given it a go, that I could have done well in this summer's outdoor series, but that's the way it goes.
For a while it appeared that you were on a fast track.
Yeah, I won a 2008 Arenacross Regional Championship before switching over to supercross. I felt as if I was getting my supercross results down, but we could only afford to keep one of us racing. I was more than happy to help my brother out, because he deserves all there is out there.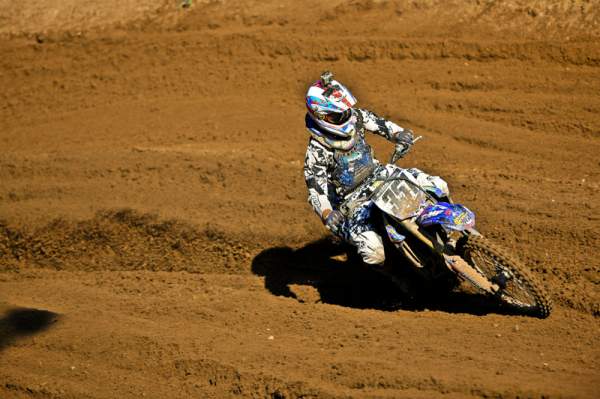 Shane finished 14th overall at Southwick.
photo: Steve Cox

Are you guys headed to the series finale at Pala Raceway?
No, we just can't afford it—plus, we would have to drive there, so we would probably need to leave right now. But I'll definitely be on the computer checking it all out. I'm really into it. Hopefully we'll be able to scrape something together for next year, whether it's indoors, outdoors, or both. We went up to Canada, to Walton, and raced a couple weekends ago. That was a great experience, and going out and racing for the lead was fun. It seemed that the bikes were a little more even on the playing field there. My brother got a fourth overall and I got seventh overall there. I would definitely consider racing in Canada.

Thanks, Shane. Before we go, who do you want to thank?
I'd first like to thank my dad – thanks a lot for busting your butt all the time for us! Also, I'd like to thank my mom, my girlfriend, and then just all the sponsors who have been behind me, like MSR, Von Zipper, FMF, Pro-Taper, Dunlop, EVS, GUTS, and Rock River Racing out of Wisconsin. They all help me out so much. These sponsors made it twice as easy for me to be able to race – I appreciate everything! I'd also like to thank my good friend and mechanic, Daniel Castloo, and also Charles Castloo for his support and both of them for believing in me.