Welcome to the Shift Number Cruncher. OK, right now, try to name as many #71 motorcycle riders as you can….

How did you do? That's what I thought. I didn't have any reservations to do this number this week whatsoever. Then, it came to be on the heels of a phone call I received late last week from an old racing pal. That's another thing that's so cool about motocross—the pals you meet. The extreme nature of the sport makes the bond between you and your riding and friends so much stronger than main stream sports. The good times, the bad times, the girls, the trips to the hospitals… All those special things you experience with your moto pals.

Anyways, when I received that call it only took me a few seconds to place the voice. It was my old pal, Chris Neal. More on him in a moment, right now all you need to know is that he ran national #71 in his pro career and his phone call put the butter on the bread for this week's column.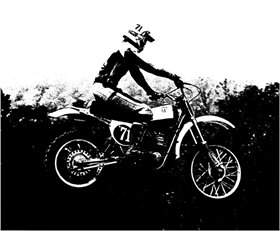 Mark Rakestraw
Now, this gentleman might have a Cruncher of his own coming up in the near future but with his 1977 AMA Pro number getting the nod this time around we had to throw
Mark Rakestraw
in on general principal.
Well, it seemed like we had finally ran into one we couldn't pin down! Then DC went digging through his old programs, found a name, and a call confirmed it. So tell you what, the first three people to correctly list this rider's name and state (shown above) will get a SHIFT t-shirt. Email your answers to me at
Andy@racerxill.com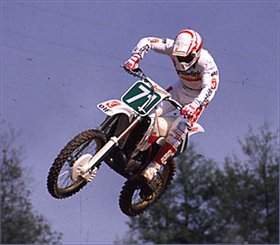 Alex Puzar
photo credit: AP Trading

Remember how cool the Team Chesterfield team used to be? I thought Donny Schmit and Bob Moore were coolest when they rode with these guys. Here we have
Alex "Crazy Horse" Puzar
at Maggiora, Italy, on his way to the 250 World Championship in 1990. Puzar might have the 125cc world title in '89 too, if not for American upstart Trampas Parker…
It was early summer in 1997 when I met
Chris Neal
. We traveled to Santiago, Chile, to film for
Fox Racing
's
Terrafirma 4
. I didn't really know the guy, but at the end of our trip he was a pal for life. I had a little mishap down there and "NorCal Nealer" was the only person that knew what to do. I'll save you the gory details, but it was pretty messy and a situation that only a fellow motocrosser could handle.
He hit me up with some info on the year (1991) he ran #71:
"Hello Andy, '91 was my second year in supercross, and I was living in Axton, Virginia at David Bailey's house training with Gary Bailey. My best finish was sixth at the Meadowlands in New York. Phil Lawrence's brother Larry was my mechanic. By 1994 I moved to Argentina to race for the factory Honda team, which was arranged by Greg Fox himself."
Chris now lives in Oregon working in sales and marketing for Bauer Electronics.
While I'm not big on running more than one Hi-Flyer card, I saw this one of
Junior Jackson
and just had to run it as well. Junior Jackson was one of the hottest prospects in the nation in the mid '80's. He won four Loretta Lynn's titles, but was cut down by injuries and bad luck. Today he runs a successful modification shop in the Midwest and when I talked to him at Des Moines, he said he has his eyes on racing Loretta Lynn's in 2008…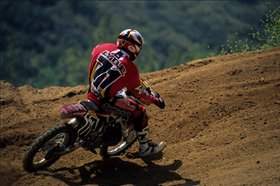 Casey Lytle
photo: Racer X Archives
#71 is a number that
Casey Lytle
won't soon forget as it was his first AMA pro number. Casey was a really good supercross rider and would go on to win the 125 class in Phoenix in 2000 on an FMF Honda.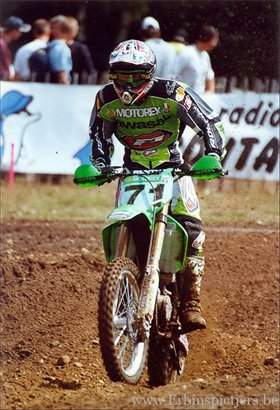 Mickael Maschio
Daniele Sinatra tells us: "This is
Mickael Maschio
, in 2002 ; he won the championship class 125 with Team De Groot." Maschio was a super-fast Frenchman who just retired a couple of years ago.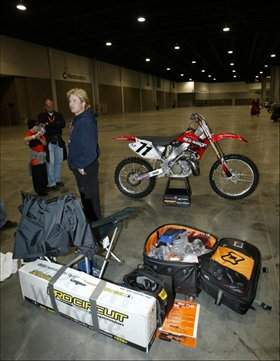 David Pingree
photo: Steve Bruhn
Check out
Ping
slumming it in Atlanta in 2004:
"That year I did a road trip with my buddy Alex who owns Red Baron. We hit the Atlanta supercross, the Palatka GNCC and then the Daytona Supercross. I made the main in the big class in Atlanta, finished 20th in the pro class at the GNCC (and almost stroked out) and just missed the main at Daytona. It was fun trip. Good times. The only other thing I did that stands out from that year was doing the stunt work from Supercross: The Movie. The movie was a turd but the pay was good."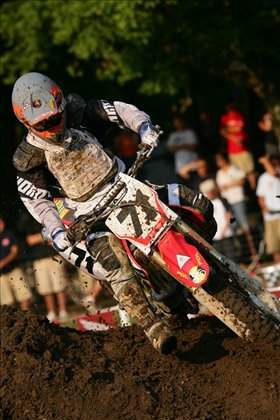 photo: Simon Cudby
Phil Nicoletti
is a hard charging New Yorker is prepped to make a big name for himself in 2008. He'll be riding on the new Extreme Team Green Lites team and the word on the streets is this kid is for real.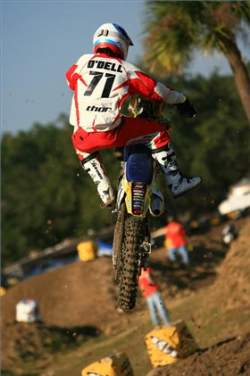 Terren O'Dell
photo: Frank Buonemani
You will be hearing this name a lot in the very near future. After winning the Supermini Class at the 2006 AMA Air Nautiques Amateur National Championships,
Terren O'Dell
jumped up to the big bikes and felt right at home.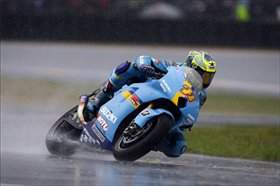 Chris Vermuelen
photo: Andrew Northcott
This is an intense Andrew Northcott photo of
Chris Vermuelen
slicing through the rain. Gregg Lowley told me that CV finished sixth in MotoGP this year with a 1st place at the Le Mans GP; 2nd at the Red Bull USGP and at Misano.
Other 71 stuff
After some research we noticed number 71 had a rather large following. From New England's Bruce Stratton in 2001, to Josh Hansen earning but not using it in 2005, to Rusty Holland racing with it in 1996. There was also Rich "Potato Head" Taylor in 1998, New Englander, Keith Johnson, in 1994, and John Dowd rolling out #71 in 1989.

And what a year 1971 was. Dude, Black Sabbath released Paranoid, Apollo 14 went to the moon, Southwest Airlines got off the ground, Willy Wonka and the Chocolate Factory hits theatres, Jim Morrison dies in Paris, Stairway to Heaven hits the airwaves, Johnny Cash wrote The Man in Black, and Chasey Lain was born….
71 is huge. OK, now it's your turn. Please send me any other #71 stuff you have and we'll see if there's enough for a redux.
See you next week!