Welcome to the Shift Number Cruncher. This week's edition goes out to Rob Harris, who has written in almost every week with redux pictures or additional information on the number of the week. "Greenie" (as he goes by) has had a rough go of it the past several years after sustaining a severe head injury (from a 20-ton crane at work) and suffering Post Concussion Syndrome, which is like having a concussion everyday for around a year afterwards. It's been two years of rehabilitation for Rob and he is just now getting back on the bike and doing some racing.

A month or so ago, Rob e-mailed me some pics of his first race back, riding a YZ250 and wearing #52. So it is with respect to Rob's inspiring comeback that we dedicate this week's Shift Number Cruncher to Greenie and his #52.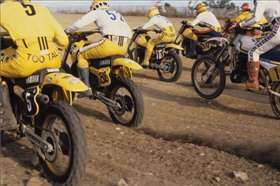 Mark Murphy
photo: Dick Miller Archives
Once upon a time at the Daytona Supercross, #52
Mark Murphy
was photographed performing a huge endo. The picture later became famous for spawning the term, "Flying W." The Florida based Yamaha support rider was way more than just a crasher as he battled and beat names like Kenny Keylon, Karl Jordan, Keith Oelrich, Kevin Foley, and many more.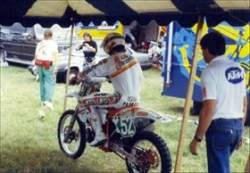 Trampas Parker
photo: Rob Harris
Here we have
Trampas Parker
riding the GPs 1990. Parker should have been wearing #1 that year, having won the 125cc FIM World Championship the previous year on an Italy-based Farioli KTM. Parker didn't have such a great year, but he did end up riding for Italy at the 1990 Motocross des Nations and actually won a moto outright as his adopted home's 500cc rider. One year later he was world champion again, only this time on a Honda.
Last weekend, Parker, now back in America full time, was inducted into the AMA Motorcycle Museum's Hall of Fame, along with fellow Loretta Lynn's graduate and multi-champion Mike Kiedrowski.
Brian Carroll
earned AMA National #52 in 1992, one year removed from winning the Four-Stroke class at the 2001 Loretta Lynn's Amateur National finals. One thing that made him unique was that he would always wear an American flag over his jersey as he does here at the 1999
Budds Creek
National. Kind of ironic, huh?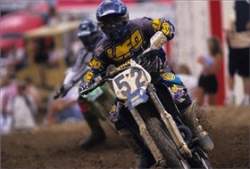 Jason McCormick
photo: Fran Kuhn
Here we have
Jason McCormick
running #52 in 1997. Jason would have the race of his life two years later at his home track at
Washougal
when he won the second moto of the 125 class beating Brock Sellards and
Ricky Carmichael
, himself.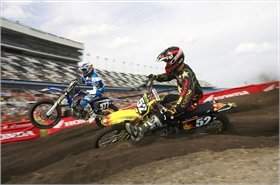 Sean Hamblin
photo: Rick Conley
Sean Hamblin
has ridden for almost every team in the paddock, including Rockstar Suzuki in 2006, wearing #52. He got married and moved to Europe for this season, where he raced for an England-based Suzuki team. He struggled to adjust to the racing, but everything we heard and read about "Hambone," it sounded like he was having a blast!
This was when the world was just beginning to see
Ivan Tedesco
's full potential. A move to Mitch's team was all he needed to break through. Will a move to factory Honda help him finally reach the top? By the way, this was Ivan's first major magazine cover!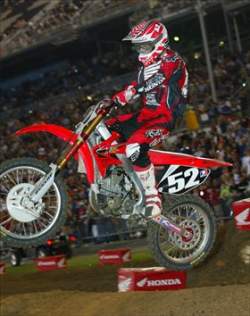 photo: Steve Bruhn

Tommy Hahn had a mostly unfortunate tenure with Big Red, but one bright spot was his run in the Daytona infield where he dominated his heat race and put his CRF250R on the podium in front of the Honda brass. From there, the year just went to hell in a hand basket. Tommy is probably stoked to be rid of #52 for 2008.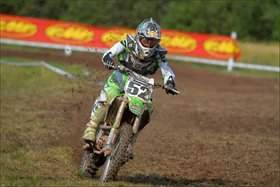 Brady Sheren
photo: James Lissimore
We leaned on our brother up north, Danny Brault, for a little love on #52 and he came up with a couple riders.
"After racing for the Wonder Warthog Racing program this winter and Ryan Clark's Team Solitaire, Brady Sheren signed up an interesting deal with Denny's restaurants, Holeshot Racing, and Canadian Kawasaki to contest the Canadian MX2 West series. Sheren finished the four round series in 10th, with his best result a sixth overall in Nanaimo."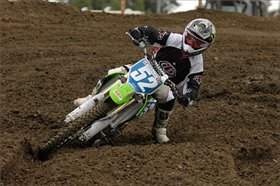 Heidi Cooke
photo: James Lissimore
Danny also had this super fast female up his sleeve:
"Five-time Walton TransCan Ladies champ, Heidi Cooke, made her debut in the second running of the Canadian National Women's Series this summer. Riding with the big five-two, Cooke won nearly every moto to claim the title, and she even beat Sarah Whitmore at the final round in Sand Del Lee."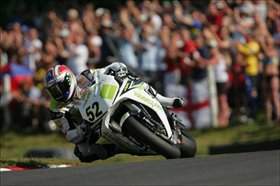 James Toseland
photo: Martin Heath
I sent an instant message to
RRX
's Chris Jonnum on number fifty two:
AB: Hey Chris, you have any RRX #52's?
CJ: James Toseland, who just won the World Superbike Championship on Sunday.
AB: Nice! Do you know where I can get a pic?
CJ: I'll let you know.
AB: Thanks, Chris.
CJ: NP
CJ: It was the final round, at Magny-Cours in France. It's his second World Superbike championship.
CJ: He rides for HannSpree Ten Kate Honda.
CJ: He's a Limey, and he's moving to MotoGP next year. Will ride for Tech 3 Yamaha.
CJ: Plays the hell out of a piano.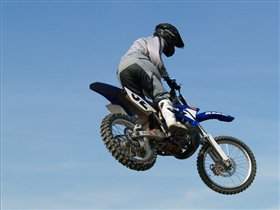 Rob Harris
photo: Courtesy of Harris
Motocross is one of the most unique sports of all in that it just never leaves your mind or body once it gets in there. Our boy,
Rob
, here suffered an injury that most likely should have prevented him from any vigorous activity at all, much less banging holeshots and flying over jumps on his motocross bike. Rob contributes every single week and we have used his photos in several number crunchers since the column began. When asked about the significance of #52 he said, "Man, I wish it was something cool, but to be honest, that was the number that was on the bike when I bought it! I guess it means something to me now and I think I'll keep it."
AMA National # 52s
1999 – The late great Kevin Crine. One of the coolest, nicest, racers ever.
1998 - "Mad" Mike Jones wore the five-two as one of his last national numbers.
1996 – Shaun Kalos. I'll always remember him showing up in a bus at Ponca.
1994 – Brian McElroy. Not sure what happened to this fast kid from Brooksville, FL
1993 – Jeff Curry ran #52 this year on a Tuff Racing KX250.
1990 – Three-time Loretta Lynn champion, Greg Bowen.
1989 – New England legend Pat Barton.
1986 – Texas speedster Clay Hoenshell.
1983 – David Weak from Omaha, Nebraska. (Maybe Denny knows this chap?)
Alright guys, that does it for this week. Thank you to all of you readers out there for you ongoing contributions. It's been a pleasure to produce this column every week. We have a bunch of cool ideas for the months ahead so stay tuned! Until then, hit me up at andy@racerxill.com with any ideas or pictures of your own.