Between the Motos: Kyle Loza
If you had told Kyle Loza five years ago that he would be the gold medalist in the 2007 X Games Big Air event, he probably would have laughed at you. He was sixteen at that time and just getting his first big bike, a Honda CR250, after learning to ride on a CR80. But a lot has changed since then and after pulling a body-varial trick he called "The Volt," Kyle is sitting at his home in Irvine with an X Games gold medal around his neck.
Racer X: Kyle, how does it feel to win your first X Games medal—and a gold one at that?!
Kyle Loza: I was really excited to go to the X Games and just ride. And I was super nervous, especially when I was just about to roll in for my run. It was crazy and definitely not like anything I've ever done before. It's like the World Series of extreme sports so it was gnarly.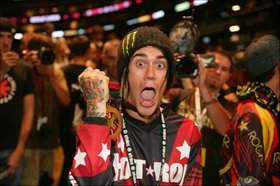 Kyle Loza with his X Games gold medal

We've only seen one other body varial before (and it won) and you looked like you nailed it pretty easy. Why don't we see more of them?
I think we'll start seeing more of them by next year. I've been working on that trick in the foam pit for a solid year. It took a long time to be consistent with it.
What would happen when it went wrong?
I would spin all the way around but I would spin too slow and not get back on the bike. You have to time it right with the peak of the jump or else the bike drops away from you. It took a while to get the spin down that fast. A lot of times I would grab on and I would still be spinning and the bike would twist sideways. Other times I would spin and land, like, twenty feet away from the bike. So, I was just all over the place with it for a while.
I don't want to sound like a tool here, but, I hadn't ever heard your name before this event. This was a huge breakout for you!
I have done a couple contests before. I went to the Dew Tour two years ago but I didn't qualify. I did crappy. I've flipped into the foam pit but I haven't really dialed that in on the dirt yet. I wanted to come out with my own thing and do my own deal. I've been doing smaller jump shows for about four years.
Next year you will obviously be invited back for Big Air. Will you try to qualify for Freestyle X too?
I definitely want to do Freestyle next year. I've been working on some other tricks that nobody has done. I am going to get the flip figured out because I think it's good to have a solid run, but I'm not super-pumped on it. Everyone does them so much now they are starting to look the same. I think it would be sweet to win a big contest now without doing flips every time. I've been working on some other stuff in the pit like bike flips and body varials and other stuff. I think it would be awesome to win without doing exactly what everyone else is doing.
Is that possible or do the judges put too much emphasis on the flip now?
I think it's definitely possible.
How did you get into riding and freestyle?
I raced BMX until I was 13. Then my dad got me a beat-up Honda 80 and I thrashed around on that. When I was 16 my dad bought me a new CR250 and I built some dirt jumps and a track in a rock quarry behind Saddleback Christian Church and I worked at the Saddleback track in Trabuco Canyon. So I just rode every day and started doing freestyle. The first show I did was at the Harvest Crusade at Anaheim stadium with Jimmie McGuire. He introduced me to Nate Adams and I started riding with them at their house; I progressed a lot riding with them.
I heard you had a big group of people from Saddleback church there cheering for you, including Rick Warren, the pastor.
That's what I heard but I haven't talked to any of them yet. I just got home so I'm not sure.
How old are you and where are you living?
I'm 21 and I live in Irvine.
Who are your sponsors?
Monster Energy, Truth Soul Armor, Mission Motorsports, Electric, etnies and Shift.
What's coming up next for you?
The next event is September 8 in Mexico City. It's the X Games for Mexico.
Any Dew Tour events or anything else?
I haven't qualified for this year but I want to do them next year.
What are the best memories you'll take away from this weekend?
I was just treating it like another demo when I went in because I knew I would just stress myself out otherwise. I think just hanging out with everyone and riding with all those guys in a contest was what made it so cool. I was a big skater when I was a kid and my goal was always to skate at the X Games. Then, when I started riding, my goal was to ride at the X Games. Now that it's here, only five years after I started riding, I'm totally pumped. It's amazing!
Congratulations, Kyle.
Thank you.
(To find out more about Kyle Loza and to see "The Volt" that won him gold, check out this Motocross.com video by Cliff Talley.)