Number Cruncher: Doug Henry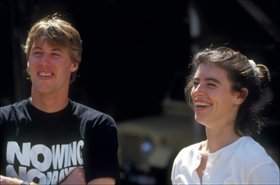 The Henrys
photo: Fran Kuhn
The
Southwick
National is coming this weekend and the field will be racing in the missing man formation in the absence of the historic track's favorite son. We're talking about a man that came back from a crushed back to win the 1998 AMA National Motocross Championship. We're talking about a man that broke both of his arms and calmly walked to the sidelines to ask a fan to remove his goggles for him. We're talking about
Doug Henry
. As we all know, Doug is currently fighting another battle, this time to walk again following a Supermoto practice accident. In honor of his career, as well as his current struggle, we wanted to dedicate this week's Shift Number Cruncher to the man whose courage over the years led
Fox Racing
to dedicate an entire ad campaign based on Henry that still resonates with racers today: What's stopping you?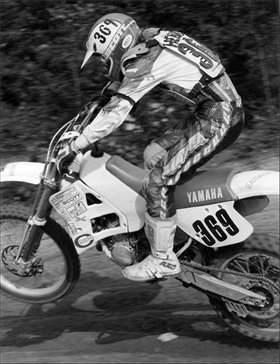 photo: Paul Buckley
Back in the day Doug pretty much ran the hessian aggression. He pitted out of an old ratty van, wore long hair and jammed metal. This history later prompted John Fox of
Fox Racing
to make his butt logo in the "Iron Maiden" font. Check him out here rocking the RJ replica helmet and Glover riding gear as he flies a Glastonbury Cycle sponsored #369 YZ. If that isn't metal grind core, nothing is.
Doug Henry must be the best American motocross racer of his generation never to win Loretta Lynn's. He only went twice, in '89 and 1990, which is the year he wore the #7 bib.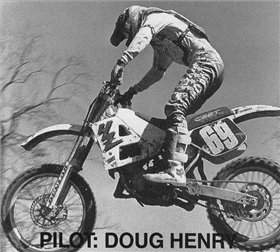 #69
Wearing his first pro number--#69—Doug had a break out year in 1991, winning the famous mudder at
Hangtown
that had a one-moto format due to the flashflood that hit once the AMA National started. Doug was a full-on privateer, just like the guy who won the 250 class, his NESC neighbor
John Dowd
.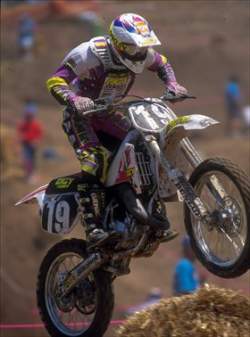 1992
photo: Fran Kuhn
It wasn't all roses and daisies for Henry. Earlier in the year he suffered a highlight-reel endo at a regional supercross race that drove him into the ground so hard that he was left lying on his back, half conscious, with both arms stretched out in front of him in the mummy position. Pretty cool that #19, which he wore in '92 while riding a DGY Yamaha, would end up being his permanent number.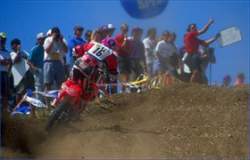 1993
photo: Fran Kuhn
Nobody really saw Doug coming in 1993, especially AMA Supercross Champion Jeremy McGrath and defending 125cc National MX Champion Jeff Emig. Number 16 was sweet for Doug as he battled past both riders to win the AMA 125cc National MX Championship. He also took the East Region in SX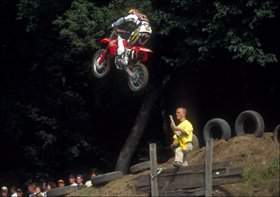 1994
photo: Racer X Archives
Doug had another great year in 1994, defending his 125 championship for Team Honda. (Make note of the member of the flagman hall of fame in this pic.) He wore #1 outdoors, and #8 in supercross.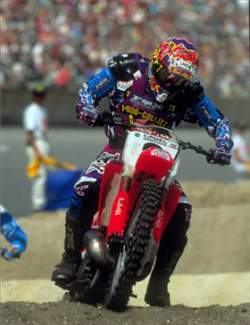 #8
photo: DC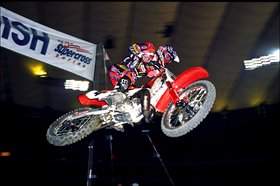 #4
photo: Courtesy of Moto Verte
This was a very bittersweet year for Doug. It seemed the #4 was going to be a great number for him as he wore it to his first supercross victory at Dallas. Later that summer he earned his first 250 outdoor overall at High Point and was in the hunt for the championship when disaster struck at Budd's Creek—that's where he launched off the giant hill, following off the back of the bike and the throttle stuck wide open, and crushed his back. The highlight remains one of the most ghastly crashes you will ever see, and the steep climb he accidentally launched off of will forever be known as "Henry's Hill."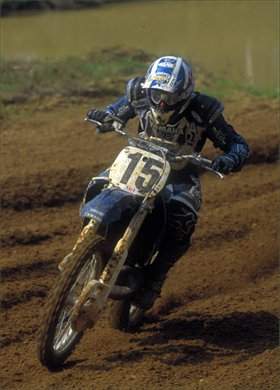 1996
photo: Racer X Archives
Doug came back mid way through the supercross season in 1996 wearing number 15 and riding a Yamaha. Yamaha took a pretty big chance signing a rider that had suffered what was thought to be a career-ending injury the year before. Somehow Keith McCarty knew there was still a little left in the tank…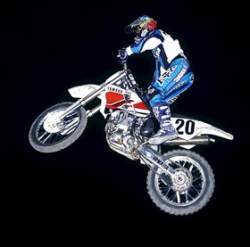 #20
photo: Courtesy of Moto Verte
He finally got up to full song again in 1997, winning three supercross races and becoming the first rider to ever win a SX main event on the #20 white four-stroke. The machine in this picture was a full on works bike that pretty much changed the sport forever. Although it did bite Doug pretty badly at Budd's Creek, sending him to the ground breaking both of his lower arms.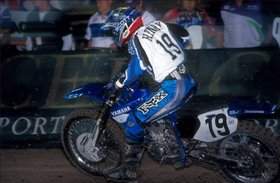 1998
photo: Racer X Archives
Henry's championship in the 250 class in 1998 goes down as one of the greatest comeback stories in all of sports! He did it wearing #19, which would eventually become his permanent AMA Number—when he wasn't wearing #1.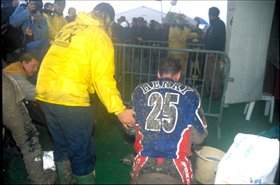 #25
photo: Paul Bliss
One other number: Henry wore #25 for Team USA at the 1998 Motocross des Nations, his only time to participate in the event. How did he do? He won the first muddy moto!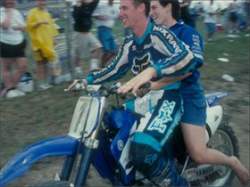 #1
photo: Paul Buckley
Henry rode a limited schedule, then he retired from full-time racing. But he did carry the #1 a few times outdoors, including this shot from
Steel City
, where he and his wife Stacey celebrated the end of his motocross career.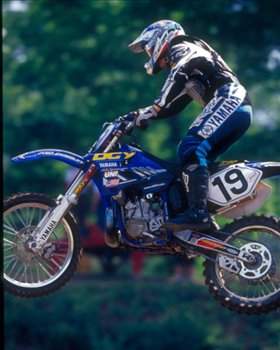 2002
photo: Simon Cudby
Doug was in semi-retirement when he came back to race
Southwick
in 2002 on an almost box stock YZ250. He actually passed
Ricky Carmichael
this weekend and led for a short while then crashed spectacularly in the second moto.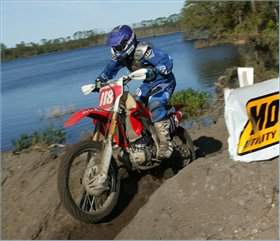 2005
photo: Ray Gundy
Doug left it all on the track at the 2005 Orange Crush GNCC event in De Leon, FL. Wearing #118 and riding a Honda, Doug literally collapsed into a pile of blisters and spent muscles just a few feet after crossing the finish line in first place.
This is Doug's first and only
Racer X
cover from when he won the X Games (is there anything this guy didn't win at?). Henry began a second career racing and winning in AMA Supermoto, battling with fellow living legend Jeff Ward for the win at almost every round.
Nothing ever came easy for Henry. He might not have sold as many t-shirts as McGrath or won as many races as
Ricky Carmichael
, but Doug Henry's chapter in the motorcycle history book has just as many pages, maybe more. Doug has overcome more setbacks than probably any rider in motocross history and is arguably the toughest son of a bitch to ever throw a leg over. He is also one of the all-time nicest people you will ever meet. Doug Henry is the man!