Between the Motos: Ryan Dungey
"He's special. He has everything it takes to do well. From his work ethic, to the way he rides, to his genetics, he's got it all." This was Roger DeCoster talking about the young rider who has become the revelation of the 2007 AMA season, Ryan Dungey. At only 17 years of age, Dungey has kind of crept up on everyone this year. Turning pro last August at Millville, Dungey did well in the few nationals he rode, but coming directly from the B class to the Makita Suzuki factory team had most people scratching their heads, as the teenager did not exactly set the U.S. motocross community ablaze.
Then came the opening round of the 2007 AMA East Region Supercross Series at the Georgia Dome, and when all was said and done and the champagne bottles uncorked, it was Ryan Dungey standing atop the victory podium—he won the first supercross he ever entered! He would make some huge mistakes in the races that followed, but he also won three more main events—including the East/West Shootout in Las Vegas.
So far in the AMA Toyota Motocross Championships presented by FMF, Dungey has posted more solid results—3-3-4-4 in the motos so far. He's definitely in the title chase. Over this past weekend, through the help of his business manger and friend Tony Gardea, we were able to track Dungey down to find out more about him and all the good vibrations surrounding him.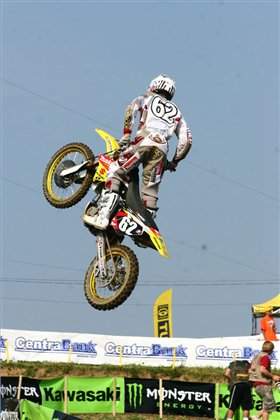 Ryan Dungey is sitting fourth in the Motocross Lites points

Racer X: Ryan, with the weekend off, what are you up to today?
Ryan Dungey: I'm actually back home in Minnesota. I've been riding all week and did some light riding today.
The Southwick National is coming up soon. Have you raced or rode there before?
No, I've never been there. I've heard it's a pretty crazy race.
Do you like the sand?
Yeah, I do like the sand. I actually grew up riding in the sand quite a bit. My grandpa had 22 acres I rode on and it was all sand. It was more like sugar sand, so it wasn't all rough and whooped-out. But I feel good in the sand and think I'll do pretty good at Southwick.
Your first AMA National was at Millville last summer. But you didn't come straight from Loretta Lynn's, did you?
No, I didn't race Loretta's. When I found out I was going to go pro with Suzuki last year, all the Loretta Lynn's Regionals were already done with. It was a weird situation… It all started at Millville in 2005. We approached Roger DeCoster and spoke with him, and like any amateur rider, I told him I was looking forward to racing as a professional. We had a good conversation and from there, they kind of kept track of me and my results. Then some time went by. At one point I was out in California and doing some riding. Big E (Eric Bartoldus of Answer Racing) and I were together, and Big E. is tight with Ray [Tetherton] and Roger and the whole Suzuki team. He got on the phone with them and got sort of a tryout going for me. It was at Glen Helen right after the Prequel and the track was super-rough and Ricky Carmichael was there and all that. It ended up going good and my lap times were good. Afterwards, we spoke with Roger and he was like, "Let's do something."
How did you first national go?
Well, it was at Millville, so it was at my home track. That helped. It was definitely a great experience. I was saying to myself, 'Man, I got here. I'm not an amateur anymore.' On the line, it was so neat to be there with the best of the best. I was so pumped to race that day. And I did decent: 8-8 for seventh overall. Looking back, I think I had a little bit of advantage that day because Millville was my home track.
The next rounds were eye-openers for me. It was real tough. There were also a few mud races in there and I kind of got down—not on myself, but my attitude just wasn't there. It rained a lot at some of those rounds and although I tried hard, I think that slowed me down a little. Then came Glen Helen and that race didn't go the greatest, either. I crashed in the first moto and DNFed the second. After that, the season was over and I was just kind of looking for a new beginning. I knew supercross was coming and I had never done that before. I was real nervous about it, but also real excited. I really wanted to start in supercross and use it as a new beginning.
How did you feel about things right before the East Region kicked-off?
Well, I raced the Vancouver, Canadian round and got second. Yeah, not all the top guys were there, but it was a cool boost of confidence. But as far as the East Region, I knew I was one of the top contenders — at least I was hoping I was. I really didn't know what to expect. I got the bugs out in the first practice and in the second practice my lap times were real good, so I was like, 'Man, I can do this.' But then again, going in I was saying to myself, 'Man, there are a lot of fast guys…'
When the race started and I was in the lead, I felt a little uncomfortable the first few laps. Then I started to feel stronger and hit my lines decently. I then started to get into a rhythm and my lap times were good and consistent. I was really happy.
How did you feel when you crossed the finish line with 70,000 fans watching on?
Oh man… It was unreal! It's a hard feeling to explain. I had never won a pro race, and here I had won my first supercross. The next morning, for some reason, it was such a great feeling to wake up and know I had won that race.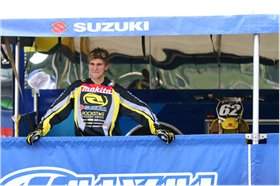 Dungey is very happy to be on the Makita Suzuki team with RC

Things went a little bit sideways at the next few rounds, though, didn't they?
Yeah, the next three races I had some bad luck and I also did some things that were done on my part and were my fault. But even though I had problems in the races, they were not a waste. I learned a lot. At Orlando I was in a crash where I was hit head-on. That woke me up. The morning after that race I was telling my mom, "Mentally, I feel strong. All this stuff has happened for a reason." The stuff I went through was tough but it made me realize a lot of things.
Then you ended up winning again at Indianapolis…
[Laughs] I loved winning that race. It felt just as good as the win at Atlanta did. After Indy I knew I could do it. I knew Atlanta was not a fluke. It was huge for me to win another race and back up Atlanta. It was a relief.
Then you completed your supercross season by winning at both Detroit and Las Vegas…
Yeah, it was nice to win both races and be that consistent all season long. I loved winning at Las Vegas because all the guys were there. It was definitely great to pull off the win there. Winning at Detroit was good, but not as good as winning in Las Vegas. I think that was my favorite win of the season because everyone was there.
How did you feel about everything heading into the Hangtown National?
Good. Really good. What helped a lot was that we did really good in testing. We ended up with really good settings for the bike. And I already felt better than 2006. And I knew my bike was great. But during the first practice at Hangtown I didn't feel the greatest. I was like 20th in practice, and then later, as the day went on, one of the team guys ran up and told me I was the fourth or fifth fastest rider. I was like, "For real?!" I didn't want a repeat of last year. I knew I could do better than that. I had been working hard and me and Johnny O'Mara (Ryan's new mentor) had put in the time. On the line before the first moto, I knew I had to get a good start; I came out of the first corner around eighth and that was pretty decent. I knew everybody was going to go agro on the first lap and do stupid things, so I let things get separated a little bit—I didn't want to do anything stupid. The first few laps I rode in fourth. I then got into third and definitely felt good there. Everybody was kind of going crazy and I wanted to make sure I stayed away from that. I think that's the key to this year: Get great starts and don't do anything stupid.
How did you feel between motos?
The first moto — and I guess from the whole weekend — took a lot out of me both mentally and physically. There were a lot of expectations on everyone before the first moto, and afterwards, I felt like it took a lot out of me. Before the second moto I was thinking, 'Man, this will be a tough one.' But I pushed hard and finished in the top three and was happy. I would have liked to have been with Ryan and Ben and battling, but I was pretty happy.
You went 4-4 at High Point for fourth overall. A good race for you?
Mount Morris was all right. I love the track, but I struggled in practice. The team helped me get a good set-up and I did okay in the first moto, but made some mistakes here and there. I improved in the second moto; I hung in there and felt better.
As far as overall results, what are you looking for in the championship?
To get good starts, to be in the top five or to be in the top three, to maybe even to win it. I just want to do my best. I think it would be awesome for it all to come down to the wire and for me to be one of the guys with a chance to win it or to be in the top three in points.
Although we're only two rounds into it all, everyone seems to agree that Ben Townley and Ryan Villopoto look to be the two horses to beat…
Yeah, I'd definitely agree. Ryan and Ben are the top two guys, for sure. Ryan was really fast last year and he has even more confidence this year. I just want to run with those guys, which I think I am capable of.
Well, you've already proven yourself to be a top three guy…
Yeah, I know. That's' what makes it better. But I don't know… To get in the top three is good, but what I really want is to be up there with Ryan and Ben, not in third 15 seconds behind them.
How much has Ricky Carmichael helped you?
Oh, gosh, he's been unbelievable. I can't even say how much he has helped me. It's been unreal. He's been a big part of me doing things right in supercross. He's helped me so much, given me so many tips. He's been my teammate and mentor and just a great all around guy. He has gone out of his way to help me and I really appreciate it. I really like the guy. He's always been my favorite rider. It's really cool to be on the same team, as the GOAT. Who wouldn't want him around? It's going to be weird not having him racing as much.
And you and Johnny O'Mara have already started to work together, correct?
Yes. He came down to Temecula four weeks ago to meet me. It went well and we now keep in touch through E-mail and phone calls. We talk daily. He's awesome. He has a strong work ethic. I love working with him.
For what it's worth, Ryan, what I keep hearing about you is that you have your head screwed on straight and aren't in this to be a rock star. Does everyone have it right?
[Laughs] You know, I'm not in it for the money. Down the road, I want to be like Johnny O'Mara or Ricky Carmichael or Jeremy McGrath. They're all remembered guys. Yeah, I want to have a good life and I'm going to work hard, but I can't see why some of these other riders are doing what they're doing. It's pathetic to me. Some of these people get into this bad stuff. I don't want to get caught up in that stuff. I just want to do my thing and work hard and stay motivated. I'd definitely like to win championships, outdoors or indoors. I definitely want to be on the Motocross des Nations team one day. That would be awesome. I'm going to work really hard for that. I'm just going to give it my all in every race. I'd love to be on top. That's what I want.
Thanks for your time, and good luck at Southwick.
Thanks, Eric. I appreciate it.