Where Are They Now: Dana Wiggins
Like any other 9-year-old kid, Dana Wiggins got jealous when his big brother got a dirt bike and he didn't. He begged his dad until finally he got his brother's hand-me-down XR. They started hitting local race tracks like Indian Dunes, Saddleback, and De Anza Raceway, none of which exist anymore. That was 1982, but after a few years of following the Golden State series and other local events, Dana's brother had given the sport up, but Dana and his father were just getting serious about it.


In 1985 they were signed by the powerful R&D Suzuki team. Jimmy Gaddis had signed somewhere else and left a vacancy that Buddy Antunez and Dana Wiggins were happy to fill. For the next few years, Dana had the best bikes in the minibike industry, and he put them to good use, winning his share of local races.
Wiggins made the jump to big bikes in 1989, and he remembers that he bought a Yamaha because that was the year they had upside-down forks.
"That was a big deal back then," Dana says. "Everyone was talking about those new forks, and there was no way I was buying any other kind of bike."
Later that year he got a job at Yamaha, test riding for the manufacturer, evaluating new parts. For the next three years, in fact, Dana was their primary test rider, and during his time there he made his pro debut. He raced the USGP at
Glen Helen
and the L.A. Supercross. He did well enough, finishing inside the top ten at both events.
In 1992 he was signed to NCY Yamaha, an upstart satellite team that was following in the footsteps of the Peak Honda program. Dana started the series in second behind Jeremy McGrath and stayed there for several rounds until a crash in Seattle set him back. He would finish the series in 11th.
Wiggins bought his own bike in 1993, but after trying to make a few races on his own, he decided to call it quits.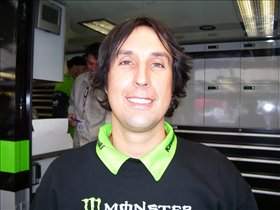 Dana Wiggins today
photo by Mike Farber
In 1994 Dana got a job with Kawasaki as a test rider. He started off in the Jet Ski department, spending his days at the lake or in the ocean riding personal watercraft. After a few years he worked his way into motorcycles, the place he really wanted to be all along. But in 1999 an opportunity came along that Dana couldn't refuse. He went to work for TRD working on Indy car and Craftsman truck engines. He joined other motocross transplants Mike Hooker and former FMF technician Hodgie at the car racing headquarters.
It was great experience, but in 2004, Dana wanted to get back to motorcycles. He got a job at Kawasaki again working as
Michael Byrne
's mechanic. The following season he was switched to testing technician, a position he still holds today. Dana's duties include prepping all test bikes, data acquisition at all tests, and being at the test track any time
Bubba
, Ferry, or test rider Michael Young are riding. Dana is still a bachelor and living in Costa Mesa, CA.
"I don't really ride that much anymore," says Wiggins. "From where I live, the tracks are just too far to drive. I have to go all the way out to Elsinore or Perris, and it just doesn't make a lot of sense."
Wiggins still attends all the Southern California rounds and rotates with another Kawasaki employee on all the rest of the races as an extra set of hands in the pits.