January ends with one great race. Ricky Carmichael, James Stewart and Chad Reed put on quite a show for the fans in San Francisco. It was a case where all three could have won, but the man who made the least mistakes—and there were a lot of them—got the win. Carmichael never ceases to impress us with his ability to do the unlikely, and do it well. The only ones let down by this were Anaheim fans (2 and 3, that is): they were the first to get the short end of the straw, as #4 chose to sit those races out in his abbreviated farewell tour.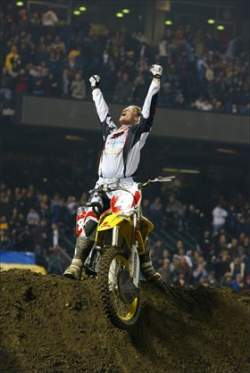 Ricky was quite pleased with his exciting win
photo: Steve Bruhn
As for Stewart, he took the loss in San Fran better than I thought he would. He was just starting to pull a lead (which he picked up with the inadvertent aid of
Eric Sorby
) when he went down in that step-on-step-over deal. And how he kept his bike running was beyond me.
Regardless, on the podium, he was okay with the results, even joking that it was a great time, "other than the crashes…and the lappers." He was talking about Heath Voss at that point, who caused Stewart to flub a triple and stall his bike, almost going down again. But then he said it was maybe the most fun he's had in a supercross race, and he flashed that big smile again. I think "Bubbalicious" really is back!
It made me think back to the open letter he wrote on his website after his problems at Toronto: "This is not the way I wanted to start my 2007 season. I feel really bad for the incidents that I was involved with. I want everyone to know that I respect my fellow racers and would never do anything to jeopardize their safety. I want to thank all my fans for all of their support and my sponsors for sticking by me. I really love the sport of motocross and look forward to racing with RC, Reed and the rest of the field this season. If Toronto is any indication of what the racing will be like this season the fans are in for another great year."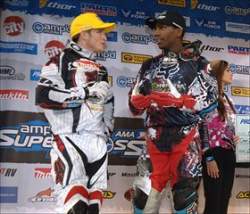 James may have lost the main, but he's gaining confidence and poise
photo: Carl Stone
Indeed, January gave us three great (albeit short) races out of four, and Stewart won three out of four. As far out front as he and Reed will likely be for the next month before RC returns in Atlanta, it's going to be really hard for #22 to pick up a lot of ground on Stewart, even if he does speed it up and beat him here and there. Right now, Stewart is in the driver's seat (and not the kind that Ricky will be in).
Where's everyone else? Kevin Windham just doesn't look like the K-Dub he's been since coming back his broken femur back in 2003, and Ivan Tedesco has put up four football scores: 14-7-7-14. Nick Wey and Travis Preston have shown some good speed, and Tim Ferry is putting in a nice, steady, top-five ride, but it's like everyone else is on a different riding level than that trio-turning-duo up front. As I said before, we've got some days of disparity ahead of us.
If you want to listen to tomorrow night's third and final Anaheim of 2007, make sure you check out the Supercross Live! webcast on www.supercrossonline.com beginning at 7 p.m. local time. The TV coverage on Speed TV begins at 6 p.m. (EST) on Sunday, but check your local listings—it's Super Bowl Sunday, so there might be a lot of football going on. And you can watch all of the timing and scoring at www.amasupercross.com.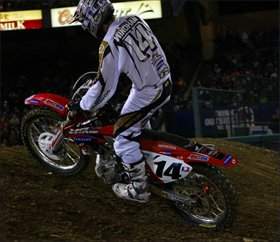 Windham has yet to challenge for a podium
photo: Steve Bruhn
You can also catch San Francisco Lites race at 6 p.m. (EST) on Saturday on Speed TV.
In the Lites class, Ryan Villopoto has now won three out of four, just like Stewart, and Kawasaki riders—RV51, the now-departed Chris Pourcel and Steve Boniface—are the only guys to lead laps so far. It's been quite a series for Team Green.
We got a funny note from old-school moto scribe Brad Zimmerman with his observation as to why Carmichael is riding off into the sunset: "I went to the Outback Restaurant recently and they changed the menu; even the 12-ounce steak got pared down to an 11-ouncer. Ricky's over it!"
I'm not avoiding the gas issue at this point; I just don't really understand it. We've been down this road before, and something's not right. There are flaws in the procedure—protocol calls for two sample tests for a definitive answer, and that's what caused the AMA not to notify the riders in question of the failures from Phoenix before Anaheim—and the riders are stuck in a bad position because they race with what they are given by the supplier. The rules were made more lenient this year after last year's severe penalty disrupted the championship series, yet they were again violated, albeit in different ways—Carmichael's problem was traces of lead that made no difference whatsoever in performance, but this patch had other irregularities. The AMA has to do something, because if they didn't, what's to stop anyone from going all-out with some rocket juice?
After four full crises in four years, I think the whole sport is just tired of it—especially the unsuspecting riders like Nick Wey, Josh Hill and Jason Thomas, who got burned by it this time—but there must be some sort of testing, standards and penalties. I'm glad that they gave Carmichael his points back last year, and I hope something comes of this too, but the problem will remain as long as the fuel provider keeps inching up to the limit.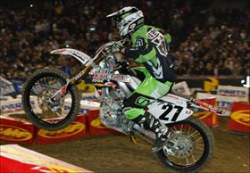 Did Wey get burned by the fuel test or the fuel itself?
photo: Steve Bruhn
The common thread throughout is that it's been VP Racing Fuels every single time (which pretty much makes arguments for a spec fuel to be offered moot—with practically everyone running the same gas already, we practically have that now, and it's still problematic).
On Wednesday night, Bruce Hendel from VP Racing Fuels went on DMXS and basically said there must be flaws in the way the AMA's chosen lab does its testing, but the onus is on VP to prove that. The thing is, I guarantee you the last thing Steve Whitelock wanted to dip his toes into was another full-on fuel blaze. He can't win here, and he would rather not have to deal with it, but it comes with the striped shirt he wears as an official.

Anyway, the VP rep said on DMXS that the Yamaha samples from several cans of fuel came back very consistent and were within the limits. The same fuel was used this season. There has only been one batch of the Dash 1 (3.6 O2) fuel made so all these teams are using the same fuel from the same batch. (Except JT$, who had different fuel.) Hendel also said that oxygen cannot increase in a fuel unless it's added after blending, which is highly unlikely since different teams had nearly identical results. Therefore, he concluded that either the lab's results were faulty or the fuel was out of spec. VP believes the levels were so high that the standard used in testing was off, which caused the results to be elevated.
I also understand why folks like Hendel, Mark Kvamme and Forrest Butler—and, before that, Jim Perry, Roger DeCoster and Mike Fisher—become livid with the AMA's stance on this, but again, it's an independent lab that does these tests, and there is a recurring problem with the fuel. It's coming from a wide variety of bikes and teams, though the same source. Seems like VP would go further below the set limits than there are so any irregularities do not know them over the top.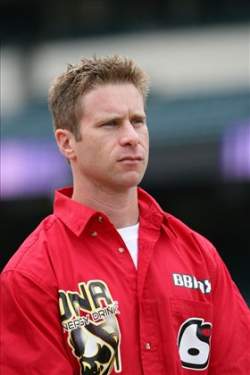 JT got DQ'd from A2, then cleaned out in the LCQ at the SFSX by DV12
photo: Simon Cudby
I've been watching
TFS
' posts on Mototalk and on his very entertaining
Weekend Window
, and he's been very vocal about the point that it's the fuel supplier that must make sure its gas is within limits, not the teams. And if it's not, it's up to VP to defend itself by showing that either additives were used post-delivery to cause these irregularities, or that the lab itself is suspect. Right now, the only penalties have gone to the riders and teams. When one of those teams turns around and points the finger at the people who make the gas and not just the lab that tests it, that's where I believe we will see some movement.
Nick Wey has already begun thinking this through. "We're spending a lot of money to get this fuel that isn't in compliance with the AMA's rules. We get this fuel from VP, and we're assured that this fuel is legal," he explained to me on Wednesday. "That's why it's such a shock to us after hearing the news that it wasn't legal. I don't know if it's a testing mistake, or if the stuff we got from VP was off. Either way, it's tough for our team to tell because we don't have the funding to test each can of gas that we get to make sure that it's legal."
The funny thing is, right now, it's really not necessary to punch up your fuel—the 450s are too fast already! "For [them] to say that I was trying to get some extra horsepower out of my fuel is absurd," explained Wey. "With the dirt being so slick, I've actually been trying to slow my bike down the best I can to try and get as much as traction as possible. Basically, I've been trying to detune my bike and make it smoother. And then I get disqualified for supposedly looking for performance gain through the fuel. That's not the case at all."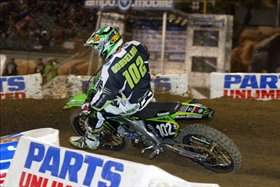 Li'l Goose had a great start but a sudden ending in SF
photo: Steve Bruhn
Of course,
Ricky Carmichael
has been through this before, and his words after his San Fran win to TFS for our Monday Conversation offered a rare perspective—he's been caught up in all this before. "I can't believe it. They changed some rules, then VP goes and makes fuel closer to the limit," said RC. "It's playing with fire. We're running the same gas we did last year. It's unfortunate. I don't think the testing they do is accurate enough. I don't agree with it. The fuel thing is so wrong. It doesn't make a difference. If someone is going to cheat, it isn't going to be on fuel!"
Chad Reed's been there too. When TFS tracked him down (ran him down?) in the Ego Mobile for a Weekend Window update, Chad said, "Been there done that!" Then added, "I know my team was not cheating at the time. We all get fuel tested. Every time before fuel goes in our bike it is tested. The worst thing from a rider's or a team's point of view is - it is passing. It's OK. The AMA is going to a different lab and this year they changed labs without anyone knowing. They are coming back different than what everybody else is getting.
"I don't believe there is any advantage," he said of the most recent scandal. "I don't think anybody is cheating. From what happened last year, with the Ricky situation, and if is were to happen to me (now), I would be ready to go to Australia, hang out down there, do race cars or something. They can't go back and make a rule after last year, the way they dealt with it last year. I think they need to come up with a spec fuel, and let's go race."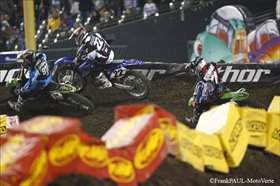 Here's the moment where Reed lost the lead in SF when Sorby went high to get out of the way, right where Chad was going!
photo: Frank Paul
One interesting sidebar to all of these to remember: As Reed mentioned, Team Yamaha has been through this, Team Kawasaki has been through this, Team Suzuki has been through this, the MDK Motorsports crew, Butler Brothers MX, and even a privateer like
Tyson Hadsell
. Well, one squad that has never gotten caught up in it, and yet they have what many consider to be the hands-down best bikes in the class, is Monster Energy/Pro Circuit Kawasaki. They get tested, but whatever they are doing to make those bikes sound so crisp and go so fast has been done in full compliance with the fuel rules.
What's the answer? My advice would be this: Keep testing, keep looking for answers, and try to make sure it doesn't happen again.
That unsolicited advice, by the way, goes for both AMA Pro Racing and VP Fuels.
While I'm on this soapbox, there's another issue that's really come to light in the last month: the length of the main events. With a 450, the evolution of his low-flying style, and just plain God-given talent, I don't think I have ever seen a rider go around a supercross track as fast as Stewart, Carmichael, and Reed. Lap times are hovering really close to 40 seconds on some tracks. It's amazing, edge-of-your-seat stuff to watch—especially when a guy makes a mistake like James' endo, RC flying off the finish line and nearly out of the race, and Chad pogo-ing his bike away after cross-rutting a face out of a corner.
Like every fan in AT&T Park, I wanted to see more—at least a few minutes more. Lap times are dropping, but the number of laps they run (20 for 450s, 15 for the Lites) remains what it was back in the days when they rode 250cc two-strokes—and air-cooled ones at that. Now, with the semis cut out of the program (which I think is a good move), it seems like a good idea to reassess the number of laps they run in the main. If they're turning, say, 45-second lap times, five more laps would only add four more minutes to the program, but that four minutes could change everything. I hope the AMA reconsiders the length of these races for the future. The tracks don't have to be bigger—though that might be cool sometimes—but maybe just a few laps.
Update: The good news is, I'm now looking at tomorrow night's track, and it is longer. I think we can probably expect lap times in the mid-50s. We'll have more on this in the coming days and weeks.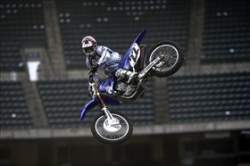 Chad Reed and friends are putting down some very fast laps.
photo: Mario Marini
Congrats to
Joaquim Rodrigues
on getting picked up by the Motosport Kawasaki team. Joaquim is a good guy who's just had a lot bad luck here in the States. He's getting to ride out the West Region with the team, so here's hoping for a strong finish for #108.
Looking ahead to the Motocross des Nations, Youthstream issued a press release this weekend that was almost breathless in the praise of its new TV deal for American fans, which is a great step forward for the Grand Prix Series, and they say the Motocross des Nations will be on live TV. The GP organizers have welcomed a new partner in motocross broadcasting: America One Television Network.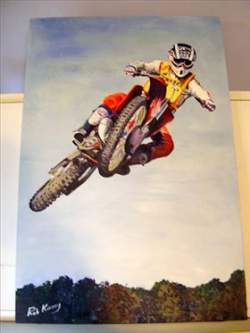 Speaking of the MXdN, here's the next great moto painting by Rob Kinsey, and yes, that's David Bailey at Maggiora '86!
In case you can't find America One in your TV Guide, it's because it's not a network itself, but rather a provider of programming through a syndication network of mid-sized or up-and-coming stations. What they acquire shows from TV producers (Youthstream, in this case) and then distribute them to a wide variety of stations around the country. Which ones motocross will be shown on will be determine soon, as the first GP takes place on April 1 in Holland. I hope it's a good one, because with the MX1 title up for grabs and Americans
Mike Brown
,
Ryan Mills
and
Sean Hamblin
on the scene, not to mention exciting riders like
Josh Coppins
,
Tony Cairoli
and
Chris Pourcel
, the GP series will definitely be worth watching this summer.
For more info on American One TV Network, check out www.americaone.com.
A quick nod for one-time Miss Supercross Leeann Tweeden. She's on the cover of the final FHM "lad mag" which is going away after a decent run.
Mike Farber has been blogging his way down the California coast all week long as he drove from San Francisco to San Diego. At one point he hooked up with Rick Johnson, a Team USA hero from yesteryear who's got some new stuff cooking.
"I've made some major changes in my plans with the direction in motocross this year," he told our roaming brand manager. "I've chosen not to go back on the road with Team Suzuki but to develop my clinic and school. I'm also developing an amateur team and we just acquired the name www.champfactory.com. Sebastien Tortelli, Cory Kestal and I are developing the team and the kids will be doing all the amateur nationals. We're building a first-class training facility in California and will build on it from there. I feel I have a lot to give back to the motocross community. Anyone can come and join our school and the website is being built as we speak."
As for the seven-time AMA Champion joining forces with two-time FIM World Champion Tortelli, Rick said, "I'm teaming up with Sebastien and I feel we have a lot to offer. I helped him go from being a solid outdoor rider to a fast supercross rider. It's a shame it only lasted one race because he blew his knee out. It's not fair what happened to him but that's the luck of the draw sometimes. Sebastian loves the sport and he can't walk away from it so that's why he wants to help people achieve their dreams."
The Champ Factory schools will likely start in March, so stay tuned for more details.
Oh yeah, RJ is going to be racing the Championship Off-Road Racing (CORR) series this year. He had his truck at Anaheim 1, and if Billy can find a photo of it, you can see it right here. Or not.
Here's a good spot to turn it over to Ping.…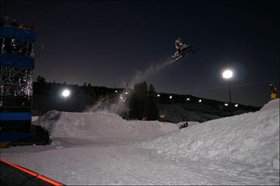 That's one huge gap for a guy on a sled!
photo: Ping
Last weekend I headed to Aspen for the Winter X Games. The supercross races have become so predictable that the San Francisco race would be a snoozer, right? Turns out I'm an idiot. I missed the best race of the year. Well, the action in Aspen was almost as good.
Tucker Hibbert
absolutely dominated the snocross event this year. And if you haven't seen these guys ride, you are really missing out. They are jumping doubles that are close to 100 feet every lap. It is like supercross on snow; It's nuts! His main competition, Canadian motocrosser
Blair Morgan
, who has won the event three times, struggled with an injury and bad luck that kept him out of the main event. His absence in the final was a huge disappointment. Tucker walked away with the win and the gold medal and then promptly headed to Mississippi to start getting ready for the East Region Supercross Lites series that starts in a few weeks. Hibbert, who raced for Motosport Outlet and Motoworld racing the past two seasons, has created his own team with the help of Monster Energy and a few other personal sponsors to go racing this year.
The other MX-related stories were in the Skier X and Boarder X events. Daron Rahlves, one of the most successful downhill skiers in U.S. history and avid motocross rider, retired from World Cup competition this year and is following the Skier-Cross series here in the States. He won all of his qualifiers at the X Games and seemed poised to win the final. However, Daron got a bad jump out of the gate in the final and clipped skis with a competitor, causing a pretty crazy crash. Luckily, Rahlves was okay but his medal chances were over. Daron is a regular at the celebrity crossover events at Hangtown and Washougal every year. I also heard the news that Daron and his wife just found out they are expecting twins. Congratulations, guys!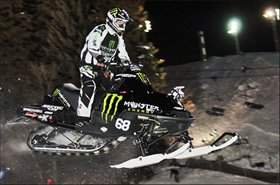 Tucker Hibbert: Snocross-turned-supercross, now doing both!

photo: Ping

Shaun Palmer has more gold medals at the Winter X Games than any other athlete with six to his credit. His cred isn't questioned in that sport, but Shaun wants to make it in the sport that he has loved since he was a kid: motocross. And this summer just might be his chance. If you caught any of the Boarder X events on television, you might have noticed Palmer wearing Yamaha of Troy's Fly Racing gear. Shaun is working on an agreement with the team to race the first handful of nationals in exchange for the X Games exposure. If he qualifies for any of the first rounds, then Shaun wants to finish the entire series. He would race the Lites class on a Yamaha, obviously. Palm was actually leading the Boarder X final until he made a small mistake.
"I yanked the holeshot and I was feeling good," Palmer said of the final. "About halfway down I drifted wide out of my line and got into the soft stuff. It slowed me down and a few guys that were drafting me just blew by. I was pissed at first, but whatever. The three cats that beat me are the three best riders in the sport. One of them won the gold medal in the Olympics. I've got the speed, I was just a little rusty. I'll be back here next year to get my seventh medal."
Palm had to be happy that Shaun White was defeated in the snowboard superpipe because he was the one person that had a chance to win his seventh medal in X Games competition. For now, Palmer is still tied with him at six gold medals.
Ryan Villopoto is going to have to fight through a cold this weekend at Anaheim. Ryan started feeling ill on Thursday and has a fever and several other flu-like symptoms. It could be a tough weekend for # 51.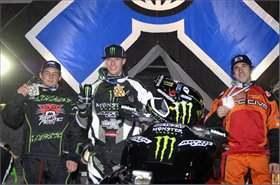 Hibbert took the gold
photo: Ping
If you like riding 150 engines or smaller and want to see how you stand against some of the nation's best, the BBR Motorsports 150R World Championship Race is coming on April 22. It features a $5,000 purse, and it's to be held in conjunction with the White Brothers 4-Stroke World Championship Race at
Glen Helen
Raceway Park, San Bernardino, CA. For more info, call
Glen Helen
(909) 880-3090 or check out their website:
www.glenhelen.com
. And for more information on BBR products, visit
www.bbrmotorsports.com
or call (888) 688-6227.
Dear Racer X:
My kids and I were watching Stunt Junkies on the Discovery Channel today and Allan Cooke was attempting to do a backflip over a van while moving 15 mph. What was really cool is that he had the Fonseca sticker that Racer X has been giving out on his helmet. My daughter Michelle was the first one to notice it because she sports one on her chest protector. Thought you might get a kick out of knowing that.
Donna Macan
Cooke's father, by the way, is early 1970s Kawasaki factory motocross racer Jim Cooke.
Also, this month's Sports Illustrated For Kids features Maryland-born Travis Pastrana on the cover with the cover line "Hot Pastrana: Travis Pastrana talks about his wildest rides." Issues hit newsstands February 5, so be sure to check it out!
Another Motorcycle MySpace-looking place to go is
www.thedirtpit.com
. According to the press release: "You can have your own personal MX profile, where you can build a list of your friends, post bulletins, maintain a web blog, share photos, and post music and videos in your profile, too! Not to mention you can practically customize the entire profile with the look you want!" Add some championships, maybe?
Congrats to our sometimes reporter Venkat, who has been asked to write a series of stories on the Super Bowl to India's largest and the world's second largest circulated English daily, The Times of India. Here's a link to his first feature.
Further proof that Monster is infiltrating the sport: One Industries, "worldwide opinion leader in helmet features and design," introduces the second generation Monster Energy Kombat II. It runs for just $179 available now for pre-order, with shipping starting the second part of February.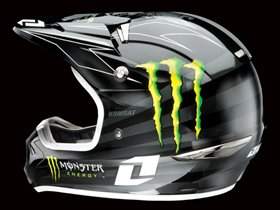 That's a cool lid!
Back to Fuelgate IV: Here's a note a reader sent based on the MDK Open Letter:
Gentlemen,
I just read your open letters on racerxill.com. I have to say that I disagree. I have been a motocross/supercross fan for about six years now. This event is unfortunate, but where is the blame for the fuel manufacturer? It is my understanding that the limits were raised to eliminate just these kind of problems but VP went ahead and reformulated for the higher limits. Shouldn't they be right in the middle of this trying to solve this problem and working with the AMA? I have great respect for both of your riders but threatening legal action seems unprofessional and unnecessary. If I were you, I would be looking to VP for some answers.
Nathan McMasters
Idaho Falls, ID
Remember Jeff Stanton? Of course you do. Well, the six-time AMA MX/SX Champion is coaching his little girl's basketball team, and then got roped into coaching a second team for some reason. Well done, Jeff. (And were you the guy who give Nick Wey that black eye while battling for a rebound?)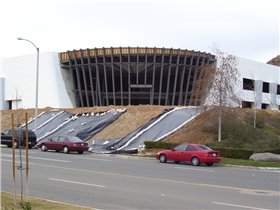 Mechanix Wear's new building
photo: Mike Farber
Check out the future site of Mechanix Wear, courtesy of
Fubar
's
Road Trip
.
Dear Racer X:
I want to buy the Strung Out album on Racer X Films that J-Law is riding to, but not sure of the song and end up buying the wrong one. Can u help me with this? Thanks.
Chris Lunn
The Strung Out song in the J-Law Racer X Film is "Vampires" from the Exile In Oblivion album. It's awesome!
Finally, I'm hitting send on this from Anaheim Doubletree, which is home away from home for many industry folks during each of the three Anaheim races (and I personally would love to see an Atlanta 2 rather than an A3). In fact, it's like Morgantown West this weekend: my whole family is here, plus Weege and his girlfriend, plus "Bad" Billy Ursic, plus Farber and his girlfriend, plus Loren the truck driver (Chad Reed's rig).… That's a lot of Morgantown for one hotel!
Thanks for reading Racerhead. See you at the races. Oh yeah, one more thing:
Billy Ursic brought the point of the mains being too short up on the Scott USA Sign of the (Lap) Times, and asked readers for some feedback. He got 75 different reader replies! Here's a few of your ideas on the dwindling lap times and shortening races:
My suggestion is to do something similar to outdoor MX. With that new tower in the infield to see what place you are in, why couldn't you put a timer on that so the riders knew where they are in the race? The main event should be 20 minutes plus two laps. Not only are the tracks getting smaller, but the riders are going way faster!
Brian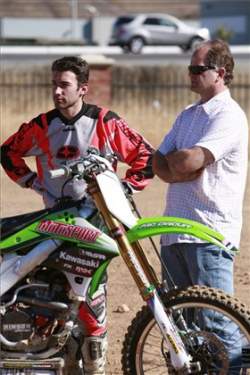 J-Rod got a new ride
Stephan LeGrand
What about just doing two motos? If you extend the single main event, you just get into a problem with lappers, but two motos would avoid that. It works for moto and for World Superbike.
Nick Potter
Take a look back at the layout of the tracks when it was all two-strokes. The tracks were rougher, had ruts and rutted bermed turns. Today's tracks are just technical speedways. Although the weather helped to make the track as San Francisco a better race to watch. Since the four-stroke, the tracks appear to be a lot smoother with just a lot of technical jump sections. Bring back some of the track layouts for the past and lets see if we can get some better racing.
Michael Davis
I have called this the "Greatest Show on Earth" since the days of RJ, Ward and Glover. I think it's great to have the races make it to regular TV on Sundays, but a 15-minute main event will probably cause most fans to wait until Sunday to see who won the race. Bring back the 20 minute + 2 lap main event to separate the men from the boys!
Terrance Davis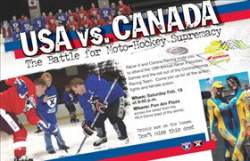 It's on!
I know its a complete change, but I would love two 10-lap mains back to back with maybe five-minutes rest in between. The gap behind 4,7, and 22 is just to big. If there were two shorter races it would hopefully eliminate lappers and there wouldn't be enough time for riders arms to pump up so it would be a full sprint from start to finish. Twenty-lap mains are too long anyway!
Brad 234
The paying fans came to see the main event, so give them 20 minutes' worth. Don't short them a quarter of the action! That's an extra five minutes worth out of 20 minutes they've been waiting all year to watch live in their hometown. You've already narrowed the night format by removing the semis (actually a good idea), but give back a little and go back to the roots of SX. From the early 1970s to early 2000s the main events were 20 minutes in length on average.

Shorter main events = Less endurance involved. The final five-minutes of a 20-minute main event are the toughest. By cutting main time, you are making supercross less of a physically enduring, tough-as-nails charge to the checkered flag. Motocrossers are proud of their sport and it's physicality, it's one of the toughest in the world. Why would we want to pull back on our heritage? Guys like Hannah, Bailey, Johnson, Ward, Stanton, MC and RC won titles and races because they were the most physically fit rider at the time and they deserved it.
John Fox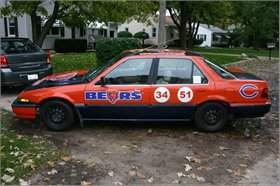 Go Bears!
photo: Derek Guerrero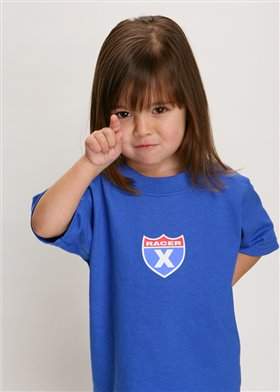 Kira Savino
photo: Simon Cudby