Bench Racing Ammo: Worldly Winners
December 12, 2006 10:50am
Two rounds of Amp'd Mobile World Supercross down, and two first-time Lites-class winners are in the books. This past weekend in Vancouver, Kentucky-native Ryan Sipes scored his first major professional win of his young career in his first major race with the Sobe/Samsung Mobile Honda team. Coincidentally, the week before in Toronto, supercross sophomore Martin Davalos scored the first professional win of his career in his first race with the Red Bull KTM team. Now that's how to start things off right with your new team.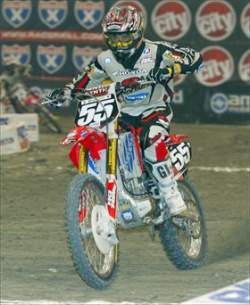 Sipes got off to a good start with his new team in Vancouver
With Davalos adding the country of Ecuador to the WSXGP winner's list (although it was in the Lites class) let's look back at some past winner's that added world-flavor to the WSXGP records.
In the opening round of the 2003 World SXGP season, it was France's David Vuillemin taking the win in Geneva, Switzerland. You may remember seeing the race on TV, where Chad Reed and Sebastien Tortelli got tangled up, taking them both out of contention for the win (and Jeremy McGrath looked woeful on his Bud Light KTM). The Australian Reed rebounded the next weekend in Arnhem, Holland, where he took the win on his factory Yamaha. Reed then went on to win the World SXGP championship that season.
The 2004 WSXGP season kicked off in Seville, Spain—a race that everyone surely remembers because it was New Zealand's Daryl Hurley taking the shocking win in unbelievably muddy conditions on his MotoworldRacing.com-backed Suzuki RM250. The following weekend the series returned to Arnhem where Team Honda's Ernesto Fonseca took the victory—a major win for the Costa Rican, as it was the only in his 250cc or 450 career.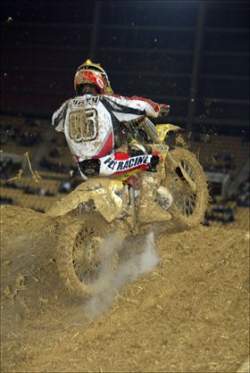 Daryl Hurley on his way to winning the Seville SX
When the series came to North America for both the 2005 and '06 seasons, the world rounds were dominated by American-born racers. Makita Suzuki's
Ricky Carmichael
(Florida) convincingly won both Toronto and Vancouver in the Supercross class in '05, and
James Stewart
(Florida) did the same in '06. In the Lites class it was Tennessee-native
Nathan Ramsey
winning three of the four Lites main events those two years, with
Davi Millsaps
(Florida) winning the other race (in his Honda debut).
But looking back, with winner's from the France, Australia, Costa Rica, New Zealand, Ecuador, and the U.S., the World SXGP series seems to have accomplished what it was intended to do—feature international supercross racers. However, all of those racers were living and racing in the U.S. at the time of their wins. By the way, each of the last two years, the leader after Canada went on to win the World title. That's not going to happen this time.