Houston, TX
Houston
Monster Energy AMA Supercross Championship
It is, pretty much, the exact opposite of what you expect to hear from Eli Tomac:
"I just wanted to be a pest out front," he said. "I was honest, I was like, I can't hang."
You never see Tomac relying on starts and "being a pest" to win races. Starts—until now—were often a weakness, and speed is usually an asset. But in Houston, Chase Sexton blew away Tomac and everyone else in qualifying and in the heat race. The speed was Sexton's game. When the main started and Tomac indeed got the start, he had a whole pack breathing down his neck, including Aaron Plessinger, Jason Anderson and Sexton. They were showing Eli a wheel everywhere.
That was a good sign for Tomac's competitors, but it also ended up being a bad one. The old Eli Tomac won with fast and fit. This new one can win with his mind. His experience. His race craft. Sexton might have been faster, as he caught Tomac with six minutes to go, and his best lap time was faster. But Eli stuck with it. He figured it out. He pulled back away, and he won on a day where he probably didn't have his best stuff. Eli could always win when he was on. Now, he showed he can win in other ways.
"That was just a tough race, and honestly I was pretty beat down after that heat race," said Tomac. "I was just losing a little bit of speed everywhere. I just rode better, straight up, in the main. Felt better. Just kept my head down and rode better. This is a great way to bounce back from last week's crash."
Sexton knew passing and beating Tomac in a heat race didn't mean the main event would be as easy. He went toe-to-toe with the man in 24 motos last summer. He knows Eli never quits. Did he think he had him covered?
"No! I was definitely confident in my riding, but I knew that was going to fire him [Tomac] up," said Sexton. "I was on my toes. I didn't go to the line thinking I had it in the bag or anything. I was just doing my own thing and Eli definitely rode better."
Two sections really changed the main event. Sexton was ridiculously fast in the whoops throughout the day, but they were different in the main.
"Completely different," Sexton said. "Even in the heat race, they're not smooth, but they weren't super edgy. But in the main event it's almost like they get a rut down the middle of them and a really big ledge on the top of them. That's something I'm still working on. I was definitely okay in them, at least up until the 10-minute mark. Then I kind of lost a little bit of speed. They're completely different. It's so hard to replicate that during the week. All day they didn't look like they did just now. I definitely feel like I'm better than I was last year. I feel like I can somewhat replicate a main event, but we're still working on it and it's something we can improve on."
Sexton has all the tools, but experience is still giving Tomac that extra edge.
Also, the sand swallowed Sexton. Chase nearly crashed twice using the outside line, so he switched to the inside. It was safer but also slower.
"He was just killing me in the sand section," said Sexton. "I was going to the inside, which I felt was, not fast, but I wasn't super comfortable going outside, I almost fell earlier in the race. I was just sticking to the inside, and I felt like I could have walked through it faster than I was going."
"I don't think I went inside maybe once," Tomac said. "It ended up, for me, where the outside was way better in the main event compared to where it is in the heat race."
Tomac also had a good line through a rhythm, quading all the way over a tabletop, while Sexton was tripling on. This was a huge sign of mental strength, because a similar section took Tomac down last weekend at Anaheim 2. Somehow, he was unhurt in the crash, but it left mental scars.
"The middle of the week, for one I couldn't believe I was fine!" said Tomac. "On Tuesday I was riding totally normal. But on Friday we were riding press day here, and there was a 90 degree turn after the tunnel, and it had the three onto the table again. To be straight up, I hit the 90 and went to go three on and I had some PTSD there! Jumped a little extra far to the right. Crept into my head a little bit, same kind of jump. Hey, you just have to push on and get it out of my head."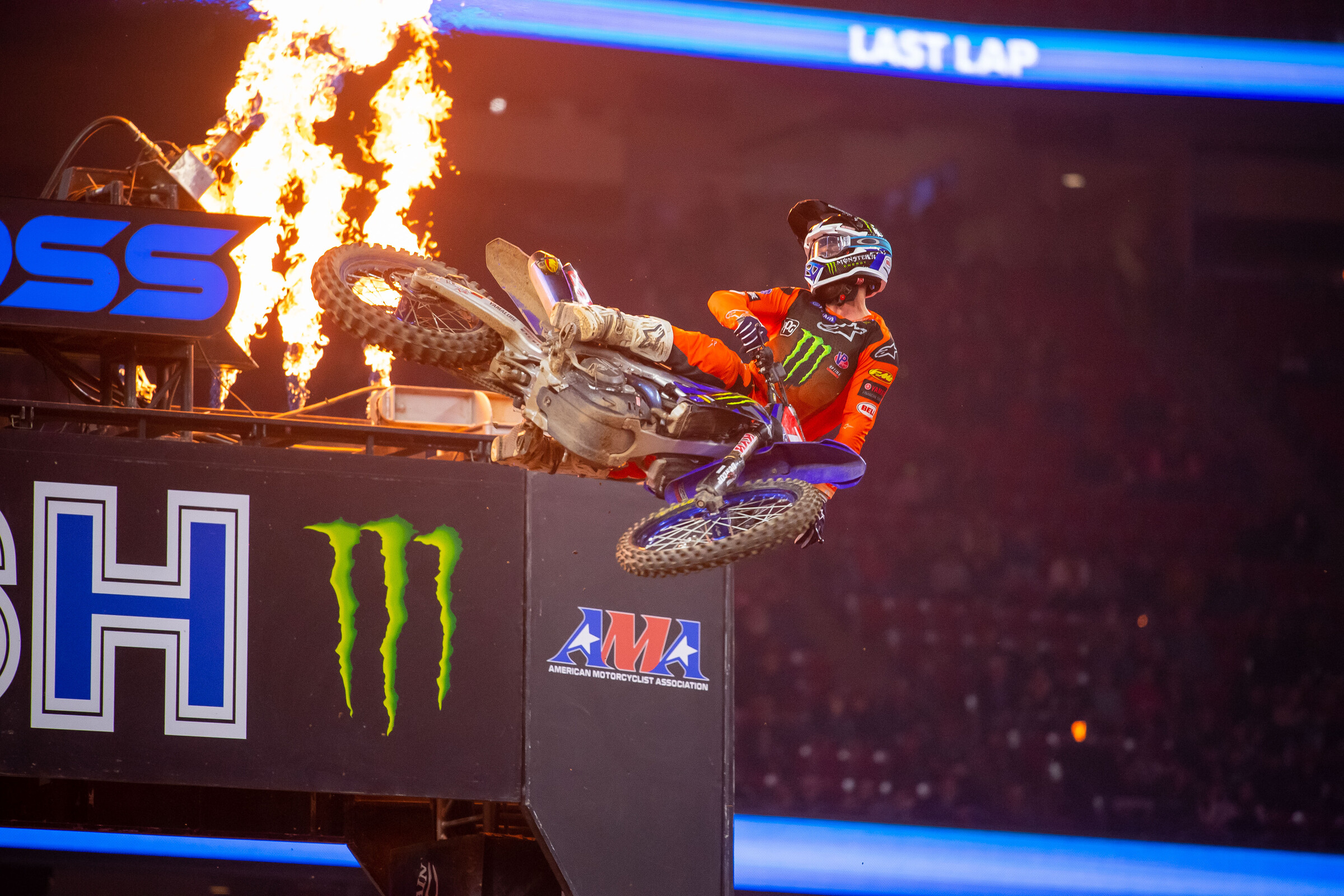 That was it. Tomac was on the ropes, and he fixed himself. After the heat race, he didn't even change the motorcycle. "No adjustments to the motorcycle," he said. "Had to be better in the rhythms, I probably missed the triple quad more than a made it."
Some track changes made the triple-quad through that rhythm a little easier, but he focused hard to make sure he got that section cleaner in the main. He figured out the sand. The whoops changed. He used his full bag of tools, starts, smarts, calm under fire, to win a race that could have easily tilted the other way.
"My main thing was getting back up front on the starts," said Tomac "I was buried on the starts at Anaheim 2. So that was the focus this week. Starts, starts, starts."
Tomac got out front, took on some pressure, and then the race was red flagged after Dylan Ferrandis ran into the back of Ken Roczen and went down hard (word is that Ferrandis suffered a concussion).
"I had major pressure in the first go, there, and AP was all over me," Tomac said. "I didn't really know where to make up the time, I was I was trying to figure it out, but I couldn't. It seemed like I got better after the restart. Yeah."
After the staggered restart, Tomac stepped up his game and got away from Plessinger and Anderson. Sexton got to second and made a charge. Tomac stayed calm.
"There was no time to rest, at all, that's one thing, when you're racing you're marking guys and watching them," said Tomac.
Tomac got it done, Sexton was served yet another lesson. He's been trying so hard to crack that final code, and unlock how to beat a rider like Tomac, who packs so much knowledge. In a previous year, maybe Sexton tries the outside in the sand again and crashes. Or goes too hard in those beat-down whoops and crashes. He took second. It was a loss, but a win in some ways.
The only way to get the experience, is to learn from the experience. Tomac is showing all of his right now.
"Oh yeah! Thankfully lapped traffic wasn't too bad this weekend, the track was open and fast this weekend. But I never felt at ease I'll tell you that."