Anaheim, CA
Anaheim 2 (A2)
Monster Energy AMA Supercross Championship
Levi Kitchen, in what was only his fifth race ever in Monster Energy AMA Supercross, has won a race. That's a big turnaround considering Kitchen's first four supercrosses have been rough, including crashing out of last weekend's main event in San Diego in a first turn crash.
"Yeah, it's huge for me and the team, me and Stilez [Robertson, teammate] have started out with maybe not with the best results," said Kitchen in the post-race press conference. "To turn it around, just for me, especially after having a pretty big get-off last weekend off the start—then even this morning was a shit show for me, I crashed hard in two practices—to bounce back from that is pretty good."
Robertson had a nice night, also, with third overall via 6-1-3 scores in the Triple Crown. He went 9-6 in the first two races this year. So, Monster Energy/Yamaha Star Racing, usually the powerhouse of the 250 class, went from zero podiums at the first two races to a 1-3 finish at the third.
"Yeah, it definitely boosts the confidence and the team morale," said Robertson. "We were struggling and everyone was making sure to let us know! Me and Levi being on the box, and Dax [Bennick, teammate] winning Futures, it's really good for all of us. We've been working really hard at The Farm. From now on I think it should just keep trending in this direction, I hope. I'm excited for Oakland already. I just need to get a little bit better!"
Growing pains have been part of the story for Kitchen and Robertson, who have shown some bright spots as pros but are on the search for consistency. Last year was Kitchen's first year as a pro, but he missed quite a bit of time with injury. Robertson has moved to the team after a few up and down seasons with Rockstar Energy Husqvarna.
"It's been good, I've been hurt a few times, but I'm starting to learn it's just a given," said Kitchen. "If you're trying to learn the pace of these guys it's just a matter of time. It was definitely a big step, and even as an amateur I didn't ride much supercross at all. Yeah, the first year for me was definitely tough, but I feel like I'm learning every weekend and I just plan to get better."
You know the Star Racing team will stop at nothing to get their young riders to the front. Robertson heard it from them after he took that sixth in the first Triple Crown race at Anaheim.
"After the first race, I got back to my lounge area and just stared at the wall!" Robertson said with a laugh. "I did not ride good whatsoever! I literally wasn't jumping the jumps. Swanny [Gareth Swanepoel, team trainer] and Jensen [Hendler, team manager] came in, gave me a pep talk and asked me what I was doing and honestly, I didn't have an answer for them! I think with the Triple Crowns I knew coming in you have to be consistent, but I was probably a little too reserved in the first main. Second one I said, 'I'm either gonna crash or whatever.'"
Actually, consistency did pay off in the second race, when a good half-dozen riders crashed, and Robertson picked his way through the mess, then passed Muc-Off/FXR/ClubMX Yamaha's Phil Nicoletti to take the lead.
"I started to see guys domino all over the place, so I said, 'I guess I'll take the win.'"
Star Racing has become a victim of its own success, with Colt Nichols, Christian Craig, and Justin Cooper are all gone from 250SX due to their success winning titles in that class. This leaves Star in rebuild mode, but at the same time, you know patience will wear thin with a team so used to winning. Plus, team owner Bobby Regan is known for pushing his riders harder than most.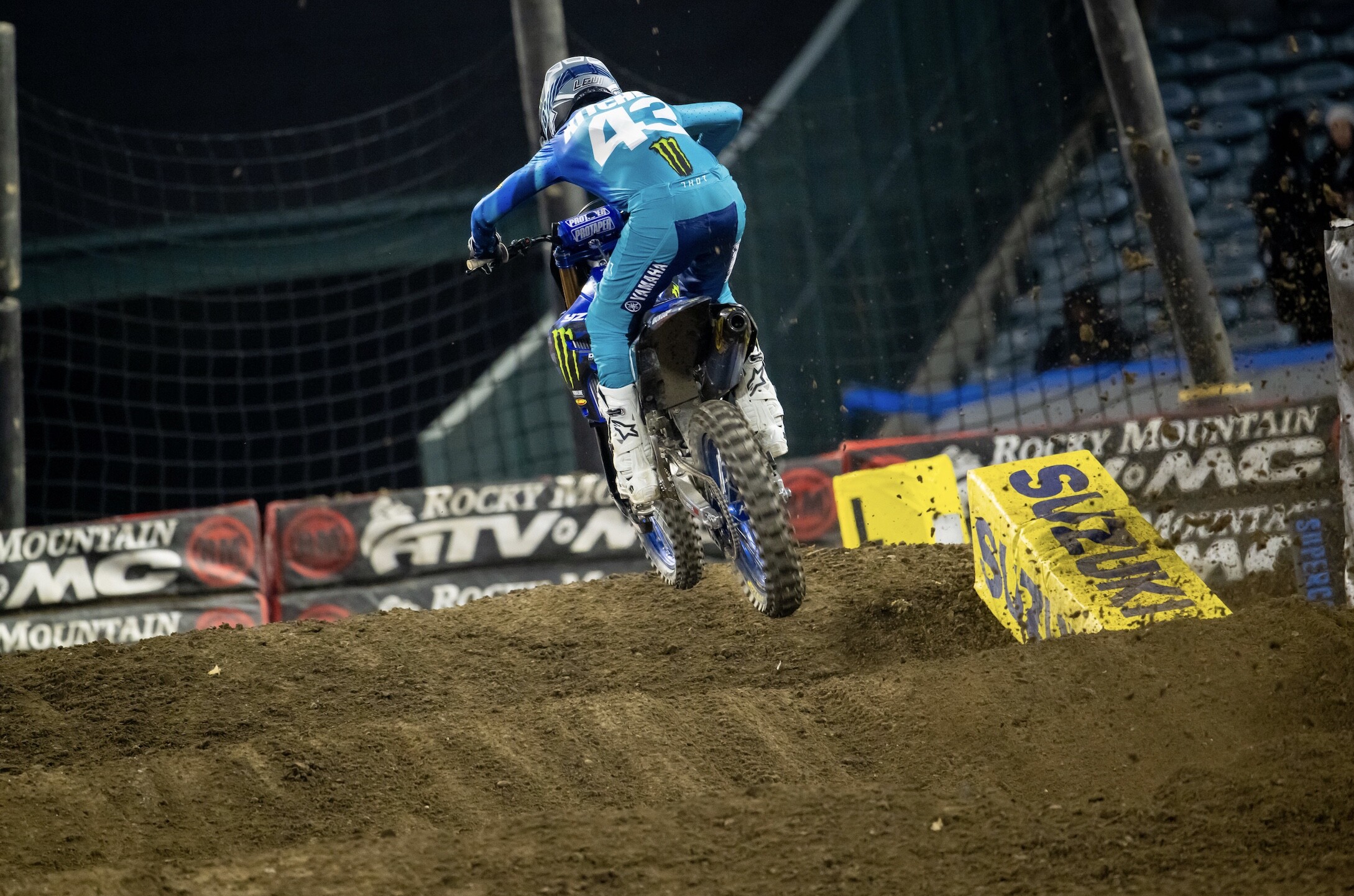 "Well he [team owner, Bobby Regan] is hard to read, you can never tell if he's trying to get under your skin or if he's joking," said Kitchen. "It gets to me pretty bad. I'm trying to learn him as much as I can. He's always got something to say, that's for sure!"
Kitchen, though, didn't have it as bad as you'd think early this season. He crashed out of San Diego, but he showed great speed that day. It was clear the results were coming.
"There was definitely pressure but the team also saw in San Diego that I was going in the right direction," he said. "I was finally a little more relaxed. At Anaheim 1 I was just nervous and I was struggling a lot. There wasn't too much pressure, they saw I was riding better at San Diego but I just messed up on the start," he said, laughing with Robertson, who was also part of that crash. "Yeah, that one didn't work out so well but I wouldn't say there was that much pressure. Going into today I just tried to be myself."
Now, here's the funny thing about Kitchen's Anaheim 2 win. When the night started, he was actually totally discouraged in the first race. He didn't think a win was en route, at all.
"Yeah that was weird, especially after the first race," said Kitchen. "It was disheartening, Jett [Lawrence] pretty much blew my doors off and so did Pierce [Brown]. It was tough for me, but I'm just not used to that kind of intensity when the track is smooth like that, those guys are going so fast. That was a weird feeling. To get second in the second one, I'm lucky to be alive, I don't know if the TV cameras got it but I framed the supercross triple and my hands came off. I was lucky to survive that one. I got second."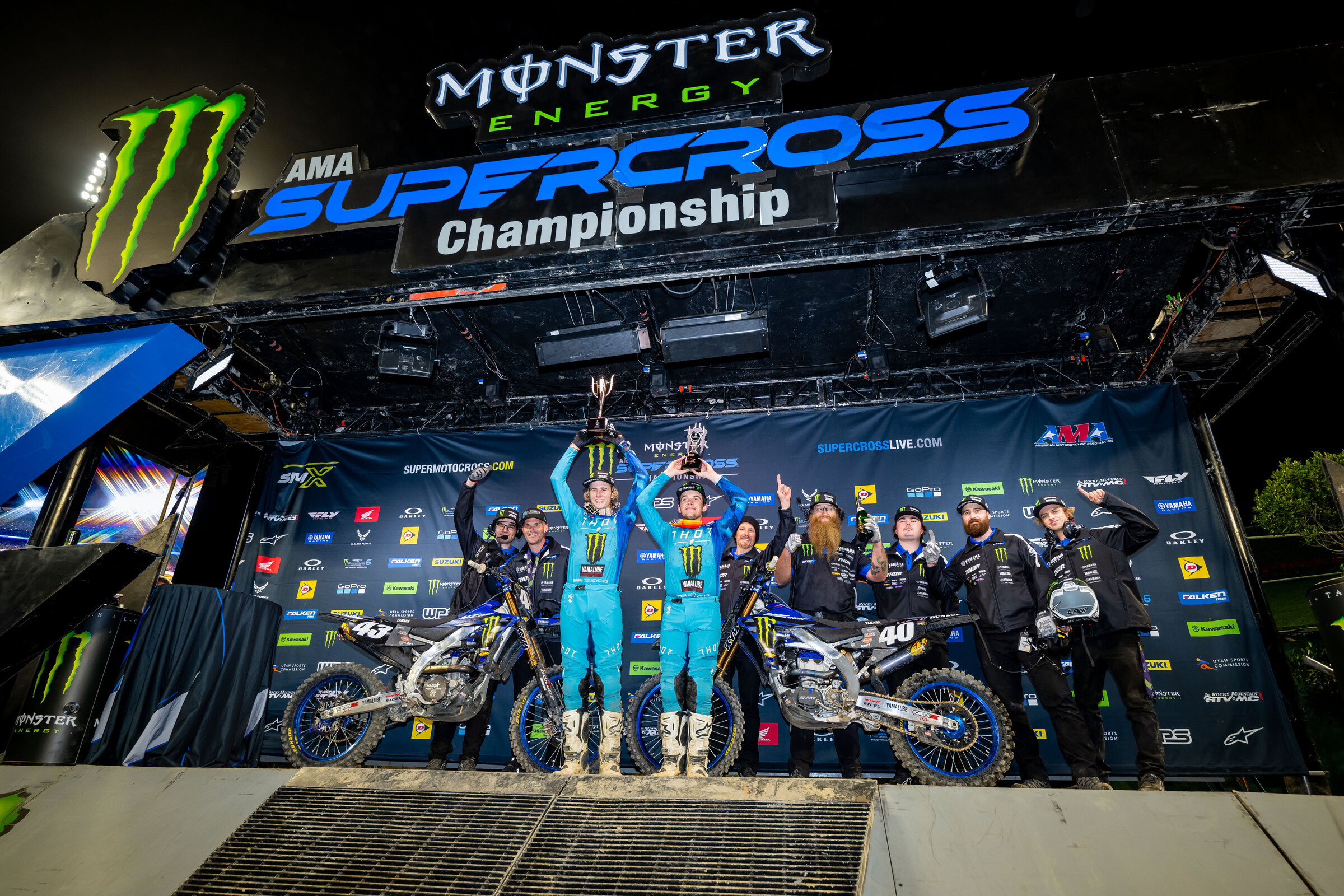 Around them, everyone was crashing. Brown. First race winner RJ Hampshire. Points leader Lawrence. Title contender Cameron McAdoo was already hurting after a big practice crash. Kitchen was in prime position to win the night without even winning one of the Triple Crown races. Hey, racing luck owed him one. At San Diego he was very fast but got taken down in the first turn. Seven days later, it bounced his way.
"Going into the third one, Swanny was telling me where we were and what we needed to do. I was able to just cruise behind Jett," Kitchen said.
"Not really [nervous at first]. Lap four, that back rhythm where Tomac crashed, I almost landed off the track. That's when the nerves really kicked in and it probably showed in my riding. I just started riding extra safe, and it probably showed."
"Yeah it was unreal," Kitchen said, in reference to the feeling of winning. Even better, Nichols and Craig, some of those former Star Racing Champions were nearby to congratulate him. "I've been around Colt and I've been around Christian. Christian gave me a hug when I won a moto at Thunder Valley, and he was there again. We all race each other hard on the track, but even Jett here and Stilez, I think everyone was happy."