San Diego, CA
San Diego
Monster Energy AMA Supercross Championship
Eli Tomac continues to roll on his new Monster Energy Yamaha Star Racing YZ450F, starting the 2023 Monster Energy AMA Supercross campaign with back-to-back wins. It normally takes Tomac a few rounds to really find his form, so this strong start is an alarming sign for his competition.
Why has the defending champ started so well?
"The sense of not chasing the bike setting for round two, three, four," said Tomac. "We're not there yet, but normally I'm chasing my tail after round one and that has not been the case at all this year. The new bike has been solid.
"I can just say it's a great start for us," added Tomac. "You never know going into the season with a new platform. Honestly, you never know. We happened to get it right this time."
Perhaps Cooper Webb, the runner-up at both of these races, explained it best: "The guy, he's freaking good, man."
Webb is probably the only other rider who can say he's happy with his start to the season, as the Red Bull KTM man has scored two second-place finishes. The back-to-back seconds are an indicator of an improved Webb for 2023. Last year he started the season with a runner-up finish and then struggled the rest of the season. This time he backed up his podium at the opener with another good ride. After a sub-par heat race start, he gated better in the main and he led a lap. Tomac blasted past him, but Webb kept some pressure on Tomac for the rest of the race. It was fun to watch Webb try to work his late-race tricks on Tomac, who is one of the strongest riders to ever swing a leg over a bike. In the end, Cooper tried, but he couldn't overwhelm Eli. Again: "The guy, he's freaking good, man."
"Yeah, they [the opening two rounds] were both good," said Webb. "I got off the start, which is really key, especially tonight with the way the track developed. I was able to lead some laps, which was cool. Eli was really riding good, and I tried to latch on and felt like our pace was pretty strong. Made a few mistakes there in the middle, and the lappers at the end definitely helped me a little bit. It was pretty hectic with all that going on. I think overall, I'm really happy with how the season started. Looking to push forward."
This race marked the first supercross in the brand-new Snapdragon Stadium. Compared to Anaheim's rough, rutted, bumpy affair, San Diego was much easier. Tomac is a fan.
"To be honest, I never had really good results at Petco, [the previous San Diego stadium] either," said Tomac. "I always struggled a little bit just on the tighter stadium and kind of flow there, I felt like. So, I was excited to come here and get going. It was nice to be on a good surface this weekend, good racing surface. The dirt was nice. There was a couple rocks here and there, but I would say for the most part it was nice dirt. It was another good one for us."
Credit to the Dirt Wurx track crew for shaping up San Diego so nicely after another week of rain in California. It's been madness for the supercross riders to find places to ride during the week.
"Honestly, we've just been chasing around practice tracks to ride out here in California," Tomac explained. "I've been based out here and we've been going out to the high desert or to Hemet. Honestly, that's it. Maybe one or two mud days in Corona. It feels like we've been practicing mud for six weeks now or so. So, it's nice to be on a good surface."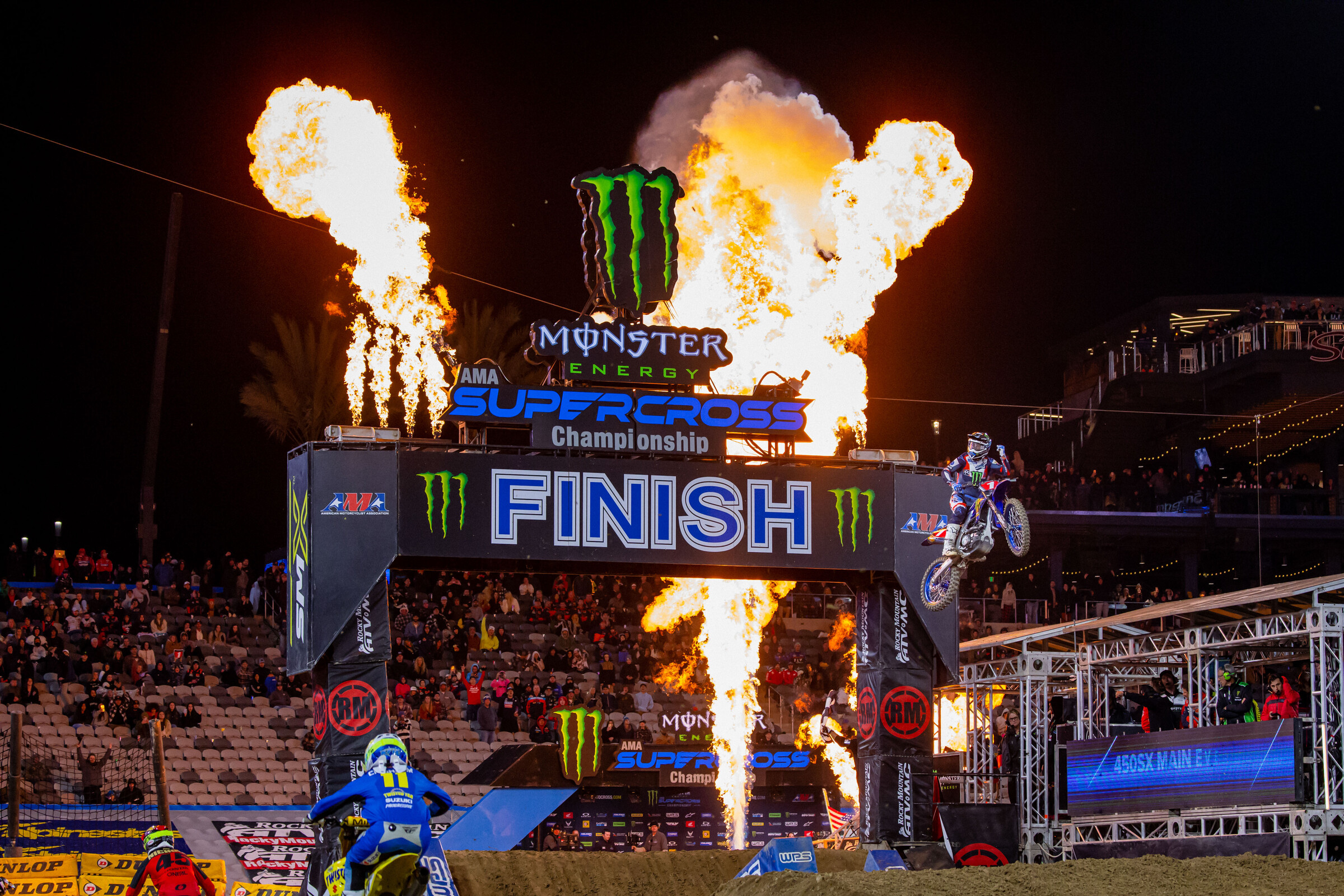 The toughest part of San Diego, actually, was lapped traffic. They impeded Tomac's progress, and combined with Webb's determination to stay close, the gap never got much beyond 3.5 seconds. Late in the race, Webb got it back down to nearly a second.
"Well, he just kept me honest the whole time," said Tomac. "I knew that was going to happen. I was just like, man, a couple of those guys were just battling in the bowl turns and there was nothing I could do. That's just the way it goes when you're in front. Some tracks are easier to get around the lappers than others. It makes you stay on your toes. You've got to focus in that situation because you know he's right here. That's just the way it goes when the track funnels guys in certain ways into the main line."
Supercross
| Position | Rider | Hometown | Points |
| --- | --- | --- | --- |
| 1 | Eli Tomac | Cortez, CO | 95 |
| 2 | Chase Sexton | La Moille, IL | 88 |
| 3 | Cooper Webb | Newport, NC | 83 |
| 4 | Jason Anderson | Edgewood, NM | 76 |
| 5 | Ken Roczen | Mattstedt | 73 |
Full Standings
Webb saw it this way: "I felt like he had some really good spots there at the beginning, one of them being that triple all the way through the dragon and the whoops to the finish [the dragon back is where Tomac passed Webb]. I felt like I was really good on the tight stuff, but I felt like early he was just kind of opening everything up and really railing stuff nice. So, once I kind of latched onto that, it seemed to help a lot. As it got rougher, the tight lines that I was doing seemed to get better. So, he was just on it at the beginning for sure. I think that's really the first time in a long time that I've been able to ride behind him like that in a whole main event. So, it was good to see what it takes to win and learn from a few mistakes and keep battling along."
"He [Tomac] missed the one rhythm due to a lapper and I think that helped a lot," said Webb. "That was like two to go. He definitely dropped the hammer there and I think I was able to get close. It's tough. Like you said, when we're both racing hard and those guys are in a battle, and they might not move for the leader, and then one lap they might do different lines and stuff. So it's tough, but it's almost like a battle within a battle. You got to race them as well as racing ahead and staying with them. I felt good. I raced hard all the way to the end and felt like I definitely pushed hard more towards the end than maybe in the middle where I should have."
Other contenders have already had their troubles in the early goings of the 2023 season. Both two-time champs, though, (and the winners of the last four AMA Supercross Championships, collectively) are firing early. Could we be in for a Tomac versus Webb battle for the title? That could be a fun one to watch.