Houston, TX
Houston
Monster Energy AMA Supercross Championship
Austrian motorcycle manufacturer KTM introduced a whole new machine at the tail end of 2021 that they and sister company Husqvarna would eventually race in all of 2022 Monster Energy AMA Supercross and AMA Pro Motocross. What at the time was a bit of a head scratcher was fellow sister brand GasGas remained on the old design for all of 2022, at least when it came to racing in the USA, but it did work out a little as the new machine ran into some development struggles as racing began. Now that a whole year of that new package has been tried and tested, GasGas pulled the trigger on announcing their new FC 250F and 450F Factory Edition machines that will be raced by the Troy Lee Designs/Red Bull/GasGas team in 2023.
With a new bike underneath them, the burning question at the team intro on Wednesday night was how Justin Barcia, Michael Mosiman, and Pierce Brown actually were feeling with the new platform. We caught up with each of them to ask their thoughts on the new motorcycles.
Racer X: New bike, trying to get used to it now. How has the development cycle been and how have you been gelling with the machine?
Justin Barcia: It's been awesome. It's been really good. We did about three weeks of testing when I got on the bike and then it was time for me to go back to Florida. I've been back in Florida for about a month now and I haven't changed anything on the bike. It's been unbelievable. The bike is really balanced. The new engine is awesome. For me, the transmission is great, and it feels really connected. The balance like I said is really good. It's less pitchy than the old bike. I don't have any complaints about the bike. Everything to me seems better. My starts are really good right now. I'm back in California and I know Austria has been in and out of here doing testing. So, for me it's been great. I've been able to come in and try new parts and see if we find anything better. If we can make the bike better then great, but if not, I'm really happy with it and I'm ready to go racing.
Is that a common thing or are you surprised a little bit that you went to Florida and there wasn't anything to change?
It's weird. It's honestly hard to explain to the guys. It feels strange to say that there's no issues, nothing has popped up, and I've just been able to ride the bike and adapt to the different tracks and different conditions. Out here in California, I rode three different tracks, and the bike was good on all three. In Florida, I rode my two tracks that are totally different. Really hard pack and soft, different whoops, the bike just adapts to everything. So, very impressive.
What am I going to expect when we watch you on this new machine this year? What can we look forward to?
Michael Mosiman: Greatness. [Laughs] Yeah, I think you can expect really good things. I think we're in a really good position. I want to continue to go stiffer. Currently with our setup and where we're at, I think we have just a little bit more to go. But otherwise, it's quite comfortable. I think the nature of the motorcycle is a little bit more stable and I honestly don't find myself making many mistakes. Or even when I do make a mistake, it cleans it up, almost for you. So, I think you'll see my maybe crash less. I know that's maybe a big statement, but I do think that plays a part in it and having the right bike setup. That's something that I'm trying to be more attuned to. So yeah, I really like it.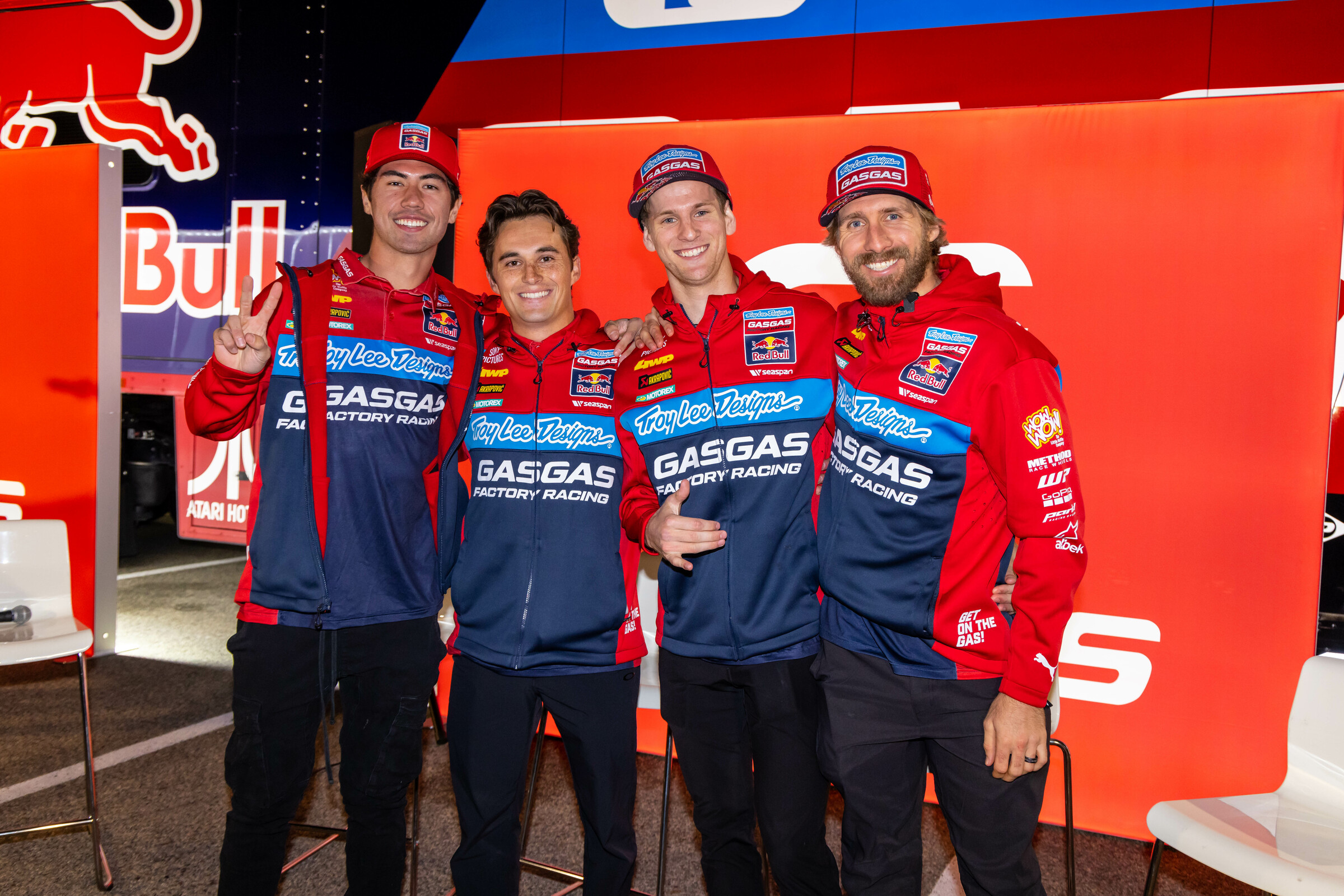 Pierce Brown: We've definitely been putting in the work and we have a new bike. I was a little bit nervous about hopping on that thing because I saw KTM and Husqvarna struggle with it last year, but we've been loving it. Myself, Michael, Justin, the bike has been awesome. The team has been awesome. So, I think it's going to be a good year.
Racer X: Like you said with jumping on the new bike, you maybe had some preconceived notions about it. What sort of hurdles did you already get through that you felt needed ironing out but now you seem to be confident in it?
Pierce Brown: The biggest thing for us is when we started back riding on the new bike, we started on a bone stock bike. Nothing to it. Stock pipe, stock suspension, engine, everything, just to feel how the chassis was supposed to feel and it was a sick bike stock which was pretty cool to see. After we spent a week or two on that, we started adding a little bit of components to it. Obviously, suspension, motor, but we didn't want to get too far away from how the stock bike should feel and how the chassis should feel. Like I said, Husqvarna and KTM definitely ironed out some stuff for us last year. It was a bummer we weren't on the new bike, but I think it was a blessing in disguise in a sense because right when we hopped on it and as we were getting into suspension testing, we had all of the packages from last year that worked for them to try. Along with that, we have a new motor package and everything about that has been great. I think everything we struggled with last year has been ironed out and it will be a good year.
In terms of characteristics of the engine package and the chassis, what are some things you've noticed with the feel of it all that you're liking so far?
With the package as a whole, I'd say with the chassis, there were a couple things last year that I was struggling with like front end feel that right when I hopped on the new bike was out of the question. That was gone, which was really cool. There were some mistakes I made last year that I was wondering if it was me or not and part of it was me, but part of the new bike just fixed it in itself. With the motor package, I feel like supercross we got away with it but outdoors we struggled with the power. It was hard to compete with those Star bikes. Even all the other brands kind of upped their game to catch up to the Star bikes and I feel like we were lacking that. But we found a good motor package after outdoors that I think [Max] Vohland ran, and we were able to hop on it. We've been on that, and it's been great. For the most part, I think the motor is going to be huge on the start. That's the biggest thing.