Team Solitaire/Nuclear Blast Yamaha Welcomes Ryan Surratt with Unique Announcement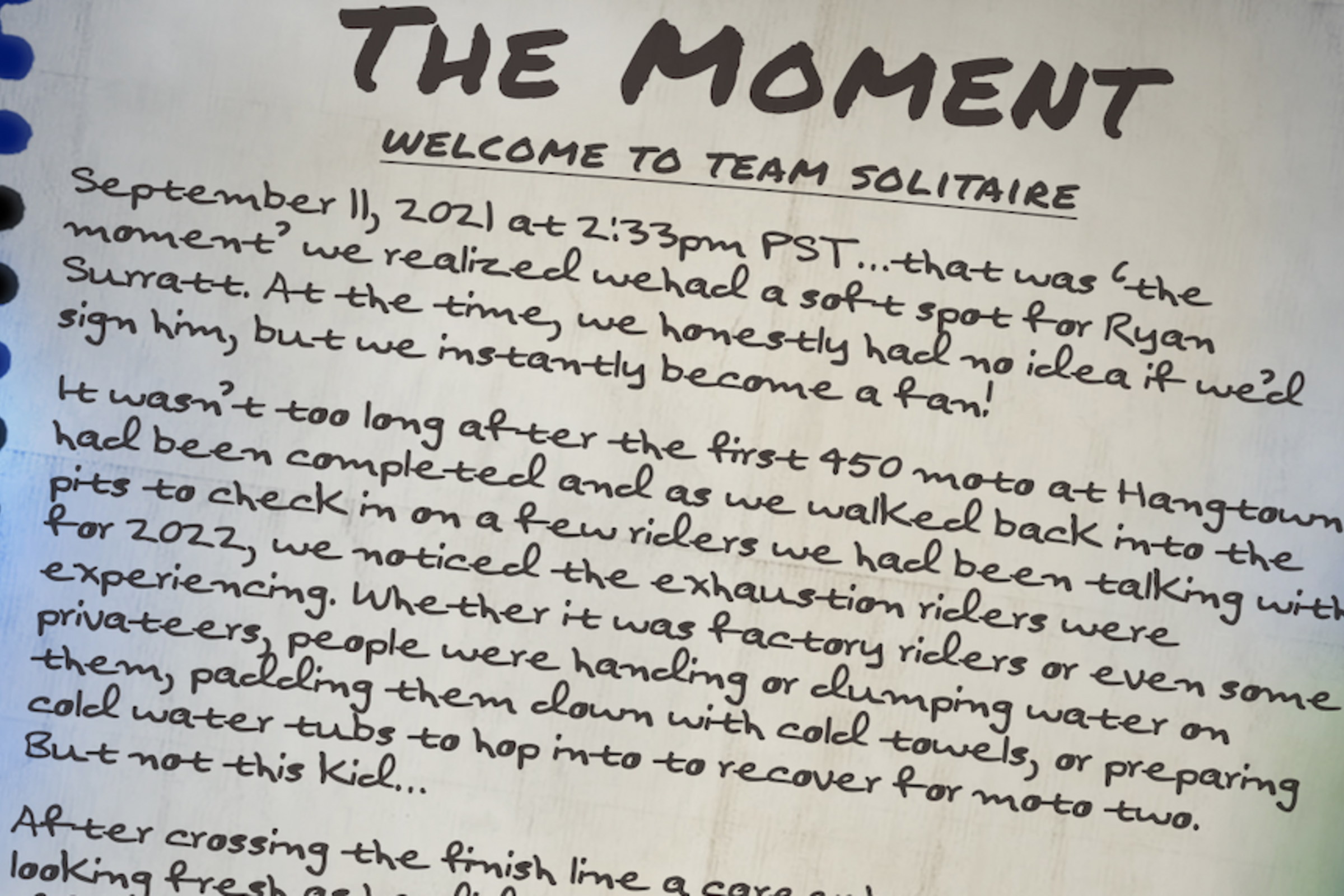 Anaheim, CA
Anaheim 1 (A1)
Monster Energy AMA Supercross Championship
Team Solitaire/Nuclear Blast Yamaha has announced the signing of Ryan Surratt. The California native has competed in AMA Supercross and Motocross since 2017 but from 2019 through 2020 raced several off-road series out west, most notably the World Off Road Championship Series (WORCS) series. Surratt made his return to the SX and MX scene in 2021, completing in two Monster Energy AMA Supercross main events in the 250SX West Region (18th at Daytona and 20th at Arlington 1 Supercross) aboard a PR-MX Kawasaki KX250. Then, when the Lucas Oil AMA Pro Motocross Championship began, Surratt began competing in the premier class abord a Husqvarna FC 450. This summer he competed in all 12 rounds of Pro Motocross, finishing 18th in the standings with a season-best eighth in the final two motos of the year at the Hangtown Motocross Classic for a new career-best seventh overall. In an interview in August, Surratt said he practiced on a two-stroke during the week and borrowed the FC 450 on the weekends.
"The bike I'm racing right now, I'm just borrowing it from Team Allsouth. My two-strokes are the only bikes I own right now. I have a Honda two-stroke and a KTM 300 enduro two-stroke. I practice on those during the week. I don't know, I like two-strokes! I do [have the Husqvarna FC 450 during the week], but I'm saving it for the races. During the week I practice on the two-strokes."
Read the full interview with Surratt here.
As we noted when the 2022 AMA SX and MX numbers were announced, Surratt was #951 in 2021. That's not the highest number to race this year, but he will be the highest number to make his way into the two digit ranks for 2022, as he will become #58.
"It's pretty cool to have national number 58," Surratt said in a team statement. "A lot of people try earning a number every year, and only a handful achieve it."
"I'm honored to be apart of Team Solitaire Nuclear Blast Yamaha Racing, feels like a home already and I can't wait to see what we all can achieve this season," Surratt said.
Below is the full—and unique—announcement from Team Solitaire/Nuclear Blast Yamaha:
The Moment - Welcome to Team Solitaire
September 11, 2021 at 2:33pm PST…that was 'the moment' we realized we
had a soft spot for Ryan Surratt. At the time, we honestly had no idea
if we'd sign him, but we instantly become a fan!
It wasn't too long after the first 450 moto at Hangtown had been
completed and as we walked back into the pits to check in on a few
riders we had been talking with for 2022, we noticed the exhaustion
riders were experiencing. Whether it was factory riders or even some
privateers, people were handing or dumping water on them, padding them
down with cold towels, or preparing cold water tubs to hop into to
recover for moto two. But not this kid…
After crossing the finish line a career best 8th place and looking fresh
as he did earlier that morning, Surratt took off his own gear and did so
with a little zip in his step. After walking over to his cooler to grab
a Dr. Pepper and a Lunchable to snack on, he began prepping goggles for
the next moto. Surratt had just spent the entire summer in his van by
himself chasing a dream, and after scoring the best moto finish of his
career it was goggle prep time before moto two with a smile on his face.
We have no idea what the 2022 season will look like for Ryan Surratt,
all we can tell you is that there is a belief in his ability from
everyone on this team. But more importantly…for us, this was about
giving a kid 100% of our effort and support because after so many ups
and downs, he still gives his dream 100%.
Welcome to the team Surry…
Remember to follow Team Soliatire on all platforms:
Instagram | TikTok | Twitter - @teamsolitaireSX and "Like" Team
Solitaire on Facebook – www.facebook.com/teamsolitaireSX.
#teamsolitaireVSeveryone