New Berlin, NY
Unadilla
Lucas Oil AMA Pro Motocross Championship
Doing the best you can is the whole point of racing, but it's not all there is. With racing come experiences and a culture most people don't get to experience. That's especially true for privateers like Ryan Surratt, who's road-tripping it from race to race in a van, and in his words, "Going with the flow." Whatever he's doing it must be working because he notched the best result of his career at Unadilla MX over the weekend when he went 14-11 for 12th overall. We gave him a call to learn more about his first full season of the Lucas Oil AMA Pro Motocross Championship.
Racer X: Hey Ryan, great day at Unadilla! But before we get into all that, give us some background on who you are for the readers who might not be too familiar.
Ryan Surratt: I'm 24 years old and I was born in Corona, California, and just started racing amateur stuff when I was a kid. Then I started doing all the Loretta things, and was lucky enough to get four Loretta Lynn's championships. Then I went pro in 2017 and did some supercross before racing the Canadian outdoors. I did a little bit of supercross again but couldn't find too much help, so I ended up racing off-road for the last two years. I ended racing supercross again this year with PRMX and now I'm racing the outdoors.
Have you ever raced any GNCC races?
I've never actually raced a GNCC, but that's always something I'd be willing to try for sure.
It sounds like as long as you're racing a motorcycle, you're happy.
Yeah, I've done a lot on two wheels and it's all fun. I love it.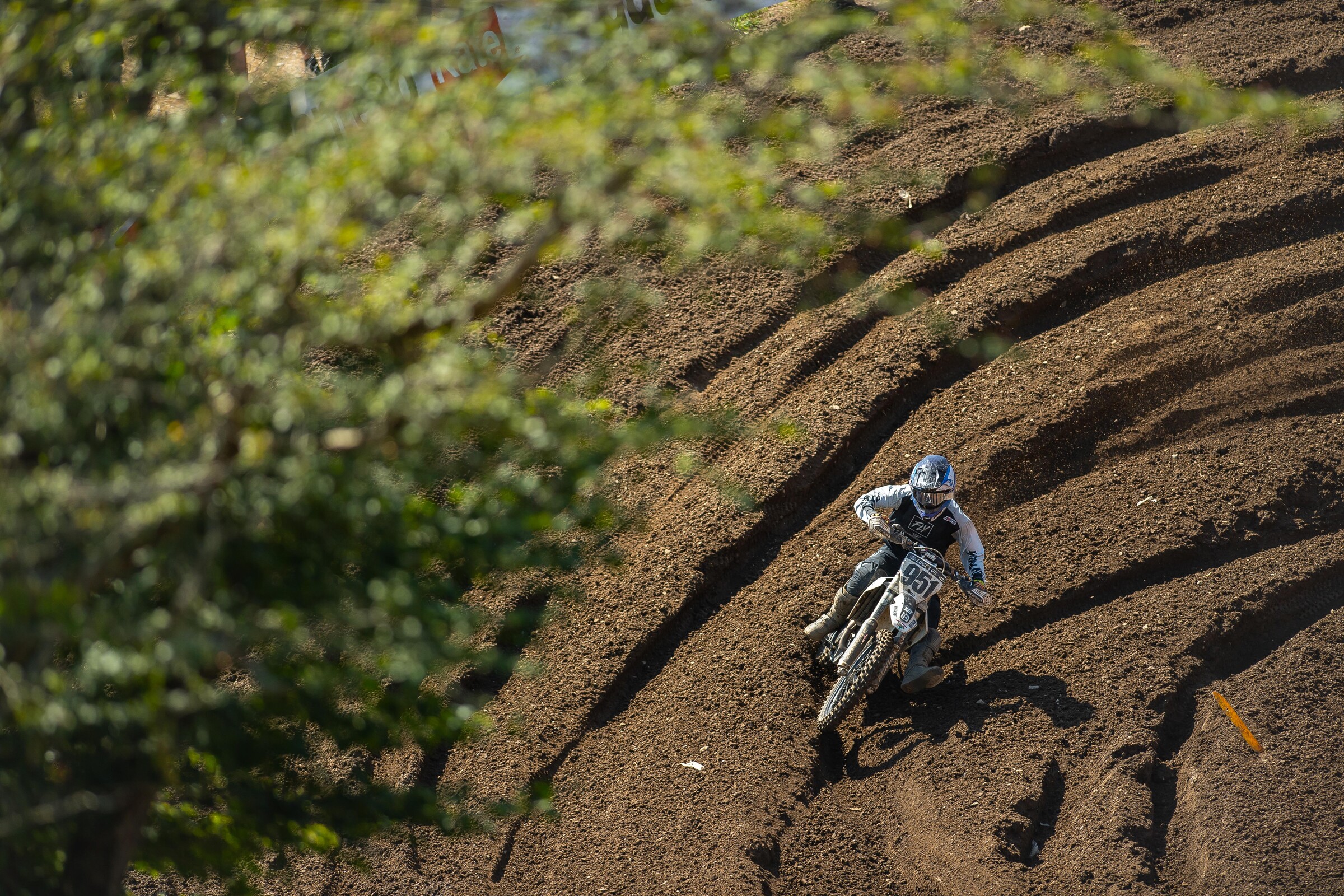 Well, speaking of racing, Unadilla was great for you. You went 14-11 for 12th overall in the 450 Class. I think that's your best ever result as a pro!
Yeah, that's for sure my best outdoor race. It was pretty much a normal day, but I guess I was just feeling really good on that track. Everything was going smoothly. I guess I just jelled with the track.
That's interesting because I think that track was giving a lot of guys a hard time.
I tend to like the more difficult tracks. Probably Unadilla and Pala were my two favorite so far. A lot of the rounds this year, I feel they've been way too smooth, especially Washougal. I think that was the smoothest national I've ever raced in my life. I definitely like the tracks when they're rough.
You've done all the nationals so far this summer. Is this your first full season of motocross?
This is my first full season in the outdoors here. A couple of these tracks, it's the first time I've ridden them. Trying to learn the track in three laps is pretty hard, but it keeps you on your toes.
Yeah, I don't even know how you guys do it. It's beyond my skill, but most things are. What's it like for you doing your first full season here? What's been your impression of the nationals?
It's definitely been hard, pretty much doing it on my own. Just traveling around in a van and was lucky enough to pick up a friend along the way who's been helping me out. It's a lot of driving and waiting on the road wondering where you're going. Just not knowing what the plan is and going with the flow.
That's a struggle, I'm not downplaying that, but do you also find there's something freeing in it? In having no choice but to just go with it?
Yeah, it's fun. You get a lot of experience and you never really know what you're getting into. But at the end of the day, it's good. Making it race to race is what we're here to do.
Definitely. It's an adventure man. I think most people, regardless of age, but especially younger people, don't get to get out and see and experience the country like you do.
Yeah, for sure. Doing this, and all the overseas races, I've gotten to experience a lot more than most people get to.
What's the weirdest thing you've seen overseas?
Probably in China when we weren't allowed to race. America vs. China was going on and they shut the race down. We had to let all the cops leave and all the fans leave, and we had a race. A couple people on the track in the middle of a field.
Wait a minute. I haven't heard about this at all. You went to race in China, but you couldn't, because of anti-American sentiment?
Yeah, pretty much. Dennis Stapleton and I went over there and we weren't really sure what we were getting ourselves into. We didn't really know what was going on because nobody really spoke English there. It was one of those things, again, where we were just going with the flow.
Okay, but wait a second. Are you sure they wouldn't let you race because you were American, or is it because Dennis Stapleton probably got into some weird shit the night before?
I mean, there's a chance of that. He almost went to jail that day for trying to look at the track. They were accusing him of cheating and they were trying to throw him in jail.
They were going to put him in jail for looking at the track!?
We weren't really sure what they were going to do with him, but they were trying to put him in the back of a cop car. They were trying to say he was cheating.
You can go to jail for cheating!?
I guess so.
I'm telling you, he must have made someone mad the night before.
There's a good chance.
Moving on. I saw on Instagram some footage of you riding two-strokes. Is that something you do often or just for fun every now and then?
The bike I'm racing right now, I'm just borrowing it from Team Allsouth. My two-strokes are the only bikes I own right now. I have a Honda two-stroke and a KTM 300 enduro two-stroke. I practice on those during the week. I don't know, I like two-strokes!
So you don't have your Allsouth bike during the week?
I do, but I'm saving it for the races. During the week I practice on the two-strokes.
So you're staying fresh during the week on a two-stroke, then riding a completely different bike at the races.
Yep, pretty much.
That's incredible!
It's fun though, I love it.
So what are the goals for you through these last four races?
Realistically, just to make it to every one. I want to be in the top 20 in the points. That would be pretty cool. Going into this season I wasn't going to do the outdoors, I was just going to do the first two races, but they ended up being good races. I was top 20 in points, and after Colorado I went home and decided I was going to go racing.
Well, you're 20th in points right now and only one point behind Justin Rodbell and Chris Canning. And the guy right behind you is Zach Osborne [who is out with an injury], and I don't think you have to worry about him.
It's not a bad position at all. I think I have a pretty good chance, and hopefully I can continue to pick up points and finish the season. I really appreciate Team Allsouth for letting me borrow the bike, and AEO, Fly Racing, EKS Brand, Asterisk, Dunlop, ODI, Earth Movers, No-Toil, SKDA, Blud Lubricants, MindFX, and Ramage Performance have all helped me out a lot this summer. I really appreciate all the help from family and friends that's allowed me to do this on my own.