Following a successful event in 2020, Tyler Bereman once again took the reins on his creation, Red Bull Imagination, in Kansas as he invited over a dozen of the top free riding/freestyle moto athletes to compete in the wild, massive, competition. Afterwards, we caught up to Bereman, Axell Hodges, and Cole Seely to get their takes on the event.
Racer X: What is freeriding? How does it differ from moto is it closer to freestyle? Most people see this and automatically think it's a freestyle event. What makes this different.

Axell Hodges: Free riding is just riding your dirt bike anywhere you want and doing it how you want to do it. Racing is a lot more extreme, I'd say, training-wise and eating right and just being kind of an animal. Training is like a full-time job, where free riding you're not out there pounding motos all the time, so you're just more riding your dirt bike, hitting jumps, and filming. That's kind of what I like to enjoy and do. More freedom. Free riding more is you're hitting natural terrain, jumps that are more in the 100-foot range and over. Freestyle is more of a ramp course of 75's and doing double backflips and extreme tricks, where free riding you may or may not be doing the hardest trick, but you're hitting a huge jump and you've got style. You can differentiate yourself with style and stuff like that. We're not doing as much tricks. More so we're just hitting big jumps, hitting transfers and trying to do whips and make everything look good, clean and stylish, where a freestyle contest you're just trying to do your hardest tricks and hucking everything you got. We're hitting big jumps just trying to have fun and make it look good.
Tyler Bereman: Free riding to me is just free, man. It's whatever you want it to be. You can see the difference here. Obviously, I'm considered a free rider and I love hitting jumps and creating jumps and whatever, but I have dudes like Jimmy Hill out here and some other guys that bring such a different, creative approach to it. It's all free riding, man. We're all just kids having fun, doing what we love and creating content. That's the coolest part about this whole thing. It's not about results and wins and whatever. It's all about just pushing the progression of the sport, showing what's possible and showing how cool dirt bikes are and free riding is, and showing the next generation that it's not all about race results and wins. It's about having fun and creating content and using your imagination. I think the biggest thing between this event and freestyle is it's not your typical, average course. It's just based on other action sports. I take features that I like in snowboarding, slope style snowboarding or slope style mountain biking or whatever, and try to incorporate them and make them my moto version. To be honest with you, I think footage doesn't ever really do this place justice until you stand at the bottom of some of these jumps. I can confidently say I'm friends with all the freestyle guys. I love those guys to death. They absolutely crush it, but this course just isn't quite set up like that. There's definitely some big ones that you can trick and stuff, but everything is just super technical and tight. A lot of the guys that are here are ex-racers and stuff and they can keep the flow. It's just a different kind of approach and vibe to the whole thing. I kind of just want to push the sport of free riding in the right direction and not so much just freestyle or racing. Free riding is such a big thing. It's like you can go backcountry snowboarding or slope style snowboarding. Free riding needs its own standalone genre. That's what we're trying to create. It's coming back. Dudes like [Seth] Enslow and [Jeremy] McGrath and [Jeff] Emig and all those dudes, [Mike] Cinqmars, all these dudes back in the day who were free riding for fun and then started doing freestyle, and it was just one or the other. Just stoked that it's kind of coming back. This day in age, digital age, we're making content and just able to do cool shit like this. This has been my dream for years and years and years to have a dirt skate park and with a lot of hard work and determination, I made my dreams a reality. So, my imagination completely unfolded in front of me, and I couldn't be more stoked.
Cole Seely: Freeriding to me, I think this is a very important question because free riding and freestyle get put in the same category, and I don't think that's true. There are some people here that can do tricks, but freestyle is more ramps, trick variations, and stuff like that and I think free riding is more of an expression that you only really see in the hills. It's really cool that Red Bull and Tyler put this event on because I think that really puts it in perspective what free riding really is, just more of an expression, going out there and having fun, flowing and doing whatever you want in five minutes, putting as many lines together in the three sections of this course as possible. It's more style and flow and looking cool on the bike.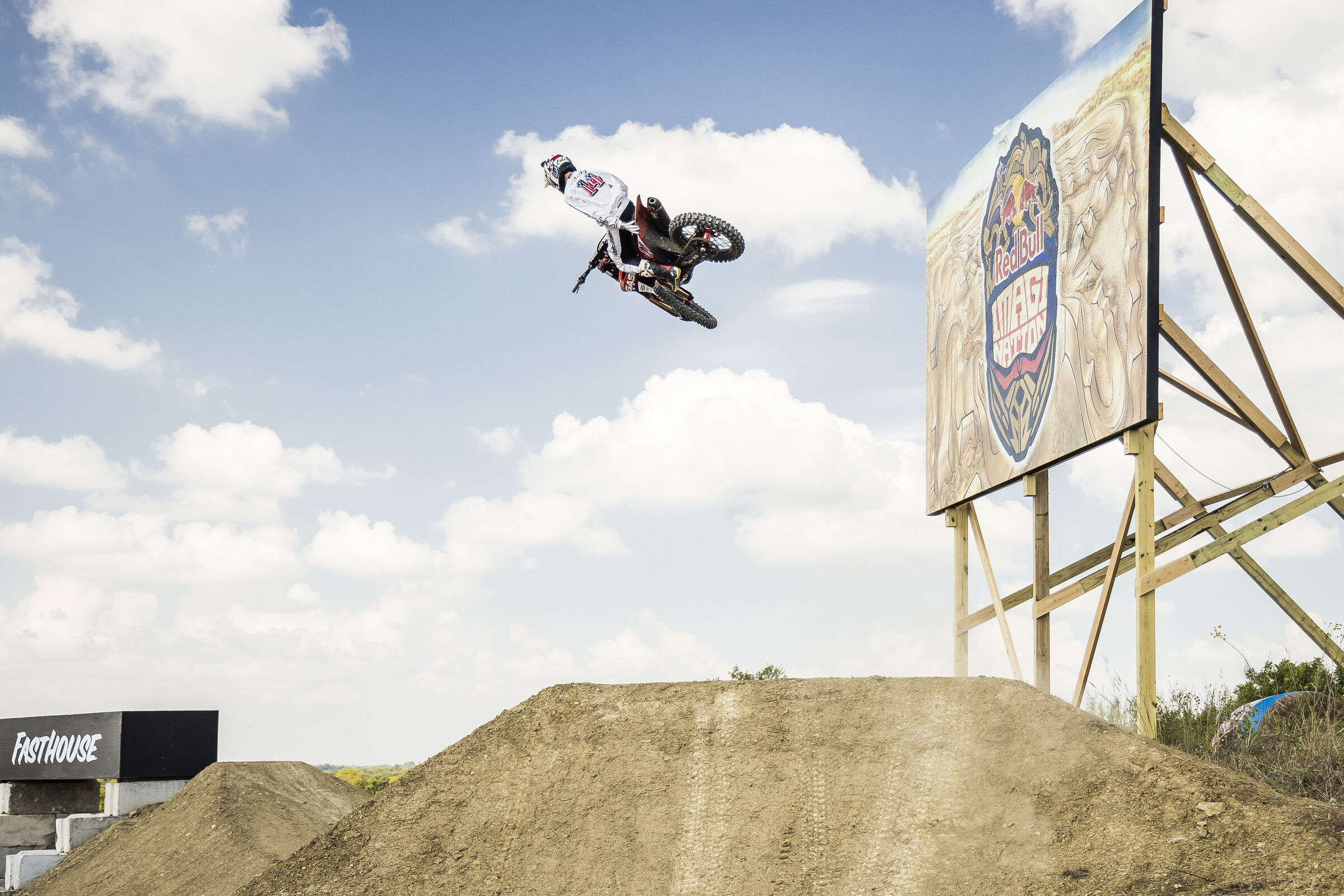 What is your favorite part about this event?

Hodges: My favorite part about this event is probably just hitting all the jumps for the first time, because you're so scared. When you're in the air, you're just like, "Oh, God, I'm making this jump." It's a pretty good feeling to clear it. It just makes you want to scream. You feel like a little kid again, almost. It makes you excited to ride.
Bereman: My favorite part about this event is just the camaraderie. You take all of us and you put us in X Games, and we're all buddies and stuff but it's competitive. You get there and there's a lot on the line. The coolest part about this is just everybody coming just to have a good time. Someone does something new or something sick and the rest of the group is hyped on one another. That's the whole thing. I came from a racing background and you're basically bred to hate your competitor. I don't like that. I come from a different mindset and other action sports, and they just need to be together as a crew and pushing it in the right direction of having fun and who cares who wins? There's more losers than winners in this world, the way I look at it. So, let's just all have a good time. As long as we're having a good time and doing our best, then nothing else matters.
Seely: Probably the four days leading up to the competition. The competition is very nerve wracking. Last year I think I hadn't done a complete run until my actual run. I think the jam sessions of hitting one area where all of us are hitting one area, you do a big whip or you hit something and go really high and then the guy behind you goes higher, hits a bigger whip then you want to loop back around and do it again. It kind of pushes you and elevates you the whole time. That and the night session. Those are always super fun, set up some lights. Focusing on one section, that's what is fun to me. It's all super fun.
What's the next step for free riding?
Hodges: This is kind of the next step, I'd say, doing events like this and getting everyone together and having jam formats and filming. That's when the good riding comes out, when I'd say there's less pressure and everyone is just kind of having fun with each other. That's when the good stuff comes out, so it's definitely good to get that on footage. Just putting out good content and doing new things.
Bereman: I think the future of this, my whole goal of this whole thing was to just create a cool course and just bring all my friends together and ride the course and film a really cool film of the whole week, and then take it back to Red Bull and be like, "Look, you can take this and you can turn it into a contest." Last year the contest kind of got dropped on us at the last minute and things happened very quickly for the first year, before I was able to prove it. So, it ran as well as we could last year. Then this year obviously bringing the contest part back into it, but my biggest thing with having it—I was wearing a lot of hats being host, being producer, being just pulled in a million directions, but just beating into these riders' heads that it's not all about… We're free riders. We don't like getting put in a box. A lot of us used to race. When you get put in a box, you don't perform your best sometimes. So, that's the biggest thing. This whole entire week was judged over a whole week, and then more or less just being creative. There's no pressure. There's so many jumps out here, you don't have to go hit this or that or whatever. It's a form of expression through our dirt bikes. It's a blank canvas out there. Whatever you see goes. That's just like the coolest thing. Hopefully you can take this platform and we're working with the world. Imagine how many rolling hills like this are in the world. It's all about just some creativity and imagination. My goal with this is I'm pretty sure we've taken this course from last year and completely blew it out of the water and take that next level, but it's like, what do you really do more here now? So, maybe we'll kind of take this and move it on somewhere else. Ultimately, with some creativity and some imagination, you can take this platform and you can literally take it all over the world. Fortunately, I'm pretty sure it went pretty well. We've obviously learning as we go. We'll learn and build on things that we learned that we could do better from year one to two, and we did that, now from year two to three. Hopefully we can keep this thing going and start taking it all over the place. You never know which way it can go. Get some bands out here. Get some actual live audience. Get people hyped up. It's unreal, man. Just so stoked it went as good as it did. Stoked it's over. Stoked to have a beer and kick my feet up.
Seely: This is the next step. Imagination is the next step for free riding. I don't know how you can get any bigger than this. The jumps are huge, even bigger than last year. Guys are throwing down even crazier than they were last year. I think the next step for free riding is Imagination 3.0, honestly, you can't top this. This is the craziest course, the craziest group of riders, It doesn't get much bigger than this.
---
Main Image: Chris Tedesco/Red Bull Content Pool