Pala, CA
Fox Raceway 2
Lucas Oil AMA Pro Motocross Championship
There isn't anything mystifying over Dylan Ferrandis' run to the top of the Lucas Oil AMA Pro Motocross Championship in the 450 class. He wanted it more than anyone else, he worked harder than anyone else.
"Honestly, I'm tired," said Ferrandis back at the Monster Energy/Star Racing Yamaha truck, clutching the #1 plate. "Last week after the race I was really bad. After the race I had to visit the medical crew. I think, my body, I've reached the limit. I'm at my limit at what my body is capable of doing."
That's the way Star operates. They extract the maximum from everything. It comes from the top, with team owner Bobby Regan, who has explained his ambitions to have a 450 team, pack it with talent, and keep his massive 250 pro and amateur operation rolling as well.
"Jason, we don't care about money," Bobby told me during the off-season. "We just want to win."
"I've been at this team five years now, they have the same mentality as me," says Ferrandis. "They have no life! The wife, the kids, they put life aside and do all the work for the sport and for the win. The only thing they want at Star is winning. I trust them, and the same thing with DV [David Vuillemin, his coach and trainer]. His program is only for winning. It's not for having fun. It was hard, every week is hard, but the result is here."
How much sacrifice does the Star team put in? Consider Ferrandis' mechanic Alex Campbell, who moved to Florida this summer to work at Star's new facility at the GOAT Farm. Campbell and his wife didn't have time to sell and buy a house during the racing season, so Campbell just shacked up and lived on the farm while his wife stayed back in California. He did not even see his wife for more than two months!
"When you have Dylan as a rider—he literally moved here for this, he lives, breathes and dies for this," says Campbell. "Every single thing he does is based on what will make him better on the weekend. Dylan is hardcore like that—you're either fully in the program or you're out. When you have someone who is putting in 120 percent like he is, it's tough not to do the same.
"There are times when you question yourself. You're 90 hours into a week and you're like 'What am I doing with my life?' I do his practice and race bikes. You wonder what you're doing with your life, then you realize, this is Dylan's life. This is all of our lives. You have to be somewhat special in life to leave no stone unturned and work this hard for something."
There's a relentlessness to the Ferrandis and Star programs that keeps coming through. Star was already the best 250 team of this era, but it took on the task of fixing Yamaha's YZ450F fortunes. The Ferrandis title goes a long way, but it's just the beginning. The team will move its entire race shop to the GOAT Farm in the off-season. Eli Tomac is coming to the squad. The relentless pursuit continues.
Even for Ferrandis, whose body is at the limit, there is no rest. Campbell was hoping to fly to the race early this week so he could finally see his wife in California again. But work was calling.
"So, this week, I asked Dylan if we could ride early on Wednesday, so I could book a flight to come home Wednesday night. I could see my wife 12 hours earlier after being gone for two months!" Campbell explains. "He says, 'Yeah, no problem.' Then we get that hurricane or whatever, and it rains and we don't start riding until 3 p.m. I say, 'Dylan, my flight is at 6:30 I don't think I'm going to make it.' He says, 'Do you think I control the weather?' That's when you click back to, we're here for one reason. I changed my flight. It's small things like that, but you have to respect how gnarly he is. I asked him, 'Do you really think we should ride if it's muddy? Pala is not going to be muddy and we have a 50-point lead right now. How much better are you really going to get with one day of riding?'
"His response was, 'Do you think James [Stewart] or RC [Ricky Carmichael] would have rode?'"
"I don't even think I texted him back," said Campbell. "I just showed up so he could ride at 3 p.m."
"I think it has been in me since forever," said Ferrandis. "Last year I won supercross and motocross in 250s so that showed it was there. I dedicate my life to my sport. This year I was just at the top for myself physically and mentally. It's going to sound cliché it's just hard work. I don't think anyone in this sport is putting in more effort than me. I do everything to be better, day after day, Sunday, Monday, every day. I do that for so many years."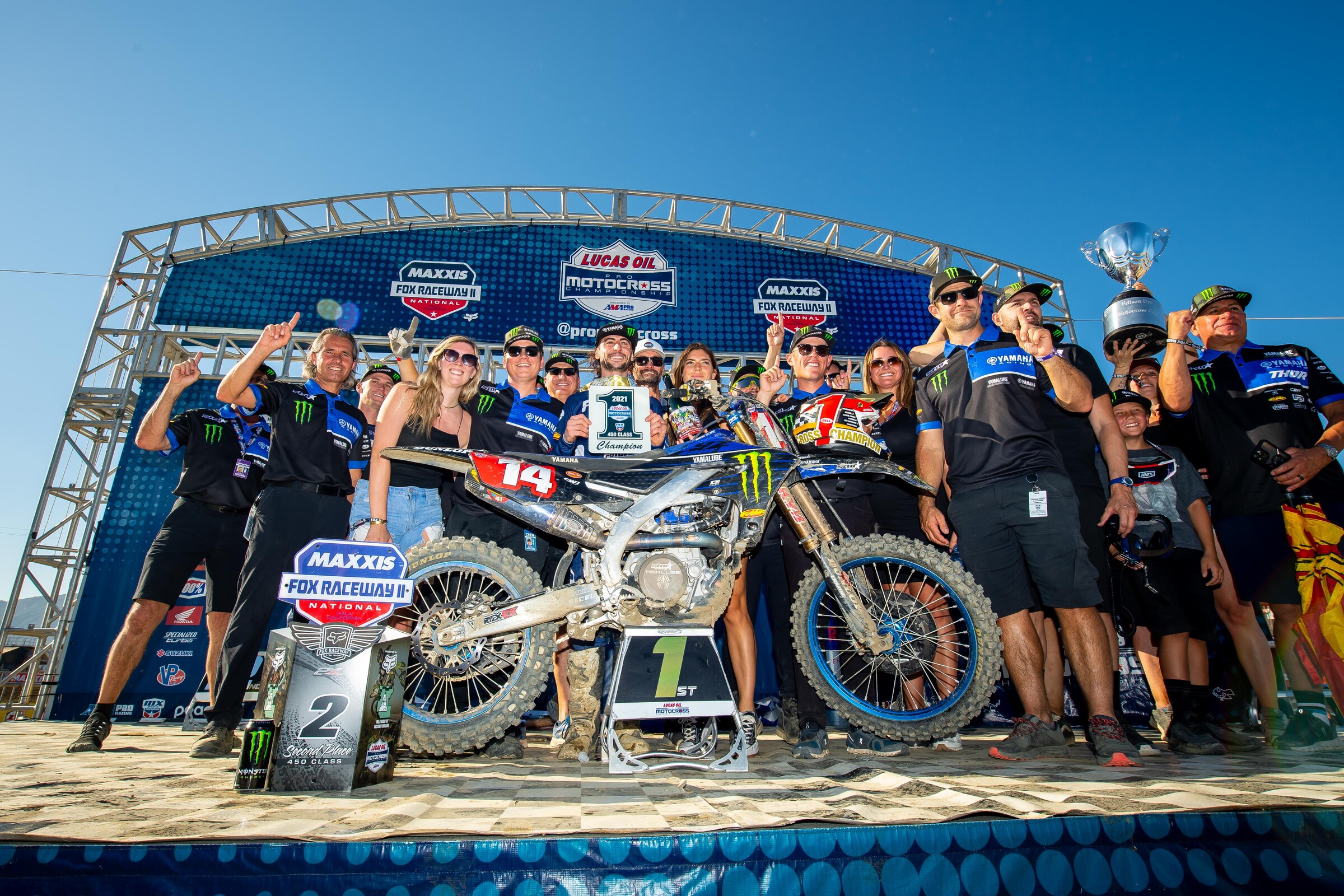 This is an unorthodox group. The YZ450F hadn't had much sustained success, Ferrandis wasn't a blue-chip prospect like Eli Tomac or Ken Roczen. Vuillemin had worked with riders before, but never with this level of success.
"It wasn't easy to get to this point," said Ferrandis. "At one point I had to sit with people and make a good decision. I had an option to go somewhere else when I went to a 450. I could have went with a different brand [Ferrandis was in talks to potentially move to the Troy Lee Designs/Red Bull/GasGas Factory Racing team, a spot that ultimately was taken by Justin Barcia]. I sat down with the people that I trust, and I said, 'What is the plan now?' They told me the plan."
Brad Hoffman is now called the Team Principal for the 450 operation. He was once known as the guy who packed all that horsepower into the YZ250F. Even he didn't know how the 450 program would go.
"I knew we had good people and a good team, but I guess the uncertainty was, I think everybody kinda thinks we have a big advantage with the motor in the 250 class," said Hoffman. "Everyone who has done this for a long time knows you're not just going to build a good motor in the 450 class and win. Everyone kinds of wants to pin it on one thing, but it's really everything. The training programs, the people, the engine, the suspension, the weight of the bike. Managing riders, the psychology of the sport. You have to have all of that, you can't be weak in one area."
Motocross
| Position | Rider | Hometown | Points |
| --- | --- | --- | --- |
| 1 | Dylan Ferrandis | Avignon | 531 |
| 2 | Eli Tomac | Cortez, CO | 458 |
| 3 | Ken Roczen | Mattstedt | 446 |
| 4 | Cooper Webb | Newport, NC | 358 |
| 5 | Chase Sexton | La Moille, IL | 342 |
Full Standings
Star's success began to rise with Yamaha's redesigned 2014 YZ250F, with the reversed engine design. Since then, it's been hard to separate the success of the team from the success of the base bike platform. Is it really Star Racing, or was Star Racing just the factory team that got lucky enough to work with that engine? Turning around Yamaha's 450 fortunes proves there really is a secret sauce to the operation. The secret, of course, is hard work.
"I'm glad it played out like that," says Hoffman. "So now we're not just good engine builders on the 250 side!"