Pala, CA
Fox Raceway 1
Lucas Oil AMA Pro Motocross Championship
It's a pretty simple situation. The new young hot shot from the 250 class jumps up to the 450 and shows speed immediately. Fast qualifying laps. Speed in the races. But also, crashes. That has, for better or worse, been the case now with Chase Sexton just like it has been for so many others. Sexton jumped into 450 racing for the first time at the Lucas Oil AMA Pro Motocross Championship opener last year, and the two-time 250SX East Region Champion took the fastest 450 qualifying time at the opener. Then, he crashed in the race. He was fast throughout the summer and ultimately logged an overall win at the season finale at the Fox Raceway National in California.
Same story for Sexton's rookie 450SX run in Monster Energy AMA Supercross this year. Fast, but crash. He's trying to prevent that from happening again for this Pro Motocross campaign. He can't be certain he's eradicated the crashes, but he has a few reasons to think so.
"I think in the past my speed has always been good, I always qualify good and I always have good lap times. So now I'm trying to get longer distance, longer motos in, instead of sprint speed," he told me in a call last week. "Qualifying first is cool, but it doesn't count for anything. I'm just getting my endurance up. I haven't had this kind of time to do motos like this before."
It's not really endurance that was a problem, though. Sexton wasn't crashing because he was tired. He actually mentioned the 450 adjustment as the biggest issue.
"One thing this year, my feeling on the bike is better. I never really felt comfortable outdoors last year," he says. "Not that I didn't gel with the bike, but just learning how to ride a 450 is a lot different than a 250. This year I've felt more connected with the bike, more like I used to when I was on a 250. That's where the joy comes from, too. When you feel good on the bike everything comes easier. But I could be completely wrong. I could get completely smoked at the first race! We'll just have to see."
What's better about his bike this year? It's a combination of the gains with the all-new 2021 Honda CRF450R, and then some settings they found late in supercross.
"The engine on the new bike, I'd say last year [the 2020 Honda] it was pretty torquey but it didn't have a lot of over rev, it didn't pull that long," said Sexton. "I rode the new bike [2021] the week after Pala last year and I immediately could tell that it pulled much farther. It is not as fast off the bottom, so that's nice. It's tamed down."
"Chassis wise, we found something in supercross at the last race. We tested in the whoops all week heading into the last race, and we found something with the shock you can do in outdoors as well. It's been good so far. I went right to that and haven't changed much with the shock. I felt good right away."
Drilling down more specifically, Sexton said several times in supercross that he was searching for traction. That was the big difference between the 250 and the 450.
"The 450, I never felt I had a great connection with the rear wheel to the ground," he said. "I always felt like I was skating. All of my crashes this year, well, besides the last one at Salt Lake, I felt like they were all the same. The traction was gone in a split second and that's when I hit the ground. With the shock change before the last race, I instantly felt more connected to the ground, and that's what I was looking for. I feel more like I had on the 250. You always feel like you know what's it's going to do. With the 450 I never felt like I knew what it was going to. So that's what I mean with the focus thing. I felt like I had to keep on my tippy toes the whole race, because I didn't know what the bike was going to do. Now I feel like I have a little bit of comfort, I have a feeling of what's going to happen."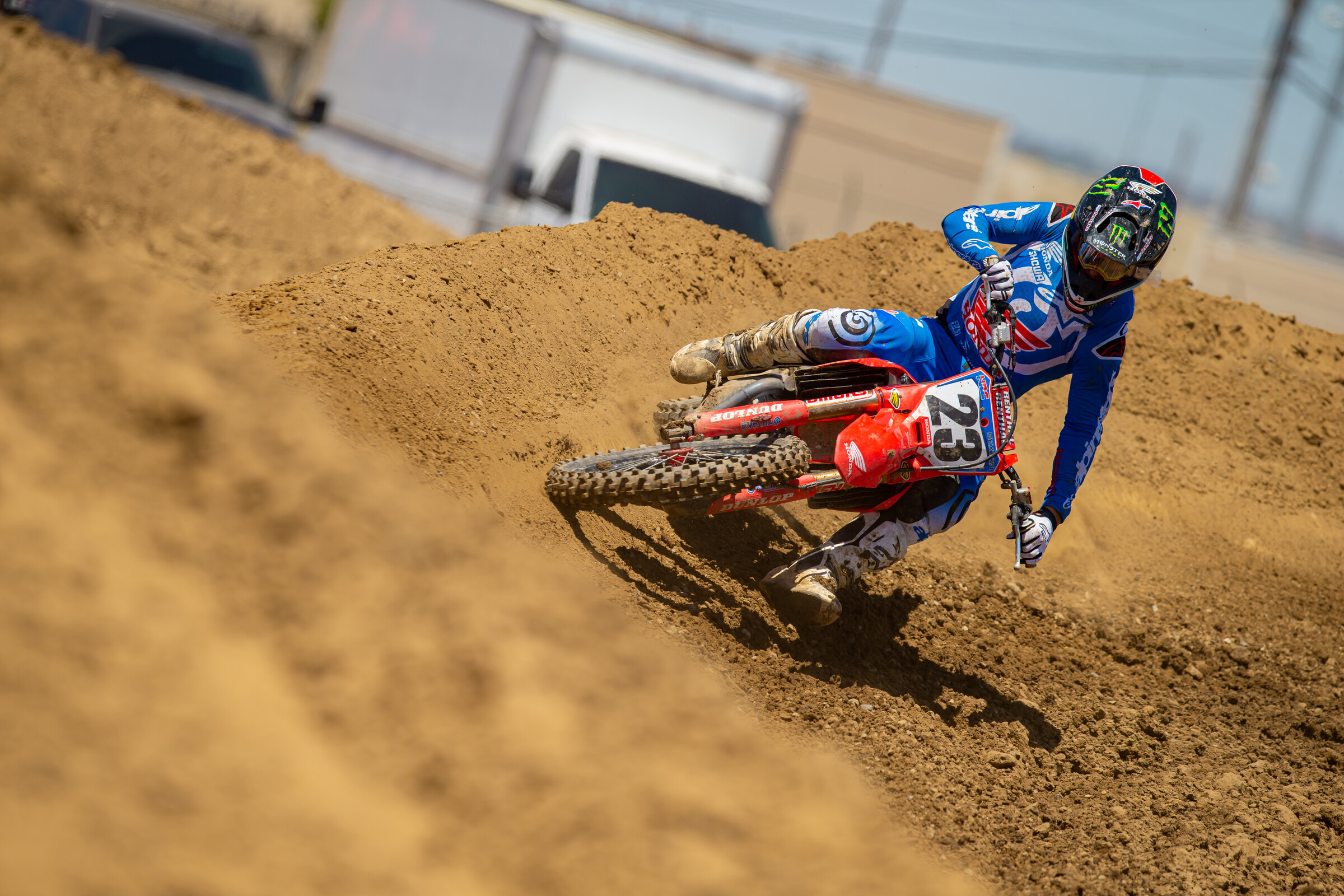 So the speed has always been there, and Sexton has taken steps to help with the consistency. Longer motos, better settings. How will he actually do? He can't be totally sure. While he's done some of the usual Stopwatch National riding with his pro peers down in Southern California, he's been hanging out up North of Los Angeles a lot, too, where his trainer, Peter Park operates [Sexton still has James Stewart as a riding coach, and he'll head back to Florida and ride at the Stewart Compound once the nationals head East]. While he's ridden some with his teammate Ken Roczen, he also says he's been by himself more than ever, both on and off the track. He's even taken up surfing as a new hobby. He's more relaxed than usual.
"I've been going to public tracks as well, but I've been trying to stay away from the public scene," he said. "It just gets so crowded. The team has been renting [tracks] so we've had some private days. I've been riding with the top pro guys, other teams renting tracks as well, so that's been good. Been fun. I don't know what it is—California is way more enjoyable on the beach side of the mountain instead of the other side. I finally figured that out, so the stress side is down."
Watch Sexton and more in action on May 24 at State Fair MX below:
Sexton has done all he can to shore up his weaknesses and come out swinging. Remember, he won the overall the last time the series raced at Fox Raceway, which hosts the opener this weekend. But he's learned not to stress lap times, the result at one race, or really focus on anyone but himself. By taking the right steps to make himself better, he hopes to switch from race winner to title contender this summer. With these steps, even the hardest parts of racing seem a lot easier.
"Having last year outdoors, learning the 450, and then having more time on it in supercross, I'm feeling pretty good," he says. "I've been having more fun than I have had in a long time. I've been doing a lot of longer motos, 40 minutes. Usually [a moto that long] I will want to pull off, but I don't know what it is. I'm just having a lot of fun."
---
Main Image by Spencer Owens