Pala, CA
Fox Raceway 1
Lucas Oil AMA Pro Motocross Championship
For some riders, an injury like this would be a big issue. Zach Osborne has been through it all, though, so no matter the obstacle, he just builds a plan to go over, around, or through it.
"It's a disc herniation and it's improving bit by bit, but it just takes forever and there's no straight-forward answer. Even if I took three months off, they don't know for sure if it would get better," Osborne told me yesterday. His last race was the Orlando 2 supercross in late February. "It's just case by case and you never know what you're gonna get. It's just frustrating because with a broken bone the recovery time is pretty set, but this is like chasing ghosts, in a way. One thing will help for a little bit of time and then it won't. I've tried a lot of things. It's a bit of a journey."
That doesn't sound good. Osborne has been going to therapy three days a week. At home, he's even bought his own equipment, what he calls his "own little therapy center." He says he's "retired" from using a rowing machine for training, and he hasn't been able to ride his bicycle during this injury stint. He has taken up roller skiing as training, but he's actually happy about it because he can make big gains in a sport that's new to him. Also, in typical Wacko Zacho fashion, he says he has a secret obsession with the sport of Biathlon (skiing and shooting) and would like to even compete in a big roller skiing race this fall! For Zach, there are never limits on his interest in competition.
Still, it's the dirt bike stuff that pays the bills. While coming back from the injury, does he actually think he can manage the series and win this title again?
"If I didn't think I could have a good season, the next step would be back surgery," he says. "I'm not keen to do that. I feel like I'm in a decent enough spot to where I'm stacking days, I'm getting faster, and my fitness is really good. I think the tale of the tape will be High Point or Southwick, we'll see what I have. Pala has never been my strongest point or strongest track. I'm just going to go there and take some top fives—same as Thunder Valley unless the conditions really suit me. I think we'll know more by High Point, because that will be two weekends under my belt, and then a weekend off."
For some riders, rolling into the opener already only hoping for a top five would be a crusher, mentally. Osborne has been through hell and back in his career, though. If he doesn't make the podium at the opener, it won't wreck his spirits.
"It's a lot of pressure to start with red plates or #1 plates, but this is what I've been dealt, I just want to get something going and build from it—as much as I hate to say it," he says. "It's not ideal, but I'm also old enough to know the first two rounds aren't the end of the championship. I think my most impressive stat is, I've raced 40 450 motos and been top 5 in 36 and that includes the flat last year at Millville. I can rely on that a little bit. Just keep plugging away."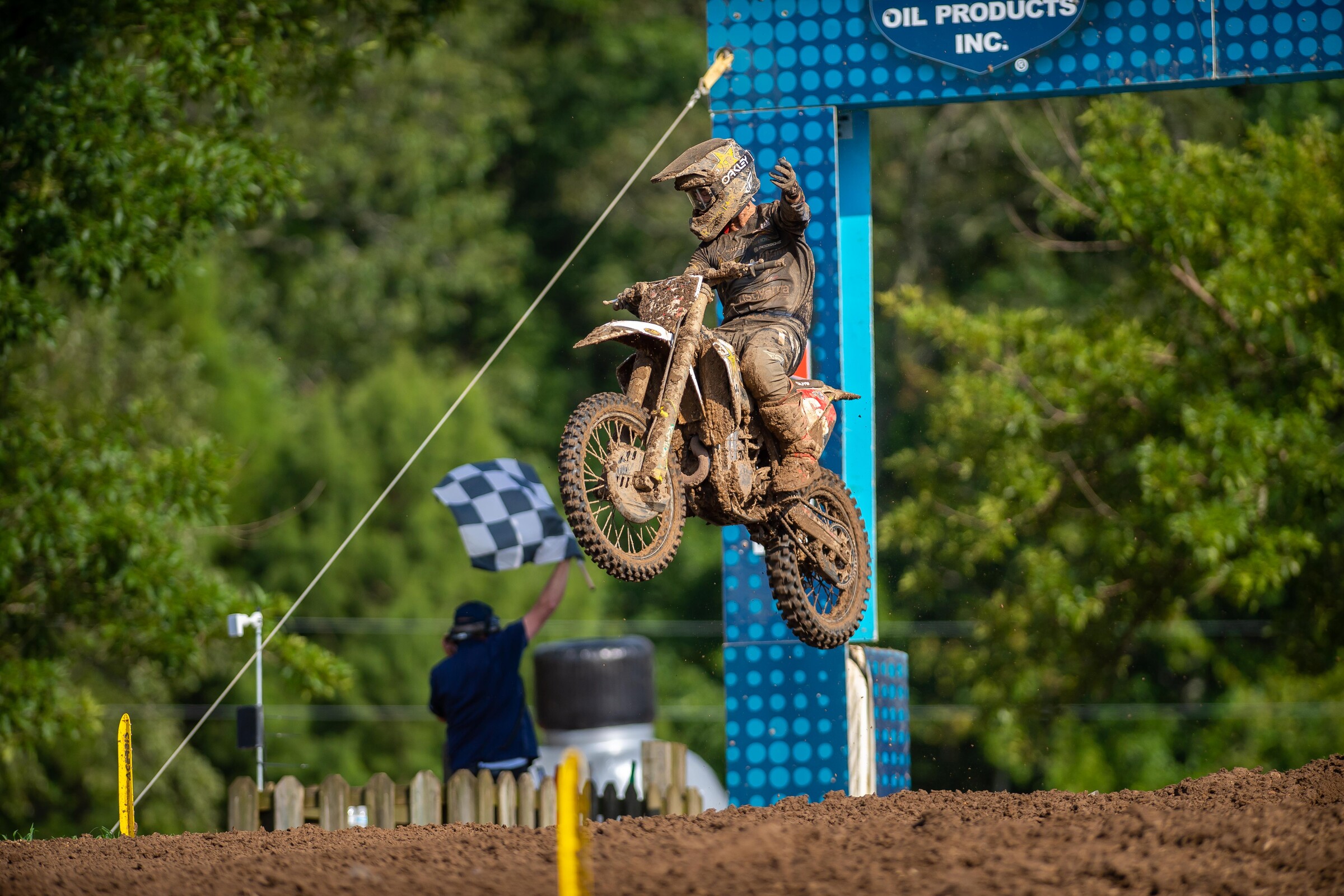 One good thing for Osborne is that he didn't really miss any testing time. Because he usually doesn't test much in the pre-season anyway. Riders will tell you that outdoor settings feel foreign after they jump back on the bike from supercross. Instead of accidentally heading in the wrong direction, Osborne usually just gets on his bike from last year's finale and rides it. He'll do that again this year.
"We all get faster as the season goes on, I'd rather just ride the bike I was on when I was at my fastest last year," he says.
Here is where Osborne's experience comes into play. He has an injury, but he also has a plan. Although he won the title in last year's nine-race sprint to get the season done, which included rare fall races, Osborne welcomes a longer 12-round series in the heat and humidity. That's where he strength, toughness and tenacity can pay off the most. He hopes to take advantage of that. Hotter weather that requires heavier track prep. The deeper they dig and water more, the deeper the ruts, the more Zach likes it. He thinks he can wear his competition down when it gets hot and rough.
"It's doable," he says of his championship hopes. "It's like last year—you have to ride those swings of momentum and crush those waves of bad momentum. You have to squash those little fires before they turn to wildfires."
In fact, that's what Osborne has been doing since he first hurt his back in March.
"This has been one of the toughest periods of my career, with the success I had last year and the speed I had this year in supercross. To have a stupid thing like this injury derail that, it frustrates me," he says. "More from a mental standpoint. The pain isn't so bad unless I do something really bad, and it flares up. There's a plan, I need to keep my head down and keep grinding to make it happen That's the tale of the tape for my career, a dark patch is followed by a bright path. So, hopefully that's the case here."