Eli Tomac exploded onto the pro scene like no one else. He literally won the first race he ever entered, at Hangtown in 2010, which is a mark even all the other great phenoms, amateurs, and grads can't match. But the Tomac plan was never about one historic shining moment. This has always been about the long game. The story goes that Eli, in his amateur days, was actually held back from riding too much. His dad, the legendary John Tomac, knew burn out was a real factor in cutting careers short. When Eli clinched his third-straight 450 National Championship in Lucas Oil AMA Pro Motocross Championship back in 2019, I corralled his parents, John and Kathy, for an interview during our Best Post Show Ever. I asked John about his philosophy. He talked about Eli not riding all the time until the Supermini days. Not going all-in during the 50cc years. And more.
"It doesn't work," John said. "Because I raced professionally, I know how many years you have in the tank at a professional level. So, I always tried to hold him back.
"We didn't overdo it, for sure," he continued. "Especially time on the bike, in those days. All the way through those minibike years, even on to the Superminis. There would be people who I'm sure were on the bike way more than we were."
Watching the amateur scene, you could almost see it kick in. Eli was very good as a minicycle rider, but he joined up with the potent Factory Connection Honda squad when he jumped onto the big bikes. He showed up at Loretta's on a CRF250R, and he had gone next level. Eli was no longer in the mix; he was ahead of the mix. He was gone. He blasted everyone. Nine months later he was off to Hangtown and history was made.
Again, it was never about one race, and certainly never about the very first one. The real goal was to do the winning for a long time when it counted, as a professional. Amateur wins are needed to get on the right team and equipment, but the peak must come when you're getting paid the most. No one even remembers the amateur stuff by then, anyway. It's the right plan, for sure, but it's hard to hold back. It probably helps that both of Eli's parents have raced bicycles at the highest level, so they understand how to resist the early taste of success and not go all in instantly. They've already been there.
"In this sport, especially, you really can't count on it," John Tomac said back in 2019. "It's a gauntlet to run it all the way from amateur to pro, but then, certain kids, you can see they have a pretty good chance. Then you just have to guide them the best you can. You have to avoid all the pitfalls and injuries that can come along with it. You have to be smart. You have to be patient."
Patience. That's not always something you hear about when developing a young rider.
So, the goal wasn't just to win early, it was to keep winning. We always heard about the Tomac long game and I believe, 11 years after that amazing opener, we're seeing the plan come to fruition. Eli Tomac was all over the news last week for switching brands. He'll finish out this summer with Monster Energy Kawasaki but move to Monster Energy/Star Racing Yamaha next year. There are so many thoughts and rumors and opinions on why, but there's one key component that gets overlooked. Regardless of what team Eli Tomac races for next year, it's a big deal that Eli Tomac is racing next year! He's arrived at a career stage when many riders at his level retire. He's dealt with a decade of pressure, he's made plenty of money, he's started a family, and he's accomplished his goals. Yet ever since the pandemic led to a pause in racing last March, he's been talking about loving riding and racing more than ever. Now he's gonna load back up, try something different and hope he gets his supercross title back. The sport is never well served when its stars retire with wins still on the table. Eli might not have won the Monster Energy AMA Supercross Championship this year, but he still won races and he will win more. This upcoming Lucas Oil AMA Pro Motocross Championship is hard to predict, but obviously it's possible for Tomac to win it again. Then, next year on the Yamaha? I mean, if we didn't think Eli Tomac was still good, still a factor, then this wouldn't be a big deal.
So, Kawasaki and Tomac will no longer be together at the end of this season, but they worked in lockstep for a while. From what I can tell, both sides have a similar philosophy, which is that riders only have a set number of great races in them. You need those races to be the right races. I've talked to Kawasaki racing boss Bruce Stjernstrom about this quite a bit. He's been around forever, and he's seen the career arc for all the greats. His philosophy is to harness that greatness as efficiently as possible, in the races that count for points and championships. It's been a controversial decision, as Eli skipped a lot of off-season events during his Kawasaki tenure. Yes, that includes big ones like the FIM Motocross of Nations, besides one appearance at RedBud. He raced some USGP's and the Monster Energy Cup due to obligations to Monster Energy, but otherwise it's been AMA points paying events only. When he didn't race, his explanation, always, is that you can't do every race without getting burned out. By sticking closely to that pattern Eli rolled up to the gate in nearly every points race since he joined Kawasaki in 2016 (he missed only one race, Houston in 2018, due to a shoulder injury suffered at the opener). This is a remarkable and underrated run of durability. Heck, that's a reason right there to believe Tomac could win the title this summer. He will be there for 24 motos. That improves the odds exponentially. Still there. Still showing up.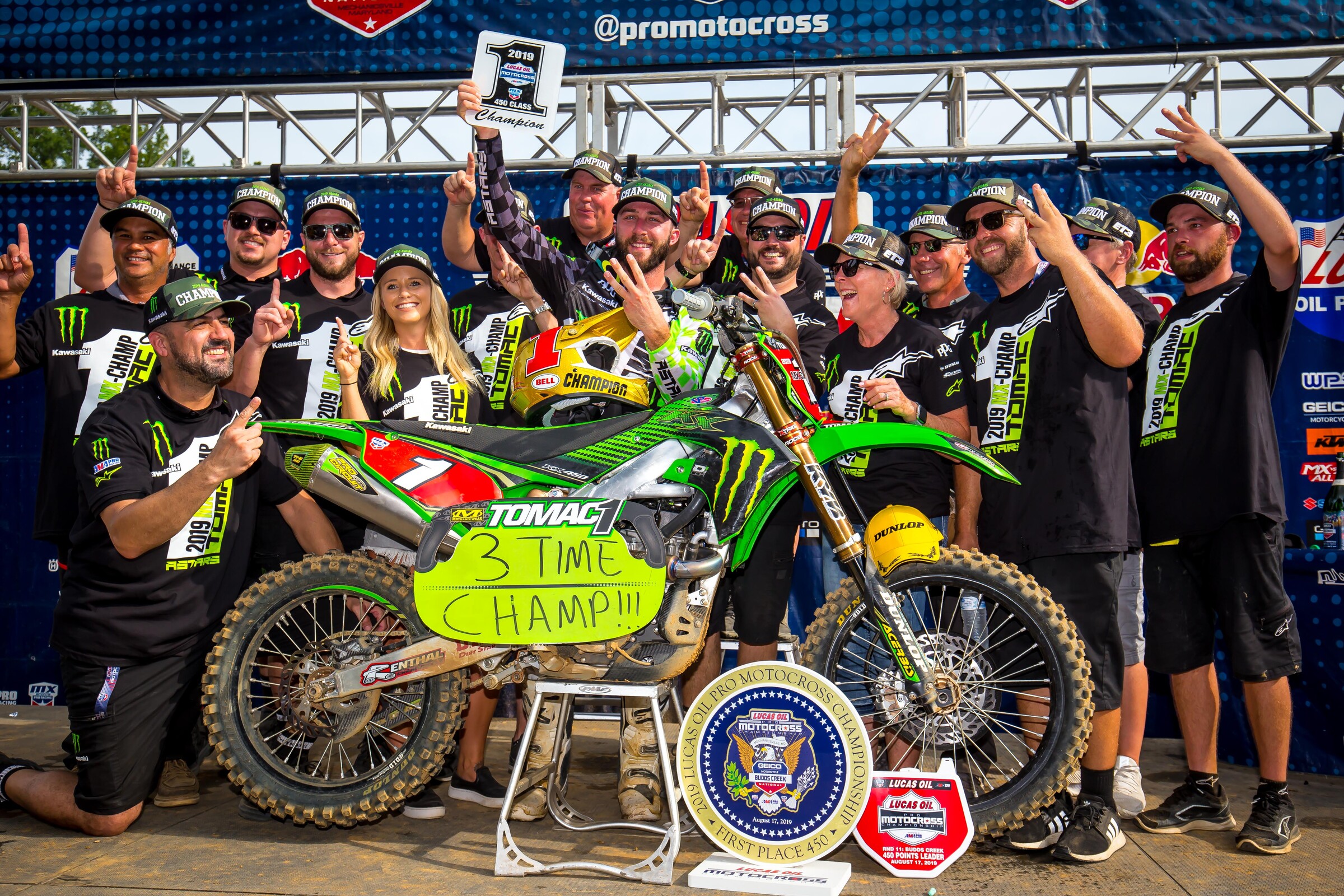 With a program built around avoiding burnout, Eli will make another run at a career stage when others at his level have walked away. There's no guarantee of success but continuing to go to the gate is the first step.
"I do know the future holds another year for Eli Tomac," Eli said in Eric Johnson's interview with him last week. "Yeah, I won't be done this season by any means. You can count on Eli Tomac for at least plus 1."
By 2022, we're talking about a 13th professional season. Without so much effort to avoid burnout in the first place, you probably wouldn't be talking about him at all.