Every rider starts the season on his best foot, confident that his bike, training and outlook is better than ever. We have all heard stories of "best shape of my life" and "faster at the test track" before, so much so that today's riders tend to avoid saying such cliches and building the hype.
Still, deep down everyone always wants to get better. That also means if one rider improves, so does his competition! Since we have a nice two-weekend break in Monster Energy AMA Supercross, we thought it was a good time to compare points from last year and this year in The List.
Note: These standings are based off top 10 in 450SX points after round 12 of 2021.
After 12 rounds of 2021: 275 points | 1st
After 12 rounds of 2020: 246 points | 3rd
Obviously Cooper is improved this year with six wins and the points lead, compared to one win and running third in points last year at this point. His Arlington crash a year ago gets the most blame for derailing his title defense, but that is operating under the assumption that Cooper was just about to go on a roll at that point. He had only won once in the seven races before Arlington last year. But this year he had only won his second race by round seven (and, let's face it, the Houston 3 win was a bit of a gift). Would Webb had put on a mid-season charge last year like he did this time? If you're an Eli Tomac fan, you say no. Either way, this time Webb caught fire at the halfway mark and is nearly 30 points ahead of his 2020 total. That's not just from Arlington last year, either, because that was a Triple Crown race and Cooper got credit for 12th place points.
After 12 rounds of 2021: 260 points | 2nd
After 12 rounds of 2020: 262 points | 2nd
Look at this! Ken has scored almost the exact same amount of points through 12 races last year and this year. His 2020 total at this point was two points higher. Stats like this are why it's fun to write pieces like this. You've be surprised what you learn.
After 12 rounds of 2021: 234 points | 3rd
After 12 rounds of 2020: 275 points | 1st
You didn't need a chart to tell you Eli's not on the same championship-points pace as last year, but here is what is shocking: After 12 rounds last year Eli had the exact same amount of points that Webb does this year. Guess you can call that is the points leader pace.
After 12 rounds of 2021: 214 points | 4th
After 12 rounds of 2020: 225 points | 4th
Barcia appears more consistently at the front on the Troy Lee Designs/Red Bull/GasGas Factory Racing MC 450F than he did with Monster Energy Yamaha in 2020. However, the points show he is actually a few points behind where he was in 12 rounds last year. Keep in mind Barcia lost a ton of points with that Vince Friese crash in Indianapolis last month, where he dropped from third to 19th. Also, round 12 last year served as the second round of the Salt Lake City 7, which did not go well for Barcia and his Yamaha. If Justin keeps up his current results he will likely pull ahead of his 2020 total. Also: same top four guys in 2021 as at this point in 2020. The more things change…
After 12 rounds of 2021: 183 points | 5th
After 12 rounds of 2020: 147 points | 10th
Now we're talking. This is a dramatic improvement of nearly 40 points, which lends some validity to claims that Monster Energy/Star Yamaha Racing would improve the YZ450F supercross program. Lately AP has been even better than he was at the early races, so this is the proverbial "something to build on." A year ago AP was 10th in points after 12 races.
After 12 rounds of 2021: 179 points | 6th
After 12 rounds of 2020: 180 points | 6th
How about this for consistency? Malcolm has almost the exact same points total as last year and is in the exact same rank in points, sixth. One always gets the feeling that first podium is around the corner for Mookie. He's definitely got the "solid 5-10 guy" part wired.
After 12 rounds of 2021: 171 points | 7th
After 12 rounds of 2020: 208 points | 5th
Our first difficult comparison. Anderson had way more points at this time last year but he did miss a race in Indy early in this season, and his overall start to the season was sub-par, although he's not telling why. Lately Anderson is right back around his 2020 level.
After this point in the 2021 standings comparisons get a little tougher, as the 8-10 spots in the current points include riders who didn't race in 2020.
After round 12 of 2021: 153 points | 8th
NA| Did Not Race 450SX in 2020
Ferrandis' rookie 450SX season almost began with too much hype, as his runner-up ride at round two was really, really impressive. He ran through most of the 450 field and was catching Eli Tomac for the lead at the end! That didn't end up signaling a huge rookie run, as instead Ferrandis has been good but not world-beating. For a first season, just making all the races would be a good accomplishment. So far so good.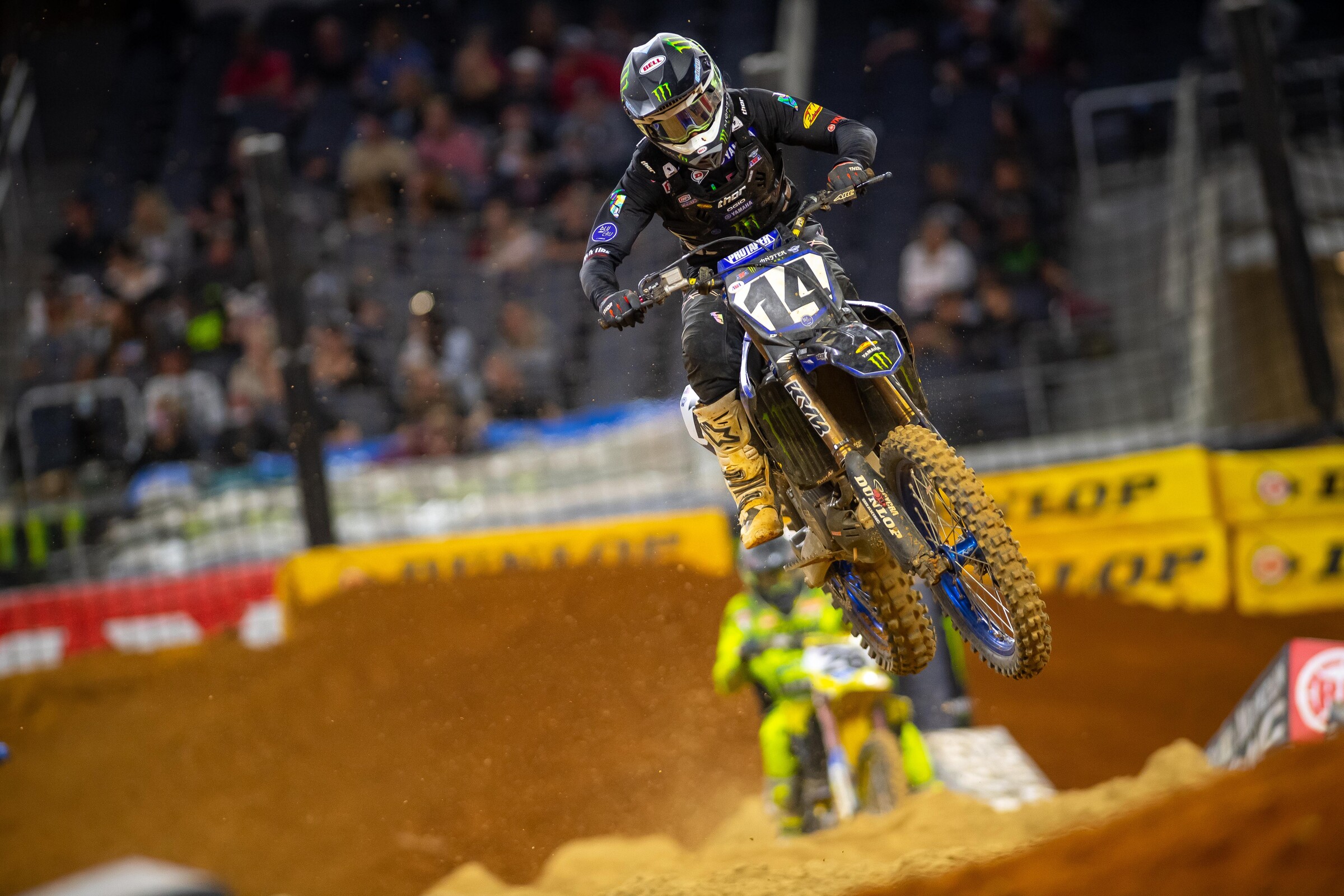 After round 12 of 2021: 138 points | 9th
NA| Did Not Race 450SX in 2020
Good to see Joey back after missing all of last year with a broken heel. Of course he would like more, as does everyone at this level, but he's shown he still knows how to ride a motorcycle.
After round 12 of 2021: 136 points | 10th
NA| Did Not Race 450SX in 2020
Sheesh, anything bad that can happen has happened to Marv this year. Bad starts, early race crashes, bike problems, and more crashes. Just a rough return to supercross for Marv, although inside of all that we've seen signs that he can still be the old Marvin.
Other notables
After round 12 of 2021: 123 points | 11th
After round 12 of 2020: 144 points | 11th
After winning the final race of last season and then taking the Lucas Oil AMA Pro Motocross Championship #1 plate, Zacho sure seemed set for another surge forward on the 450 this year in supercross. Well, he was fast enough at the early races but bad starts, crashes and other stuff hurt his results, similar to Musquin. Now Zach is out with injury. It has resembled his previous two 450 SX seasons much more than he would like.
After round 12 of 2021: 123 points | 12th
After round 12 of 2020: 129 points | 13th
Same for Adam as Zacho. He was expected to be better in 2021 for his second 450 season, although he did come into the year slightly off due to some off-season surgery. Regardless, it looked like Adam was bounce and determined to fix his mistakes of the past and just be consistent and quiet if it wasn't his night. Then he crashed out in the whoops at Orlando. Man, he has to be so bummed.
After round 12 of 2021: 91 points | 16th
After round 12 of 2020: 121 points | 14th
Marty had some crashes early in his 450SX rookie campaign last year but he ironed that out. This year was actually more crash-filled early, but he's recently shown signs of straightening it out again. Davalos and Cianciarulo prove there's no certain timing for when the 450 results begin to fall into place. Although that tends to happen more often in year three, Osborne will tell you it's not always that easy, either.