Arlington, TX
Arlington 2 (West)
Monster Energy AMA Supercross Championship
It's well understood that when Cooper Webb gets the confidence rolling, the rolling doesn't stop. Cite 2021 as another example because the Red Bull KTM man has caught fire at the right time, now collecting four wins in the last five races—with only a second place as his streak breaker—after his win on Tuesday night in Arlington, Texas.
Webb already had momentum after his win on Saturday night, but he found a way to gain yet another boost this time. First, he overcame some adversity with a crash in the whoops during practice. The crash looked bad but could have been worse, with Webb saying he took a blow to the face—but then adding that sometimes a crash can get you fired up. What really made him happy is how his main event unfolded. Cooper nailed the start but had prime contenders Eli Tomac and Ken Roczen right on his bumper. No excuses, this would be a straight-up fight, and Cooper was ready for it. Roczen lost touch but Tomac stayed there nearly the whole way. The defending Monster Energy 450 Supercross Champion didn't make a move, though, and then a late race mistake allowed Webb to escape with a gap he would not relinquish. A win like that over Tomac and Roczen? Yeah, Webb will take that.
"It's not often that we're all three up there," said Webb. "Getting the holeshot was key to that. Even though we were all there, the holeshot was super important tonight. But yeah to race and get the win tonight was incredible and rewarding, even for the fans, too. To be able to race up there and get the win was super exciting."
Monster Energy Kawasaki's Tomac looked to have a little more speed than Webb at times but couldn't find an opening, and then Webb figured some things out.
"I know he was doing some different things at the beginning with the triple onto the table, and I was trying different things, jumping and then skimming whoops," said Webb. "There were a few things I could hear behind me where he was catching me, and I felt like he was getting a pretty good run on me in the whoops… It's tough in that situation. The track's changing every lap and you have someone on you, and you don't know how close they are. You don't know if you can start to open it up or if they're going to be able to get by you."
Hard to believe we've arrived at a time when the likes of Tomac and Roczen can take moral victories from mere podiums, but that's where we are. Tomac was only eighth two days ago in this building, and Roczen had missed the podium in four-straight races. Tomac actually admitted he's far enough back in points where the title pressure is pretty much gone for him.
"It's been a few races where I feel like that [championship] weight has been lifted off me, said Tomac. "It's nothing you want, right? I was just glad to have a better race in a stadium environment. Outside of Daytona. It was a good start, better riding throughout the whole main. It was a good push, just not enough in the end."
Roczen addressed the comments he made in anger about Webb after the Daytona main event, which was then followed by perhaps his worst ride of the season two days ago for Arlington 1.He has no regrets.
"I said what I wanted to say," he said. "Now fingers get pointed with how my races have been. I knew that before going into that, that fingers would get pointed. Obviously, this is in the past and I haven't been on the podium lately. I've been trying different bike setups lately and they haven't worked out, so I went back to old faithful today.
"Obviously, he's on it right now," said Roczen of Webb. "Realistically, the only bad race I had was last weekend and points can turn around quickly. We've still got six rounds to go, and I just want to focus on myself… In the end is when it counts and I'm keeping the dream alive and of course he's winning a lot right now but I just want to go out there and do what I love and keep it close so we can take it all the way to the end."
Justin Barcia didn't make the podium but he logged one heck of a ride from the back. Listed as 12th at the end of lap one, the Troy Lee Designs Red Bull Gas Gas rider charged to the front, passing the likes of Aaron Plessinger and finally Chase Sexton to get to fourth place. Barcia used a slick inside line in a 180 turn to make the moves he needed—passing has been at a premium for everyone in 2021 but Barcia figured out a way to get it done, and, without roughing anyone up either.
"My riding was awesome in the Main Event," said Barcia in a team statement. "I just pushed through and got as far as I could but unfortunately missed out on the podium, which is frustrating, but all-in-all it was a good ride and I'm looking forward to getting back up on the podium on Saturday. The bike is really good, the team is good and I'm good, so we just need to nail those starts and we'll be up there."
Also logging an impressive comeback was Jason Anderson. The Rockstar Energy Husqvarna man, on the podium here two days ago, went down in turn one and came back from 19th to seventh with some slick moves. Well, one move was a little too slick, though. Plessinger knocked Vince Friese down, which led to a traffic jam, and Anderson ended up riding over a tough block to get free—and then pinning it down the side of the whoops. He was penalized one position for that, so his sixth becomes a seventh.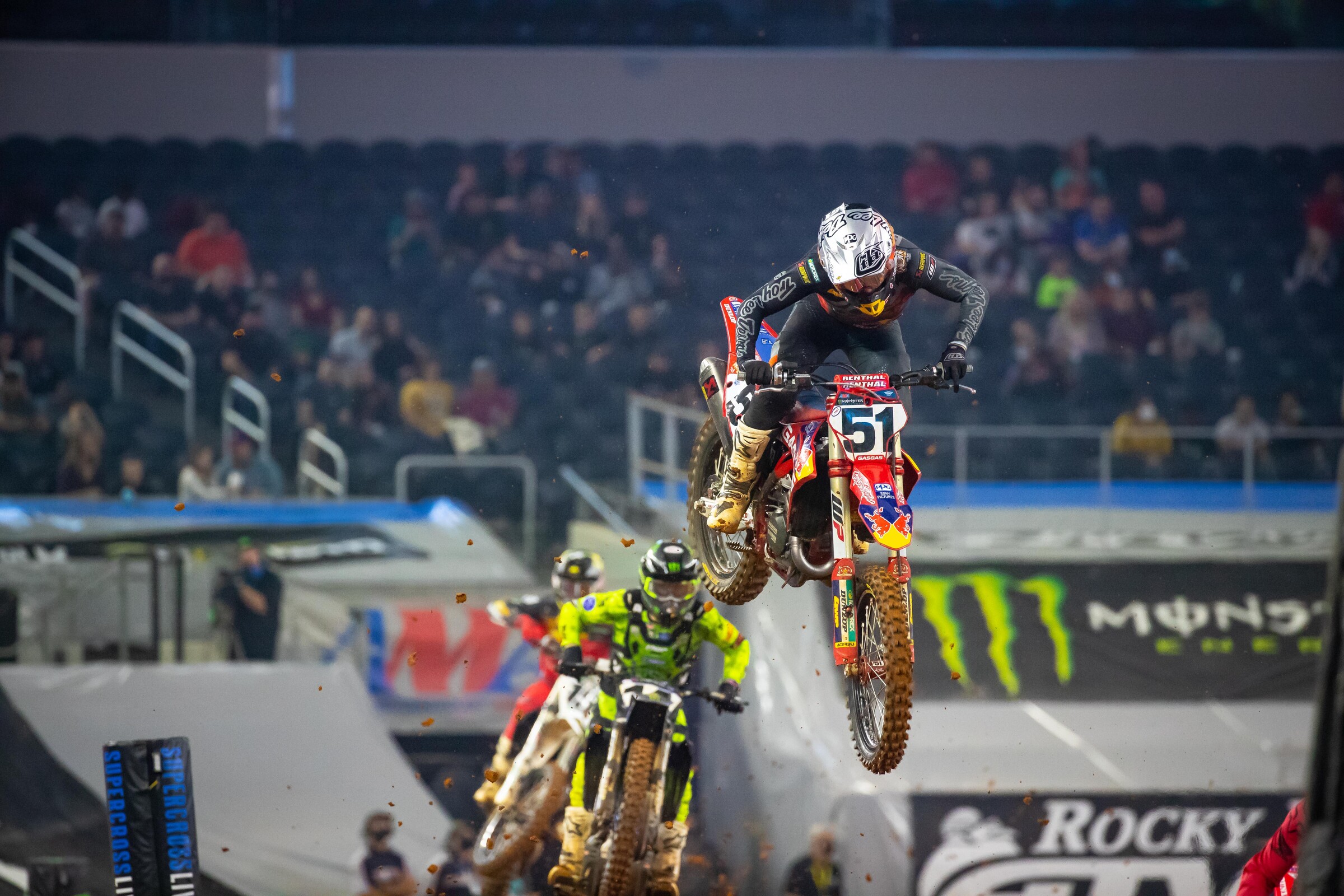 Sexton was a solid fifth, a good backup to his fourth from two days ago. Plessinger, looking fast again and winning a heat race for the second-straight race, was sixth after the Anderson penalty. Plessinger's Monster Energy/Star Racing Yamaha teammate Dylan Ferrandis, banged up from a series of recent crashes including a big one in practice, was a solid eight. Martin Davalos logged his best race of the season on his Monster Energy/Team Tedder KTM. Marty started up front, kept it on two wheels and took ninth. Dean Wilson, who had to take a trip to the LCQ after his wheel broke in his heat race, was tenth.
Red Bull KTM's Marvin Musquin missed the race due to the concussion protocol. Marvin crashed hard out of a heat race on Saturday night. Muc Off Honda's Justin Brayton crashed in his heat race tonight and did not return.
The 250SX West division just keeps serving up more dramatic feel-good stories. Honda HRC's Hunter Lawrence executed a beautiful race to become the third first time winner in the last three races, and to also make for four different winners in four races this year. Lawrence "pushed and shoved" his way to the front to get to fourth, then waited to find an opening on Kyle Peters for third. He then pulled off an unreal two-for-one pass on both Jalek Swoll and Mitchell Harrison to take the lead. From there he managed the gap to score the win, putting multiple missed seasons of supercross due to injury behind him.
"Can I give you my real answer?" said Lawrence. "F&%king awesome mate. It's so frickin' cool."
The world never got a chance to see Hunter in supercross much after several seasons wiped put by injury, but he doesn't feel at all that he's not capable in supercross. "I don't think I struggled more than anyone else [to learn supercross]," he said. "It was just unfortunate crashes. Any time I'd crash, I'd get broken unfortunately. I don't think I struggled with it more than anyone else."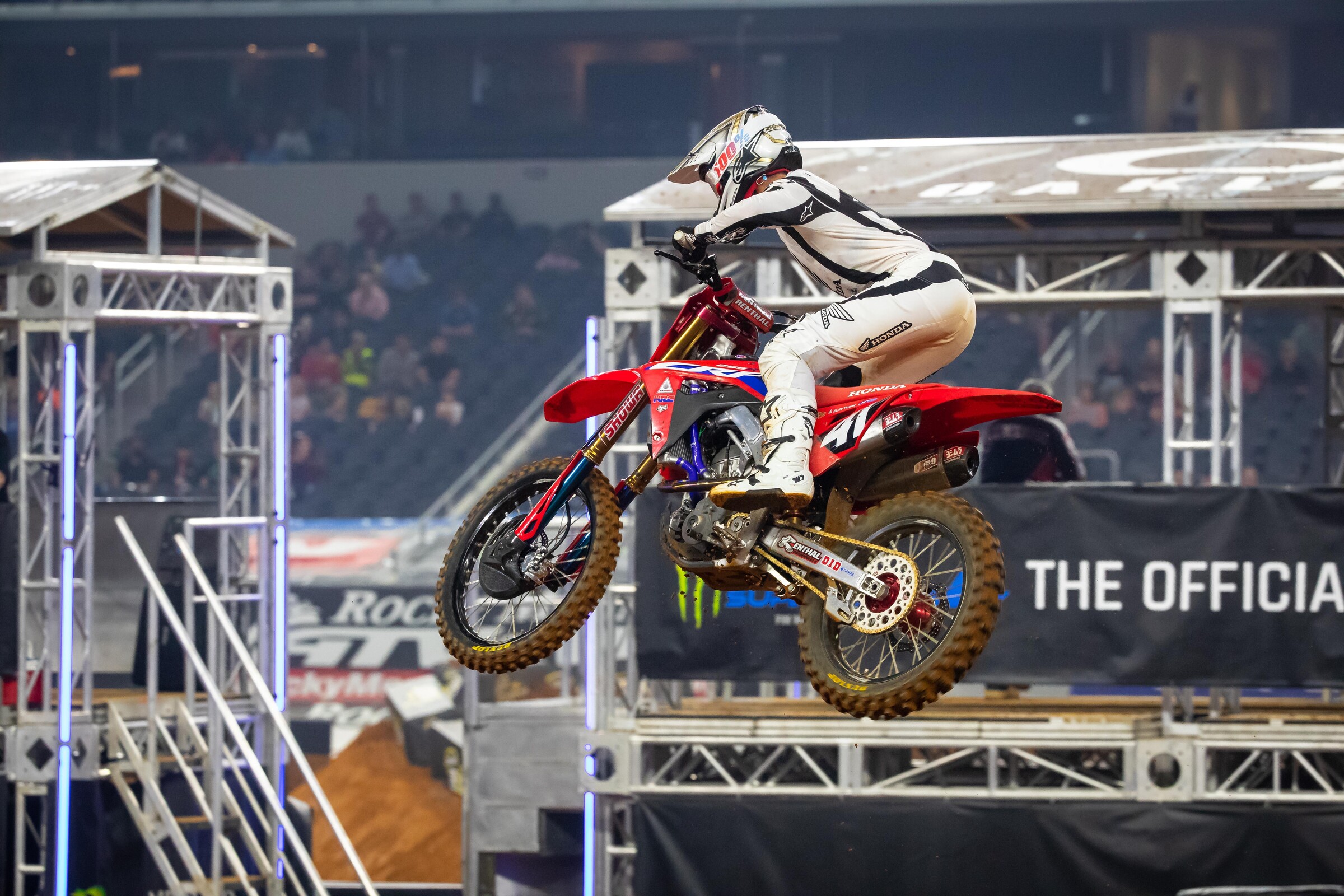 "I think I was in fifth around the first turn and just tried to push and shove my way to the front the best I can," said Lawrence, explaining his race. "I was just sitting in there trying to make passes when I could, and I saw an opportunity to make a two in one pass and I went for it before the finish line. I just kept telling myself one more lap, one more lap, and then white flag, I pretended like there were two more laps. And then when I went over the finish line, everything flashed through my head like everything I went through."
A night of surprises led to more big podium finishes. Jalek Swoll took second on his Rockstar Energy Husqvarna, his first-ever pro podium.
"The first thing that comes to mind is just believing in yourself," said Swoll. "I had a pretty rough rookie year so I had a bunch of people that didn't think I could do it and that was in the back of my mind every day. Seeing the progress I was making at Baker's Factory, I knew it was a matter of time. My team believed in me and that was just that patience I needed. I think I can put myself in really good positions and can battle for the top three steps a lot more frequently than you were seeing in the first few rounds."
Peters hung on for third, his third career podium and his first with the Phoenix Honda squad. Peters recently completed a 20-0 perfect season in the Kicker Arenacross Series.
"Arenacross is something that is a lot of fun and I've been very grateful to be part of that," he said. "Honestly, this is the end goal. To be a contender in supercross. It took me a lot of years to figure out this supercross between injuries and not believing in myself. I truly believe in myself. I've been working with a mental coach now and that's one of the biggest things. We've put in the work and the time and the team has given me a good bike to go out there and do that."
Meanwhile, the 250 championship standings were completely blown up. First, former points leader Justin Cooper got clipped by Chris Blose on the first lap and went down, putting him back to nearly last. This gave Monster Energy/Pro Circuit Kawasaki's Cameron McAdoo a golden opportunity to further extend his points lead over Cooper, but then McAdoo went down in the whoops while in fourth and closing on Harrison and Swoll. McAdoo quickly remounted but didn't re-enter in the whoops, instead cutting off some track along the start straight. He was later penalized three positions, dropping him from seventh to tenth. Last week's race winner, Seth Hammaker, also fell early in the main and took 11th. Cooper rallied back to fifth.
Through all of this, Lawrence, via 5-6-2-1 finishes, now leads the 250SX East standings. When he was informed of the news, which broke during the post-race press conference, well, his reaction is not even publishable here. Suffice to say Lawrence is a happy man at the moment. He was also informed he had won a main event in his sixth start, which is two races quicker than his brother Jett. It was Hunter's night to celebrate in so many ways.