A few fits of full circle this weekend. Astute observers have noticed this weekend's Orlando track map mimics the 2007 Orlando Supercross. People are pumped, because that gives the 2021 Orlando (1) Supercross a tinge of retro. That's popular, because not only are people in 2021 saying, "I wish we could bring back the old style tracks" but people were also saying that in…2007! When it comes to tracks, people are always say that the past was better. A year before the 2007 Orlando Supercross, we saw the first-ever retro-themed supercross in Anaheim. They built a replica of the 1986 Anaheim track. People were super pumped. In '21 we want to see '07 tracks, in '06 we wanted to see '86 tracks…did they want the jumpless 1976 tracks in 1986? I bet they did.
Where was I?
Yes. Orlando 2007. That was an epic battle, and Ricky Carmichael's last AMA Supercross ever. He and James Stewart battled, symbolically, all out for 20 laps. It was amazing. It wasn't the first time Orlando's Citrus Bowl hosted a big Ricky versus Bubba battle. The 2005 event was one of the most-anticipated races of all time. It was the first-ever "dry" race between these two titans.
We covered Anaheim 1 2005 earlier this year. That was the first race with both Ricky and James on the starting gate, but it was a mudder so it didn't prove anything. The next weekend Stewart broke his arm in practice. The fans/industry/media has waited a decade to finally see RC and Stew race each other, and now we'd have to wait six-to-eight weeks for James' arm to heal.
That timed out to be the Orlando Supercross, which had not been on the schedule since 1997. No doubt Stewart, super popular and from central Florida, was expected to boost ticket sales. Carmichael was a Florida native, also. There was another player in this contest. The world knew that someday Ricky and James would dominate the sport. They didn't realize an Australian named Chad Reed would come to the U.S. and match them.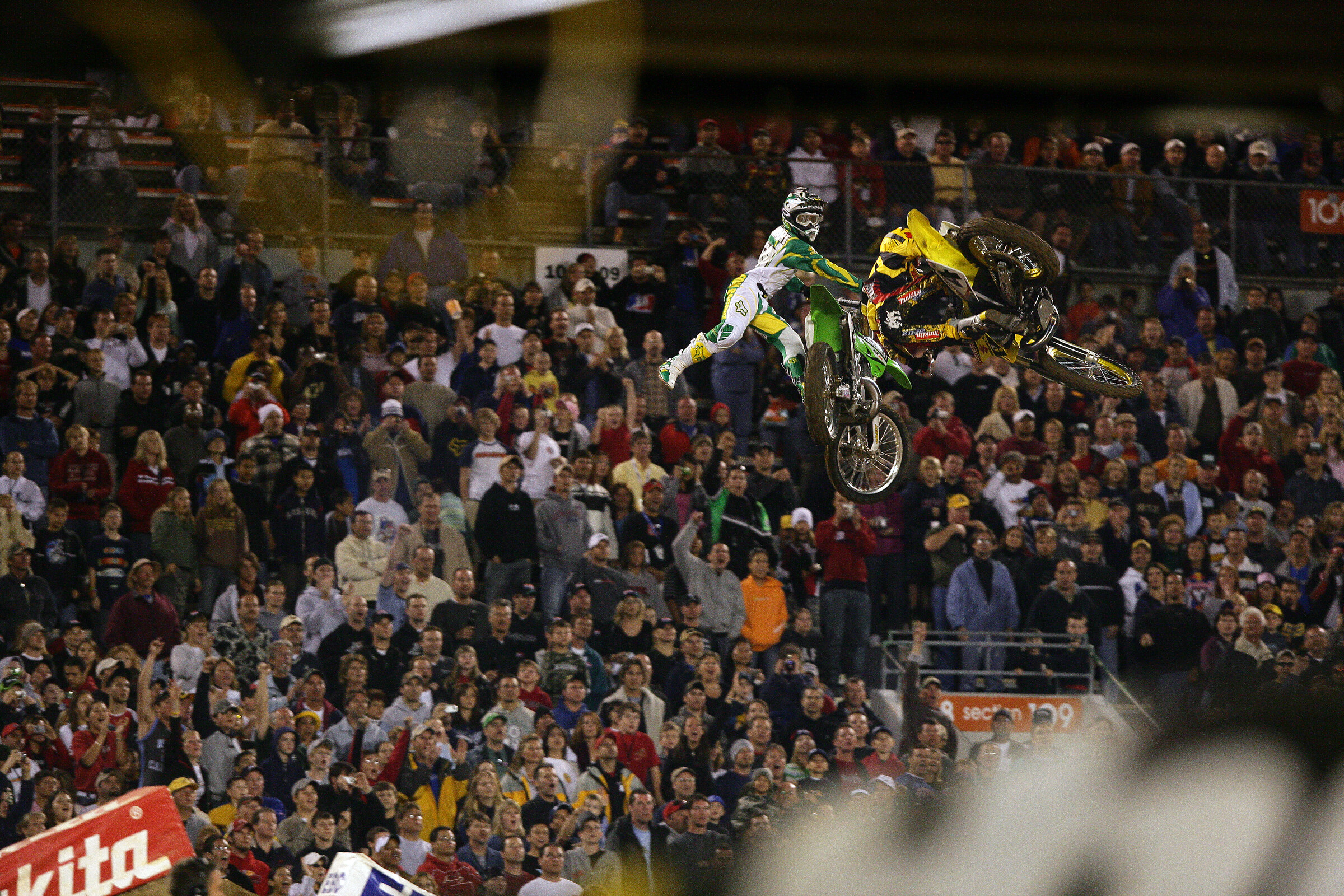 For '05 Orlando, Reed was the defending AMA Supercross Champion, and Carmichael was the series' points leader (RC skipped the 2004 supercross season to get his ACL fixed, so 2005 was a showdown between Ricky and Chad, as well). Then Stewart came into the fold. Stewart and Reed already had some history, and throwing Carmichael into the mix was bound to make things crazy. I've said this before and I'll never stop saying it: there has never been a battle as anticipated as Stewart versus Carmichael. As amateurs and then into the 125 class as pros, Carmichael would break records, then Stewart would break those records. They had never raced each other, though, until they got to the top class in supercross. The world saw this collision course coming for a decade. It was HIGHLY anticipated. Also, now that they're retired, they occupy the top two spots on the all-time AMA motocross and supercross combined wins list. They lived up to the hype.
So everyone wanted to see what happened when they raced each other. What we know now, though, is that Carmichael had to worry about other things.
"I think what I was most concerned with was, honestly, I had built a pretty good points gap at that point in the season," said Carmichael to Steve Matthes and me in the latest episode of our Re-Raceables Podcast. "I had gone into conservative mode, and Chad had the momentum. He beat me the week before in Daytona. Not that I didn't want to friggin win, don't get me wrong by any stretch, but I wasn't feeling that well on the track that night. I sucked, straight up. So I was like, 'How the hell am I gonna' get out of here and try to beat Chad?'"
It had to be hard to put the sword down and race Orlando thinking points, instead of making a statement. There was so much anticipation through the years, centered around the question, "Who is faster, Ricky or James?"
"That was my MO my whole career," said Carmichael. "Sometimes you have to give up the wins, and play the long game. Hard to do sometimes."
Carmichael was well aware of the anticipation of this first showdown.
"Oh 100 percent!" he says. "But I had kind of gotten a taste of it when [Travis] Pastrana was coming up. 'This guy is going to come up and knock you off.' I was like, 'Now I know why friggen McGrath probably hated me so much.' He hears, 'This little red-headed kid from Florida is going to knock you off.' It took a few years. You hear about it so much, it's like, 'Well, let's just let the guy kick my ass! Or not! Let's just get down the road with it.'"
Ricky and James kicked off in the first 250 heat race. RC holeshot but Stewart was second, and Carmichael went high in a berm. James took the lead and took off. Naturally, Reed won the second heat. The showdown was on in the main, and it didn't take long for Stewart to deliver, grabbing the early lead and beginning to build a small gap. Carmichael was second and Reed was third. Stewart was pushing the envelope up front, but that's what he was known for. Surprisingly, Carmichael went down when he was running in second.
"I was completely uncomfortable that night," said Carmichael. "I remember vaguely, I couldn't get the balance right of the bike, front to back. It was pitching me forward at times and other times I would feel like it was low in the back. That's how I ended up washing out the front. I always ran my stuff soft, so normally I would have more front grip than my competitors. But I wasn't feeling it that night."
Not long after Carmichael lost the front in a corner, Stewart went down in the whoops. Bubba had been bombing through them, and finally he took a bad bounce and crashed pretty hard. Reed rolled past both of the Florida natives when they crashed, and went on to win the race. Yup, the first-ever race with Ricky versus Bubba wasn't won be either of them—Chad Reed won it. Isn't that such a Chad Reed thing to do?
Carmichael finished second, Stewart recovered for third, Kevin Windham was in the mix after the Stewart/Carmichael crashes but ended up fourth.
Watch the 2005 Orlando 250SX main event below:
Carmichael had finished ahead of Stewart in their first showdown. However, I remember RC being very mad at himself in the postrace press conference. He crashed and that allowed Reed to beat him and grab a few points. There was a time when people called Carmichael the "angry little elf." Yup. If he messed up, he got angry.
"I'm still that way to this day," Carmichael says. "I'm horrible at golf. If I break a 100, that's a good round for me. So if I shoot a 115, I'm so mad at myself, so fired up. It just drives me absolutely nuts. Racquetball, if I'm playing a buddy I think I might be able to beat, and he beats me because I played lousy, it drives me nuts. So that night, I feel like I missed an opportunity. At that point in my career, I was better than making silly, stupid mistakes like that."
There was much to come with the Reed/Carmichael/Stewart years. Orlando 2005 was just the opening salvo. For anyone around at the time, the anticipation level for this race was all-time.
Listen to more perspective from the 2005 Orlando Supercross in this episode of the Re-Raceables Podcast below: