Orlando, FL
Orlando 2 (West)
Monster Energy AMA Supercross Championship
Welcome to Racer X Next, where we interview up and coming amateur racers. We'll check in with racers on topics such as their training program to qualifying for and competing at the Monster Energy AMA Amateur National Motocross Championship at Loretta Lynn's Ranch, and much more.
This week, we talk with Monster Energy/Star Yamaha Racing's Nate Thrasher. After racing Loretta's last summer, Thrasher was expected to make his pro debut with the Troy Lee Designs/Red Bull KTM team at the Spring Creek National. However, Thrasher was suddenly connected to the Monster Energy/Star Yamaha Racing team, and didn't race Spring Creek with TLD. He made his pro debut with Star at the final two rounds. Now, after a full off-season of training with Yamaha, Thrasher is preparing to lineup for his first full season in the 250 Class later this year.
Birthday: December 9, 2002 | Current Age: 18
Hometown: Livingston, Tennessee
Instagram: @natethrasher91
Team: Monster Energy/Star Yamaha Racing
Classes: 250SX and 250 Class
Racer X: You were on KTMs for a while as an amateur and then you made the jump to Yamaha and turned pro right away for a few of the Pro Motocross races last year. You looked pretty comfortable on the Yamaha right away, in terms of results, when you made your debut. But what was that switch to Yamaha like initially?
Nate Thrasher: Yeah, it was good. I think we had two weeks on the bike before Colorado and just kinda did the best we could with the time we had. We weren't completely prepared but we just made do. We just got the suspension pretty good and the bike was already amazing and really fast and everything, so it was a good switch. And I think we should be better this coming outdoors.
At the time you made your debut, was the plan for you go full-pro and race supercross this year? What was that decision like?
Yeah, it was good. We're definitely doing outdoors, so for sure motocross but I'm not for sure on supercross yet. It's still up in the air. We'll know more when it comes closer to the West Coast [250SX regional championship].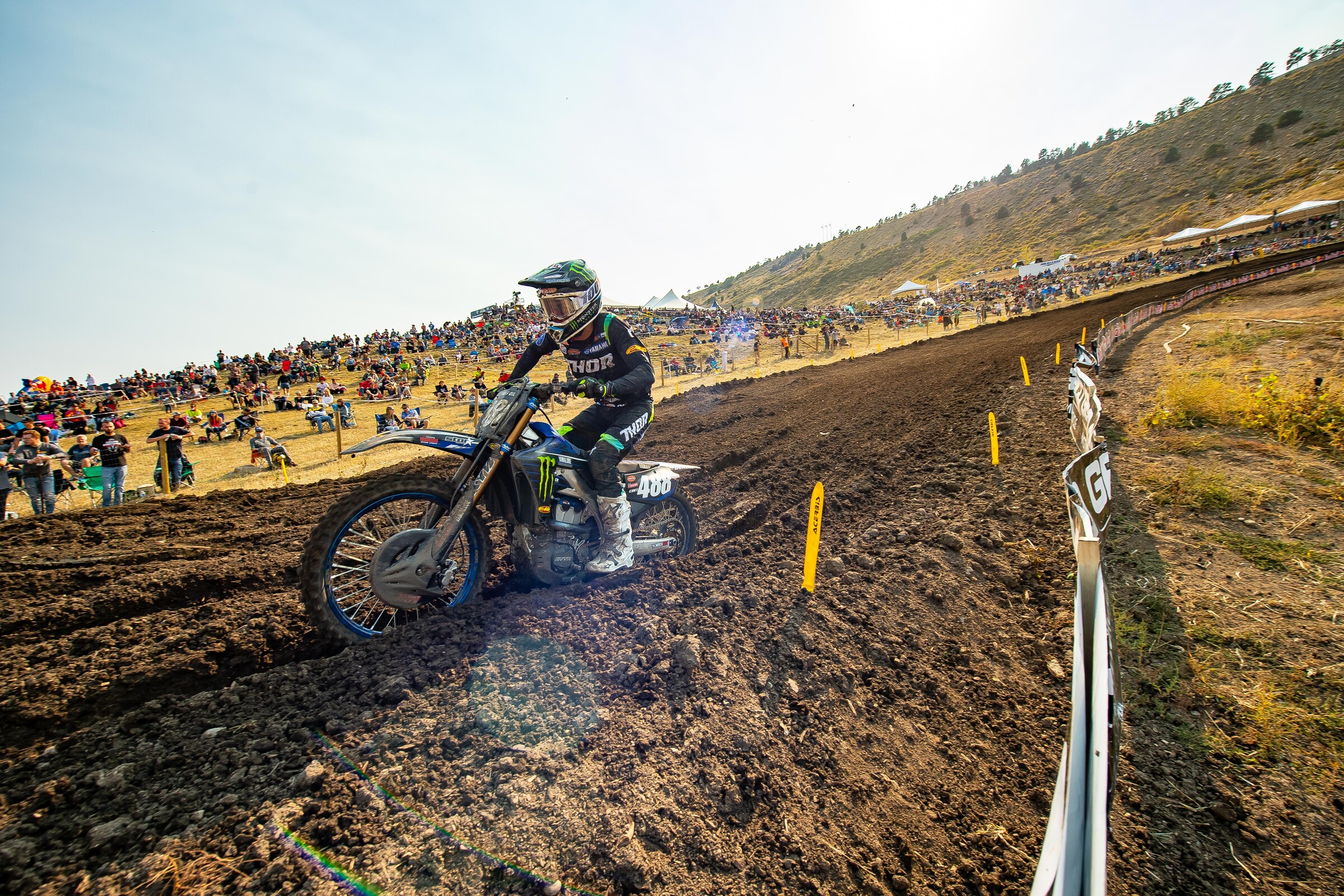 I saw your name was on the entry list for the Houston 3 Supercross.
Yeah, we almost did [have me race that] Saturday but we couldn't get everything sorted. There's still some things in the works.
Is it that you're not fully comfortable on supercross? How much supercross training do you have?
That's not it at all, it's just they've got a lot of guys right now and at first I wasn't planning on doing it, but I've been feeling good on it so they were going to throw me in, they just didn't have bikes and motors and all that stuff.
How much experience do you have with supercross? Obviously, you've raced Mini O's but it's very different in terms of full-on supercross.
Yeah, before Mini O's, I've been training supercross. Ever since I got started on supercross prep, I've been out here on supercross prep with them too. So I've had the whole off-season.
Prior to this off-season, have you had any legitimate supercross prep?
I did a couple of weeks with TLD last year on supercross but not like a ton. I'd say probably about a month last year, when we did it. I've done it on superminis and stuff like that but not on 250s. So just about a month on 250s before this.
So are you living in California right now? What's that look like compared to year's past, the transition from one coast to the other?
We're living in Murrieta, California, training, yes. I was at Baker's Factory in Florida before coming out here. It's been good. Swanny [Gareth Swanepoel] and everybody has been great so I think it's been a good switch. I'm not originally from California so it's a little bit different out here but I'm beginning to like it. I mean I still love the East Coast a little bit better but just the training out here with all the guys and tracks and supercross training, you can't beat it. So it's really good.
That leads me into my next question. We've seen everyone on that team ride together, from Malcolm Stewart and the 450 guys to you and the 250 riders and then some of the amateur guys as well. What's that like being able to ride with some really fast, talented, experienced guys on a regular basis?
Yeah, it's good. When you're going on their level, you kinda know that when they go out there and start winning races, you know that you're pretty close. So you just pace yourself off of them and try and get better. And if you get to their speed, you're right there in the mix. So it's good. You're training with the best in the world. I mean, the two Star guys so far [Colt Nichols and Christian Craig], one has the points lead and one is in second and I'm training with those guys every day, so you kinda know where you're at.
Are you able to get into how the whole deal with Star came about or is it a touchy subject?
Yeah, it's kinda a touchy subject with TLD. I mean, I still had quite a bit of time left with them so it was kinda like a weird deal.
You were expecting to turn pro with them a little last summer during Pro Motocross, but then you switched teams. Are you still in the same trajectory now as you were before you joined the Star team?
Yeah, I would have done the rest of the outdoors series with TLD.
So you're still on par with what your trajectory with KTM was?
Yes. Just the same thing I would be doing here [at the moment]. I just didn't get a couple of races in, just because Spring Creek was supposed to be my first national with TLD, and that week I ended up flying out here [to California] and started riding the bike for Yamaha. I had two weeks and then I went racing in Colorado, so I felt like I had good finishes for how little time I had.
Once you got on the Yamaha, was it the team's decision for you to make the jump so quickly or you were ready for it and just wanted to go for it?
Yeah, I think it was just a good timing, just to get a couple of races under my belt before we tried to go out and push for podiums and stuff like that this coming outdoors. So now I know what to expect and I've already done some of the little things so next year will be a lot easier on me.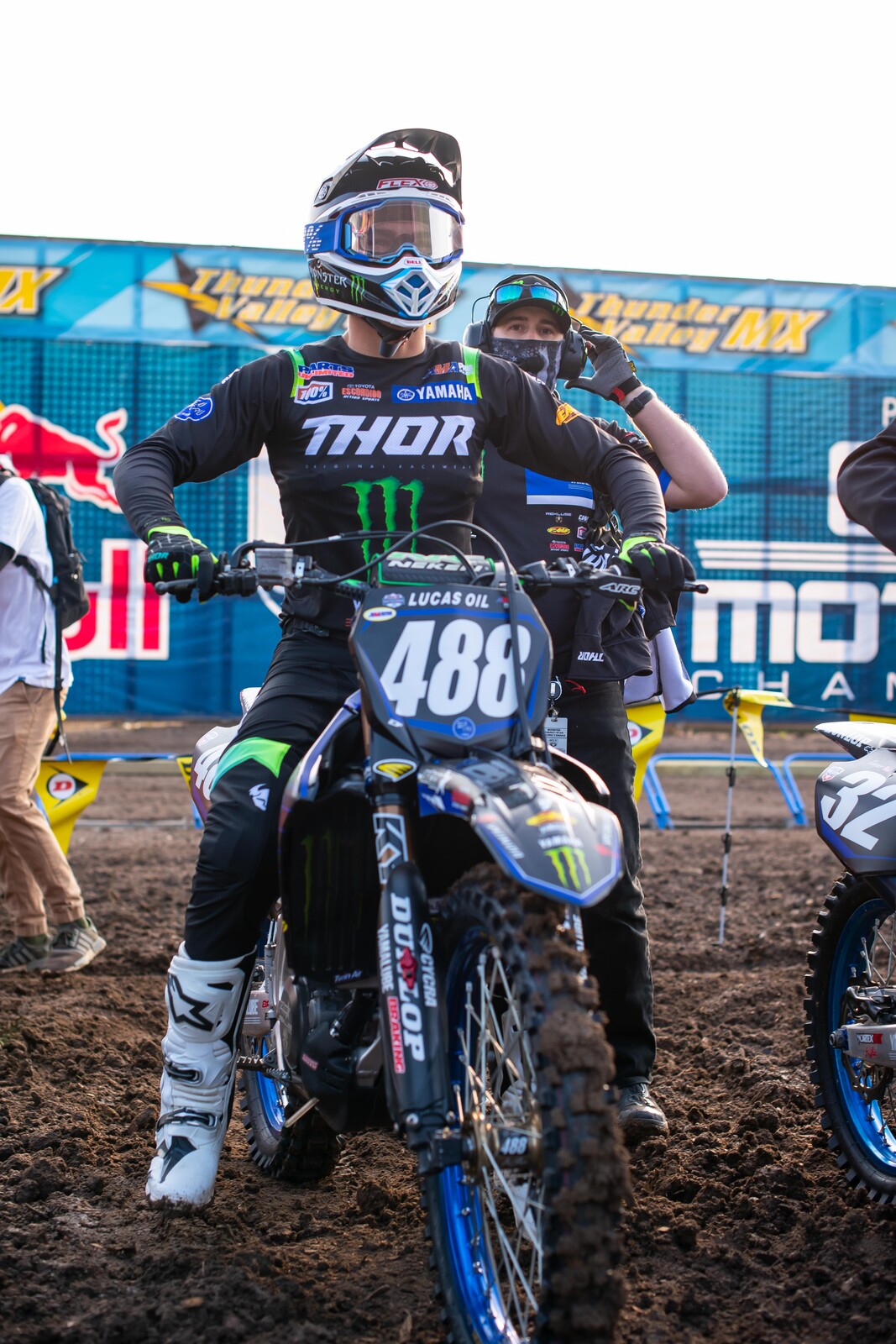 Looking back at those pro races you did, is there anything you can look back on and focus on specifically for this year?
Yeah. I got good starts, it was just my opening laps I kinda fell back a little bit. At the end I could catch back up. But like Pala I went 12-10 but I was up there in the hunt and I just stayed with those guys at the end and once they got a little tired I just came back through. But those first opening laps, the first five minutes of the race, I need to be better. And just putting myself into the top five and then riding there the whole race. Because the about after five-to-ten minutes, everybody settles in and it gets hard to make up some ground. So those first five minutes you gotta be good. I think that was the biggest thing I need to work on.
What are your expectations for yourself season?
Yeah, for the outdoors I'm just hoping to be a top-five guy every weekend. If that can happen, that'd be awesome. And then top tens are good too but we want to be in the top five to the podium spots.
If you are able to get in some supercross races this season, what are your goals there? Be in the top ten but not push it too far too quickly?
Yeah, for sure. I mean they're split up [the two 250SX regions] so we still want to be in the top five. And if we can sneak in a podium here and there, that'd be awesome, but top five is the goal every weekend. Just to put ourselves in good situations, get good starts and then just not ride out of myself, just ride and put down laps, and be consistent.
Do the other, veteran, guys on the team say, "I know you're going to get antsy," or "I know you're going to get tight"? What have they taught you from their experience?
Yeah, it's good. In practice, I'll go up front and stuff and they're putting pressure on me. So if I can just hold that the whole time, the intensity, and try to not let them guys by, at the race you're going to have the same thing. So it's kinda like a race scenario, we have eight guys behind me sometimes. It's just like a race: if I get a good start and I'm up front, I'm just not going to panic and try to override the bike. Just be within myself and just putting in good, consistent laps and the results will come.
The first couple of times those eight guys were behind you in practice, were you nervous?
Yeah, for sure. I mean they're coming at you trying to block pass you and stuff so you just kinda gotta zone them out. When you're out front, you just ride within yourself and go to your pace and don't worry about anyone behind you. And then you start clicking away laps and then it gets harder and harder to pass after a long time.
Away from the bike, what do you do on your down time? Are you a video gamer or how do you spend your spare time?
Yeah, I play some video games and I'm into golf. I play a lot of golf on the weekends and stuff like that. So I've been trying to get pretty good at that. And some video games here and there. And that's about it.
You guys do the off the bike training together as well, the cycling rides and everything with Swanny so I'm sure you guys are together a lot.
Yeah, for sure. We bike ride every day that we don't ride, besides Sunday. That's the only day we have off completely.
I think that's everything I had for you. is there anyone you'd like to thank?
Yeah, I'd like to thank everybody at Star. They're putting in a lot of work. And we're putting in a lot of work trying to get ready for everything that we're doing. And the man up above. I gotta give everything to him.