Welcome to Racer X Next, where we interview up and coming amateur racers. We'll check in with racers on topics such as their training program to qualifying for and competing at the Monster Energy AMA Amateur National Motocross Championship at Loretta Lynn's Ranch, and much more.
This week, we talk with FXR/Chaparral Honda Racing's Cullin Park.
Birthday: June 13, 2001 | Current Age: 19
Hometown: Clermont, Florida
Instagram: @cullinpark43
Team: FXR/Chaparral Honda Racing
Classes: 250A and 450A
Racer X: So you were racing Yamahas for a couple years then right when you show up to Mini O's last month, you jumped on a Honda. How did that come about and what was the transition like?
Cullin Park: Yeah, so I have been riding a Yamaha for a pretty long time. I actually got a call from Michael Lindsay [FXR/Chaparral Honda Racing] a couple weeks before Loretta's and talked about riding for his team. Went to Loretta's and I had honestly like a terrible week, it was just…[sighs] a really rough week for me. I came back and talked to Michael again and he actually still gave me a shot. He told me to come out to California. I came out about a month or two after Loretta's, tested the bike, everything went good. The deal, I mean, honestly, it came together pretty late before Mini O's, we were still kinda figuring out some stuff. I got a bike from him [Lindsay] about two weeks before the race, rode it and then went to Mini O's and it honestly turned out pretty good. I had a pretty good week. I'm really looking forward to 2021, having more time on the bike and with the team. I'm really excited.
So you said you had about two weeks on the bike before Mini O's?
Yeah, [two weeks] on the team bike. I was actually riding a bone-stock Honda 250 for about four weeks, like stock suspension, everything. And then when I got the team bike, it was about two weeks before the event, and I was like a kid in a candy store. I was feeling so good. I was just so excited to ride it, I was pretty over riding the stock bike!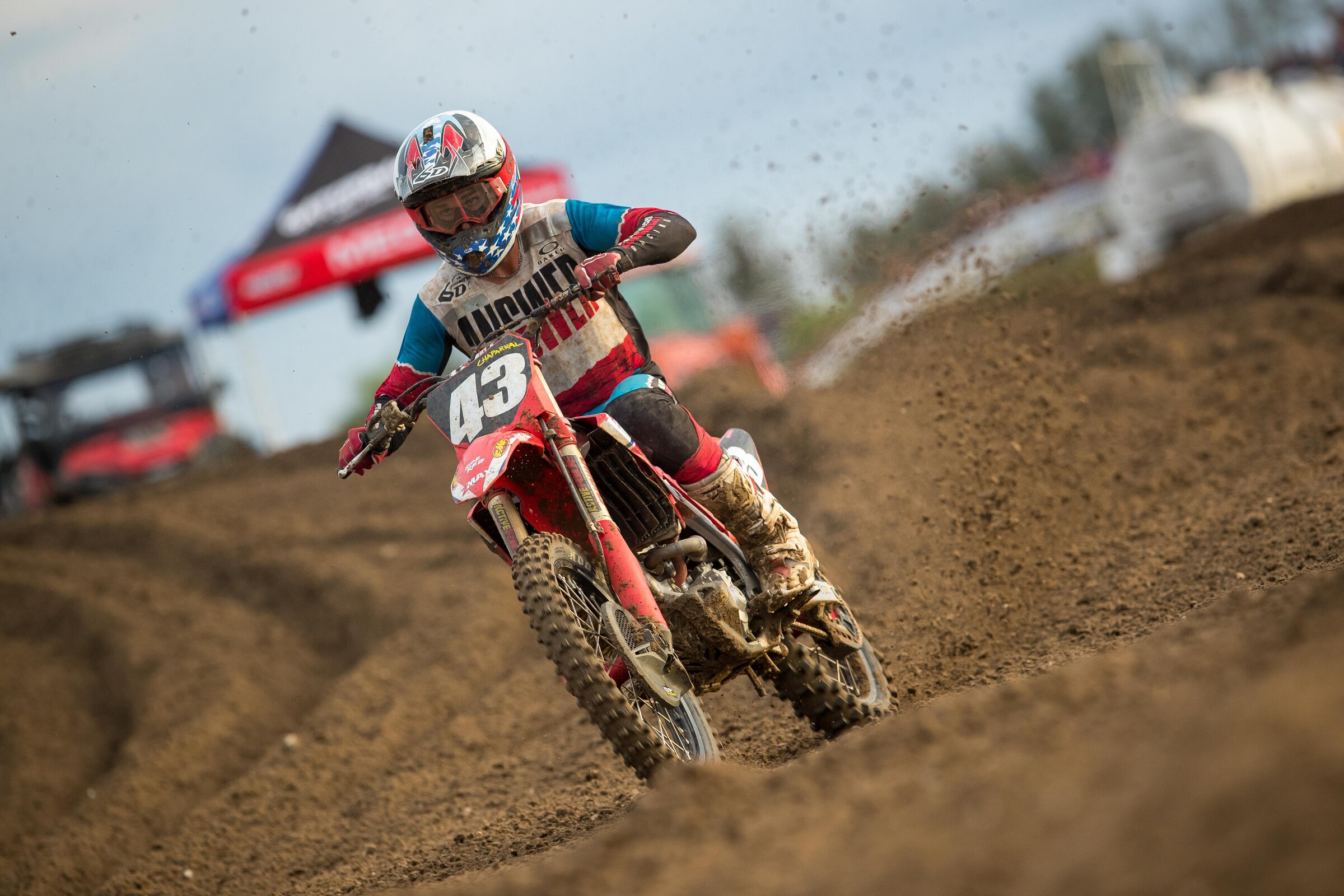 I bet that was exciting. So Mini O's then, so switching to a new team, the racing—how did it all go?
Yeah, it was a lot of fun. We actually pitted under the Phoenix [Racing Honda] rig because they come and they do the East Coast rounds. So just having Michael there and also [Phoenix Racing owner] David Eller, and my mechanic [Kris McCracken] was there with me and obviously some family. It was just a good time. The atmosphere around that team is a lot of fun. We're trying to keep it loose cause you never want to take it too serious. But racing went pretty good, too. I'm honestly a little disappointed, I pretty much got everything in the top five except first: I got second, third, fourth, fifth, and just fell short of a championship. I had a really good, consistent week. I got a moto win in Open Pro [450 Pro Sport] in outdoors. And I was really hoping to land a championship but I fell just a little short. It's a new bike, new team, and I'm just happy to have a consistent week up on the podium.
I have to ask, did you switch graphics mid-week?
[Laughs] I actually switched bikes!
[Laughs] Ah! Because after it was over I saw two different pictures and I was thinking, Did he bikes or switch graphics mid-week?
[Laughs] Yeah. Alright, so last race on supercross actually and literally as I got the checkered flag, something happened to my bike and all I had was a practice bike to race. And luckily, David Eller, from Phoenix, stepped in and he actually gave me a 250 to ride and a 450 to ride, that way I was still on good equipment. I really can't thank David enough for even helping me out all week. He really saved my week! Yeah, it was a little stressful but thankfully with him and Michael we got through the week. I had a lot of questions about that!
That has to feel good to have so many good people, including Michael and David, around you in the pits. You knew they were taking good care of you.
Yeah, for sure. I got really lucky with Michael and then obviously, with David. Honestly those two, they were tremendous all week with me. David, obviously, really stepped up with me late in the week with the 250 and the 450. I really can't thank those guys enough for already everything they've done for me.
So you're based in Florida, where are you training at now?
I'm based in Clermont, Florida, which is like where all the pros are. Honestly, before Mini O's, I was kinda doing my own thing, really just riding with Tyler Bowers a lot. Him and I have linked up and we sort of ride together quite a bit. We're really good for each other. We call each other out on our bull crap. We show up to the track, we try to keep it fun and not take it too serious but we put in our work. I really can't thank Tyler enough, he's kind of been taking me under his wing with training and stuff. We just kinda ride at a couple private tracks here in Florida. There's a sand track at my buddy Cody Russell's place that is just brutal. Honestly, it's not a lot of fun but it's one of the best training tracks I've ever ridden on. So I ride his place, I go to Moto Sandbox a little bit, too. They're awesome there. We just kind of jump around. I'm not going to be racing supercross this year but I want to get on supercross and practice just to get comfortable with it because obviously it's a whole new learning curve for me coming up, so in 2022 I'm ready to go.
You mentioned riding with Tyler Bowers, I'd be nervous to practice with him! [Laughs] But it sounds like you guys have a good relationship.
It's actually funny, my first day on the Chaparral bike, the night before we had gone to Topgolf, me, Bowers, and a couple of my friends, including Chase Sexton. So that night before, I knew I was going to have a good bike the next day and I talked so much trash to that guy [Bowers] that night, telling him that "I'm coming for him that next day!"—
Did he know you'd have the bike the next day or was that a secret?
No, he knew it, too! But he also had a good bike for the next day. He got a new motor. So like the trash talk between us too…oh man! And that next day, I don't think I've ever practiced so hard before in my life. Because I talked so much trash to him that I had to back it up! It was amazing, it was just such a good day of riding. It was a lot of fun.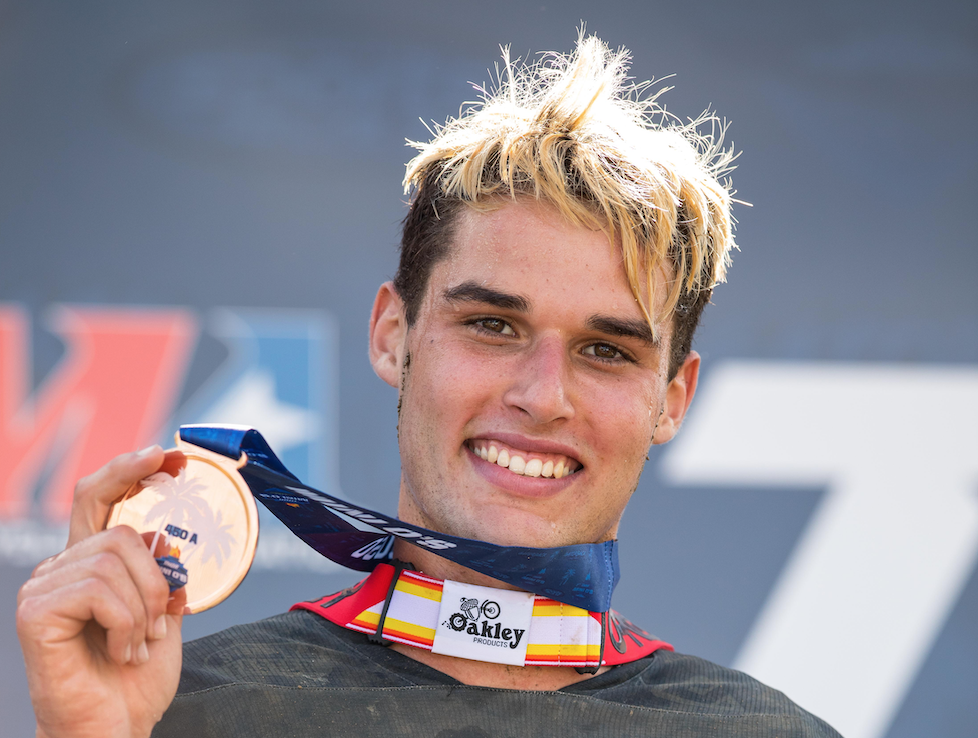 I bet that was a blast. So hanging out with Sexton, you ride with him, you hang out with him off the track, doing bicycle rides, Topgolf, and whatnot. How's that been?
Yeah, it's good. He also kinda like takes me under his wing. I started working with Blake Savage [Sexton and Ken Roczen's trainer] for the gym. And basically just my off the bike program. Blake's helped me out tremendously this year. So me and Chase and another one of our buddies, Garrett [Hoffman], we all do kinda the same thing so we're able to go on bike rides together and stuff. You're not always feeling it every day, that's for sure. So just having each other there and pushing each other is always good. Chase is really good though, he's there for me with my racing stuff and helping me out anyway he can so I cherish our friendship pretty well. It's funny because Chase is so competitive. On our bicycles or in the gym, we are always trying to outdo one another so it makes it fun.
He goes golfing a lot, do you ever go with him?
No, I'm kinda out on the golf thing. I'm decent but I'm definitely not on his level so I honestly don't want to go with him and give him something to like one-up me on. I just can't give him that edge! [Laughs]
So what are your plans for 2021?
So 2021, I'm planning on finishing out my amateur career at Loretta's. Hopefully it will be my last amateur race and then from there I'm going to go pro, hopefully, and do the last three [nationals of the year]. My next big amateur events will be the big spring nationals: the next big one will be the Daytona RCSX, then Freestone. From there, hit Lorretta's [qualifiers] and the Cal Classic, more than likely, if it's before Loretta's. and then after Loretta's, I'd like to do the last three outdoors if it all works out. And then 2022 full pro.
Awesome. I remember you had a really good battle with Seth Hammaker last year at the RCSX. That was a lot of fun to watch between you guys.
Yeah, him and I battled that out really good! I was disappointed I didn't come away with that win but Seth rode a really good race.
So will Michael Lindsay's team help transition you into your pro career as well?
Yes, that's kind of the plan right now. We'll just kind of see but yes, as of right now that is the plan.
That has to be good knowing you'll be in good hands. You were racing with Triangle Yamaha until this, right?
I was. I was just on a support program, like I was still buying my bikes. I've actually never really been on a legit team so this is really a fresh breath of air for me and it's brought some confidence, too, you know, knowing that I have a team behind me finally. It's just a good feeling.
Carson Mumford will be racing for this team next year. Do you guys know if anyone else will be joining the team or just you two for now?
So I think it's me, Mumford, and Coty Schock. So Coty and Carson will be the two pro guys and then I don't exactly know what the amateur side is looking like but I know that I'll be the A guy. Honestly, after that I'm not exactly sure.
You're right, Coty has been riding the 450 really well. Have you been around those guys at all?
I went out to California one time and it was right after outdoors so no one was riding. So I honestly haven't even met Carson or Coty yet, but I obviously met Michael and I met Coty's mechanic Tony Archer. I planned on going back to California in January but it depends on what the state of California is going to do with the whole COVID-19 thing. I want to get out there and ride with those guys on supercross and just learn from them. We're basically just planning it day-to-day. The original plan is to go out for all of January and just be out there riding supercross as much as I can.
So is it tough with him being on the West Coast, you being on the East Coast and stuff like that with the time difference? He's not able to be there in person to watch you firsthand. How are you guys able to communicate and work together?
Michael's actually, somehow…it's like he doesn't even sleep. [Laughs] That guy will be up at 4-5 a.m. California time, so if I need to, I can literally call him by 7 or 8 a.m. here, which is crazy. Getting ready for Mini O's, just after a day of riding I would call him or I would keep him updated on how I am feeling. So honestly, it's been pretty smooth so far.
Yeah, I follow him on social media and you're right it seems he doesn't sleep! Between the stuff with the race team and his job, then he puts out a YouTube video on the new bikes—how does he do all of that at once!?
I don't understand how he does it but somehow he gets it done!
So off the bike, what do you like to do in your spare time? What's the one thing when you park in the garage, that you're like, alright I can't wait to do this.
Honestly, there's nothing super specific. But in Clermont we have a bunch of lakes. So my cousin lives on the lake and I live right near the lake, and pretty soon I'll be living on it. I normally just go out on the lake and ride some Jet Skis or ride stand-up skies or go tubing behind the boat or wake surfing. So that's the things I do most off the bike. Besides that, honestly I'm just like going out, hanging out with friends. Like I said, me, Chase, and my buddy Garrett are always going out to eat or just hanging out.
Whenever you get hit with the cold days and you aren't able to get out on the boat, are you playing video games or what are you doing inside?
A little bit. I've actually been playing some [Monster Energy Supercross - The Official Videogame 3] lately. Me and like six of my friends, we will get on there and absolutely battle it out, it's so much fun.
Alright, so do you have a specific rider you pick? Or depends on the day?
Honestly, lately, it's pretty funny. They have that great legends pack and I've been picking either [Grant] Langston or James Stewart and they call me "carburetor" because their bikes are from '07 or '06. [Laughs] It's just funny.
[Laughs] That's awesome. So I think we've covered everything. Do you want to thank some sponsors real quickly?
Yes, please! I'd like to thank my mom and dad, the whole Motul, Chaparral Honda team, Ride Red, Yoshimura, Pirelli, XPR Motorsports, Oakley, Alpinestars, my trainer Blake Savage, Active Ride Suspension, Rj Huss, HBI Tax and Accounting, and anyone else that's a part of the team, I really appreciate it.
---
Main Image: Cole Beach