Joey Savatgy, Justin Bogle Complete 2021 Rocky Mountain ATV/MC-KTM-WPS Lineup [Update]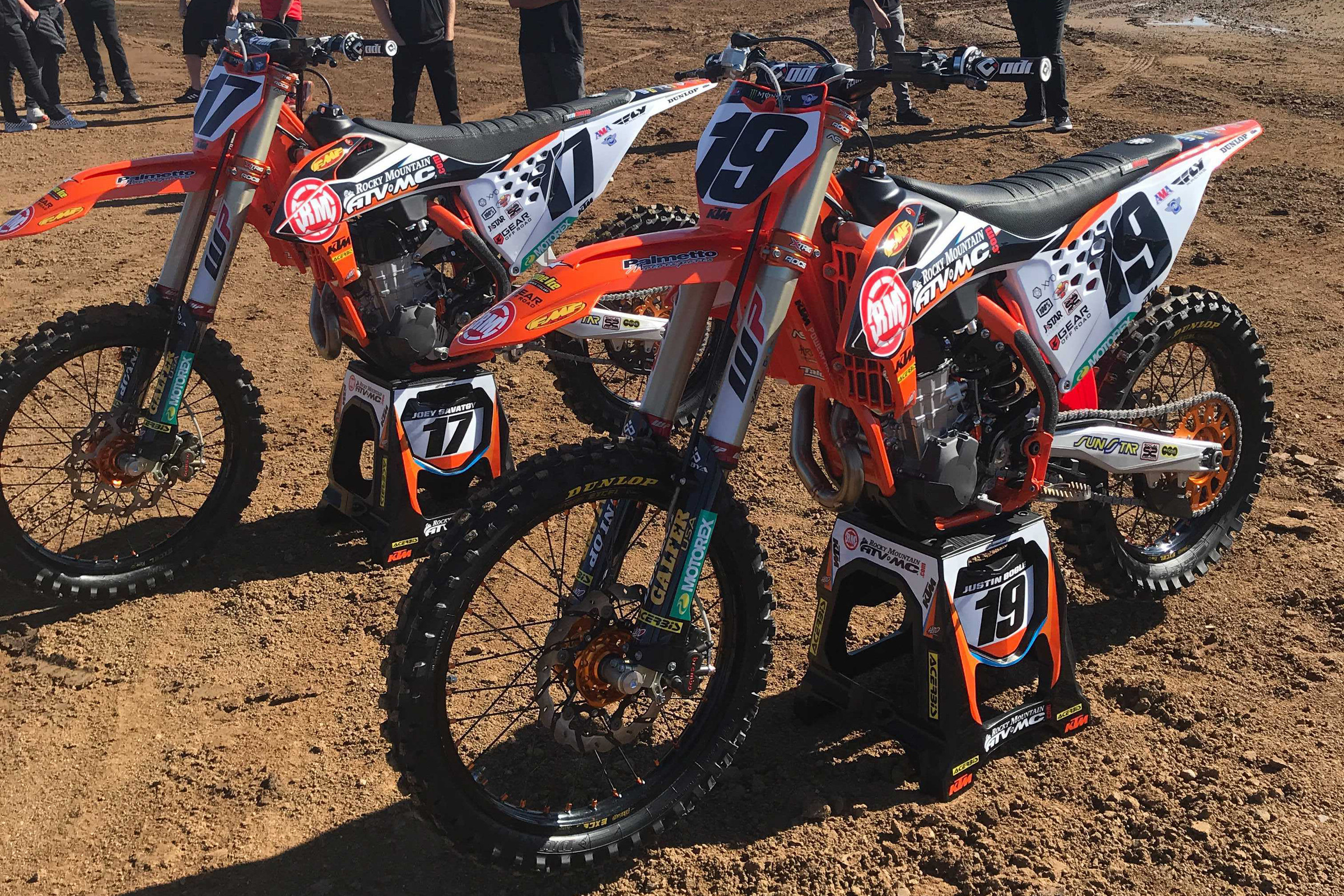 Steve Matthes dropped a Matthes bomb (moto version of a Woj bomb for you NBA fans) on us last night when he posted that he had heard Blake Baggett was out at Rocky Mountain ATV/MC-KTM-WPS and that the #4 was to be replaced by Joey Savatgy.
Check out the Matthes bomb below:
Hearing RM ATV KTM is Bogle and Savatgy, to be announced tomorrow. Stay tuned.

— Steve Matthes (@pulpmx) November 16, 2020
Savatgy rode for the JGRMX/Yoshimura Suzuki Factory team in 2020, although he missed the entire Monster Energy AMA Supercross Championship due to a heal injury suffered in the off-season that derailed most of his racing with the team. We had heard that Savatgy would not be returning to the JGRMX/Yoshimura Suzuki Factory team for a second year and that he tested with the SmarTop/Bullfrog Spas/MotoConcepts Honda recently. However, Savatgy didn't land at the MCR Honda team and then the news last week that Suzuki had concluded its racing relationship with JGRMX, the JGRMX team was forced to close its doors (again, Savatgy was not expected to return for a second year). Until the Matthes bomb last night, we had not heard of what Savatgy would do in 2021.
Today in California KTM is launching its factory racing teams for 2021, and the #17 of Joey Savatgy has found a home with the Rocky Mountain ATV/MC-KTM-WPS team alongside Justin Bogle. We have heard the team could not come to terms with Blake Baggett for 2021, meaning Savatgy is taking Baggett's spot on the squad. We'll look for more info on the subject as today's intro begins.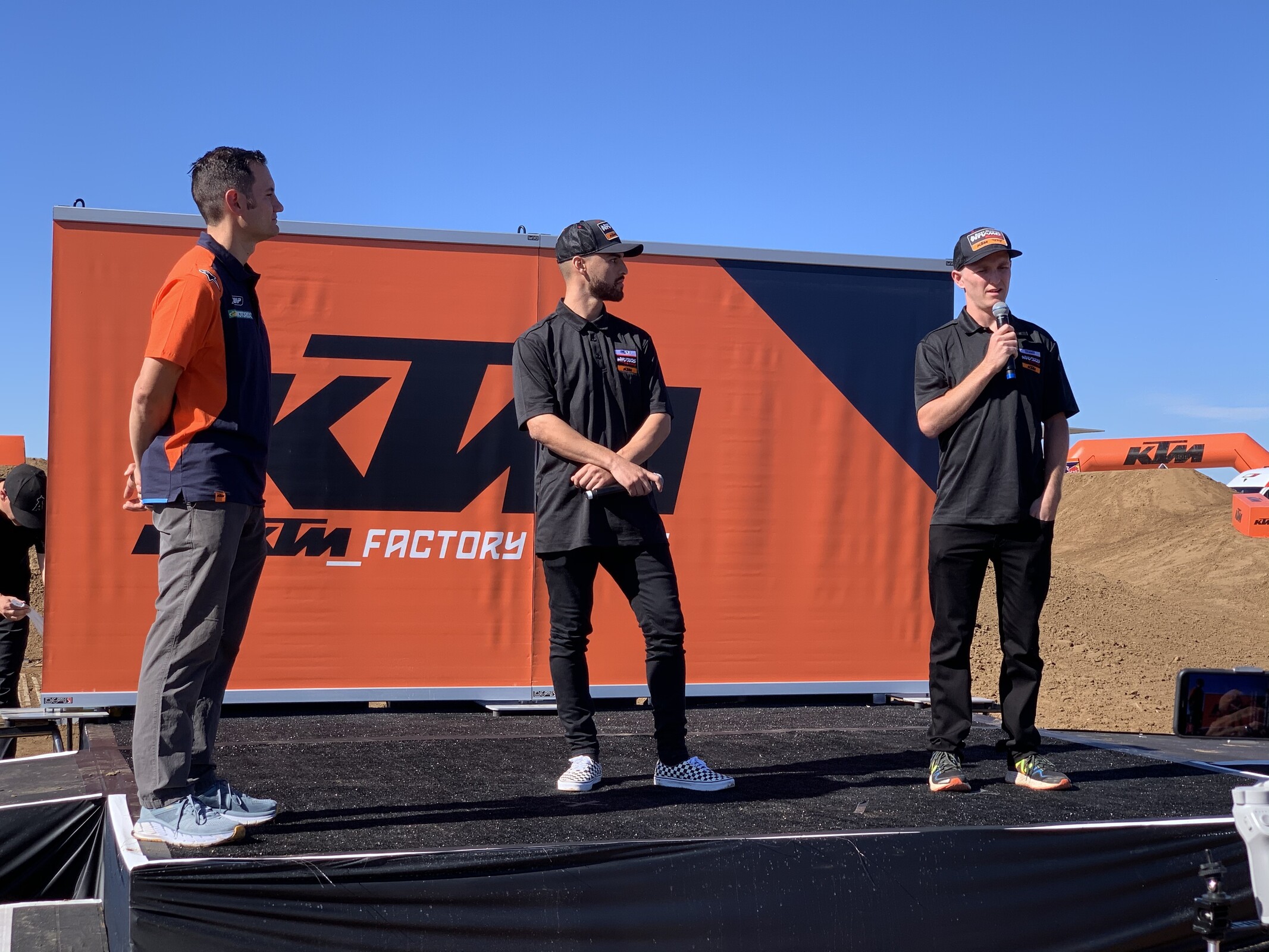 During the event this afternoon, Savatgy posted an Instagram photo with the caption: "🙏🏽🙏🏽 let's gooo... blessed for the opportunity." The team also posted a photo of Savatgy on his new #17 Rocky Mountain ATV/MC-KTM-WPS 450 SX-F.
At the intro today, Jason Weigandt spoke with Savatgy about signing with the team:
"I felt like we did a pretty good job of keeping it quiet, so maybe to some people it feels like a surprise, but it's something we've been working on. This year as a whole has just been crazy. I don't even think we can use the phrase, 'If things go to plan.' Nothing has gone to plan this year, but, this was the number-one place on my list of where I wanted to be. Regardless of the back story, we made it happen and this is where we are."
"I haven't ridden [the bike]. The team alone is proven, they've won races just this year, and the KTM as a whole, they've won titles and races. There's no worries about that."
Savatgy continued to say he had other plans if the deal with the Rocky Mountain ATV/MC-KTM-WPS fell through, as he still wanted to go racing—even if it meant racing by himself.
"I had things lined up, maybe I just go racing myself. …I was definitely going racing. Maybe not the way I wanted to, but I was going racing. Because I truthfully wouldn't be okay with stepping away right now. I feel like I have a lot to prove, I can be competitive, and I can battle with the best guys."
[UPDATE: wednesday, november 18]
The Rocky Mountain ATV/MC-KTM-WPS team sent out a press release announcing the 2021 lineup. Read the full press release below.
Payson, UT—Team Rocky Mountain ATV/MC – KTM – WPS is proud to announce their team line-up for the 2021 racing season.
For the new year, the team welcomes #17 Joey Savatgy under the team tent alongside returning rider #19 Justin Bogle. Both will be aboard a Rocky Mountain ATV/MC Factory KTM 450SX-F motorcycle, ready to contend for the 450 premier class podiums, wins and titles. Team RMATVMC-KTM-WPS will compete in the 2021 US Supercross Series and US Pro Motocross National Championship.
Forrest Butler, Team Owner:
"I am excited to announce our 2021 lineup with Justin and Joey. This has been a rough year for everyone – a lot of massive unknowns, but we are truly grateful for our sports of Supercross and Motocross and that we are going racing. I feel both guys are not just riding very well, but they are both extremely happy and enjoying the opportunity they have with the team. And with how tough what we do is, enjoying what you're doing is key right now."
2021 will mark the team's fifth year with Rocky Mountain ATV/MC as the team's Title Sponsor, and both parties couldn't be happier. Rocky Mountain ATV/MC has proven to elevate the team to the next level, and there are no plans of slowing down now.
This year will also mark the team's ninth year working with Factory KTM as its OEM partner, and also an incredible 15th year with FLY Racing and Western Power Sports (WPS). It has been quite the journey for the squad that started in 2004 as Butler Brothers MX. That same group is now proud to be team: Rocky Mountain ATV/MC – KTM -WPS.
"We are proud to continue serving as the title sponsor of Team Rocky Mountain ATV/MC-KTM-WPS," said Dan Thomas, CEO and Founder of Rocky Mountain ATV/MC. "Supporting this sport is important to us, and our sponsorship of such a talented team is just one way of demonstrating that. The team has an incredible group of sponsors, strong management, and gifted riders that are going to work hard to make 2021 one of the best seasons yet. We're excited to be a part of the team and to see what the future holds for Joey Savatgy and Justin Bogle."
Team Rocky Mountain ATV/MC – KTM – WPS will start the 2021 season on January 16, 2021 at NRG Stadium in Houston, TX. The team has an incredible lineup of team sponsors and is ready to go racing in the 2021 season.