Pala, CA
Fox Raceway
Lucas Oil AMA Pro Motocross Championship
A long-running (and strange) curse in this sport has been lifted. For three decades, French riders have come tantalizingly close to winning the 125/250 National Motocross Championship only to be denied through heartbreaking circumstances (Jean-Michel Bayle broke his arm while leading the 1990 Championship. Stephane Roncada suffered a knee injury while leading in 2000. Christophe Pourcel's engine let go at the next-to-last-round of 2009 while leading the points, and then Pourcel broke his arm at the finale while leading the points in 2010. Marvin Musquin was locked in a winner-take-all battle at the 2015 finale with Jeremy Martin, and his engine let go in the first moto).
Dylan Ferrandis avoided the pitfalls this time to become the first French champion in the 250F class. He went 2-5 at the finale for third overall. The Monster Energy/Star Racing Yamaha rider discussed it on Saturday night with the media.
Racer X: Dylan, congratulations. A great season for you all in all. You could tell you came here looking to take care of business this season. You had two great years in supercross. What does it feel like to get that done? You got a taste of this last season going against Adam Cianciarulo for the title. Now the title is yours. What does it feel like to now be a national champion in the U.S.?
Dylan Ferrandis: It's awesome. Really the goal is accomplished. I'm really proud and honored. It's been a really crazy season. I never dreamed that big to win a supercross and motocross championship in the same year. It's really awesome. I put the work behind so I kind of feel like I deserve it. We had some ups and downs this outdoors, but the last year finished second behind Adam, that was really something I don't want to live again. I was so frustrated and I was getting really mad by that. I know what happened. After the supercross championship, I was not really ready. I wasn't hungry to win enough and he was, so I paid [for it]. So this year I really wanted to win everything and to be behind the gate for a win and nothing else. That's what I did. So just awesome. Perfect season for me. Like I said, I had dreams before to be supercross champion and motocross champion too, but doing both the same year is just unexpected and it's awesome.
How did you approach today? It looked like you went in and you were willing to run for the victory and race for the win if you had to.
For sure I started my day with the goal of winning, but at the same time the championship is what we all want. So that was the main goal and I knew if I had to let it go someplace, I would do it. So first moto was really happy because J-Mart was behind me. I was like, Wow. Okay, let's go. It's going to be a war again like Millville. Then I kind of made the gap and passed my teammate to finish second behind Jett. After that, I felt like it was almost done. I had 23 or 22 points, so I was like, Okay it's safe now. I can just relax. Then the second moto I got a good start. I really tried to go for the win, but I made a small crash in the back section. It was so dusty that I just couldn't see enough where I put my wheels and I crashed. After that I pushed a little bit to get back in front. At some point I was like, Okay, it's fine. I just finished the moto and enjoyed these last laps on the 250 bike. Monster Energy/Star Racing Yamaha, that is such a crazy bike, and enjoy this moment and we clinched the championship.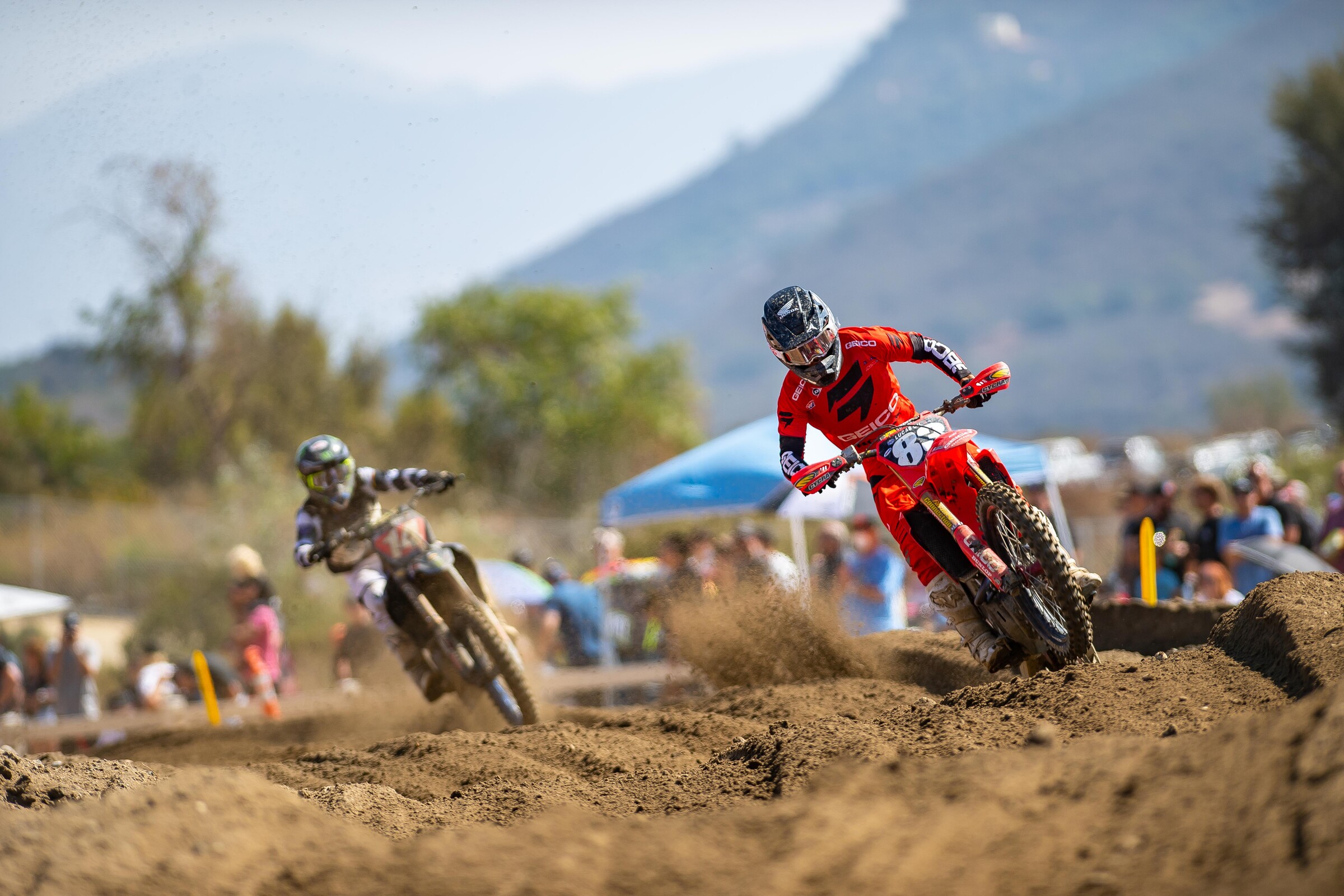 With your bonus with winning, is there anything fun that you and your wife plan on purchasing?
I don't know. We didn't really think about it. I think right now we think about our future. My future is to move in 450. Most of the riders in 450 have one place in California and one in Florida, so maybe that's something that we are going to do. Honestly, last year when I won my first championship we paid off the house and that was enough for us. We never had the goal to be rich or nothing. So after that we were just so happy and now I don't know. The bonus just came and again and again, so it's awesome. But we just live a normal life. We don't need anything more than anyone. Also we have some such crazy sponsors that they already want to make some gift to us. That's what they told us today. I don't know. I think maybe we start to look at getting a place in Florida for the future and for being in the best position for next year in 450.
You mentioned just a minute ago that last year maybe your mentality wasn't where it needed to be and you changed it for this year. Do you feel like you're ready to use that same mentality going into the 450 class and be a top contender?
Yeah, absolutely. I know I made a mistake in the past and I learned from that. So I think it was just good. When you make such a mistake and you learn it makes you better. I think Adam and also Chase Sexton, they showed me a little bit the path for next year. So I see what they can do and I feel like I fight with these guys so I can do the same or maybe better if I work hard. So for sure, I'm aware about this challenge but we will put in the work this winter and try it and we'll see. Everything is going to be new, new team, new bike, new championship. So I can't really say much now. We're going to see next year.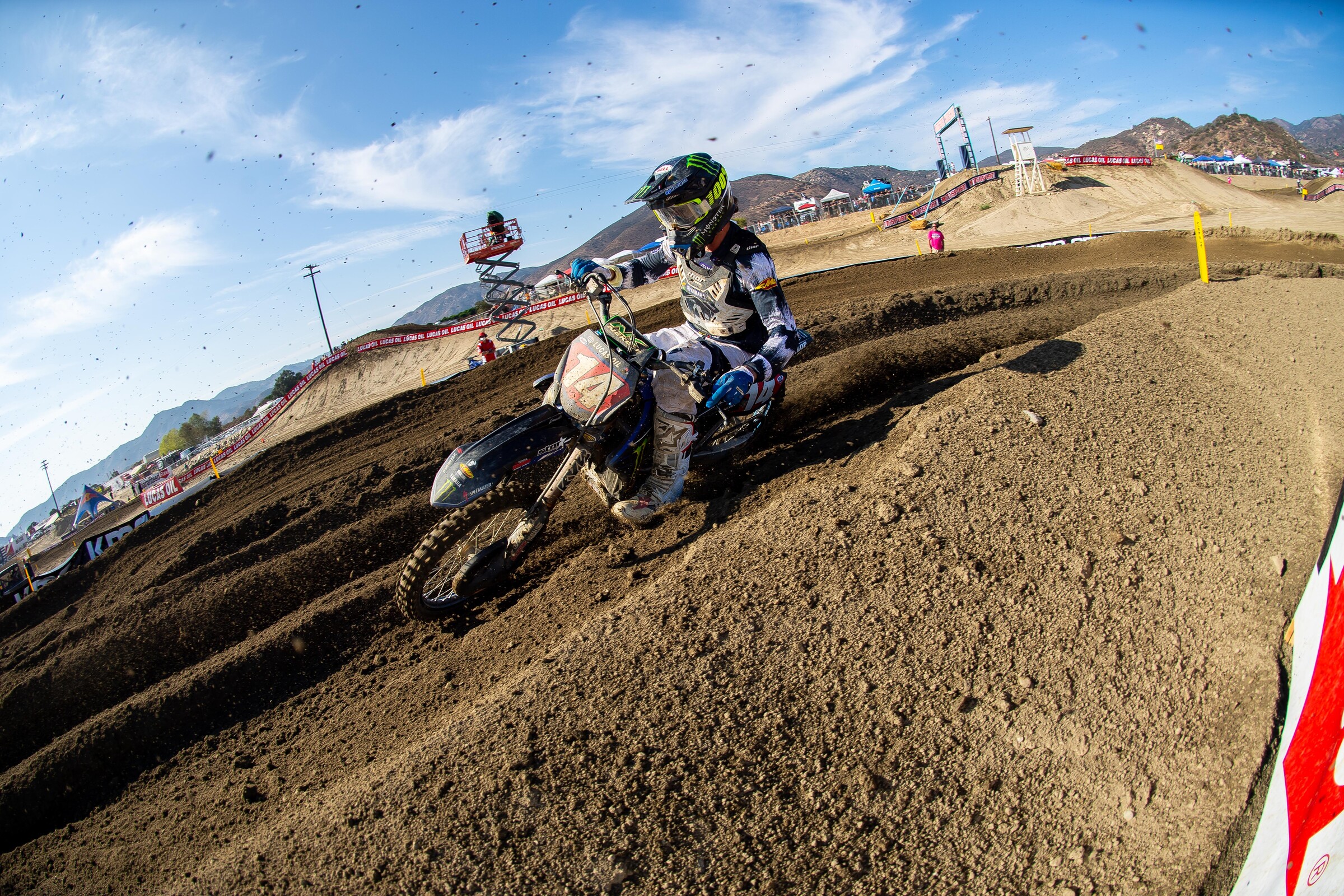 You crashed or went off the track early in that second moto. Did you start to get worried at that point?
No, not when I crashed, but at the start of the second moto when I see my teammate Justin Cooper had the issue on his bike, I really shit myself. I was like, Okay, I don't want to be one more French rider who fails at clinching this title. So I was really scared. But I did the start. I had a small crash in this back section, which was by the way a terrible section on the track. Then I came back and when I see it was five laps to go, I just saved my engine, just ride smooth and just finish the race. But the crash was not a big problem. When I saw my teammate having a problem, that scared me a lot.
If you won the moto and Jeremy finished fourth you would have wrapped up the title. Were you keeping track of all that? It looked like at one point you were going after Jett and then maybe the lap to go you kind of just settled for second. Did you know kind of what you would have needed in the first moto to wrap it up?
For sure. I talked to Jett after the race and said, "I needed to pass you to win the championship." I tried, but before the last lap I made a small mistake and lost some time. I kind of gave up. Not really gave up, it was just not close enough to put some attack on. I was aware of it, but it was more fun to win the championship on the second moto than first moto.
So it sounds like you actually knew about this weirdo French thing. Every time a French rider gets close to this title, something goes wrong. It sounds like you actually were aware of that?
Yeah, for sure. I followed this championship for so many years. I seen in the past happen. The last was Marvin [Musquin]. He had a bike issue at the last round. It's terrible. So for sure I was thinking about it. Also the French media, they shared so much stuff this week about it. For sure I looked because I wanted to know what they were saying. I don't really trust luck or stuff like that, so we proved that it doesn't work this way.
It looks you and Marvin though did have a chance to embrace after you crossed the finish in the second moto. I think we caught you on camera that you got a congratulations from Marvin there.
Yeah. He was there. We're the only two French riders riding this championship so we for sure know and talk. He was happy. It was a good moment for him to congratulate me. It was a nice moment. We talk sometimes. We don't have time to really hang out together. We talk sometimes at the race. He's the only one that I can really talk about what we are living, both of us. We are the only two French riders in the U.S. riding. I know what he lives every day. He knows what I live every day. So sometimes it gives us some comfort, I want to say, when we spend time a little bit together. So for sure I wish he would win today, but he didn't. He was happy for me. So it was a nice moment.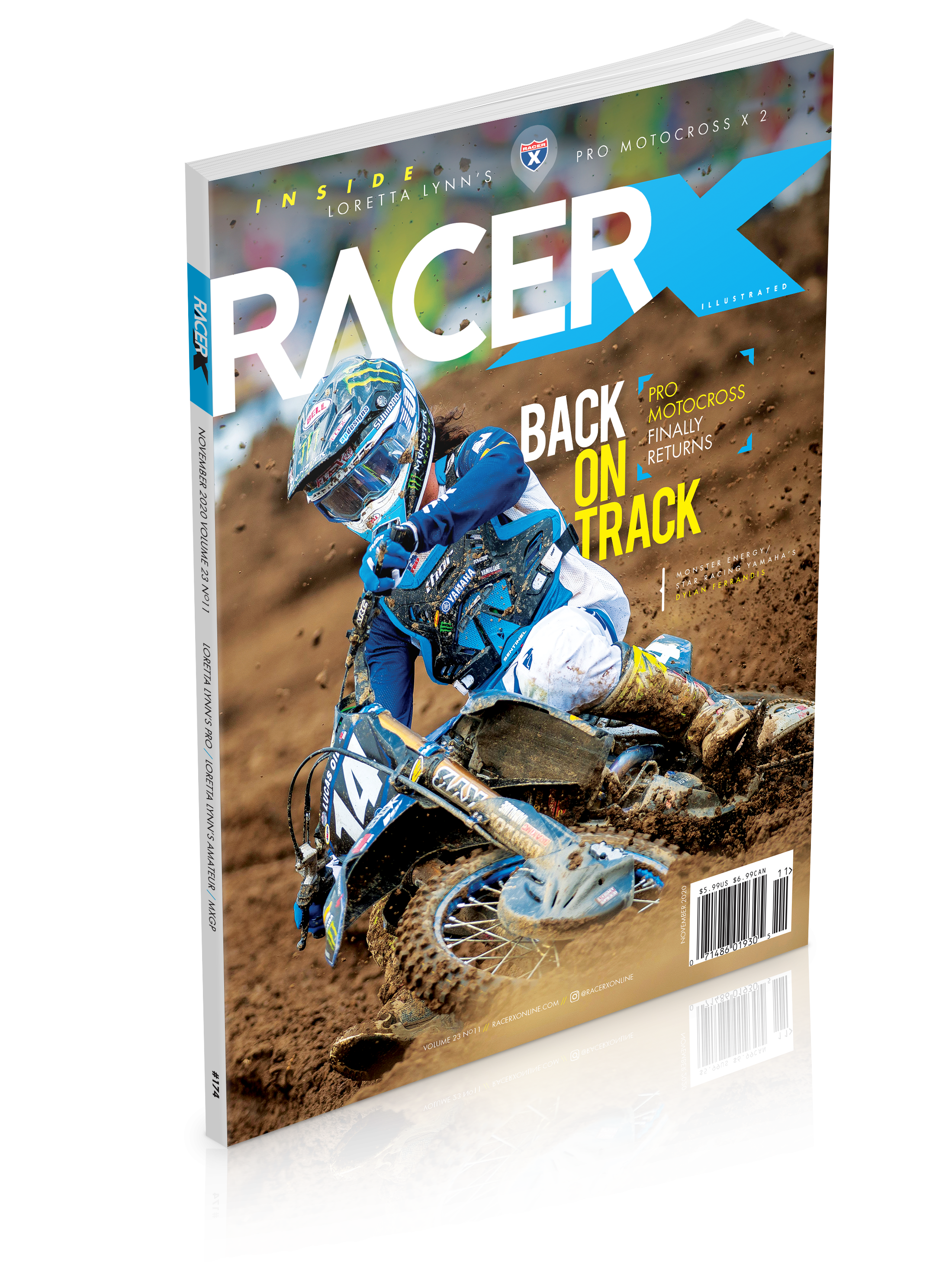 Racer X Illustrated Motocross Magazine
The November 2020 Issue
Inside the November issue: Lucas Oil Pro Motocross finally got started—at Loretta Lynn's Ranch, of all places. The FIM Motocross World Championship answered its own scheduling crisis with a successful Latvian tripleheader. The moto world returned, even if briefly, to a sense of normalcy in August at the Amateur National Motocross Championship at Loretta Lynn's. Our own Kris Keefer recaps his first Loretta's racing alongside his son, Aden, and much more.
Read the Issue Now
Preview the Issue Now
Looking back, is there any one particular highlight that you can kind of recall that you look at as a stand-out for you?
Yeah, for sure I think Millville was a big battle between J-Mart and I. The fact that I won on his home race and grabbed the red plate, I think that made a big difference in the championship. For me, like I said in the past, that was one of my favorite tracks to ride and I never did good there. So I think it was a big change for the championship. I think it was the most important race for me.
In the opening moto today you obviously had a really good battle there with Jett. You seem to have a fair amount of respect for Jett as a young rider. What are your thoughts on his potential, considering it is just his first season?
I have a lot of respect for everybody I think, not only Jett. But he's cool with me. I'm cool with him. I know him. We rode the same team in Europe. He was on 85 and I was riding the MX2 World Championship and we meet over there. At this moment he was a little bit more young and shy, but I was having fun with Hunter at the time. That's where I met him for the first time. So it was funny to meet him again and ride together now. A lot of respect. What he showed this season is awesome at his age. We never had a chance to spend time together and give him the advice that I wish I could tell him. Today on the gate we were next to each other in the second moto and I don't remember what I said but I told him a joke on what to do and what not to do. For sure I think he's the future of the sport. If he can stay off the fame and the social media that can drive you crazy, I think he can be really a future superstar.