Pala, CA
Fox Raceway
Lucas Oil AMA Pro Motocross Championship
Rockstar Energy Husqvarna's Zach Osborne has gone to yet another level in his unprecedented journey through the sport, now holding his first-ever 450 championship after clinching the Lucas Oil Pro AMA Motocross Championship on Saturday. He put together safe 5-7 scores to take sixth overall, enough to win the title by 12 points over Adam Cianciarulo.
Zach joined the media after the race to discuss his long road, including becoming the oldest U.S. 450 Champion ever, the atmosphere with his team that made it happen, and even his brief consideration of retirement after huge injuries earlier this year.
Racer X: Zach, congratulations on the championship. Let's talk about your career. You have paved your own path to this point. No one has done it quite like you've done it. Did all of those years and all of that work to get to this point, did all of that kind of help really prepare you for what you did? You also have championship experience, but did all of those years and all that experience really help to manage this lead?
Zach Osborne: Yeah, I would like to think so. Every experience you can either learn from it or allow it to be a failure or a setback. Today was just kind of the culmination of a lot of years of doing what I do and trying to claw my way back to where I am today. Still, nothing that I've ever done really prepared me for the pressure that I would feel today and last night trying to sleep. It's nice. I'm looking forward to going to bed!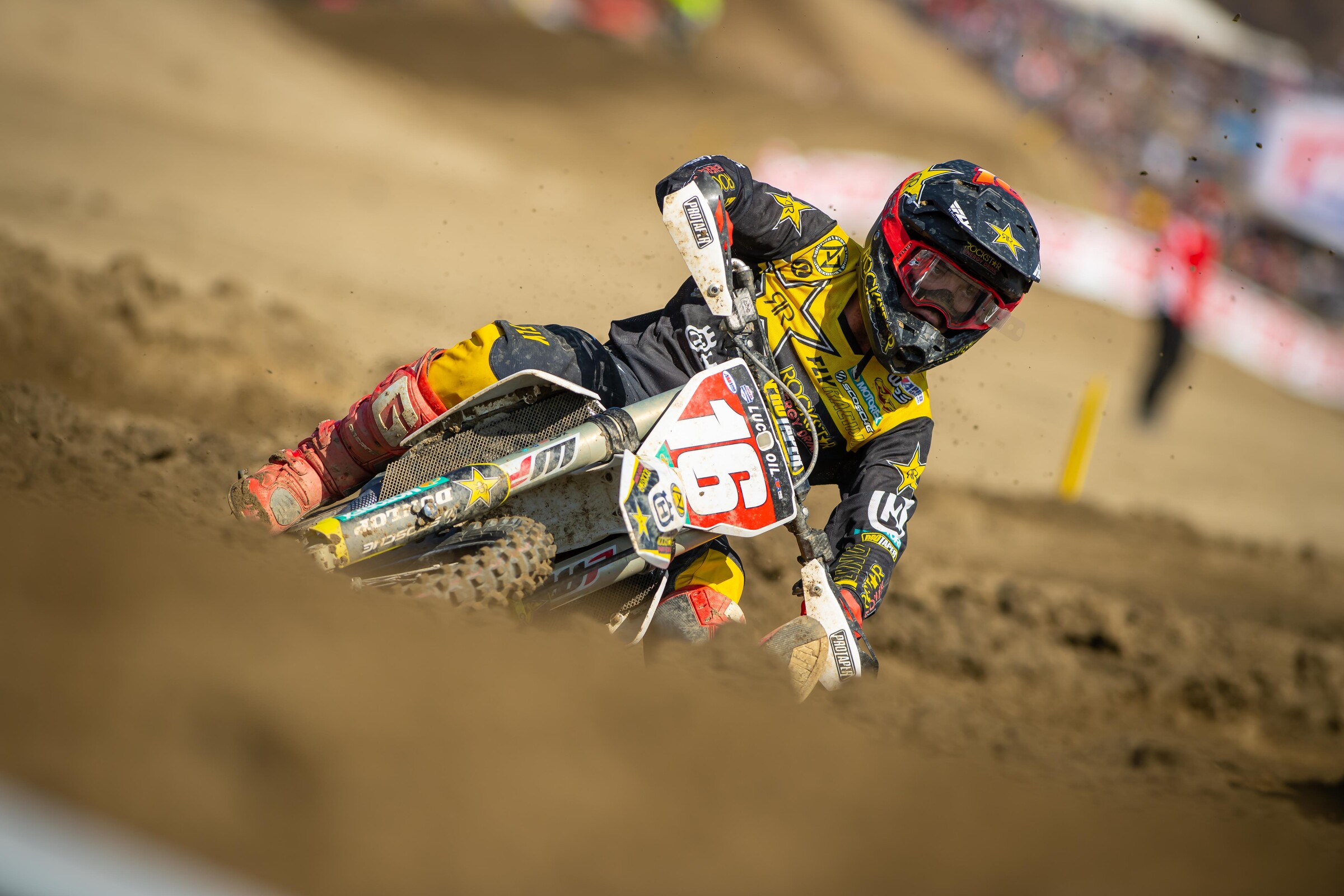 Can you pinpoint at any point where you turned the corner in your career where you went from being a guy that can challenge for podiums to being a guy that can win every single time the gate drops?
It's hard to say. I would like to think that it was probably 2016, the year before I won championships. I was really close to winning some supercrosses that year and it really broke me down because I was prepared, my bike was good, everything was in a really good spot. I failed like four or five times that supercross season. I was on the podium. Until that point, podiums were always like, I got on the podium! Finally I just kind of got fed up with that. I wanted to win. I was able to win a race at Budds Creek at the end of that year in 2016. That sort of seemed to flip that switch. But then when you get in the 450 class it's the same battle all over again. Last year I won a moto and this year I wanted to win a race. I won the first and then I won the second race, and then I kind of went from wanting to win to, "Hey, maybe we can win this title." Then seven weeks later I'm still leading the points. It was like a completely different level of pressure and precision that needed to be used every day, training and all the things that happen to get you to race at the final race on the final day of the championship to be able to be in a position to win. That's the details. That's kind of what got me to where I am.
Does it feel weird to be the oldest champion that there's ever been? Did age maybe give you that kind of extra bit too?
Maybe, but really it was just like I said winning is like a stepping stone. Once you win, then you want to win more. Fifth is not good anymore. It's just like a paradigm shift, a goal shift of everything you had going on where you just take a step up mentally. I don't even know. It's been crazy.
The 450 Class Championship Finish
You're a family man. You're really known for that. Brittany keeps you grounded. Your kids keep you grounded. That's your primary focus in life, really. I think you're a racer second. How has that dynamic helped you this season?
The main thing is they are going to love me no matter what, whether I win or I don't win. Like you said, they're my main focus. When I have that comfort and knowing that no matter what I have something to go home to, it's an awesome feeling. My little girl, I asked her when we were going to Loretta's 1, I was like, "Are you going to watch the race this weekend?" She was like, "Are you going to win this weekend?" [Laughs] I was like, okay. Here we go. But my little guy, he loves being at the races. It's been fun getting to watch him this year just kind of enjoy running and playing in the dirt. Yesterday we built a toy bike track and he was so stoked on it. I was probably more stoked on it! It's those kind of things that you don't ever realize or appreciate until you become a dad, those moments.
You don't really get a whole lot of time to celebrate. Do you have big plans? Maybe a vacation for the family to try to regroup before you jump back into supercross?
I just had a pizza with real cheese on it for the first time in like three years. Backed that up with a Dr. Pepper and some chocolate I found in the motorhome. So we're off to a good start. It's a tough time to actually go on vacation. I would love to go on vacation, but I don't want to go somewhere where I have to wear a mask or do all these things. I want to be able to go and enjoy it. So my family and I are going to stay here in California for a couple days, fulfill some obligations. We're going to go back to Florida and find somewhere to go on vacation and enjoy it. So I have two or three weeks completely off, no training at all, no riding, nothing, and then I'll start riding again in November and training for what we hope is a January start for supercross. A considerable amount of time off and just chilling. That's the main thing. I can be happy or relax kind of anywhere. Obviously my kids have obligations with school and my daughter is in gymnastics, so we kind of have to pay attention to those things, too. We'll get definitely some vacation time and some downtime, but also still kind of doing the normal.
How were the nerves today?
Obviously I had a decent lead coming in, 24 points. So I knew it was mostly about executing two good starts and kind of keeping my bike in tact. The stress was high, but as far as being nervous I felt really, really good about my chances and I knew that I just needed to execute what I have been kind of all season, and it worked out for me today.
How different was the feeling of winning between the 250 championship and this one, minus the size of the bonus? Can you compare the two?
I would say the first championship I won obviously in 2017, the supercross championship, was the climax. It's hard to beat that. But this one is definitely right up there. It's been a hard-fought season. I'm older than anyone that's ever done it, which is quite an accomplishment as well. So there's a lot of things that were kind of stacked against me. It just felt amazing to cross the finish line. When you're in that situation and the moto is long… The track was really rocky today. You hear a noise and you think, oh man! Everything you hear and everything you feel is just magnified by fifty. So as far as nerves, it wasn't that bad but stress was pretty high.
On that note on your age, do you have a plan or a goal on how long you want to do this for?
No. My deal with Husqvarna is through next year, through 2021. They've been talking about maybe 2022. So for me, it's just as long as they want to kind of keep me and I'm still relevant and doing good. I've had a successful career here in the last four or five years and I want to continue that. It would suck to kind of just fade away or be irrelevant in tenth place or whatever. So as long as I can be competitive and run at the front and contend for wins and championships, then I'm happy to do it. I don't know past 2022 about that, but we'll see.
You mentioned about you thought about retiring in March. How much does this title fuel your fire for next year?
Massively. That's the reason why I considered retiring, because at the time I was riding like crap. I was struggling and I didn't feel like I could be in contention for wins or being relevant. So to know that I can do it, it's inspiring to me. As long as I have health, this is the plan for my life and I'll continue.
How serious was the retirement thought? Was that just within your family or did you go to Husqvarna and let them know what you were thinking?
No. It was more just me and my wife, and probably just more me because I was kind of afraid. It was a big decision. It was one of those things where I just needed to take some time and really discover if this was really what I wanted to continue doing. It was a massive injury. I had five broken vertebrae, two that were 50% compression, loss of height, a broken wrist, two punctured lungs, partially punctured and collapsed, bruised lungs. It was a big deal for me. It wasn't like a scared thing, it was just I was struggling to get going again and find the motivation. Obviously in the end it was the right decision and I'm grateful for the decision that I made as well as my wife's influence on not allowing me to quit in a hard time.
While celebrating, did you guys ever get the bike to blow up?
No. I'm not a massive fan of that whole rev up deal after a title. They did it a couple times. I had one twist of the throttle it and then they put it in the truck. I think that's the best way.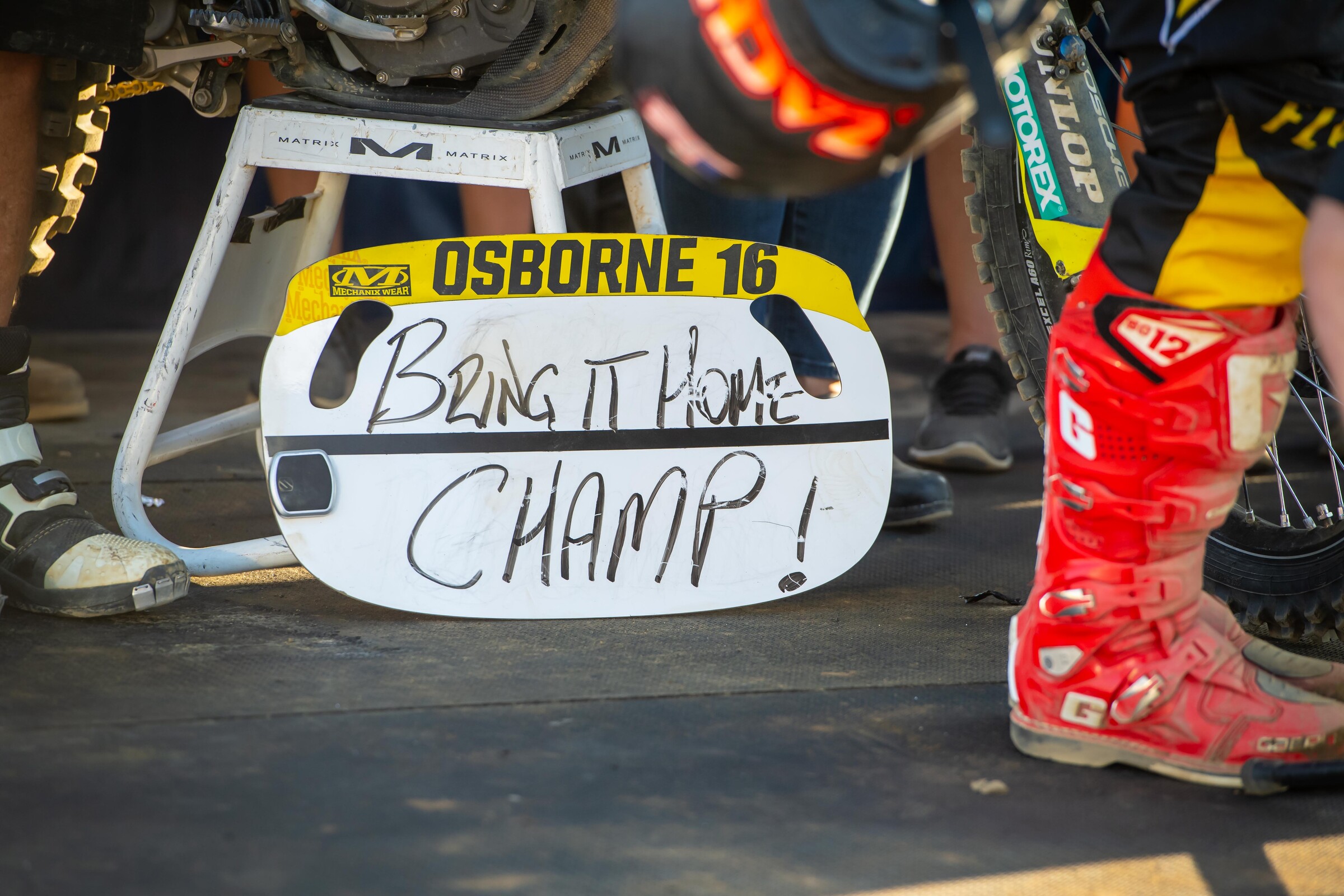 How much does winning this title help your mindset heading into 2021?
I think it will help a lot. More than anything just kind of a weight lifted. A 450 championship is a pretty big deal in our sport. So for me, it just kind of brings some validation, takes some pressure away to where I can just kind of free up and ride more openly and have more fun with it. It's more of a confidence thing than anything. I know I can do it now.
You can back to the U.S. on the GEICO Honda team for a little while, and then you moved to Husqvarna. I don't think it was like you were the hottest free agent ever, but you did go to another level on that team. What changed?Definitely, the team had something to do with it. When I took the deal, they were obviously kind of transitioning back into kind of the new coming of Husqvarna. I was doing a lot of off-road stuff at the time, and that kind of seemed where things were headed for me, to GNCC or something like that. So I kind of took the deal thinking if this two years goes good then they'll re-sign me. If not, then maybe they'll have a space for me to do something else. So that was kind of the original deal. I was hired by Bobby Hewitt and Dave Gowland and there were some times where they weren't supposed to sign me and they did. The story is written. We are a group of guys who love to go racing. We all appreciate each other and we have a lot of fun. We legit have a good time every weekend. I think it shows in our results and in the atmosphere around our team, especially when we have all the riders and everybody is kind of doing their thing. It's a fun atmosphere. I've said it a million times, but I wish there was a way to film our lounge for a weekend at a supercross because it's pretty comical.
The October 2020 Issue of Racer X Illustrated
Summer Break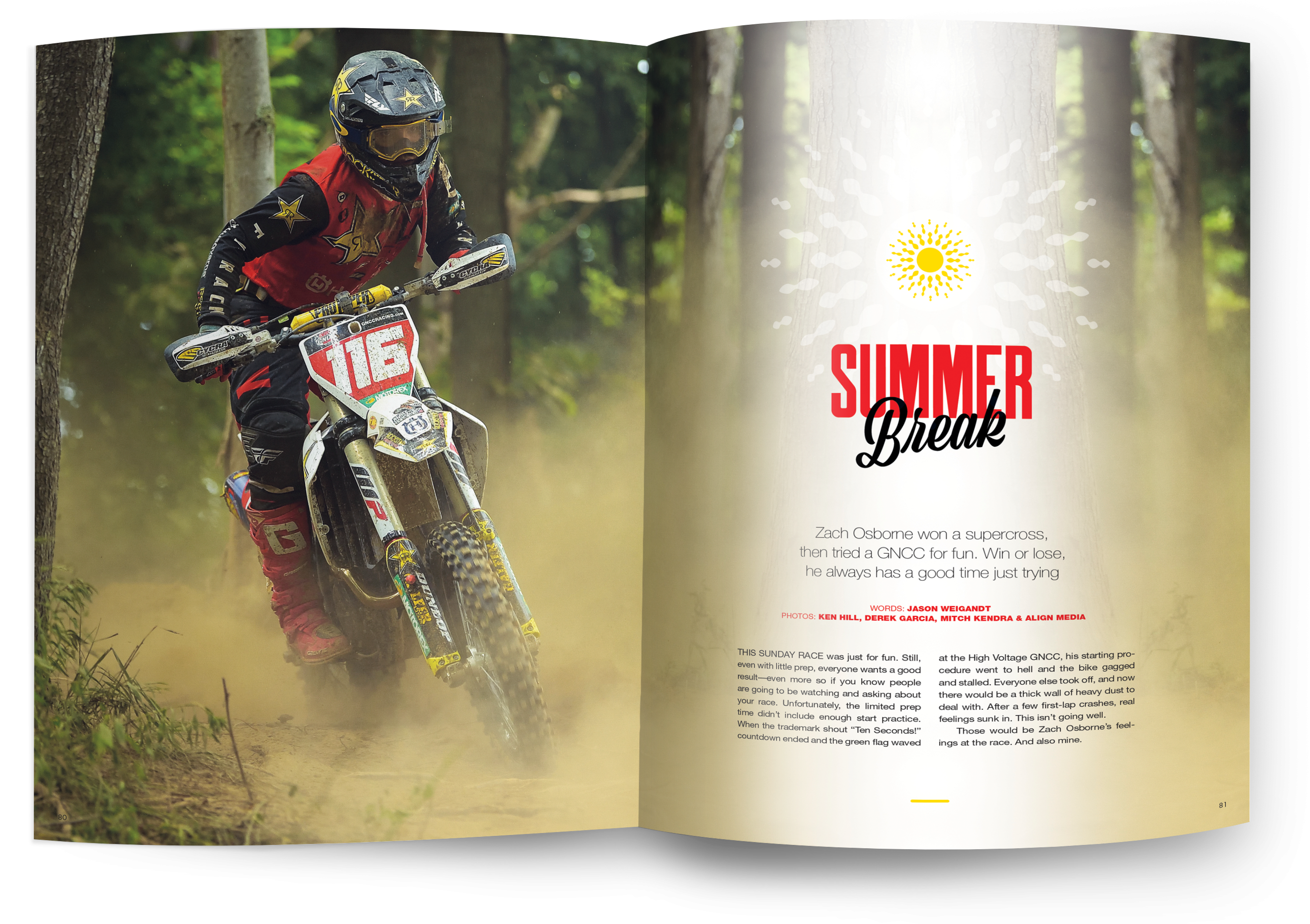 Zach Osborne won a supercross, then tried a GNCC for fun. Win or lose, he always has a good time just trying.
Read Now
Preview Now
I've been there. It is not what people expect. Also, you mentioned something interesting. Due to injuries, you ended up being the only rider on the team today. So how did that change the dynamic?
I felt like there were 15 people standing around looking at me like, "So we're going to win the championship today, right?" I'm like, I wish RJ [Hampshire] was here. I wish the other guys were here, just Dean [Wilson] or Jason [Anderson] or anybody at this point. Everybody was standing here looking at me. There's only so many people that can work on my bike. It was a lot of pressure. So it's just fun, man. All the guys, everyone gels well. There's nobody that has an ego issue where it's their rider or this or that. It's just like everyone is pulling in the same direction and that's whatever is best for the team at the time. That's rare in any sport. I think we've kind of hit something off-the-wall with it being that way. I hope it stays that way forever.
You were a great rider coming out of the amateurs, and then you didn't get much of a chance at all. It was gone so quickly. Then you managed to rebuild yourself and come all the way back. We've talked about this quite a bit and everybody's heard this story. Do you think if you had just gotten another year or two in America to find yourself that you would have reached these heights? Or did you need to experience all these lows to get to this point?
No. I would definitely not. Who knows? I don't believe in my heart of hearts that I would be where I am today without the experiences that I've had. It's not just the racing experiences, either. It's a lot of life experiences. I had a high-level ride and everything that you could want as a kid as an amateur from the time I was twelve years old until I lost it all and kind of went down a different path. But the rubber had never met the road for me until it was time to do it for me and for myself. I actually owe a lot of my success to the guys that were on my original team when I went to England, the Dixon Racing Team, because they kind of rekindled the fire for me, a passion that I never really had. It just brought racing to me in a different light, a lot of fun, and that it didn't have to be so corporate. There was no pressure. We just had a genuinely good time and it's much the same as the team I'm on now. I think that that's why when I came back with GEICO it was very corporate and square. They're an amazing team. They've had an amazing career as a team, but it was just too stiff for me. I needed that fun atmosphere and to feel those feelings again. When I came back with them, I kind of had the same feelings that I had when I left. Then when I came to this team, it was more it can still be fun and racing in America.