Pala, CA
Fox Raceway
Lucas Oil AMA Pro Motocross Championship
On a day where the championship was front and center, Honda HRC's Chase Sexton put together an incredible day at the races that will likely be overshadowed. For the first time in his career, Sexton was able to win a 450 Class moto and an overall in one go by putting together 3-1 moto scores to land on the top step. Donning Michael Jordan replica gear, Sexton ended his season on a huge high note and met with the media following the race to discuss how it happened.
Racer X: Chase, congratulations. Big day for you. You've been knocking on the door. You've been there. Just needed to put it all together. Fastest qualifier, familiar spot for you. Then you put it all together in the two motos. That second moto was interesting with Adam Cianciarulo kind of having his issues, but you were ready. You were there. You were close. Was it the [Michael Jordan replica] jersey? What was it? What was the difference today that got you on top of the box?
Chase Sexton: Definitely wearing that gear put a little bit of added pressure. You can't really wear Michael Jordan and then go out and get beat. I put a lot of pressure on myself that second moto. I knew if I got a good start, I was basically going to have to either crash or go for the win. I kind of held back a little bit in the beginning and made a push towards the middle of the race and was really feeling good. Had a really good flow with the track. It was pretty gnarly today. It was good. Adam, I finally pressured him into a mistake. I've been behind him way too much this year. I'm really happy with how the day went, 3-1. Pretty good day. Really happy to get this first win out of the way. I couldn't be more excited. It still doesn't feel real. It's been a long time coming. I'm excited for the future.
Talk about your first year in this class. You're coming in straight off the 250, a championship-winning season in supercross. What were your expectations for yourself when you came into the year? Is getting on top of the box, what you did today, is that something you realistically had as a goal on your list for this season?
To be honest, I really didn't know where I was going to stack up. I know this class is very difficult. Obviously, it's the premier class. So, I didn't really know. My whole goal this year was to come out and show speed and show that I can run with the best guys. I feel like I did that pretty early. I kind of crossed off a lot of what I wanted to do early in the season, and then I felt like I had potential to win. So, from probably halfway on I just wanted to get a moto win. It took me 18 motos out of 18 to get it. So, I'm really happy with how it went. Definitely felt like I had a successful rookie season. Felt like I built every weekend. So, we're just going to try and keep that going.
Christian Craig was right there with you every step of the way today. What was it like? Was that like a rabbit to chase? Was it good to have him up there with you? Basically, you two have your own in-team battle to see who can come out on top. Did that add to everything going into today and getting you on the box?
Yeah, definitely. Christian rode very well today. It was cool to see him. I knew he was going to be fast. He's really good with these California tracks. It's where he grew up. I know his bike is pretty much set up for out here. So, I knew he was going to be good. Especially when the track kind of formed like a normal Pala day, I knew he was going to be good. It was awesome having the Hondas go 1-2 that second moto. He was really riding well. Congrats to him. He went 4-2 for fourth. That doesn't happen very much. It was awesome to have him up there. Definitely first moto when he passed me, I was like, "No way." I can't let him beat me. That was kind of the deciding factor too on the win. So, I'm glad I got him first moto, and then second moto I was kind of hanging back a little bit and made a charge and got him. He rode really well. Everyone rode well all season, so it was fun.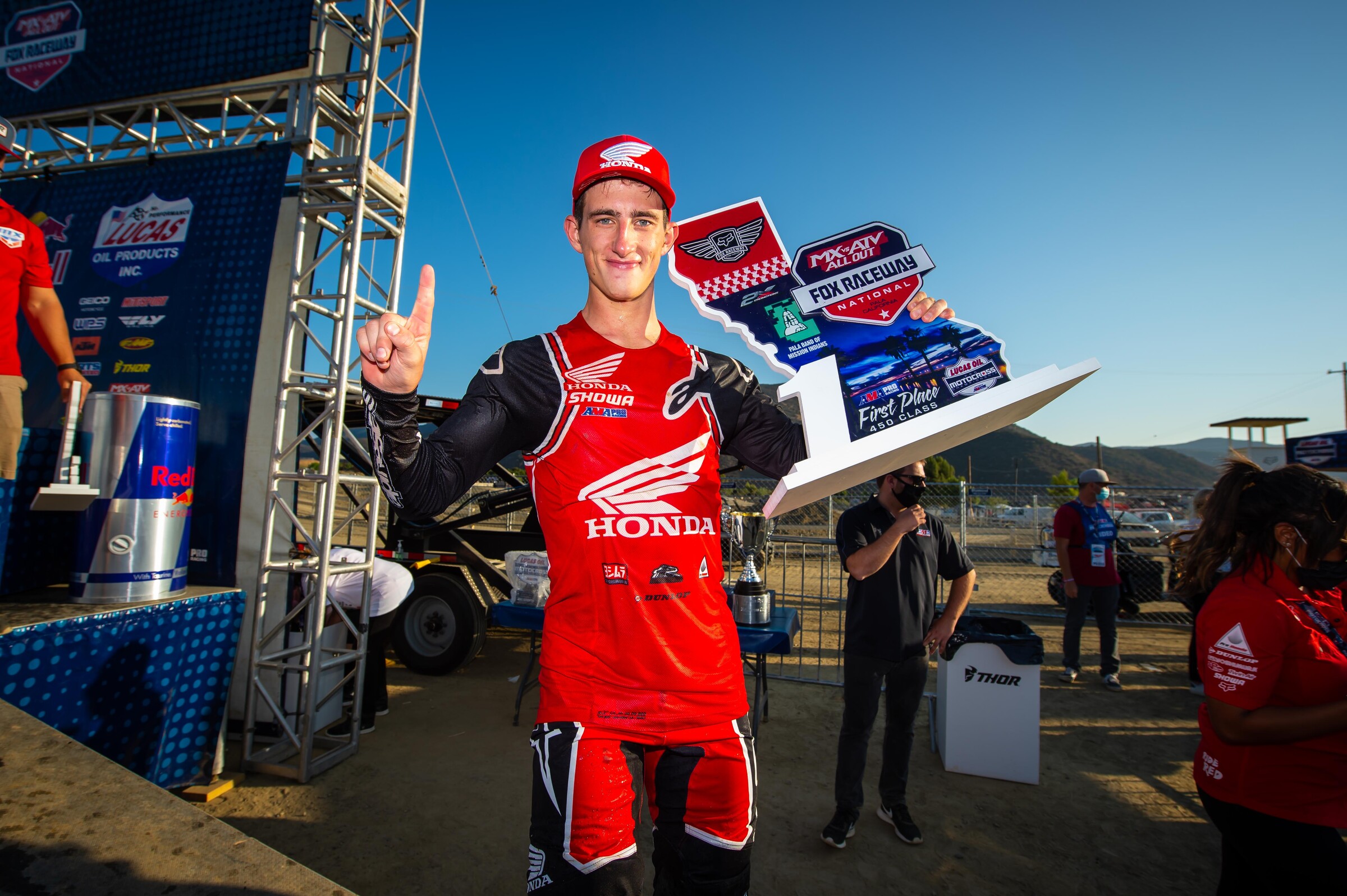 We always hear once you get your first win, they come easier. Zach's kind of proof of that this year. Is it kind of rough that you win your first one and now we got a break and we got to wait a while? Do you kind of wish you could keep that momentum going and go race next weekend?
Yeah. It can go either way. Having a bad race today and then going into the off-season is kind of a bummer, so I really wanted to end on a high note, and I feel like I did the best job I could today of doing that. But also, I don't really get to carry any momentum, but I guess mentally it really just helps me. It's hard to really believe that you can win until you actually do it. So today I think really helped me in that, just believing that I can do it now since I have done it. I think that's going to carry into the off-season and training and coming into supercross next year. We have about three months off, so take a few weeks off and then go to work and keep that momentum just in training and the mindset that I can do this. Like Zach said, he won his first overall I think at Loretta's and it turned into something great. So, I think we're just trying to win races and take this momentum into testing and next year.
Talk about the track. Sitting at home watching it, it looked like the worst track of the year. It just did not look fun to ride on. No traction. Going up that big hill, everybody was going off the side of the track because there was just nothing to push off of. Didn't look fun.
Yeah. It turned into basically Pala on a Tuesday, is what I kind of thought. It's been a little bit better. I actually really enjoyed it. It's easy to say when you win. If I would have came out here and got sixth, I wouldn't say it was probably the best track. First moto I didn't really gel at all with the track. I didn't really feel that great. Then second moto I came out and kind of hung back a little bit and then found a really good flow of the track. I think that was key, with all the cupped holes and all the braking bumps and stuff. You just had to find a good flow. I feel like I found that second moto. It was definitely a difficult track, not much traction. Pretty bumpy. Small chatter bumps. It was definitely difficult, but I feel like we made a few bike setup changes going a little softer and I think that helped.