Lakewood, CO
Thunder Valley
Lucas Oil AMA Pro Motocross Championship
The penultimate round of the 2020 Lucas Oil AMA Pro Motocross Championship took place over the weekend at Thunder Valley Motocross Park in Lakewood, Colorado. Long time pro Jason Thomas was in attendance carefully analyzing the action from the sidelines. As such, we fired some questions off to JT to get his thoughts on what went down.
There was a good bit of chatter about track prep after the race again this week. Can you explain the factors that lead to not disking the track as much as in previous years and how much that changes the racing surface throughout the day?
I have heard a few different theories about why it wasn't ripped deep (nor has any track lately) but I am not a big fan of that strategy. I like tracks soft and deep. I like changing lines and when the track forces riders to think outside the box when approaching a difficult corner. With temperatures in ideal ranges for moisture maintenance, I don't really understand the reasons for it being so hard pack, but the Thunder Valley base is just that. Without the addition of truckloads of dirt, the Thunder Valley track has a rock-hard base. I do like the fact that it adds variety to the series, though, so maybe it's not all bad.
As far as the surface changing throughout the day, once it hardens, it's not changing anymore. The only way to effect it at that point is to water heavily and then disk again, which wasn't happening in the short timeframes we have between motos.
Elevation seems to be talked about less and less every year we come to Thunder Valley. Are we at the point with these machines where the elevation isn't that difficult to setup the bike for?
Technology is certainly helping in that respect. As ECUs become more efficient and reliable, the elevation is not such a problem. It still reduces torque and horsepower due to lack of oxygen which will never change, but we don't see the sputtering engines throughout the field that we used to. A slower engine is one thing, but an unpredictable engine is something altogether different. I can accept a loss in power but if I have to constantly worry about a bog or hiccup, it's going to be a long day.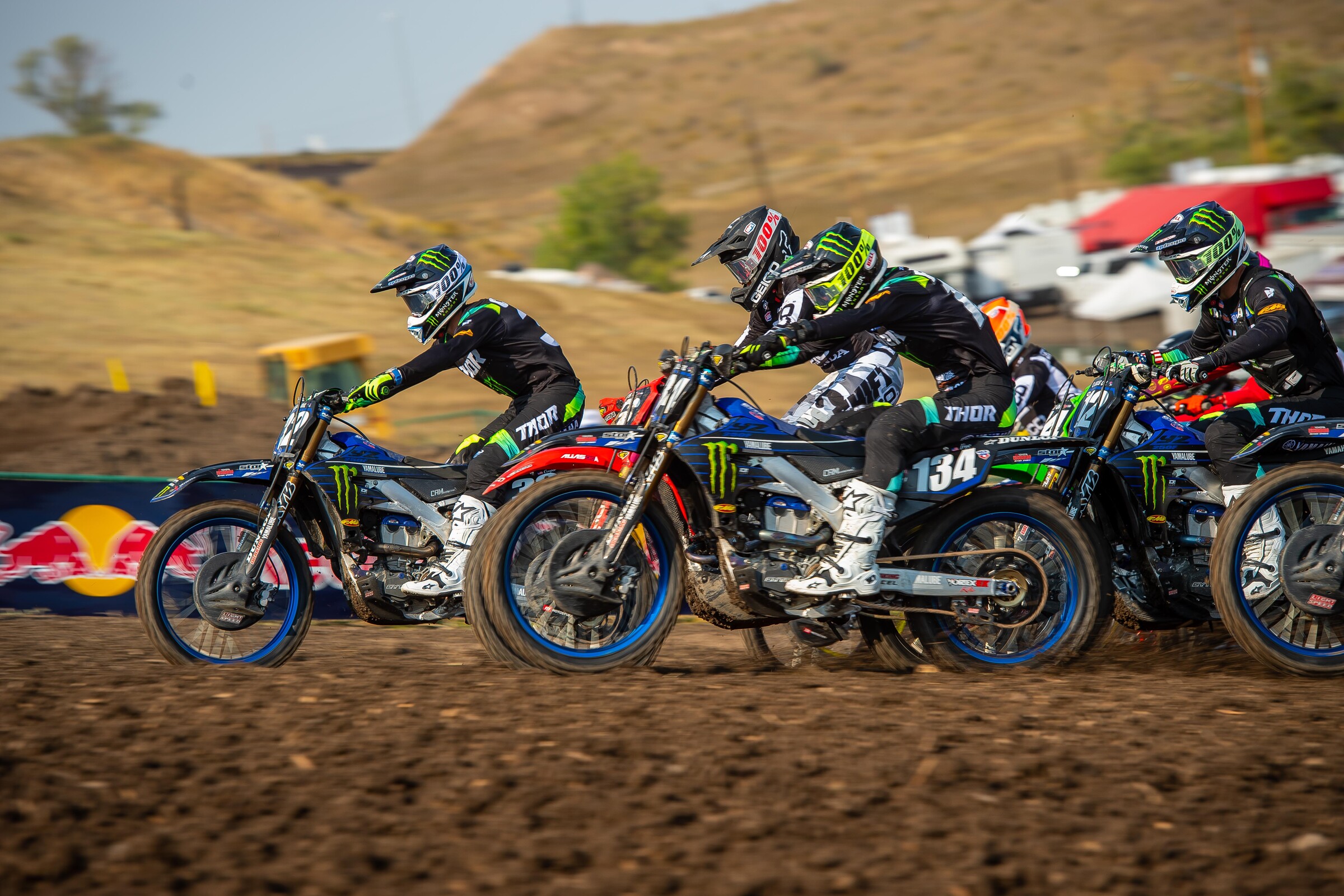 A couple guys made passes down the long hills where it seemed like they just held the throttle on longer. With both the U-turn before the uphill rollers and the James Stewart sweeper being somewhat off-camber, how hard is it to make a pass in those turns where late braking could send you off the track?
It's definitely not for the timid. It's also one of the only places to make passes on the Thunder Valley track. Many of the corners funnel back to the inside so it's a literal race to beat your rival to the spot. The braking bumps were less formidable this year than others which increased the downhill speeds even more. It also made it tougher to pull a kamikaze pass, though. The higher overall speed pushed the passing speed into the nosebleed zone. To make that move, big chances had to be taken (see: Adam Cianciarulo). It seems counter intuitive that a rougher downhill could be considered safer but rougher equals slower and slower equals safer. Say that five times fast.
Was that the return of "beast mode" Eli Tomac this weekend?
It was certainly reminiscent, even if just a glimpse of the mythical form Eli can wield. I don't think we will see the consistently dominant Tomac until 2021, but he has been better the last two weekends. I believe he took some time off after winning that elusive Monster Energy AMA Supercross title in June. That time off has shown up several times during this Lucas Oil AMA Pro Motocross Championship, leaving him a couple of percentage points less lethal. Racing week in, week out for the last few months seems to have brought him back to form, though.
Related: Eli Tomac appeared to have a clutch problem in the second moto and slowed way down. Is that something that he was able to fix or did he adjust his riding style to cope with it?
I heard or read somewhere that he got dirt stuck in the adjuster and once that was cleared out, he was fine. He was definitely fidgeting with something so that explanation would make sense. I didn't see the bike smoking or any of the usual symptoms of an overheated clutch so I will take this one at face value.
This race was run later in the year than ever, so does the sun setting behind the big hill next to the track late in the day make it more difficult to read the shadows of the ruts and bumps?
It was noticeable trackside during the second 450 moto. I was always very sensitive to shadows so I would have been miserable. With upgrades in goggle lens technology, however, maybe it wasn't as tough as I am thinking. Regardless of how bad it was, it was not as tough as the night races of 2008 and 2009. I can remember descending the Thunder Valley downhills and literally guessing as to the depth of ruts and bumps. The shadows created from the trackside lights were the definition of hazardous.
There were a couple of really close calls out there that we hadn't seen much of this year. Was this an anomaly or does this track have that nature of "reach up and bite you quick" in it?
I think there were two different aspects to this. First, that rut with the kicker in it was catching people by surprise. I am not exactly sure why or how it got so problematic, but Justin Barcia, Zach Osborne, and AC all had issues there. Second, the track being faster and harder than usual increased the likelihood of a high-speed mistake. When traction decreases alongside an increase in overall speed, that's a recipe for on-the-edge riding. Riders were pushing the limits of traction at all times. When they went over the edge, things got very sketchy, very fast because of the high pace. Additionally, the hard pack created very hard bumps that the motorcycle can deflect from, literally ripping the bars out of a rider's hands.
This is more of a Fox Raceway preview question, but is there anything recently from either Zach Osborne or Dylan Ferrandis that leaves you the slightest bit skeptical of their chances at wrapping up these championships?
As far as the track goes, no. The only way the titles don't stay intact for these two are big crashes or mechanical failures. Both riders would be able to rally back from any tip-over and finish well inside the top ten due to the field thinning out. Unpredictable things can happen, of course, but I like how both of these title chances are looking for the leaders.