Lakewood, CO
Thunder Valley
Lucas Oil AMA Pro Motocross Championship
GEICO Honda teammates Jeremy Martin and Hunter Lawrence enjoyed mixed success at the 2020 Thunder Valley National on Saturday. Martin would lose points to Dylan Ferrandis in their championship fight despite finishing third on the day while Lawrence put in his best result of the season earning a fifth overall with 5-4 scores. Both riders spoke to the media following their days in Lakewood, Colorado.
Racer X: Jeremy, a good day for you all in all. It's probably not what you wanted. I'm sure you were looking for that second moto win. You were in that position. You were there with Justin at the end there. You tried a couple times to get around him. He just was able to hold you off. I'm sure you didn't really realize what was going on with Dylan behind you, but it was a wild day obviously for the 250 class. Are you happy with your third? You got an 18-point deficit going into Pala. What are you thinking going into the final round?
Jeremy Martin: For starters on just today, 4-2 for third overall. Not super stoked on that. I had a really good jump out of the gate in moto one. I just straight up, some of the guys went right around me. I don't really know what happened there. I executed my shifts and everything pretty good. Then it was just a dog fight, really. The whole first moto I was just trying to catch the blue bikes. I inched up on Shane [McElrath] a little bit, but I'd get up on him a little bit and then he'd sprint and kind of get away and stuff. Moto two we made a change with gearing and it just helped a ton out of the gate. I got off to a really good start. I tried to definitely get in on Justin there, but he was riding really well. I thought maybe I could get him early, but he started to kind of catch onto some of my lines. Then I just threw a couple good little efforts at him and he rode well. I just didn't have anything there and that was it.
Quite a big points deficit now going into the final round. What's the mindset heading into Pala now?
The mindset really going into the last round is just ride my race, at this point. He's got a pretty big gap right now. If I went 1-1, he could basically go 5-5 and he would still have it. So, he's obviously going to go to win on Saturday, and then I'm going to be trying to win too. Just try to put myself in a good position and get some good starts and hopefully get out front and go 1-1 on the day. Maybe that will do something and put him in a situation. But he's been nailing his starts lately. All the blue bikes have. Like I said, I'm just kind of focused one me and just going to hammer out this last round.
Hunter, I know for you this summer you've been working to get back to the level that you expect to be at, contending for podiums like you were last year. It seems like it all meshed and came together today. Talk about what it feels like to be back up towards the front and to walk away from here with the best result of the year.
Hunter Lawrence: For sure. It was definitely a better day today. Obviously, the year kind of sucked for me, but I wouldn't say I had much races up the front like today in the season just due to starts and stuff like that and my shoulder not being 100 percent there. But it was good. We had two pretty decent starts. Just feeling more and more like myself. Hopefully can put in a good two motos at Pala and we'll see how we go.
What has it been like this season kind of being able to go against your brother? He's been doing great. His first full season on the bike and in this class. I'm sure he's giving you something to chase and giving you some motivation to kind of be up there with him. You guys were able to ride a little bit together today in that first moto. What has it been like to have him at least giving you some bar to set? Having two guys to kind of go after and push to get yourself to that level too?
It's not different to [Jarrett] Frye and [Nate] Thrasher making his first race pro and stuff and the other guys coming up, like Stilez [Robertson]. It's not different just because it's my brother. He's just another racer. Sure, there's a bar there for the Honda and stuff like that and what the bike can achieve and et cetera, but it wouldn't say it's changed much just the fact there's another Lawrence out there. That's about it. I'm six months behind on just the injuries I had in the off-season. So, I'm kind of playing catch-up. And then the shoulder injury at round two put me back a bit more. So just playing catch-up. It doesn't change much, really. At the end of the day I'm not looking to race or beat my brother. It's the guys that are on the podium every week. They're the ones I want to beat.
For all of you guys today, this is the latest that we've ever raced in Colorado. Especially with the big mountain that the sun sets behind, were shadows ever an issue especially late in the second moto?
Lawrence: For us, it was pretty good. The 450 guys looked like they had it a little tougher, but for us I think it was pretty decent. It was cold, which isn't a bad change from the East Coast heat and Cali heat. It was good. It was a good racetrack all around today.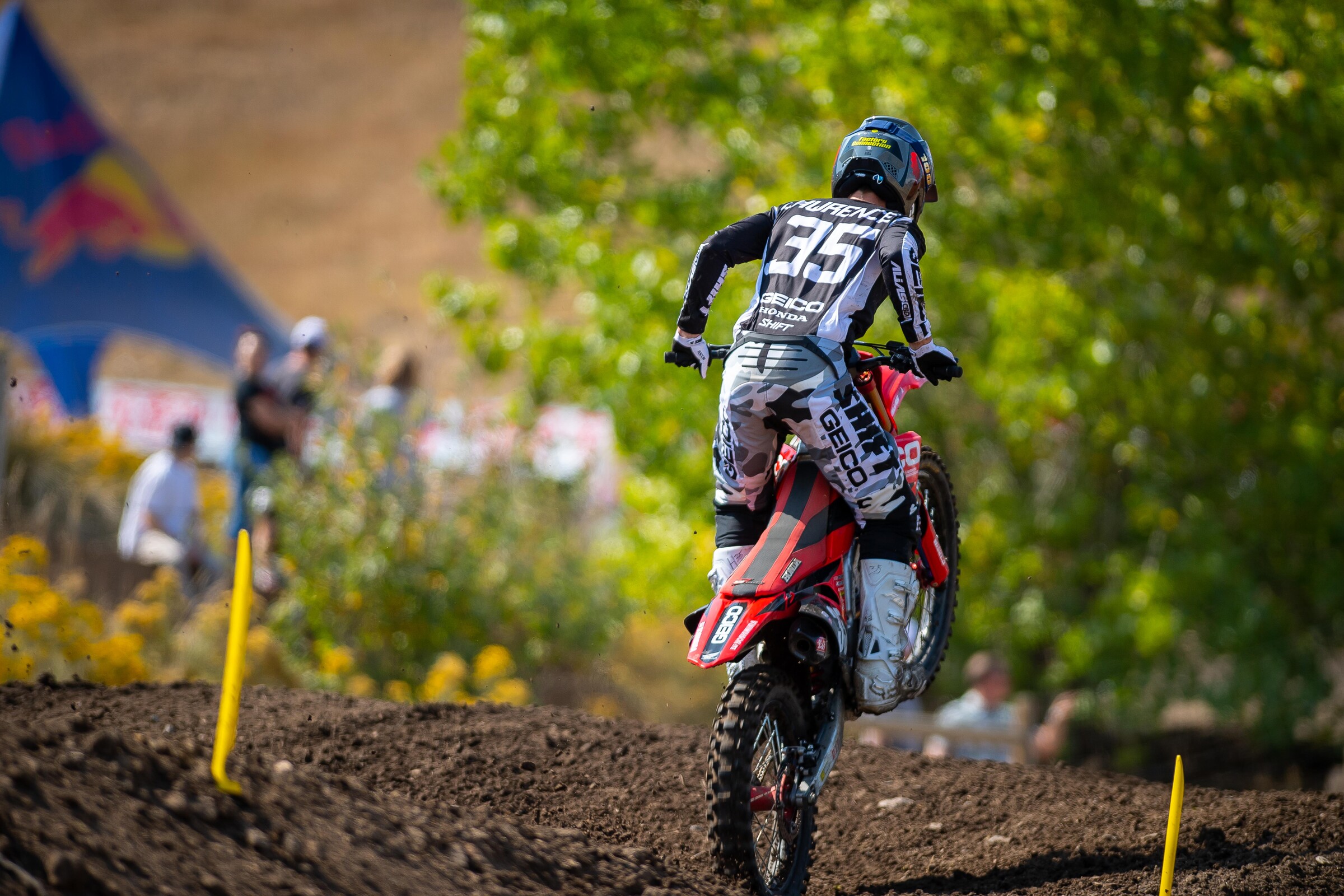 Jeremy, this has been a big comeback year, everything we've talked about with your injury and everything like that. Being second in the championship and all this, is this a surprise to you at all? Is this something that you expected even earlier this year, or was it kind of maybe even a higher expectation than you could have ever had?
Martin: Obviously, supercross I haven't won a championship, but I've won two championships in the outdoor series, so for me I race to win. I knew that I would be competitive. I was struggling during the supercross season. I took a really big hit. I struggled all year with just my wrist. It really bothered me even prepping for the season. I was struggling. I could only ride so many days and stuff like that, but I just hammered through it because I really wanted to put on a good show for this outdoor series and be competitive for the championship. I knew that obviously Dylan [Ferrandis] was probably going to be good—and I figured [Justin] Cooper would be definitely up there. I was a little surprised in the beginning of the season that he wasn't quite up to speed. But I knew that Dylan would be obviously really, really fast. So, I knew it was going to be tough. My biggest thing was I just didn't want, with me being a past champion, I don't like to roll over easy. I just wanted to make it a battle. I wanted to make it a fight and if I could win it, great. If not, I sure would like to make it tough on the guy that does beat me for the championship. So, I knew I would be competitive, for sure though.
Hunter, take me through that early battle that you had in moto two with [Brandon] Hartranft. I don't even know if you realized, you accidentally ended up knocking down Ferrandis. Take me through that exchange first.
Lawrence: Yeah. It wasn't until Dylan actually said at the podium what happened. He told me and I was like, I had no idea. I couldn't really say sorry. It wasn't really my fault. He [Hartranft] just kind of kept coming right. I was behind him for a few laps I think, and I was definitely faster and just wanted to get around him. On the inside before that I kind of went to the inside there and he jumped out of the rut, but we didn't touch then. I got a little off balance and we kind of came close. I wouldn't say anything was dirty. I'm a pretty clean rider, for the most part. He kind of just kept riding further right, further right, further right, and I'm like, You've made the pass. Good job, buddy. Can we crack on, so no one passes us on the inside? But thankfully Dylan wasn't on the inside because he would have passed the pair of us. A bit of a clown move, to be honest. It wasn't needed to try and whack my front wheel. I'll remember it.
Then when Ferrandis did get around you late, it seemed like you were actually able to stick with him for a decent amount. So, take me through those final laps.
That sucked, dude. I was behind Shane [McElrath] so freaking long. I couldn't pass him. That's the widest Yamaha on the track. I finally got around him and then because of how I passed him, it cupped up both of our momentum for the uphill, so then of course Dylan got him and caught right up to me then. So, he was on my ass. Then the old Honda didn't quite make the uphill triple in them rollers. Of course, he did from the inside. Then he got pretty close and managed to just get that real tight inside rut at the top of that hill and got right up beside me and scrubbed, and there was a lapper in the middle. So, I was kind of on the ropes there, but I tried to charge again and try and get him, but I had a few sketchy moments just pushing the limit. I tried to get him where I could, but just couldn't make the pass the last two laps.
How much will it help you going into who knows how long of an off-season, at least ending with running up front?
It's better than being where I was after the second Loretta's, because that sucked. It's not over yet. Obviously, I'd love to be better next weekend. So, I won't answer that question until next weekend because I'm aiming to do better.
Do you feel like you're 100 percent or do you still wish you had a few more weeks? Do you think there's more to gain?
No. I'm not where I want to be. I'm not on the podium. That's just an easy, simple answer. I'm not 100 percent myself, my old self yet. We're still building each week. We're still building and get 2 percent better, 3 percent better. It's just those are the one percenters that all the guys at the front know that we don't find miraculous, "We found two seconds this week." It's, "We found two-tenths this week or three-tenths, half a second." I'm just working. I'd love there to be five more races but it's how it is. It's life sometimes. Just keep digging and working.
Jeremy, it seemed odd the way the track shaped up, in the 450 class especially. We saw a ton of mistakes. Did it catch you by surprise?
Martin: Yeah, for sure. I was a little bit bummed out. I heard that the track was pretty deep, and they were putting a lot of water into it. Then we did the first practice session of the day and I was like, Dude. The outsides are dry. Some spots were a little bit gooey, but I was like, this track is pretty dang high speed just in general. So, I was pretty bummed out when I saw that because I was like, it's going to be a faster track today. Probably cut in some dozer berms and try to make some lines, alternative stuff. And they did that. There was a couple sections that definitely were a little bit rowdy, but I definitely wish that… For sure after the mechanics area, you make that right, drop down, that double, in the years that I've raced it was gnarly ruts all the way up to the finish line through those turns right there. It was just super dry and nasty chalk all day.
Hunter, we heard Justin say before that he's probably going to have shoulder surgery at the end of the season. What's your situation on that? Are you good to focus on '21 or are you going to get it checked out more?
Lawrence: I'm good, mate. Just going to keep cracking on. Play a bit of golf, keep riding, keep training. That's about it. Just going to keep working until I achieve my goals, pretty much. Body is good and stuff. We're just doing the blood tests and bits and pieces just to make sure everything is good. Hopefully come out swinging in supercross, whenever that may be.
The podium at the final round, that would be pretty nice, wouldn't it, at Fox Raceway?
Yeah, it would be awesome. It would be a good little end to the season. You're only as good as your last race, so it would be good to leave a nice taste in the industry's mouth for the last few rounds. So, we'll give it a crack. Get two good starts hopefully and we'll go from there.
You can watch the 250 Class Thunder Valley National post-race press conference archive or listen to the audio from the post-race press conference below.