Lakewood, CO
Thunder Valley
Lucas Oil AMA Pro Motocross Championship
At the 2020 Thunder Valley National, Rockstar Energy Husqvarna's Zach Osborne finished 4-2 for third overall. He lost five points to Monster Energy Kawasaki's Adam Cianciarulo but still leads the 450 Class points and has a 24-point advantage over the rookie in the standings.
With 2-5 moto finishes, Honda HRC's Chase Sexton earned his third consecutive top-five overall finish. The second place in the first moto was the Illinois native's fourth moto podium of the year and the overall finish was his fourth top-five overall finish of his rookie season.
Both riders spoke to the media during the post-race press conference, via Zoom, hosted my MX Sports Pro Racing's Brandon Short.
Racer X: Zach, you talked about yourself on the podium too that it looks like on that first moto you got slammed and kind of jammed your foot there and that was just nagging you and bothering you the rest of that moto, which explains maybe why we saw you lose pace a little bit there. But you bounced back, especially that late charge in that second moto. You said you were points racing, but you know what's going on. You see the #9 up there, you know he's the guy that you got to beat. You know he's the guy that's chasing you down. What did it boil down to for you today, especially in that second moto? What was your goal? What were you trying to do to get out of here and get that result that you got?
Zach Osborne: I think the main thing was just try to keep him in sight and not let anything major happen. It was really nice to be able to pass him there in the second moto and take some points back, five on the day. So, I'm happy with the way it went. I was kind of out of my comfort zone today as far as the track went, but that's the same everyone. So, to get a second [in the second moto] and a third overall was a solid day for me.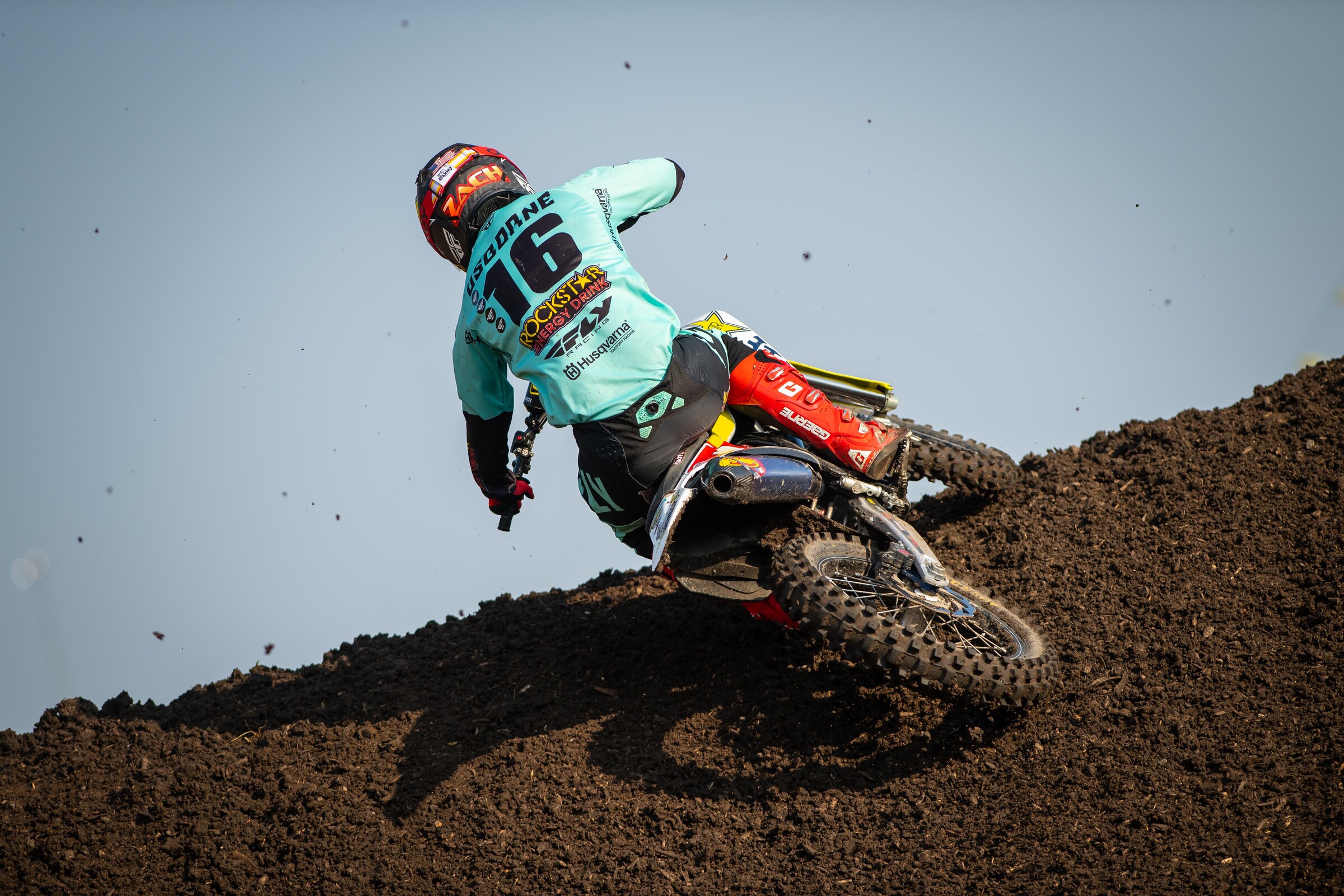 Chase, it seems like you and Adam are finding each other on the track a lot more recently. You were right there. Obviously a stellar first moto there. Second, looks like you didn't quite get the start that you needed in that second moto, but you were still able to climb back up and get a fifth. You finished 2-5 for fourth. Still a solid day in all. Probably not where you were hoping for after such a great start in that first moto. Talk about your day. Talk about really what happened in that second moto and how you kind of had to fight back just to have a chance to get on the box there in the end.
Chase Sexton: Yeah. Started off qualifying was okay. I didn't really feel super comfortable on the track. I made a lot of mistakes in qualifying. Then first moto I got a good start. Was riding behind Adam. It's kind of getting old being behind the same guy every weekend, but it was a good moto. I made a charge later in the race and Eli was coming behind us, so we didn't really have time to slack off. So that was good. My best moto finish so far. Still chasing obviously, a moto win, but second was good. Then second moto I got a really good start again but Adam kind of came left over on me and sandwiched me. I was in-between Freddie [Fredrik Noren] and him. Freddie ended up going down over the bars and I almost went down. I locked bars bad. I was probably a little bit outside the top ten. From there I kind of got moving late in the race. I didn't really ride very well until probably halfway. So, a little bit frustrating. Missed out on another podium. We're looking forward to Pala and just try and do better every weekend.
Zach, did you see Adam coming in on you there in that corner? He came in really hot and blew over the berm.
Osborne: I didn't see him, but I heard him. I thought he was going to give me the business. He kind of hit me, sort of swing arm, I don't even know really. But I heard him coming.
With you, is it starting to set in that you can be a 450 national champ? I know every week you say, "I'm not thinking about it, I'm not thinking about it." Is it starting to set in at this point though?
Yeah. It's solid to play for next weekend. Today was a good day as far as the points go. That second moto was pretty pivotal for me to make the pass. That was a four-point swing. End of the day it was good and I'm happy with where I'm at going into Pala.
Chase, fifth in the championship heading into the final round, rookie season. How would you rate your rookie year so far?
Sexton: I feel like it's been pretty good. I would say I'm pretty hot and cold on some races. I've been really good in the first motos, but I've been kind of slacking off a little bit second moto. Going to try and fix that for next weekend, but overall, I feel like I've been doing pretty good. I'm still obviously chasing a moto win and that's kind of one of my goals. We're getting closer, and overall, I feel like I've been riding pretty well. Been fast, just haven't really put together two really solid motos yet. We have another race. We have two more motos. Looking forward to Pala and ending this thing off with a high note.
Zach, I've walked around the whole track pretty much today and noticed that they had a lot of mulch mixed in. That made it completely different than the typical Rocky Mountain dirt that's right there. How was it for you guys to ride that? Because that's become so much more of a common element in tracks right now.
Osborne: Yeah. The main difference this year is I just don't feel like they're - I guess I'm speaking mostly about Millville and Thunder Valley. They just weren't as deep as typical. Here at Thunder Valley, that turn after you go through the mechanics area down the hill, and then that left and right down there by that tree, that thing has like ten ruts in it and this year there was one, six-inch rut in it. So, it's just a bit of a different thing that I'm not really as accustomed to or set up for just in general. So, for me the biggest thing is just adjusting to those conditions quickly. The tracks I ride at home are really rough and gnarly, so when the speed is a little higher it takes me a little bit longer to adjust. I haven't really been that good in qualifying this year, mostly because I would say the full send speed when the track is flat is just not quite as good for me. I think the dirt here in Colorado, or what they've made out of the dirt is really good. But I don't know if it just wasn't quite wet enough. It was ripped deep, but it just seemed to kind of blow off really quickly.
Zach, is this not necessarily your best track, or was the different conditions that you didn't expect? Was that a bigger deal, the changing conditions?
Osborne: No. It's actually one of my favorite tracks. I think it's one of the best tracks we have on the circuit. Some gnarly hills and just a sick track in general. I'm just really not that set up for not rutty and not gnarly kind of slow conditions. So, it's something I need to work on. I haven't been in California for outdoors since Pala last year. Next year maybe I need to do a little bit more time there on some harder dirt and some flatter conditions and just kind of tune that setup for days like today.
What's the strategy going into next weekend for you? Do you treat it like any other race or with a 24-point gap do you really just aim for whatever it would need to be, the 5-5 or something like that?
I think 24 points is healthy. The main thing is going to be getting two good starts. I know that's super cliche, but it just makes life easier and when you can battle from the front it's just a much better situation for that situation. So, going to go back to Florida this week, ride a little bit, go there and try to execute two good starts and try to do my best to win this title.
The second moto you were in the battle with Eli and with Adam. Do you get a little extra adrenaline, motivation, push because you and Adam are essentially one and two in the championship? Does that make the moto feel different because of what's on the line? Or can you actually treat it just like any other moto and you're just trying to finish wherever you finish as best you can?
No. I wanted to pass him bad there at the end of the second moto because that was a four-point swing, so it would have been 20 instead of 24 which doesn't seem like much but it's something. Anything can happen. Just like my flat front tire this year. It's just better to have as many points as you can in the bag. I was going to give it a pretty big effort once I started to come back to him there to try to make the pass.
Chase, is there anything you can put a finger on? You've been fast all year. Is there anything you can say, "I just need to do this or this," and that's the difference to getting that moto win that's been so close all year?
Sexton: Yeah. I think I need to be a little bit more aggressive when I get behind, like today for instance I kind of just rode behind Adam too long and I kind of fell into his pace. I think for the future I need to just kind of try and blow by him. I know it's easier said than done, but that's one thing I need to work on. Overall, I feel like I've been struggling a little bit with my bike, just for second moto and it being a little rougher. I've been getting pretty beat up out there. But overall, for me, I just need to change how I attack towards the front. I feel like I've made really good passes besides for when I get into second. So, I just need to make the pass happen faster and kind of surprise him a little bit.
You and Adam ride together during the week and he said in these press conferences that normally during the week, at least the beginning of the year, that you're usually faster. What's different on race day? Or is it actually not the case anymore and you guys are similar during the week at this point?
I don't know why he always says that. Besides for the first day he came to James' [Stewart], we've been almost identical in speed. So, I don't know why he says that. We've been pretty much the same. We don't really do much honestly motos together, but we are on the same track sometimes. Honestly, Thursday this week he was faster than I was, so it's not really the case. I feel like I've been riding really good on race days, so my speed is not really an issue. I don't know why he says that, but he's usually pretty much the same. We all have our days, but usually we're about the same.
Zach, when AC hit that kicker and kind of endoed down there, it looked like you were also in that same rut. It looked like he hit you too. Did you just get a slightly cleaner take-off, or was it also a little bit hairy there for you for a moment?
Osborne: That rut was super deep, and then it went all the way up the face and at the top of the face there was a gnarly little hook with a kicker in it. He had been going outside I think for quite a few laps and then he went in there and made the mistake. But when he made the mistake, I was kind of like, Oh man, he's going down. What do I do? So, then I made a mistake as well. But that was one of the gnarlier parts of the track. Getting that little double every lap was key, and it was hard.
You can watch the 450 Class Thunder Valley National post-race press conference archive or listen to the audio from the post-race press conference below (the 450 Class starts at the 25:03 mark).