Crawfordsville, IN
Ironman
Lucas Oil AMA Pro Motocross Championship
If the name Justin Rodbell is starting to sound familiar, it should. The privateer went 12-12 for tenth overall at Loretta Lynn's 2, and we even interviewed him for Racer X Online last week. In that interview, we learned that Rodbell supports his fledgling racing career by working a tough HVAC [heating, ventilation, and air conditioning] job during the week.
Yeah so that was a good story. We then assigned our Aaron Hansel to track down a different privateer this week, and we mentioned that we had just interviewed Rodbell. But if you know Hansel well, you know the term #LifeofHansel, which always results in comedy. Hansel usually nails things 99 percent perfect, with one hilarious error mixed in. This morning, Aaron hit us up and said, "Good news bad news, I got privateer profile done but it's with Rodbell because I forgot you had an interview with him last week."
Yeah, that's Life of Hansel. So much good with just one small messed up part.
So that means two weeks in a row where we talk to Justin Rodbell for privateer profile. Hey, the kid is riding well, so he deserves it!
Racer X: Justin, how are you and what are you up to?
Justin Rodbell: Not too bad, just on break eating some lunch. We're about to head to another job, nothing too crazy going on today.
That's right, you've got a real job. Well, before we get into that, just fill us in on your background a little. Where you're from, when you turned pro, that kind of thing.
I'm from Prince Frederik, Maryland, and my first pro race was at Budds Creek in 2018 after Loretta's. I don't remember how I did there [Rodbell went 33-31 for 35th that day], but I ended up 13th overall the next week at Ironman in the 250 Class. After that the team I was on, Trader's, merged with another team and that left me with no ride. I'd scored points so I couldn't race as an amateur anymore, so it was time to turn pro or go race somewhere else. I ended up going to Australia to race for a year, and now I'm back here trying to make it all work.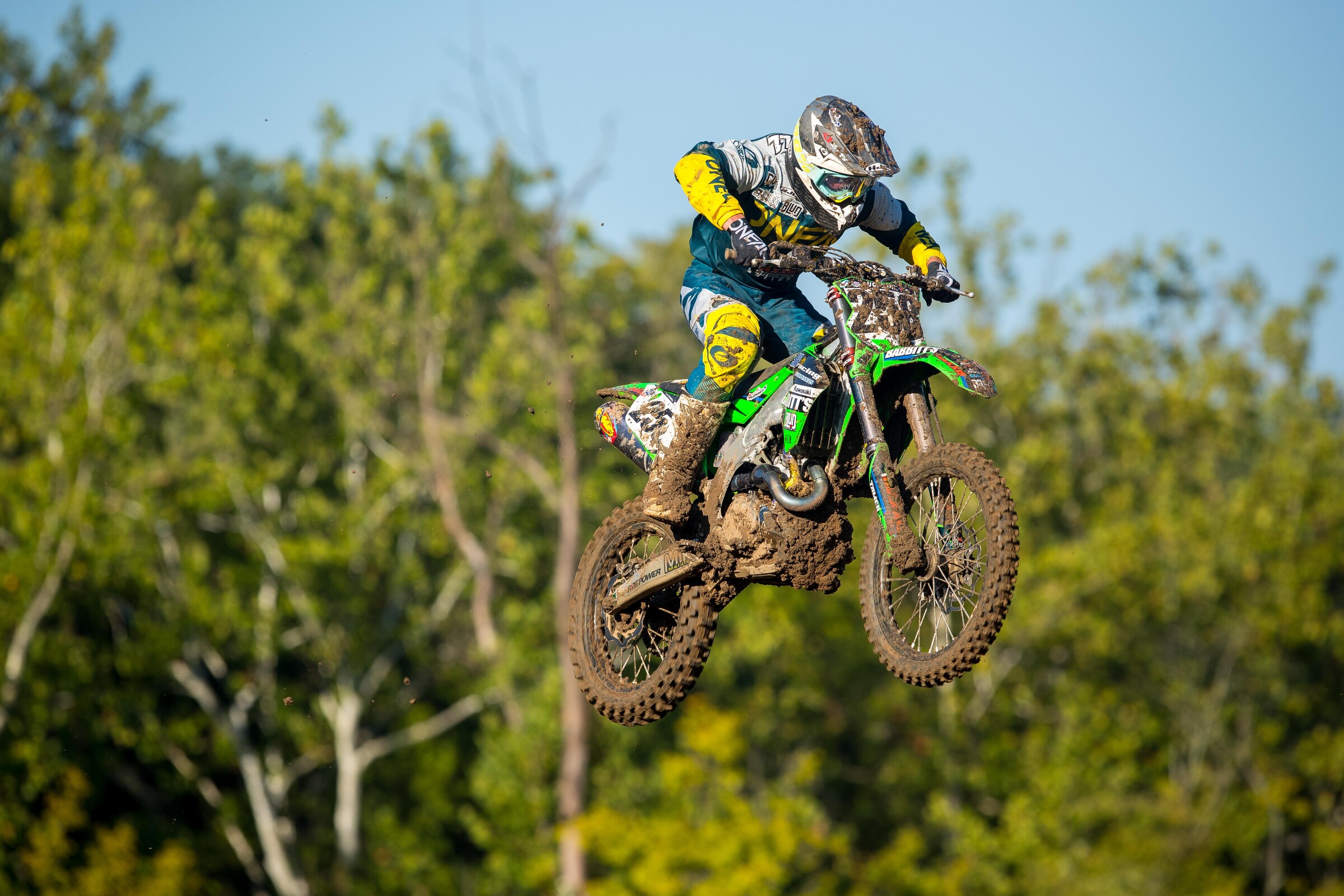 So you're back in America racing pro. Describe the path that led you back to this point.
Well I got back from Australia and I had some personal issues to attend to and didn't make a go at supercross. I really just had a stock 250F. Daytona rolled around, and I knew if I had a shot of making a race it'd be Daytona because it's more outdoorsy. I ended up qualifying ninth and it was like, "Whoa, I have a shot of making it!" I made it straight through the heat to the main, raced the main, then that Monday I signed a deal with EBR KTM as a fill-in guy. Then corona[virus] hit! Indy was supposed to be my first race with the KTM team, but once corona happened they pulled back and I didn't have anything going on. After that SGB/Maxxis/Babbit's hit me up and we were talking about doing some outdoors, but I ended up doing the Salt Lake City races. I didn't even ride the bike, I just showed up and did my best. And now we're here.
Well, you certainly put in an excellent ride at Loretta Lynn's 2, going 12-12 for tenth overall in the 450 Class.
I was pretty pumped about that, but of course a lot of guys' bikes broke. But you have to take what you can get in this sport!
Talk about your normal job. What're you doing during the week?
I do HVAC [heating, ventilation, and air conditioning] so if your AC breaks I'll be the dude knocking on your door. I usually get up around 4:50 in the morning and drive to the shop. On a great day we'll get off early and I can go moto in the afternoon, but sometimes we get off around four in the afternoon. Sometimes I have to work until ten at night. It changes. I enjoy it, and I like the people I work with. I think a lot of dudes in moto don't really know what reality is, in terms of getting help from mommy and daddy.
I wouldn't disagree with that.
My parents help me out, don't get me wrong, but I don't feel comfortable swiping their credit card 24/7 while they're struggling to get by, just so I can live my dream. I work for a really good company called Blue Heart Mechanical, it's a local company.
Well by the sounds of it you're either on someone's roof or in their attic, and that sounds extremely hot.
It changes every day. Today [Tuesday] we're doing duct work, yesterday we did an install. You're doing different things every day. It's not like you're showing up to the same place every day doing the same thing.
How hot is it in those attics? It has to be 130 degrees [55 Celsius].
Yeah, at least. At minimum. It's hot! I'm drinking water right now in preparation for Saturday.
What's the hardest part of having a job and racing? It seems like that would be a nightmare.
Dude, it's not bad. I like to stay busy. It doesn't really bother me. I'll work all day then ride. I'm not working tomorrow, tomorrow is my birthday, and then I'll drive up to RedBud, race Friday and Monday, and be back to work on Tuesday.
Happy birthday!
Thanks, the big 20!
That's why you're able handle being so busy!
Yeah, I'm just so young. [Laughs] I'm going to keep kicking until I can't kick anymore. I need to try to get some results this year to back me up for next year. When you're trying to talk to a sponsor, trying to get them to help you out, they're like, "Well, you were alright as an amateur kid, but where are your pro results?" Well I need help to get those results. [Laughs] It's tough. I'm young and racing against guys who have put in time. The number of 30-minute motos Justin Barcia has done compared to me is crazy. I really just need to work on my base and my fitness, and once my fitness gets up I think you'll see me get some better results. My speed is there, it's just my fitness I'm worried about.
Well, I don't want to keep harping on this point, but it seems like it'd be hard to build a base and work on fitness when you're also working a demanding job.
Yeah, I can't wake up at six and go road biking for a couple hours because I'm at work already. I'm already at the jobsite, so I have to compensate for that in the evenings. I try to make it work but, if I work from 5:00 a.m. to 6:00 p.m. I go home, take a shower, and fall on my face. [Laughs] That's what happens and I'm in bed. But if it's not that hard of a day I'll hop on the road bike, but some days we're working really hard, it's no joke.
What about the rest of the season? Have you set any goals?
My goals are to try to have fun with my friends and score points. I'm paying for this, and my boss at Blue Heart Mechanical is helping me out. SGB/Maxxis/Babbit's help me too, they take my bike to the races, and I get help from HJC Helmets, O'Neal, 100% goggles, Alpinestar boots, my mom and dad, my mechanic Mackenzie Engel, and more. My boss bought me my race bike and he just bought me a practice bike, so without him I wouldn't be racing. I pay my travel to the races, my entry fees, quite a bit. So I want to have some fun. Obviously I want to put up results, but I'm not trying to take it way too seriously either. It's important to have fun. If something happens with this, something happens, but if it doesn't, it's not the end of the world. That's the way I look at it.