Hurricane Mills, TN
Loretta Lynn's II
Lucas Oil AMA Pro Motocross Championship
We've seen some eye-openers through two rounds of the Lucas Oil AMA Pro Motocross Championship but perhaps nothing topped Maxxis SGB Kawasaki's Justin Rodbell getting tenth overall in 450 Class this past weekend. In just his fourth career motocross race, Rodbell rode two steady motos (12-12) coming through the pack to get his career best.
"Round one was actually like a big bummer for me because I was super dehydrated. After the first moto, I'm getting undressed and my arms are locking up, cramping," Rodbell told us on the FXR/Race Tech Privateer Podcast. "It was just downhill from the start. The second moto, I'm cramping up mid-moto. It was just a bad day.
"First moto, I went down in the second corner so I'm like, 'Sweet!' Then I kind of just got up and plugged guys away. My mechanic, McKenzie, put on the pit board 18th. So I'm like, 'Alright, we're making moves.' Then it was 16th. And then I see Coty [Schock] in front of me and I'm like, I need to pass him. Me and Coty, we've kind of grown up racing each other. So it's cool for us to be at the pro level doing alright. I was like, 'Hell yeah!' So, I battled with him."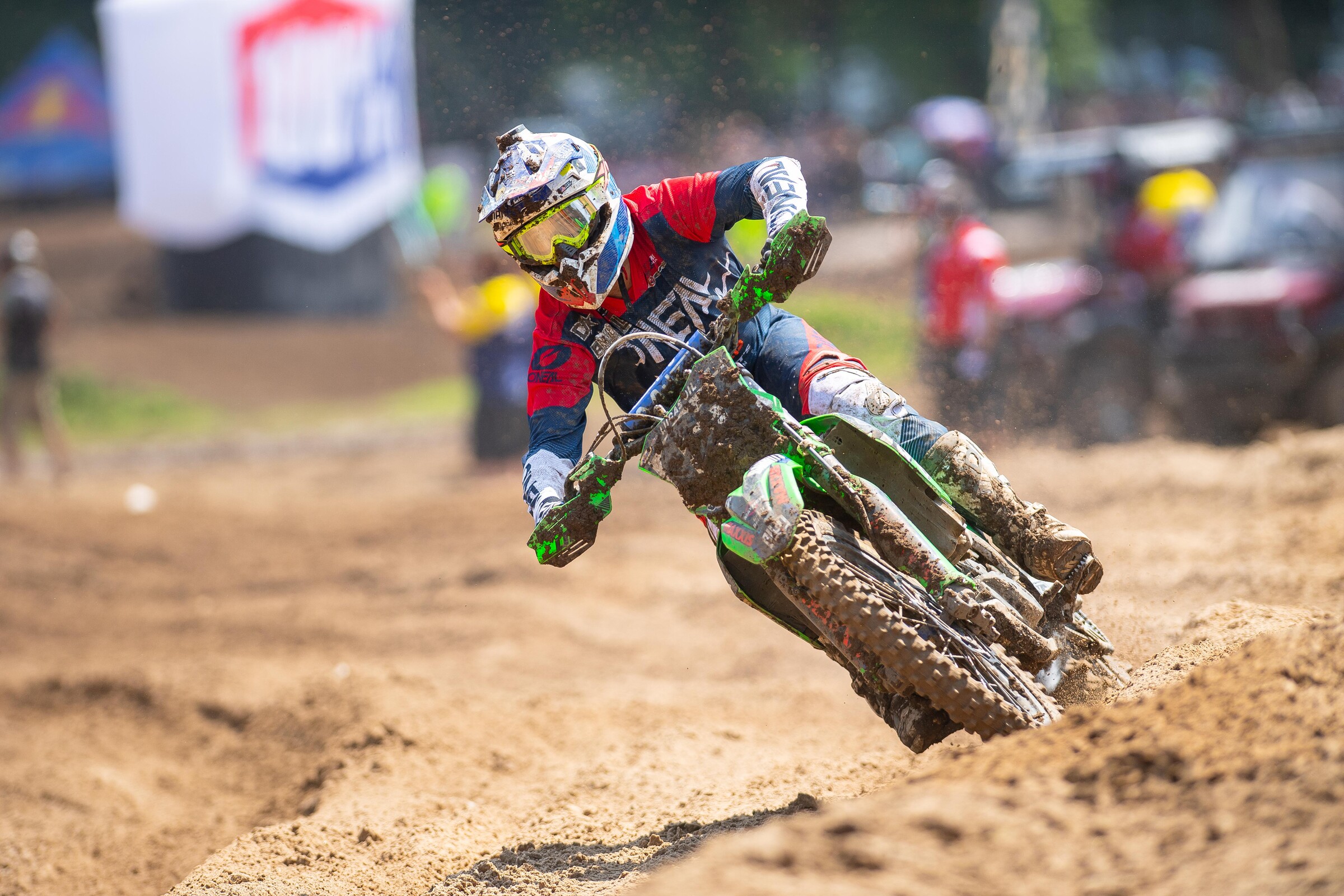 Rodbell just slowly moved up from the back in that moto and second time out for him, it was more of the same as the first moto.
"I felt really good. I went out there. I think I passed [Tyler] Bowers. I mean, I've never passed Tyler Bowers before," Rodbell continued. "Then [Justin] Barcia I think passed me then fell, but then he didn't catch me for 15, 20 minutes. Caught me, passed me, then fell again. So I passed him again. So then he catches me again and I pulled over and I'm like, 'Dude, Barcia, go. You won the first moto. I want nothing to do with you. Please just get away from me.' So he goes by again and then the next lap his bike breaks."
Consistent 12-12 finishes for the #258 Kawasaki rider and that had to make his workday a little better on Monday. Yes, Rodbell has a real job in the HVAC industry. He's up there in your attic trying to make sure you're cool in these summer days. Luckily Justin's boss is a moto fan and does give him the time off he needs to get to the races. When we talked to him for this, we had to wait until he was off work.
"Every time I'm in the attic, I'm like, this makes me want to go so much faster during that 30-minute moto. 'Do you want to be in that attic tomorrow?'" the personable Marylander told us.
Rodbell received the FMF Privateer Award at round two.
You might remember Rodbell making his pro debut in 2018 after the AMA Amateur National Motocross Championship with his hometown Trader's Yamaha team. Or most likely, you probably don't. Rodbell didn't do a lot but he did get 13th OA in the mud at Ironman the week after his debut at Budds Creek. Following that, Rodbell headed to Australia for 2019 to race. After getting a one-way ticket to Australia and a try-out with KSF Suzuki, Rodbell performed pretty well in the MX1 class and truthfully, he didn't see himself coming back to the USA without a ride from a team.
Unfortunately for Rodbell, he didn't secure the right type of work visa for Australia and was basically kicked out of the country. Oops!
This led to him getting said job although he did make it out to Daytona Supercross this year and made the main event. As any PulpMX Fantasy player knows, Justin can lay down a very fast lap in qualifying. Finishing up there has been an issue for him until lately. Rodbell got on the SGB Racing/Maxxis/Babbitt's Kawasaki team for the Salt Lake City races in the 250SX East Region and has bumped up to the 450 Class for the nationals.
So keep an eye on this talented kid who seems to be figuring things out. Whether it's the jump to 450s, having to get a real job or the support of the team, Justin Rodbell seems to have the skill to compete with some big names. His friends down on the shores of Maryland were happy with his result, that's for sure.
"It's been cool, everyone's like, 'Dude, sick job!' All the locals at Budds Creek, Rodbell said. 'Dude, that was badass! Keep it up!' So, I'm hyped. I know I got lucky with a few spots out there, dudes' bikes breaking. We all know that. But I'm still hyped. I'll take what I can get. Sitting on the gate for one of the motos I was next to [Zach] Osborne. I'm like, 'Holy shit, that's Zach Osborne.'"
Listen to the full the full interview with Rodbell on the FXR/Race Tech Privateer Podcast below.